Ready to book more weddings?
WeddingPro is a wedding advertising platform designed to help you find new high-intent couples and make your day-to-day business management easier so you can do more of what you love.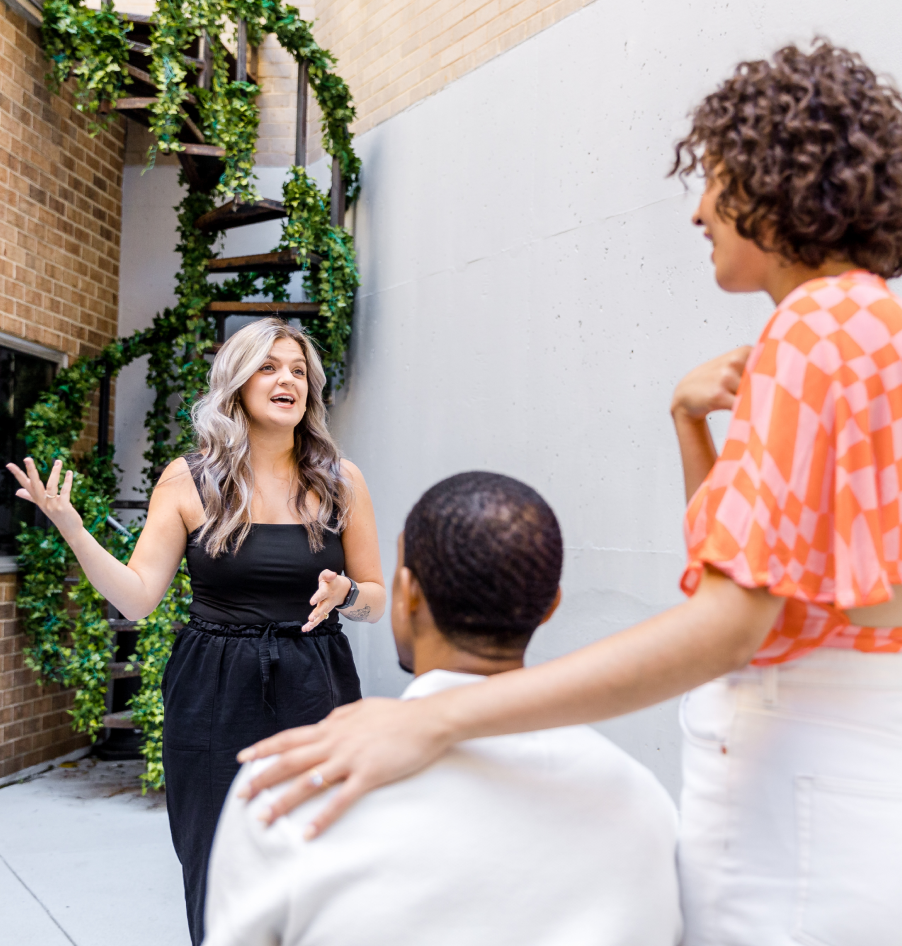 How WeddingPro helps grow your wedding business
WeddingPro connects you with the ideal couples for your business so you can get wedding leads that turn into bookings. When you sign up with The Knot and WeddingWire, you'll get access to benefits that help your business thrive. Here's a snapshot of some of the things you can expect to gain when you partner with us.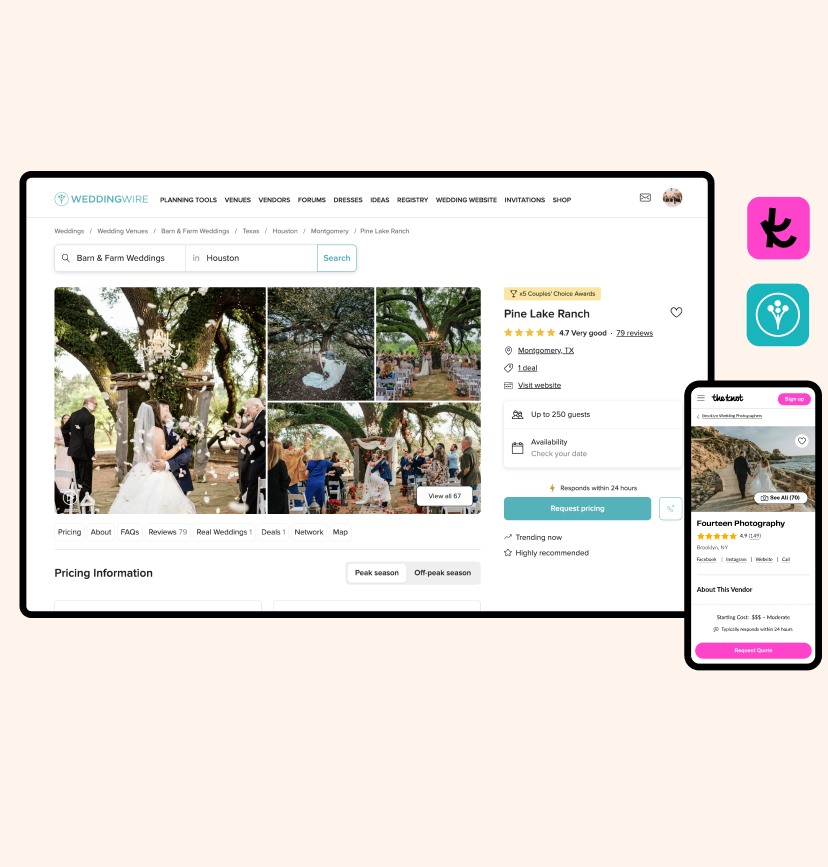 Visibility to couples in your area
Customize your Storefronts on The Knot and WeddingWire with photos, videos, reviews, pricing, and more to attract more of the right couples for your business.
Easily connect with your ideal customers
The WeddingPro Inbox is designed to uplevel client communication so you can close the sale faster. Receive, organize and quickly reply to couple inquiries from The Knot and WeddingWire all in one, easy-to-use place.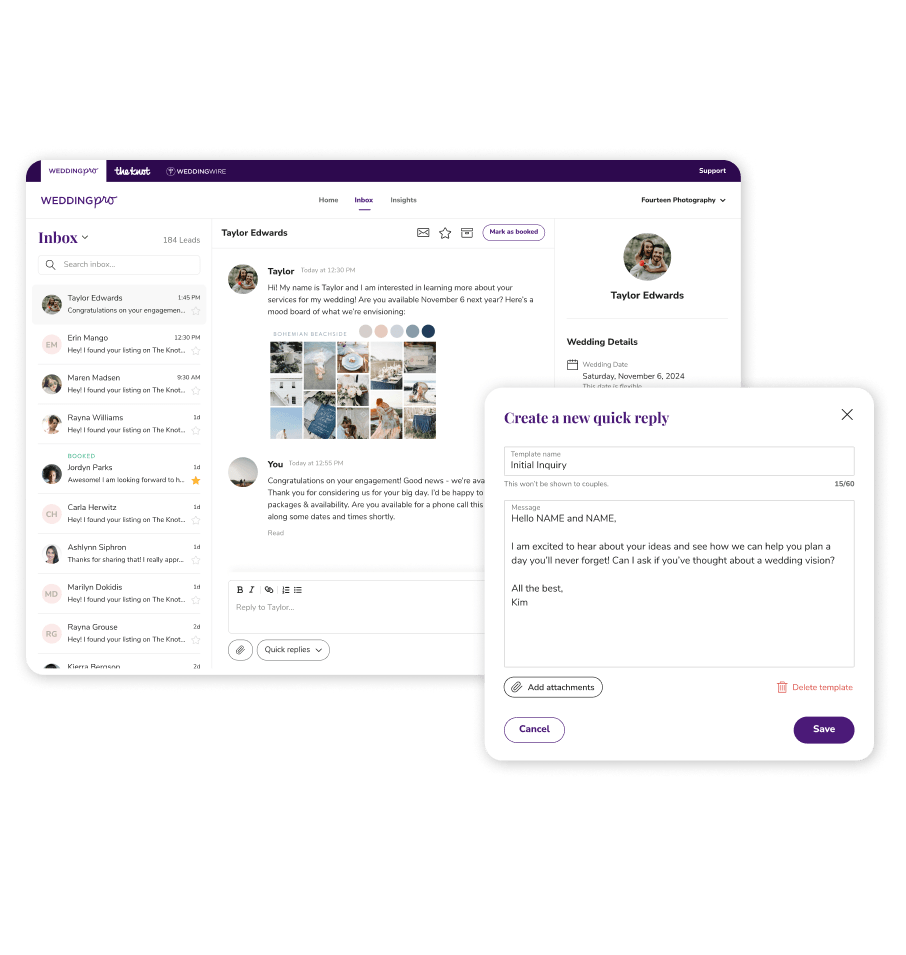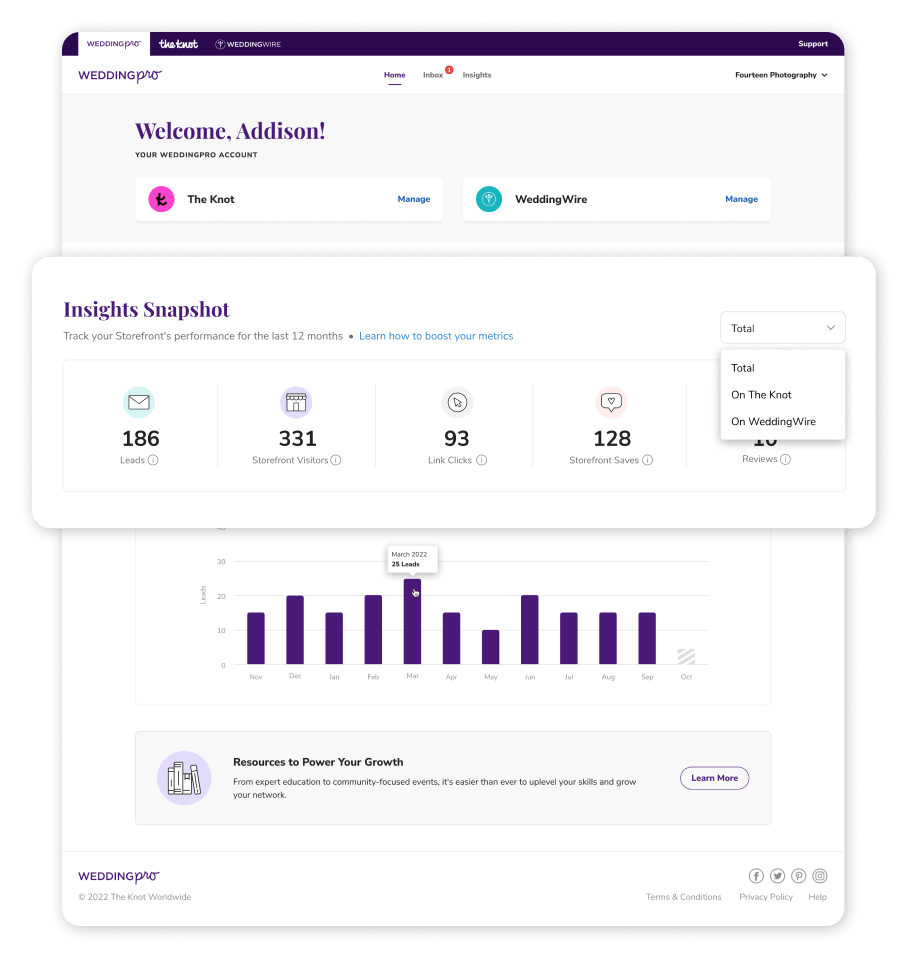 Track and monitor leads and ROI
WeddingPro Insights provide comprehensive metrics that allow you to monitor the amount of wedding leads you receive, make data-driven decisions and maximize your wedding advertising budget.
Let client reviews do the selling for you
Make your Storefronts work harder for you and book more weddings by showcasing your reviews. Pros with reviews receive more than double the number of leads on average than pros who don't have any on their Storefronts, so start collecting today!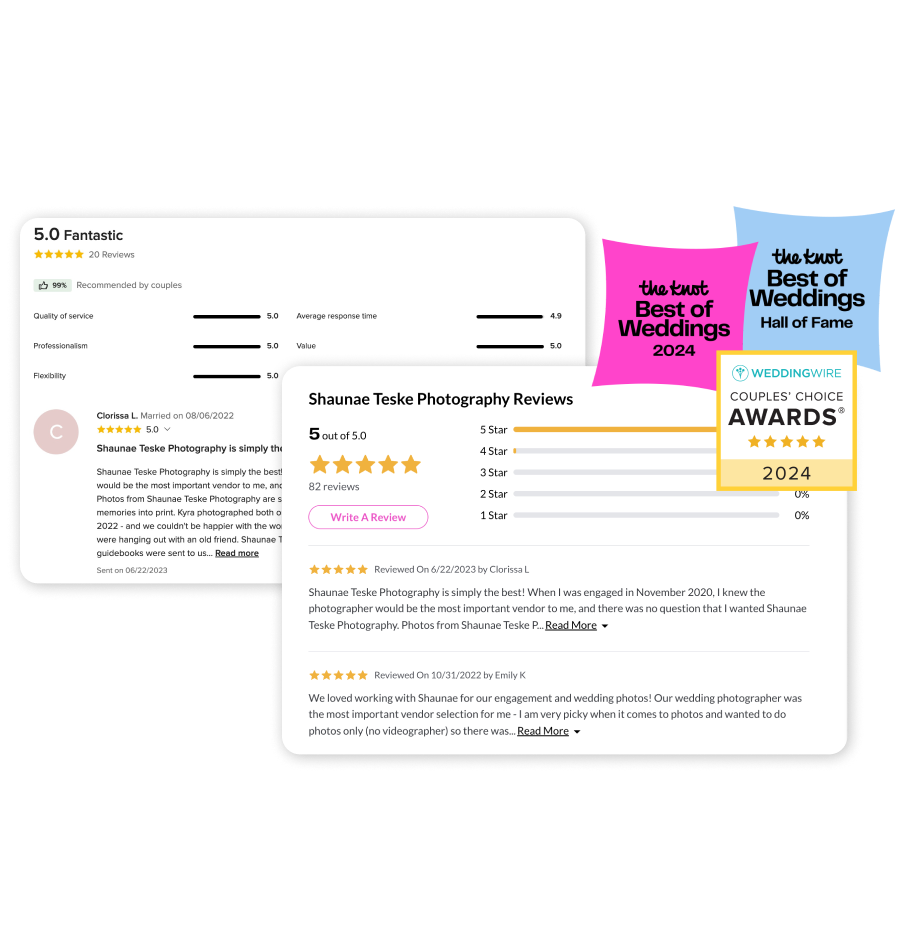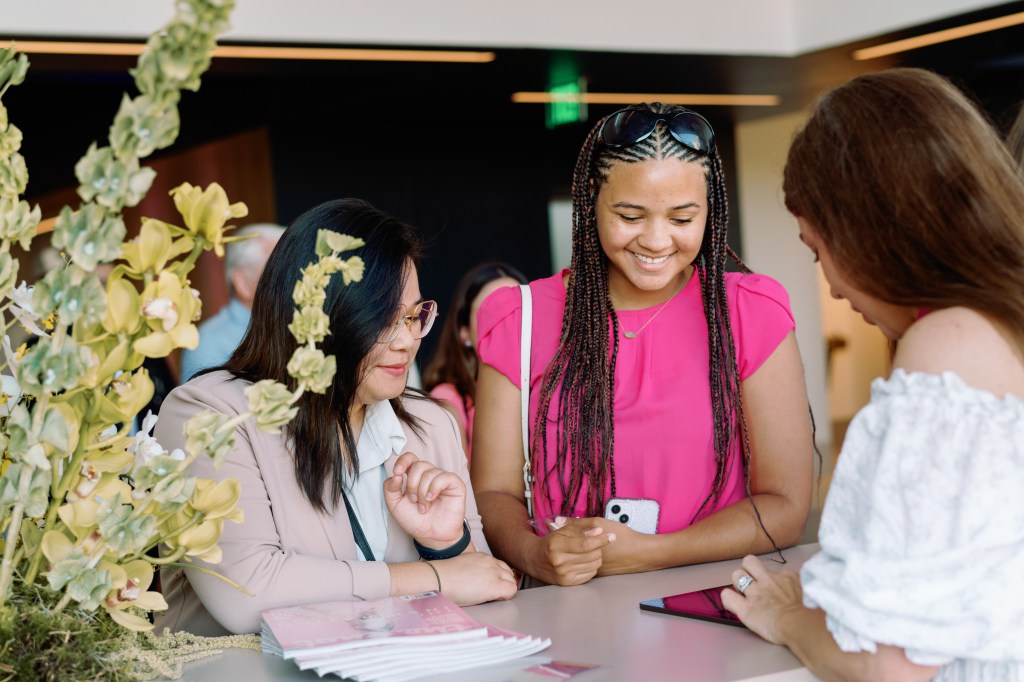 Innovative education
When you sign up with The Knot and WeddingWire, you'll have access to our best-in-class business education, industry trends, couples' insights, exclusive events and more.
Support any time you need it
Our Customer Support team and Help Centers are here to answer any question, comment or concern so you can confidently grow your wedding business with WeddingPro. Anything you need, we've got your back.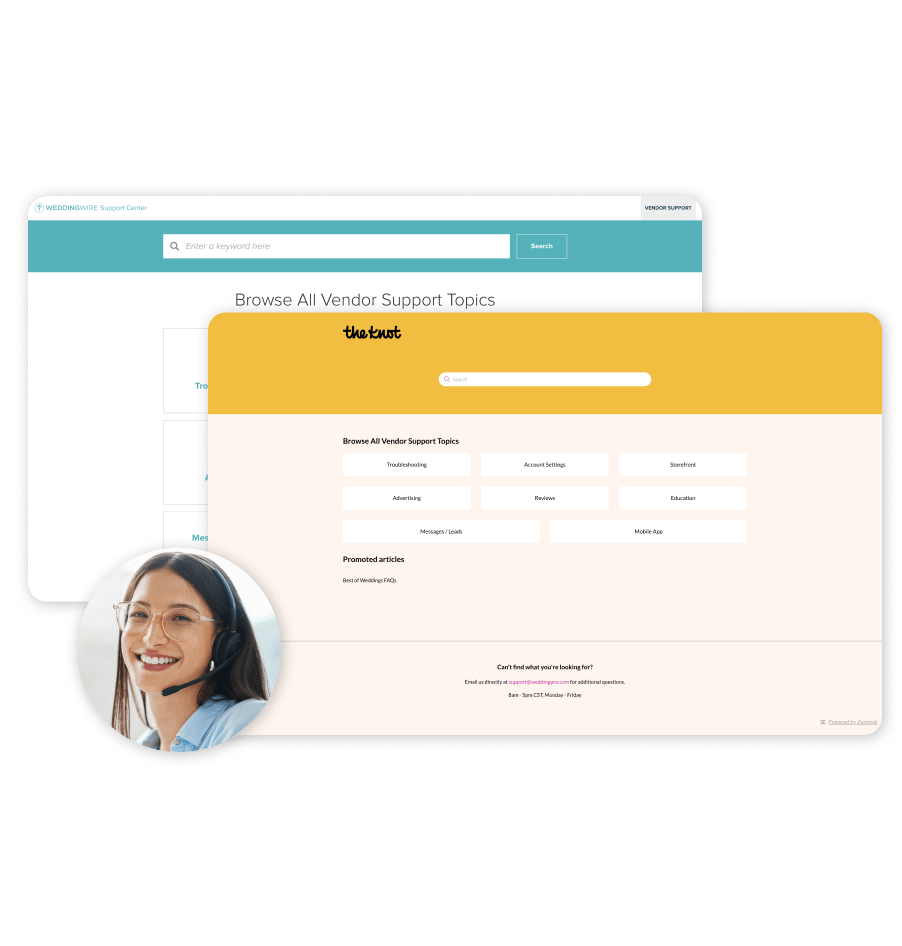 The Knot and WeddingWire have been able to connect me with other vendors in the area and get me in front of the right couples at the right time.
The reason why I have so much business today is because of the exposure that I have on The Knot and WeddingWire.
Our personal website can't compete with The Knot and WeddingWire's search engine results.
FAQ
WeddingPro is the vendor-facing platform that connects you to your advertising tools on The Knot and WeddingWire. It acts as the door to your Storefronts while also providing vital information about your account with tools like Insights, connecting you with inquiring couples through your Inbox, and delivering education and business support.
WeddingPro is more than just a wedding advertising platform. It's a community of more than 250,000 wedding pros, with more than 9.6 million couple reviews, built on more than 40 years of collective experience between The Knot and WeddingWire. You'll find a network of other pros like you, education and the tools you need to reach your business goals both now and in the future. Our team is committed to supporting pros at every stage in their careers so they can book more weddings and we can make the wedding industry even better together.
Many wedding businesses can find success when advertising with WeddingPro. Our categories include wedding planners, photographers, videographers, venues, DJs, bridal salons, wedding cakes, officiants, catering, wedding rentals, beauty services, florists, wedding bands, photo booths, transportation, jewelers, decor, invitations, and more. Reach out to learn more about how we can help your business!
Advertising with The Knot and WeddingWire is a paid, subscription-based solution that offers quality leads, robust data, brand recognition and credibility you won't find anywhere else.
Every wedding business is different, so there are a lot of factors to consider when determining the price of advertising with The Knot and WeddingWire. Pros typically see a positive ROI after booking just a few weddings. Get in touch with our team so we can learn more about your business to build your package.
Vendors who build out their Storefronts and respond to leads can start seeing a positive ROI with us after just a couple of months. So, as you're building out your Storefronts, make sure that they are optimized to attract your ideal couples so you can book them quickly. If you're not sure how to optimize, reach out to our support experts for help! We're always working with our pros to help their Storefronts stand out from their competitors and to display all the information that our couples want to see before submitting a lead. And it's working–we've seen an approximately 12% lift in conversion from a Storefront visit to a lead compared to pre-pandemic numbers.
The Knot and WeddingWire attract up to 21 million monthly unique visitors and currently have over 2 million couples on our sites, so there's no shortage of couples looking for pros just like you!
The best way to ensure you stand out in your market is to fully complete your Storefront information. Some benefits include:
Earning 2x the number of leads by showcasing reviews on your Storefront
Better connections when listing your pricing—it's the #1 most important detail to couples searching for vendors
Photo: Iris Mannings Photography | Angelica & Co. Weddings; Caroline Lima Photography; Terri Baskin Photography | Elegance By Roya