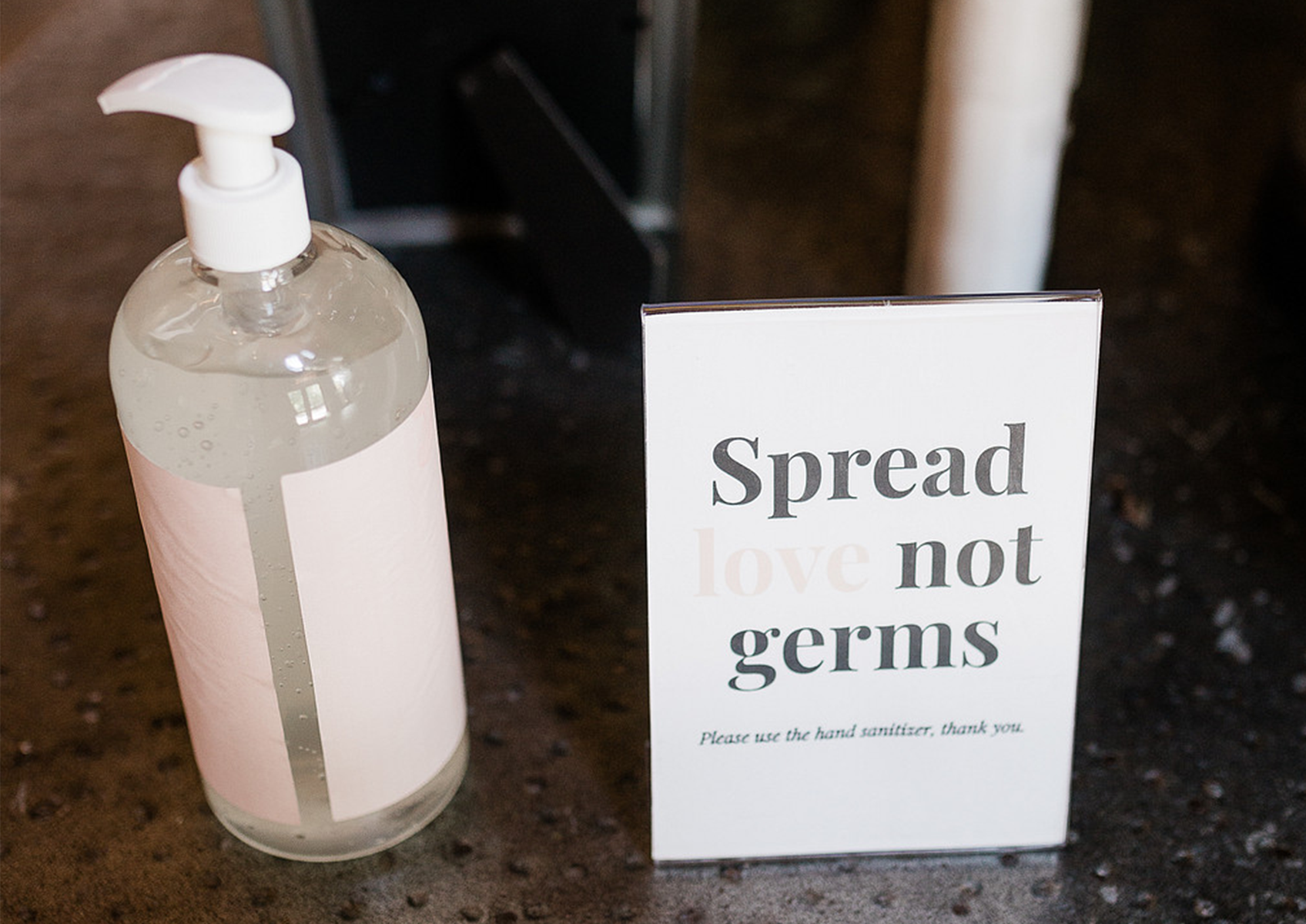 As COVID-19 regulations rapidly change, it's key to keep in mind the safety of your team and your clients. While we certainly don't have all of the answers, we have an incredible community to lean on for ideas and inspiration. That's why we brought in an expert panel to share their safety insights and learnings in our most recent WeddingPro webinar. Stay tuned for Terri Baskin of Terri Baskin Photography, Alexandria Hammond of Get Plated, Julia Henning of Wedgewood Weddings and Lauren Schaefer of The Get Together Events Co. as they share their perspectives on all things safety precautions.
WeddingPro Question #1: What have you implemented behind the scenes to keep yourself and your team safe?
Alex and her team are setting up their bussing tables outside of the venue so their staff can be outdoors and spread out. Her kitchen staff also has their own dedicated tables, which are spaced out. She's implemented tons of signage on-site to guide the staff throughout. Alex makes sure the area is not congested and communicates how she's keeping everyone safe. 
Julia and her team have created a return to work document to train all of the staff and cover all necessary procedures. It covers every single moment of the event and outlines everything they're doing from a sanitation perspective. She's also implemented a health check system, using Slate Pages to track employees' logins and temperatures. For her in-person consultations and planning meetings with clients, she asks guests to limit the number of attendees and wear masks. 
For Lauren, she's decided to get tested before and after every wedding. There are drive-through services near her that are free of charge and therefore she doesn't need to pass that cost onto her couples. Since test results take a few days to get back, she builds that turnaround time into her preparation schedule. For her staff, she's asking that they also all get tested before and after each wedding and making sure that they feel comfortable to go back on-site. If they don't, she's staffing someone else. And to make sure she never gets in a bind if someone gets sick or doesn't get comfortable, she has backup managers at the ready for each event.
WeddingPro Question #2: Since you're operating in multiple places, how are you keeping track of local guidelines in each place?
When looking at local guidelines, Lauren checks the date of publication to make sure it's still relevant. She also stays up to date by following the mayor of her town on Twitter and has joined local planning groups to get information as quickly as possible.
Julia's venue also has a multitude of locations around the U.S. Since most places do not have specific guidelines for weddings, she has to find them for the industry that relates most. Figuring out all of the guidelines can be extremely challenging, so she has regional and general managers tracking the local guidelines. Google is her answer to a lot of questions about guidelines, but she relies mostly on the .gov website for the most reliable, accurate information. Check out the team at Plannie's Gathering Guide to help everyone stay on top of changing policies.
WeddingPro Question #3: How have you adjusted day-of setup to account for social distancing/updated safety guidelines?
The first thing Lauren and team are doing is gauging the client's current feelings on COVID-19 and their concerns based on who's attending. Are there a lot of elderly folks attending? Children? They fashion the day based on the couple's specific concerns as well as general state and local guidelines. Once Lauren has a better idea of the couple's feelings and who's attending, she works to readjust the timeline of the wedding, such as pushing the cake-cutting and toasts to earlier in the day. This way, guests can leave earlier without missing anything important.
For Alex and Get Plated, one of the biggest concerns they're dealing with is people congregating around the bar area as drinks flow and the event progresses. To keep that as safe as possible, they're passing drinks immediately after the ceremony to avoid congregation at the bar. They've also implemented several bars to limit footprint around each one. The second biggest challenge day-of is all about how buffets are being served. Their buffets are now being served by the Get Plated team and multiple lines are created throughout the room to keep guests from all being in one spot. Guests are called up table-by-table to try to keep the clusters of guests together and limit the number of people in a tight space.
As a photographer, Terri sends a pre-wedding email asking the couple for a list of all the people who will be in their group photos. On the day of the wedding, she ensures that only the people in the photos are in the area where the photos are being taken. She also asks couples whether they want guests to wear masks in their photos; if not, guests come up to the photo with their masks on, remove the mask for the photo, and put it back on as they leave. Communicating early and often about what the expectations are has been very helpful.
Julia's team starts communicating safety expectations at the ceremony to set the tone early in the day. Wedgewood Weddings has been implementing assigned seating at the ceremony site to keep families together. An employee greets guests at the ceremony site and tells them where to sit. Julia's team now opens up the reception space right after the ceremony, as opposed to a big reveal in pre-"quarantimes". The team has purchased face shields for employees and created larger dance floors while setting up. The lower guest count has also helped with limiting the number of people dancing and seated at each table. 
WeddingPro Question #4: How do you tell a couple "No, we can't do that — it's against safety guidelines"?
The Wedgewood Weddings team has always had to say no- this is the nature of working with clients. They've been using the same techniques for saying no as they did previously. Clients have high expectations and less experience, so Julia's team responds with empathy and offers alternative solutions. "When it comes to the safety guidelines, you are allowed to have boundaries and say no. Be up-front and explain why you've established them," she recommends. 
Lauren hasn't had to work around the mask mandate, as masks aren't mandated in the district she works in. However, she notes that everyone at the event is responsible for reminding guests about the mandate. Over communication ahead of time is also helpful. "We are all in this community together, so we can talk to someone empathetically to understand each other's concerns," says Lauren. Regarding saying no, she's definitely had to say no to clients who wanted to exceed the state and local capacities. Although she doesn't have a COVID-specific clause in her contract, she has a policy about the health and safety of her team and following safety guidelines.
Terri's team will make adjustments based on the couples' concerns. For instance, the couple may have a lot of people in their wedding party and are not willing to get a separate room for them to get ready. This may require adjusting timing on her part or offering an alternative. 
WeddingPro Question #5: What are your best practices for communicating safety protocols to your couples, other pros and guests?
A couple of months into COVID, Alex's team uploaded a commitment to safety on their website. It clearly outlines her policies for clients and other vendors who want to know how Get Plated is implementing safety measures and if they're the right fit. It's also been helpful for clients to send to their guests beforehand to set expectations of the event. 
Lauren's company specifically does month-of event coordinating and has had to reformat the wedding as close as two days prior. She started talking about all of the options with her clients at the 30-day mark. In normal wedding planning and especially during this time, her role as a planner is a bit of a catch-all. One of Lauren's responsibilities is reaching out and communicating with all the vendors to ask for everyone's COVID policy. She then summarizes all of them for the client so there are no surprises on-site. Traditional communication and formalities are out the window – over communication is key. Her clients have started asking their guests what their COVID comfort level is, where they want to be seated, and even if they plan to leave before dinner.
Since Julia's team is both the venue and in-house coordination, they're responsible for coordinating and communicating with the guests. Julia has asked the DJ to remind everyone to wear their masks when coming up to the buffet and make other gentle reminders throughout the night. Julia has a planning meeting with her couples 4 months out and a follow up call 6 weeks out, with a final meeting 10 days out. She talks about the day's expectations early on and asks them to sign a waiver; it has legal language and sets expectations on both sides regarding event safety.
WeddingPro Question #6: Best safety equipment you've purchased or favorite thing you've seen implemented?
Terri has purchased masks with her logo and branding on them from Jefferson Lane. She loved when a client incorporated their safety reminders into the design of their event, with the signage matching the colors of the wedding. 
One of the things Get Plated has incorporated is branded face shields for our staff. They also have handwashing stations at no additional charge to our client.
Lauren's favorite trend is the color-coded comfort wristbands that guests can grab based on their comfort level; it's a recognition of the moment we are in. Red means they're celebrating at a distance, yellow means approach but don't hug, and green means you'll see them on the dance floor.
Julia's team ordered plexiglass shields that cover all the food. It's both unintrusive and provides an overall feeling of safety. They've also invested in the universal touchless standing hand sanitizers. Even though they plan to eventually move away from the global pandemic, people's attitudes towards sanitation have changed forever. It helps with safety and is an investment for a long time. 
If you weren't able to join us live for the webinar, or if you want to brush up on the content again, you can view the recording at any time. Looking for more on the latest regulations? The team at Plannie created a Gathering Guide to help pros stay on top of changing policies.
Photo Credit: Beauty & Beard Photography