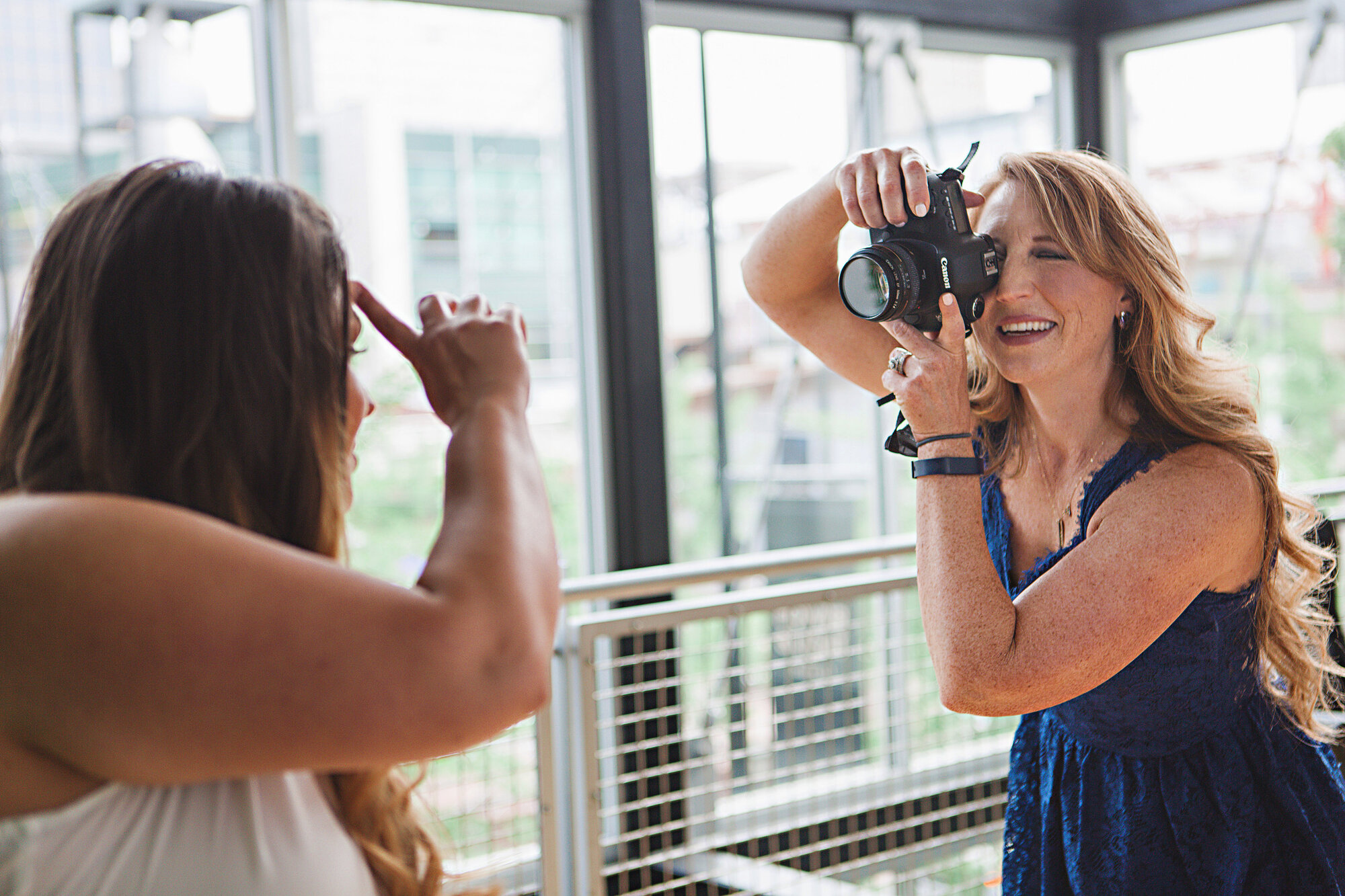 Updated on 5/5/21
At WeddingPro celebrating small businesses is at the heart of everything we do. We couldn't pass up the opportunity for some extra ways to celebrate all of your hard work. This week is all about celebrating you, your business and your big or little wins!
National Small Business Week (May 3-9) has been a tradition for over 50 years that gives small businesses and their communities the opportunity to celebrate all of their hard work! Did you know that small businesses are at the heart of nearly 2,000,000 weddings every year? That's SO much hard work. And we know that a wedding is just a party without all the pros who bring it to life. Together, our community is doing amazing things and we want to help you celebrate this special week. Check out these seven ways to observe National Small Business Week that will make a big impact.
1. Share your why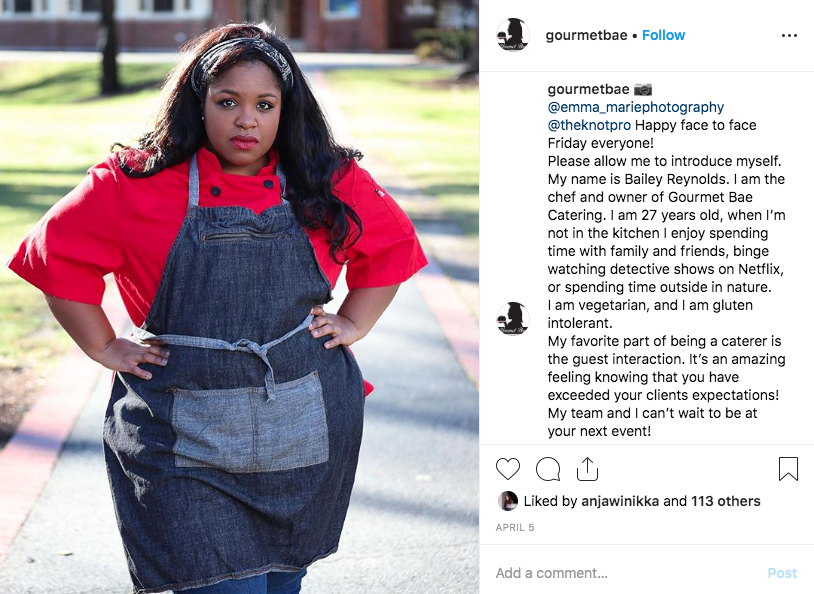 Couples want to know why you started your business and what gets you out of bed each day! Take this week to think about what makes you and your business unique. Then put together a sentence or two that you can share on social with your audience. Share what your new work from home setup looks like! From there, encourage other pros to share their why to continue inspiring the industry. People want to know what makes you uniquely you!
2. Say thanks to past couples
Think about all the people that have supported your business throughout the years – they deserve some love!  Put together a thoughtful email or text to send to the people who deserve a little extra love. And if you want to go above and beyond, make it personal by recording a video to share in your Instagram Story. And last but not least, find ways to connect with your team and make sure to show them how much you appreciate all that they do.
3. Share your reviews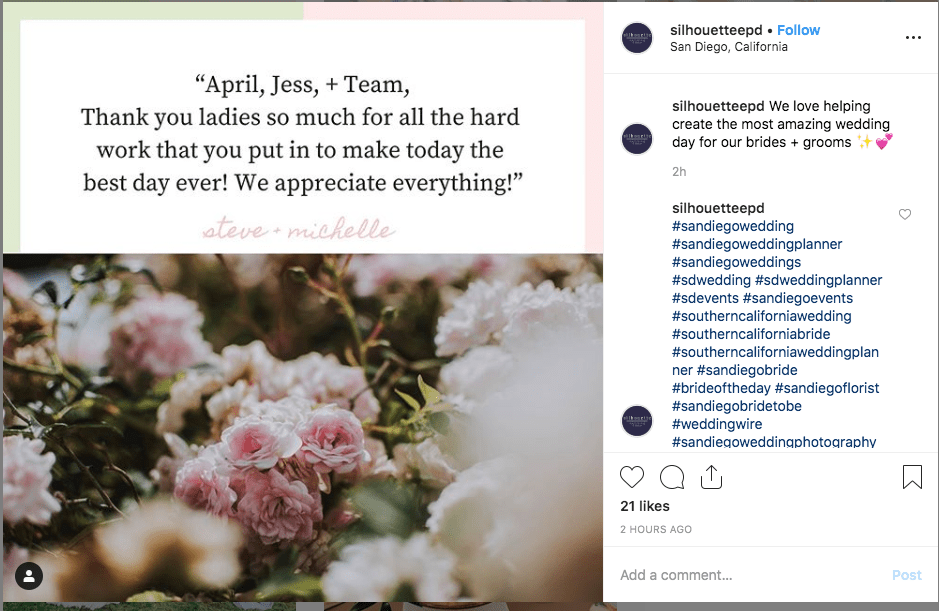 This is the perfect time to ask you past couples for reviews and share what they are sharing about you. Requesting reviews is so important right now because it shows how you've helped couples through an extended planning process.  A quick email may be all it takes to get them to write a new review for you — if you ask.  According to The Knot Worldwide Reviews Survey – Couples 2018, 78% of couples find it important to read reviews before deciding which vendors to contact. Have fun with it and think about sharing one review a day on your social channels to show how much past couples loved working with you!
4. Make time for education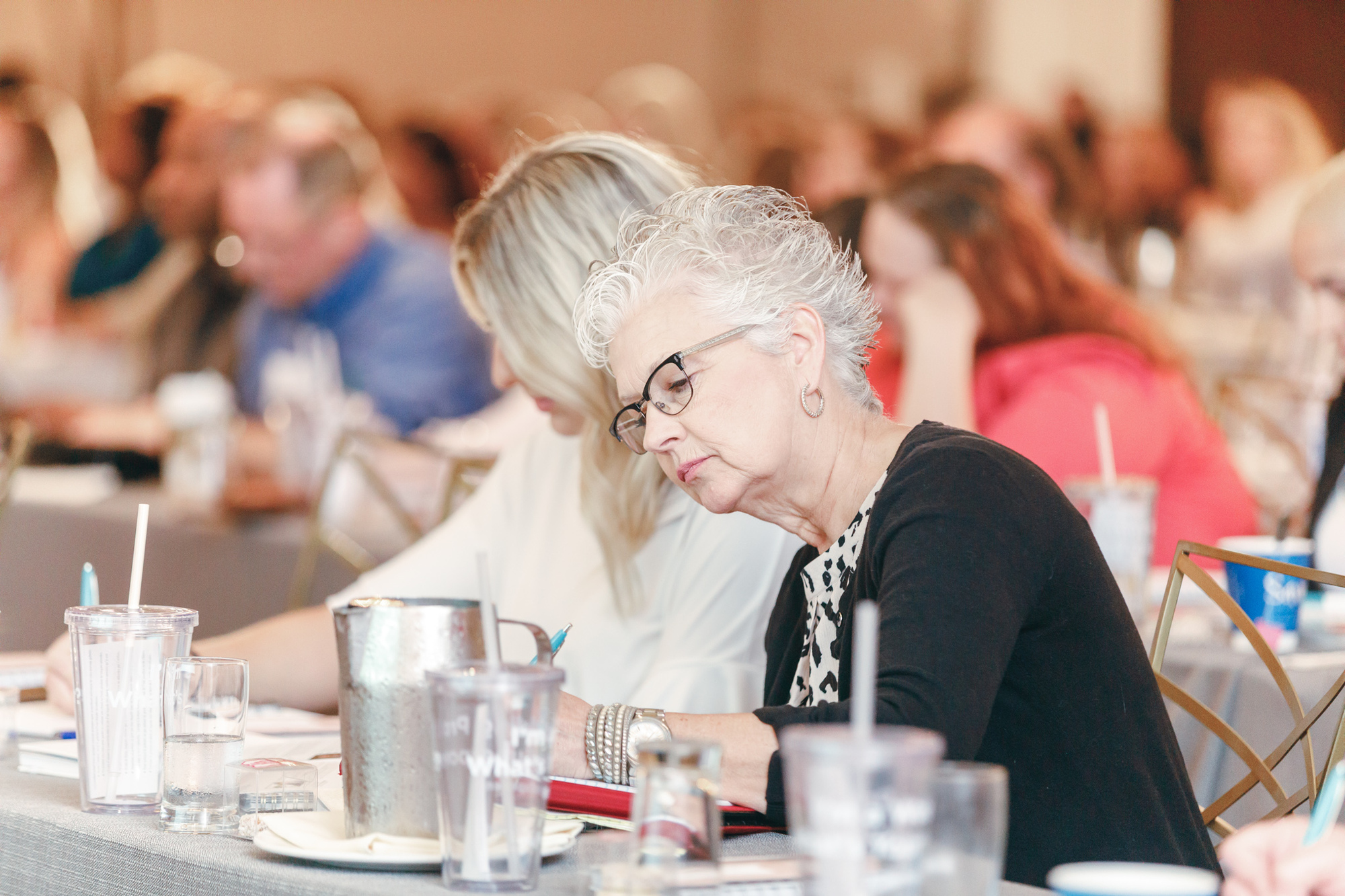 Ama by Aisha – Photography & Cinema
This is a way to give back to yourself! Take some time to figure out what education will take your business to the next level, and take action. Sign up for a webinar or an online course. There are so many resources out there that you should take advantage of. And don't miss the opportunity to join us for WeddingPro COR June Tone Up —another two-day virtual event to refresh your business for the busy season ahead. (Weddings are back, baby!) Check out the amazing speaker lineup and save your spot!
5. Connect with a fellow wedding pro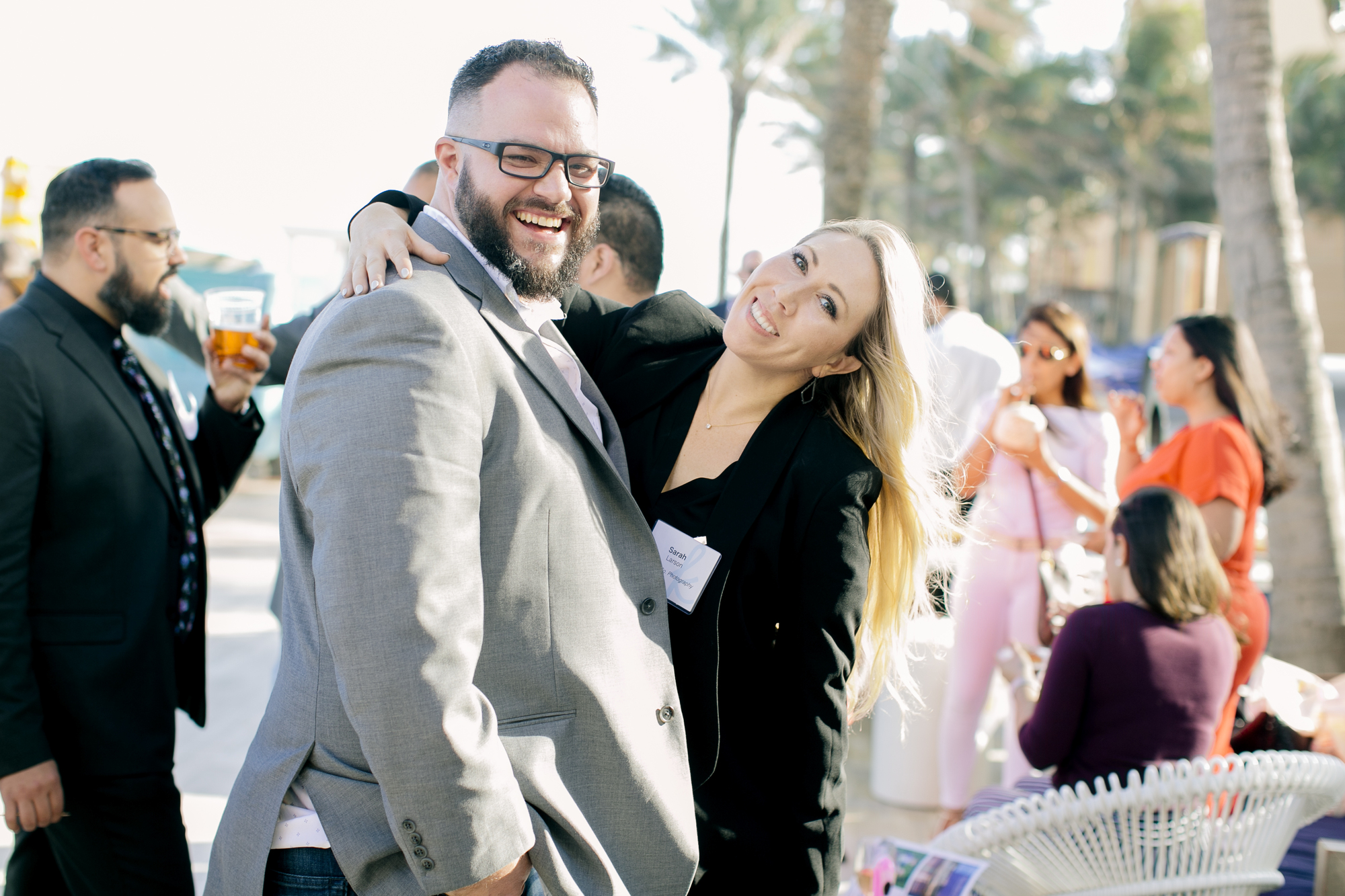 DM one of your wedding industry besties on Instagram to catch up! Schedule a day to connect from a safe distance over Zoom or Google Hangouts. You need community more than ever right now and it's super important to spend time connecting with your industry crew. It will help your creativity and spark inspiration.
6. Highlight other wedding pros on social media
Share the love! Schedule one day a week to round up your favorite small businesses and promote them on your social channels. Tell your followers why you love the business you are highlighting and encourage them to check out their websites.  If they are offering a new product or service speak to that as well. This is an easy way to show your support for other small businesses at this time! Sweet Cheeks Baking Co. created a highlight section on their Instagram labeled "Vendor's We Love" and features vendor friends daily to support their businesses.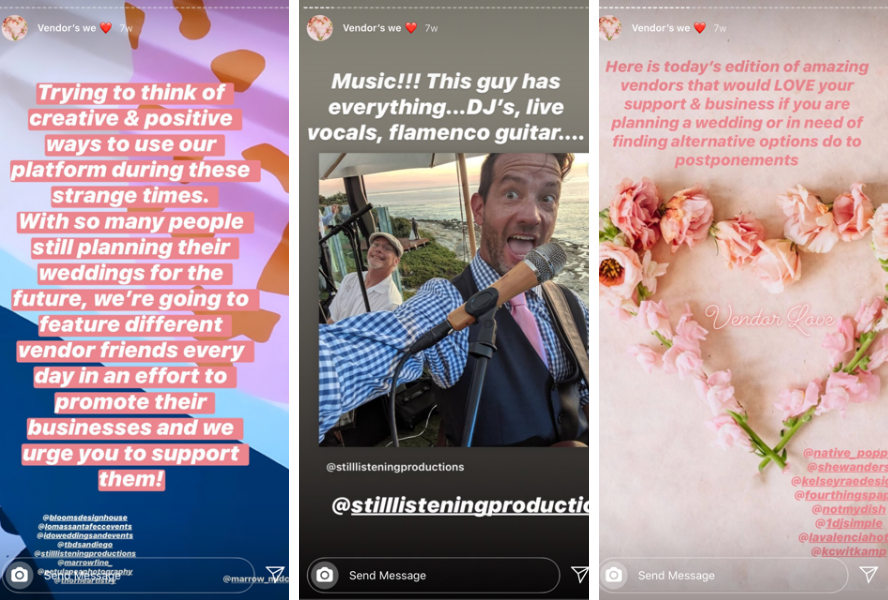 7. Purchase gift cards or gifts 
Purchasing a gift card or gift is a great way to show your support. Check the business's website or social media channels to see if they are offering gift cards or give you the ability to prepay for one of their services! Read on for ways to shop small from your industry friends! 
Happy National Small Business Week
We hope these seven ideas help you celebrate the incredible grit and commitment small businesses have to their dreams. It's very important to take the time to recognize all the work you do throughout the year. No matter how you celebrate Small Business Week, make sure you take the time to reflect on your journey and give your wedding industry friends some love!
Photo by epagaFOTO