Why Despite Major Setbacks This Rental Company Keeps Dreaming Big
By
Finding ways over or around challenges is a big part of being a business owner, regardless of what industry you are in. Because, there is almost always something that didn't come in on time, someone who looked over an important detail, or somehow what you thought was a flawless plan turned out to have a few. This can grind on your spirits (rightfully so) but one of the marks of a great business owner is the ability to still think and dream big through it all.
We don't know a single wedding pro who hasn't felt like they've been thrown off course in 2020 but the resiliency we have seen is so cool (to say the least). Because, your dreams, goals, and ambitions aren't going anywhere and it is totally still possible to make them all happen. And today, we are excited to share a conversation we had with Samantha Goble of Hostess Haven, where we talked about everything that goes into running a tabletop rental business and why even the biggest challenge isn't going to keep her from dreaming really big. Read on to learn about what that lofty goal is, what makes her actually do a happy dance, and where she hopes to take her company in the next five years!
Tell us a little bit about your company.
Hostess Haven is known for its unique, one of a kind, and highly curated collections of dinnerware, glassware, flatware, and napkins that are sourced from all parts of the world! It was inspired by gathering around a beautifully curated table to eat delicious food and be around good company. Since it was founded, it has carried on that tradition by creating beautifully set tables for couples, families, and friends to gather around and celebrate the most momentous of occasions. In its five years of business, Hostess Haven has grown into a highly recognized and coveted rental company that has shared credits with some of the biggest brands (like H&M and Spell), celebrities (like Whitney Port, Ally Hilfiger and Vanessa Hudgens), and has graced the pages of the industry's biggest publications.
Is there a particular moment or story about why you decided that being in the wedding industry was what you wanted to do?
I grew up celebrating holidays and family birthdays with my dad's side of the family. Being with family, eating good food, talking and laughing—some of my favorite memories come from those events. That always stuck with me and I've loved the tablescape part of a wedding. So, when this opportunity came about I decided to go for it!
How would you describe your favorite couples to work with and is there something you seem to connect with them over?
I love all our couples but my favorites are the ones who see the value in tabletop. The ones who see that it's more than just a plate or a glass. They see the beauty of the collections and design and want to showcase it. That the pieces they choose are intentional with their overall design and are the finishing touch.
Looking back, what was the most important thing you did in your first year that ended up setting you up for success? And, what has been the thing that has helped you level up since?
I think the most important thing was exposure (taking on styled shoots, free events, etc.) because it was so important to get our name out there to let people know that Hostess Haven was under new ownership (my family and I bought the business in 2018). So, meeting with all the different planners, creatives and vendors who use us was the single most important thing to do. We did so many free events and shoots. I honestly couldn't tell you how many we did in our first year—but it worked. We have built up our clientele base, have been working our way up in California as well as across the U.S. What's helped us keep this momentum is just keeping in everyone's line of sight. We still do a lot of styled shoots and events but it keeps us in the forefront of everyone's mind.
What is your favorite part of working with your clients during the planning process?
I love when I am able to meet my clients for mock-ups and getting to chat and visit with them. We typically don't see the clients on wedding day as we arrive before everything starts to set up and again after all the festivities to clean up. So, being able to visit and put a name to a face is always the best! 
What is something from a typical day that might surprise people?
Everyone thinks my job is getting to play with pretty things all day and while that is part of my job it's like 5% of it. Most days I'm sitting on my laptop answering emails from inquiries, client follow-ups, sending proposals and invoices, and doing other administrative stuff. Not the most glamorous or Insta-worthy but it's what keeps the lights on!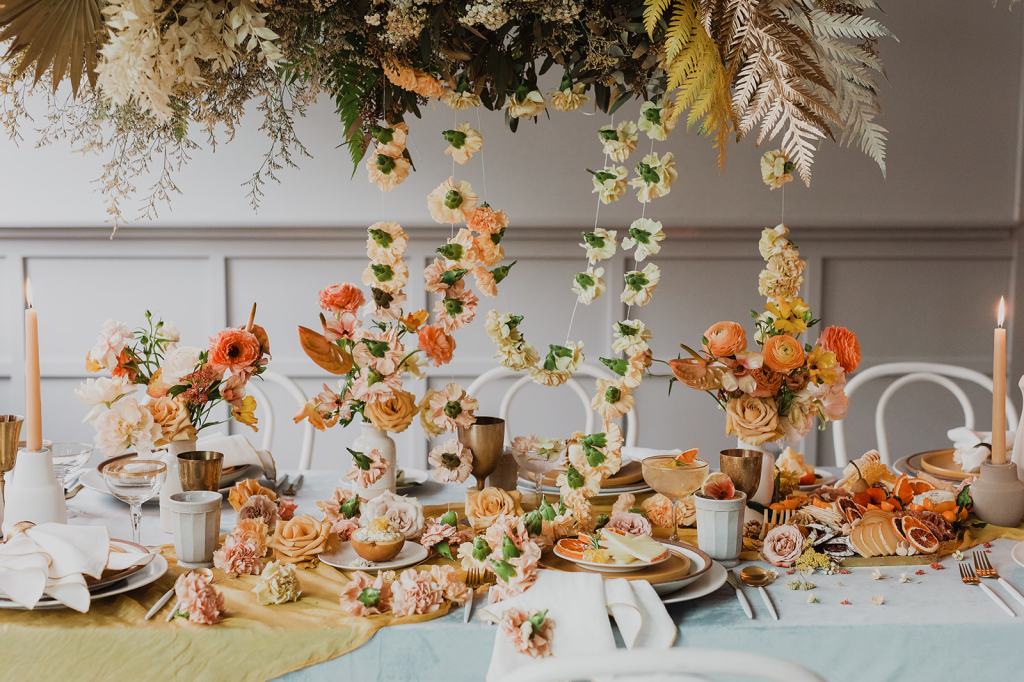 I stand for…creating beauty in the midst of chaos and bringing people together to share and celebrate.
My clients are…freaking amazing and I am so fortunate to have them!
If I could…have more hours in the day I would, haha!
One time I…almost got run over by a cart of my rentals. Note to self, don't try and take them down a hill.
Tell us about a time you actually did a happy dance!
Whenever we don't have dirty dishes to be done!
What did you do to get through a particularly challenging time in your business?
Just kept moving forward. There are always challenges when you are a business owner. 2020 has been the biggest challenge but we've just kept moving forward and have stayed positive about the upcoming year. Also, just being in the forefront of everyone's mind with styled shoots and putting out content. I think that's key too.
What do you know now that you wish you did when you started?
How much labor is involved. People think it's easy you just drop off and go but there's so much back end stuff that needs to be done before that point. I'd say it's 75% labor and 25% office work.
Tell us about a pivotal moment you have had in the last year. What was the impact it had on your and your business?
Does COVID count? Haha! I think our moment was how do we keep growing but at a rate we can keep up with it. I've seen companies grow way too fast and get burnt out or end up failing because they can't keep up. The flip side is that if you don't grow enough you can't sustain yourself. It's truly a balancing act. We have grown since 2018 and are so thankful for it. Even during COVID we have been able to keep the doors open and lights on all thanks to our truly wonderful planners, vendors, and clients!
Once you've reached a goal, how do you decide what goals to set next?
We look at what we were at, what we hit, and where we want to go next. What big thing do we want to accomplish? We try to make it achievable yet challenging. This year's goal was to reach a half-million in revenue but, obviously thanks to COVID, that's not happening. Next year though, I want to go even bigger than that.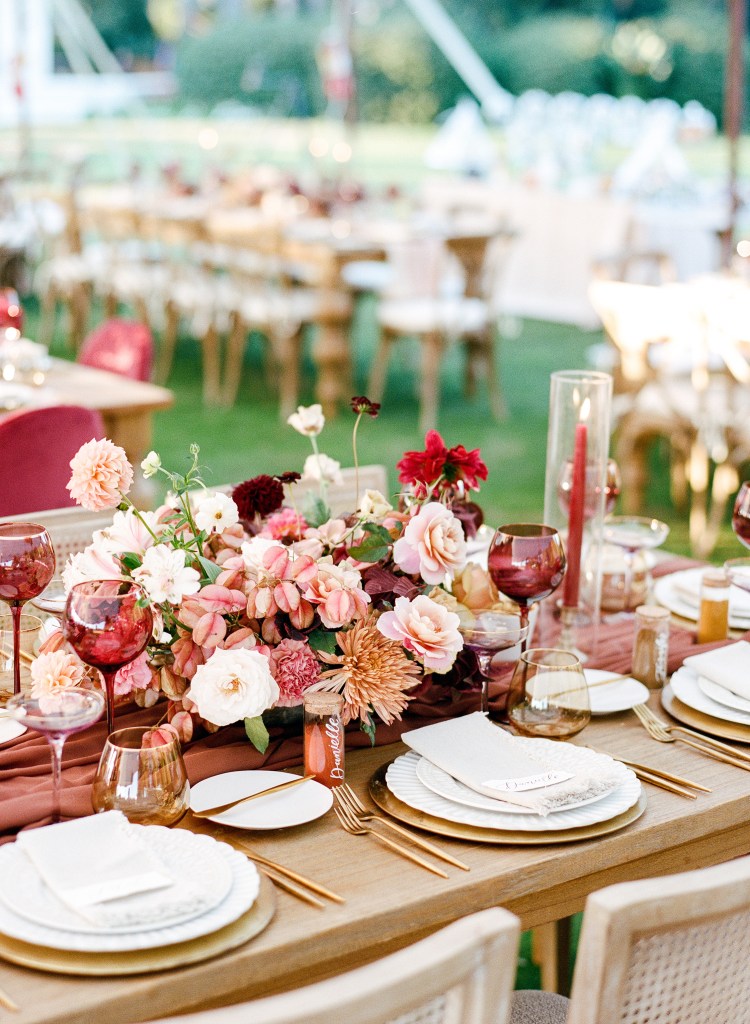 5 years from now, where do you hope to be?
In 2025 I hope to be the tabletop queen of Southern California and beyond! Haha! No, I definitely hope to have kept expanding and growing, adding new inventory and perhaps even opening up a second location further north. I hope by then I can hire some employees on and retire my family from the labor part of the business. I'll be 30 by then so I'd like to also take a step back and be able to manage from afar rather than be deep in the trenches working. Every year there's growth, new challenges and always something new so we shall see where these next few years take us!
If you want to connect with Samantha, you can find her on Instagram at @hostesshaven. And, be forewarned, her feed is going to make you want to shop for all new dishware!
Photo Credits: Meaghan Brianne Photography, Stetten Wilson Photography
Let's grow your business together!
Start advertising on The Knot and WeddingWire, the top two wedding planning platforms.