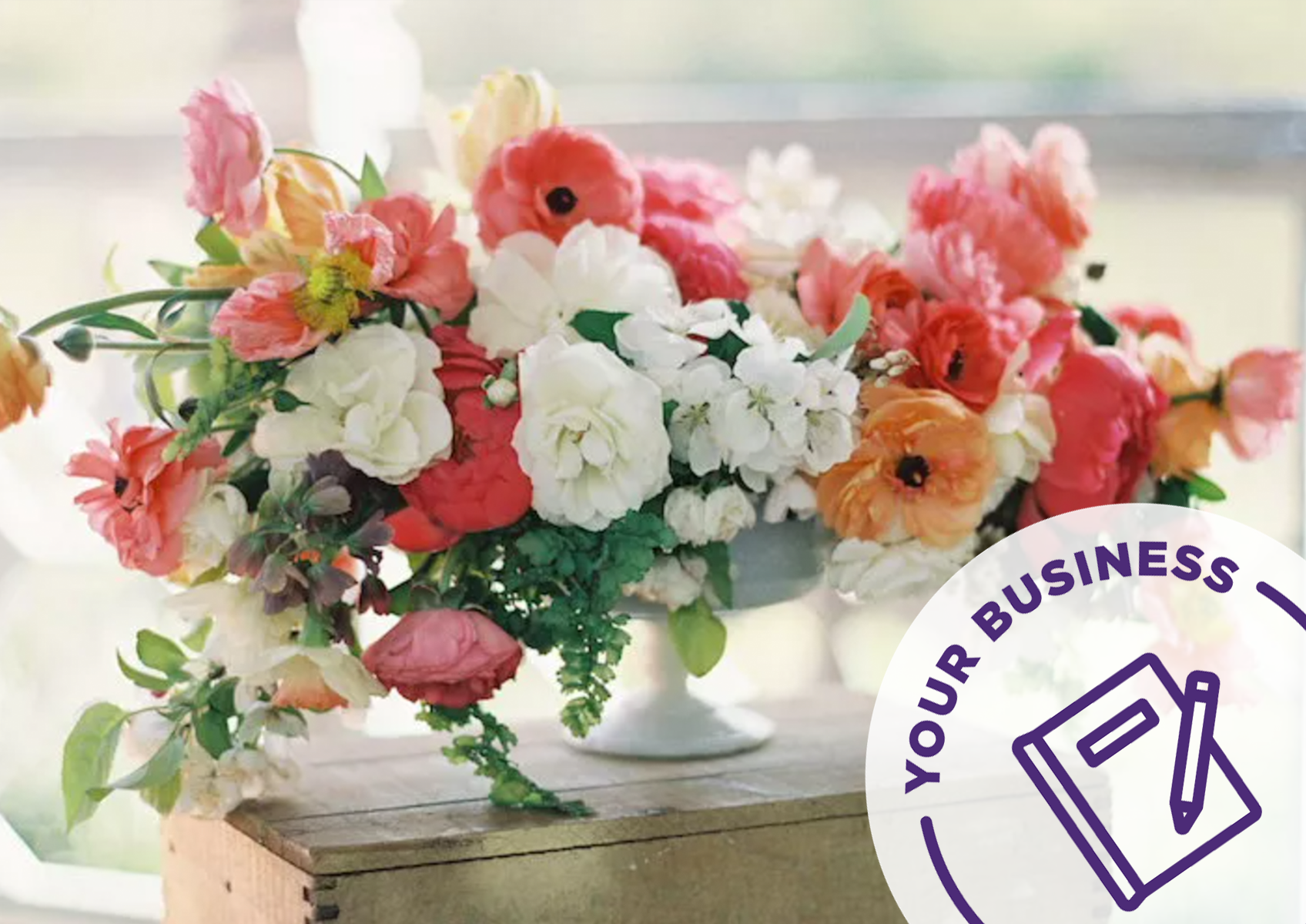 As a florist, you face a unique set of challenges during this time. With altered wedding formats and constantly changing event size restrictions, we know you have questions. To help address some common questions and provide insights during COVID-19, we tapped several WeddingPro Educators and experts to address questions. 
Meet our expert lineup:
Florist Question #1: What are some best practices for virtual appointments? Is it best to reschedule in-person appointments to a later date or take on Zoom/video appointments?
"I think it's best to not reschedule. Keep the appointment. Due to social distancing, I think Zoom/video appointments are best right now. It's a great way to chat, share and discuss topics through "screen sharing" technology. Certainly through video appointments you can develop rapport with your vendors and clients," says Nancy Liu Chin, Nancy Liu Chin Floral & Event Design
"We are doing a mix of both virtual using Zoom, and in-person appointments," says Marcia Villiers, Beautiful Kreations. "On our in-person we are following all the social distancing protocols and limiting persons in attendance to no more than two so that altogether our office has three persons at any given time."
"We try to make the Zoom appointments feel as much like our in person meetings as possible," says Cece Todd of Cece Designs. "We make sure that our lighting is good, that our makeup is on and we are prepared with the necessary slides to share to make an impact."
Florist Question #2: How are you managing postponements and cancelations?
"The way that we're handling postponements is that they can pick a new date but they have to give us the option of 2-3 dates," says Sarah Khan of Sarah Khan Event Styling. "If they pick a date without telling us and we're unable to provide service on that day, they won't owe the final payment. And then we will keep that initial deposit. That said, we haven't had that situation yet."
"Sometimes we can't do multiple large weddings and we already ran into that," says Nancy Liu Chin. "My suggestion to most is to find another floral friend/buddy and hopefully work together to try to meet all future needs even if one is booked."
"When the impact of COVID-19 on events was imminent I immediately reached out to all of my clients to update them on how we would all move through this unprecedented space as a team," says Bron Hansboro, The Flower Guy Bron "I started using the terms "rescheduling" and "postponement" and educated them on the difference between this preferred option as opposed to cancelling. This proactive stance reduced the amount of cancellations requests upfront, however, it didn't altogether prevent them. Clients requesting cancellations are reminded of the loss of their investment and redirected to their contract terms."
Florist Question #3: Are you charging a change fee? How are you handling pricing for 2020 vs 2021?
"One thing I'm doing to make it more amenable to book during COVID-19 is this: Rather than having them book with a 50% deposit, I'm having them book with a 30% deposit," says Sarah. "To be honest, this kind of helps us as a business because it breaks up the payments and allows us for ongoing cash flow during this time."
"We are not charging a change fee," says Bron. "This is my way of sharing the burden of the pandemic with my couples. Instead, we are changing the date of the contract to the new date and restructuring their payment schedules. In regards to pricing, there are so many unknown factors that it would be very difficult to predict any changes. In addition to changing the date, contracts for those clients postponing into 2021 exclude me from liability in the event flower costs increase."
"Yes, we are requiring an additional 30% deposit for any postponed events to 2021 with a new signed contract," says Maha.
"We are not charging a fee with the exception for those events that are rescheduled around peak holidays, as florals pricing incur slight pricing increases during these times," says Marcia.
"At the moment, we are not charging a change fee," says Cece. "We are working to help manage this situation with our clients by being flexible with their new dates as long as they are within 2020 on an open date. In our contract, we have made it very clear that pricing for cost of goods could fluctuate and have to be addressed prior to final invoice payment 30 days before the event. All of our couples have been extremely understanding and warm because we take our time educating and communicating how things will work based on the information currently available to us.
Florist Question #4: How are you handling clients that are trying to book over one another for the same dates in 2021?
"First come first serve," says Nancy. "I have a COVID-19 change policy that I send out. It says clearly that when it comes to date changes, an addendum must be signed within a specific time frame. If someone doesn't sign, they could lose that new date."
"We only book as many events as our staff is set-up to accommodate," says Cece. "We are working hand in hand with the wedding planners to create dates that work for all of the vendor team. We are remaining flexible, but we refuse to take on more than we can realistically handle to produce the quality of work that CeCe Designs has become known for producing."
Florist Question #5: How are you communicating your availability to couples?
"We are communicating in whatever manner best works for them," says Cece. "We are utilizing Zoom, Facetime, email, phone collaborations with the wedding planner and other event pros. It is important to make sure that clients understand our position, our heart to help them, and our plan going forward and we are willing to communicate in a way that makes sense to each individual client."
Florist Question #6: How have flower distribution chain interruptions affected your business and do you have any tips for managing this?
"The flowers need to be ordered further in advance than before the pandemic," says Cece. "We have not seen a quality issue, quite the opposite actually, because the demand is so much lower to the farms that the blooms are actually very beautiful. However, the shipping is slower because not as many transport planes and trucks are running, so you must be on your "A" game when it comes to ordering. We have also seen less available stock at the local wholesale house for quick orders."
"Quantities are lower than before, some specialty high-end blooms are harder to locate and may not even be there any more," says Nancy. "With so many weddings postponing, it's affecting the global floral supply chain so if anyone is moving forward with their 2020 wedding, they have to brace for change. One has to manage expectations and also educate the planners and clients to be open to more seasonal flowers."
"Yes, it's affecting our business," says Sarah. "I like to be very transparent with my clients and now more than ever. So in every consultation, I'm letting my clients know and building the proposal with the basics in mind when it comes to floral because I don't know what will be available at that time. I'm also keeping it to florals that will most likely be readily available to us. I'm also using mostly white and not using anything that is a specialty flower in the proposals.
Also, I'm asking clients about silk florals for larger installs like the ceremony arch or the mandap. I'm doing that as a precaution because if for some reason those flowers aren't available or the price of flowers skyrockets, we don't want to be in a position to have to give the client money back for something that's not our fault. We're doing this all ahead of time to let them know just so that they understand the options."
Florist Question #7: Have you had any true cancelations and if so, how did you handle it?
"We have only had one true cancelation and it was a corporate event booked by an out of state corporation," says Cece. "We refunded the money paid over and above the initial retainer as outlined in our contract. They understood that the non-refundable retainer covers the initial work done by our team to prepare for the event."
"Yes. First and foremost, I asked for legal advice," says Nancy. "One should always make sure their contracts are legal and updated. Also it's good to have a good rapport with clients. And no matter how much it hurts, to keep in mind that the best outcome is a win win. No one wants to leave a cancelation with bad feelings."
Florist Question #8: In your opinion, should florists really be marketing right now?
"Absolutely! Couples are still getting married at some point and thinking of their events and booked clients love seeing what's out there and that you are flowing and working as normal as possible," says Maha.
"Absolutely, florists should be marketing," says Bron. "In the grand scheme of industry, the flower sector is thought to be tiny although it represents billions of dollars. Large corporations are continuing to market their goods and services, as should the floral world. The one caveat is in addition to marketing our goods and services, there is an opportunity to use our creativity to market something more than our business agendas. Instead, find ways to bring additional value into the world. Consider how you can leave a lasting impression during a time when people certainly need inspiration more than ever."
"In my opinion, we should be marketing more than prior to the event," says Cece. "People are spending more time on their screens and researching as they have more downtime than normal. If you are not marketing your goods and services, your competitors will reach your ideal clients instead. Now is the time to be sensitive with your messaging, but sensitive does NOT mean silent."
"Yes of course," says Nancy. "We need to do everything to stay afloat. I think it's how you market that is important. What is your messaging?"
"For the ones that are able do so, absolutely! Couples are still shopping for future dates, so any bit of putting ourselves out there can be a win in the PR department," says. Marcia.
"One hundred thousand percent florists should be marketing their booties off," says Sarah. "If you go silent even for a few days right now, people might get the impression that you have gone under. I know it sounds really grim but you have got to constantly maintain a presence and maintain that is parallel to your band and to the service that you provide. That way when people finally do feel comfortable moving forward, they will remember you. Because they constantly kept seeing things from you. If they're following you already they were already interested in your services. Come up with creative ways to market and show what you're good at.
About the author: Anja Winikka is the former editor of TheKnot.com and The Knot Magazines turned educator and contributing editor @WeddingPro. She's on a mission to help creatives, community leaders, and wedding businesses own their stories and tell the world about it (follow along via Instagram @editorinchiefmedia).
Photo Credit: Jen Huang Photography