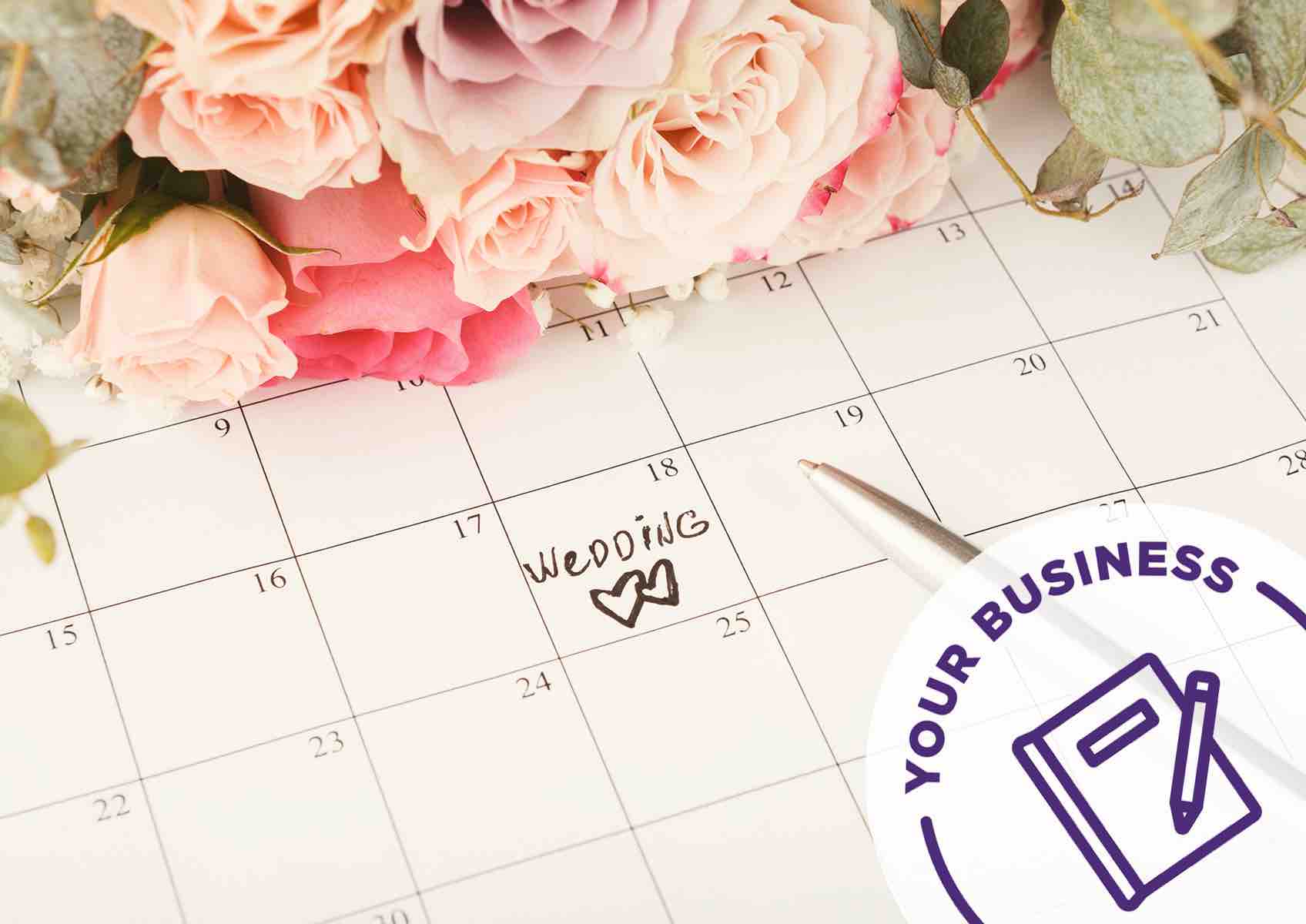 It's likely you've been spending much of your time helping your clients figure out the right next steps for them during COVID-19. The results are in, and you've done an incredible job because 90% of couples are not canceling their weddings or lowering their budgets. The silver lining of this pandemic is that it has inspired wedding business owners to find creative ways to celebrate that love is not canceled! Fortunately, as a wedding pro, being creative is what you do best!
Amidst the wedding reschedules, we've seen pros band together and create some amazing celebrations for their clients who are under quarantine and still want to get married with a Quarantine Minimony. Think "marry now, and party later!"
Quarantine Minimonies are currently taking place in locations where there are stay-at-home orders, and may include up to 10 people—as long as they adhere to social distancing measures. The minimonies we are seeing generally involve an officiant (either in-person or virtual) along with other members of the vendor team, such as a baker for a small cake, a florist for a few arrangements, and a photographer who can capture the event from an acceptable distance. Videographers and entertainment may also be part of this celebration especially if there is a virtual component where guests are joining in from afar. Think of a minimony as a commitment ceremony for your couples to honor their original wedding date or for those who have reasons for getting legally married now. This is not the couple's wedding, as their sequel wedding (or postponed wedding) is rescheduled for a later date. 
Looking Ahead to The Future of Weddings
As we think about the future of weddings, there's potential for restrictions on gathering size to continue. So how do you continue to fill your calendar and avoid continued postponements while getting couples in the planning process out of the wait and see mode? There is a lot of opportunity to get ahead of the curve by innovating on ideas or concepts that have been in existence for some time. In fact, more than 30% of pros are adding new packages/offerings geared towards smaller/micro weddings. 
Why experiment with new packages now? Shaking up your offerings and creating something that works with the current climate allows you to maintain the value of your services while creating new cash flow opportunities now. Additionally, it may help get your name in front of new audiences to be even better established in a post-COVID world. Working with couples who are looking to move forward with their weddings even in the midst of size restrictions gives you the opportunity to fill Fridays and Sundays and other non-peak dates that might not otherwise be booked, while creating an opportunity to upsell a higher level of service. A smaller guest count doesn't mean smaller budgets, in fact, it means that you can help couples deliver an elevated guest experience by creating a more luxury event. 
The current environment creates an opportunity to test and refine your approach so that your business is ahead of the curve for the future. When it comes to weddings during a pandemic, there is no one size fits all for your business or your clients. Our goal is to give you the tools you need to stay the course so that your business is stronger than ever. Over the coming weeks we will be bringing you content on how to evaluate what is right for you and your couples. Think: Conversations with pros who are innovating on these ideas and how to share your new offerings with prospective clients. To kick things off, here are four wedding formats we're seeing:
1. Weekday Wedding
What is it? Many couples are being flexible when rescheduling their wedding date, with some opting to switch their wedding celebrations to a different day of the week (12%). Couples are making this decision to ensure their full vendor team is available on their new, rescheduled date. Plus, these days are often still convenient as an extension of the weekend for both traveling and in-town guests.
How do you make it work? Under normal circumstances you may not book weddings Mondays – Thursdays, but by opening up your calendar on these days you are increasing the likelihood of all pros being available on rescheduled dates. Additionally, this gives you more flexibility in saving those premium 2021 dates like Saturdays for prospective clients who you have yet to book.
Who is it for? This option is great for couples who are looking to have a multi-day celebration or those who want to create their own long weekend. It is also a good solution for couples who want to get married with their original plan but as soon as possible.
2. Sequel Wedding
What is it? A sequel wedding is when a couple has multiple ceremonies. Typically, the first wedding is more intimate in nature (think: a micro- or miniwedding, minimony or an elopement), followed by a larger-scale second wedding, which oftentimes involves a grand reception party. 
How do you make it work? Similar to the weekday wedding, a sequel or rescheduled wedding is the full celebration held on a date later than what was originally planned. If your couple previously had a minimony, they may already be legally married, but this is the opportunity for you to create the real celebration with their family and friends. 
Who is it for? Celebrities are long-time fans, and now couples who already had a smaller-scale ceremony due to COVID-19 restrictions and want to bring their original vision to life. The concept of a sequel wedding isn't new, but given the current landscape it is increasingly being used.
3. Shift Wedding 
What is it? A celebration with multiple small groups of people on the couple's original wedding day by shifting either the time or location of guests to meet social distancing and CDC group gathering guidelines. Generally, this would mean that one group of guests experience the ceremony and perhaps a small cocktail party and another group joins for the reception. Usually this guest "shift" happens naturally, where family tends to leave early and friends stay later into the evening. A virtual element could be incorporated so guests can experience "shifts" other than their own.
How do you make it work? Think of a shift wedding as the traditional definition of a ceremony and reception, but with a slightly longer timeline. As there will be two different groups of guests at the venue, you will need to allow for time to fully sanitize and reset the reception for the second set of guests. Given that vendor contracts usually include a set number of consecutive hours, you will need to determine how adding hours may be feasible for the pro team and your couple.
Who is it for? Couples who want to celebrate now without missing out on sharing the celebration with all of their guests.
4. Microwedding or Miniwedding
What is it? A microwedding or miniwedding, like the names suggest, will typically include up to 30 or 50 guests, respectively—often immediate family and super-close friends only. Though tiny in guest count, microweddings or miniweddings aren't elopements. In the current environment, these types of weddings could also have a virtual element to include guests that are unable to attend in person, as well as another in-person event held at a later date for all guests when group size restrictions are lifted. 
How do you make it work? Producing a microwedding or miniwedding is not much different than what you've historically been doing, but potentially with a smaller guest count. Note: A smaller guest count doesn't necessarily mean lower budgets. Many couples are looking to enhance the guest experience by creating a more luxury event. As couples will still tap all categories of wedding pros for this event, there are many ways you can make this scalable for your business. You can create a personalized experience for a single couple or follow the lead of the Small Wedding Society and create an amazing wedding that multiple couples can use at separate times in one day. 
Who is it for? Couples in areas facing ongoing or recurring limitations on guest count.
We know that it's not a question of if, but when weddings will be in full swing. And we can't wait to celebrate with you all again. But in the meantime, we're excited to share all of the amazing creativity this wonderful industry has to offer. Use this time to see what options work best for your business and make sure to share what you are doing with us on Instagram. Tag @weddingpro for the chance to be featured. We are always on the lookout for wedding pros who are putting a creative twist on wedding concepts.
Photo Credit: Prostock-studio/shutterstock.com