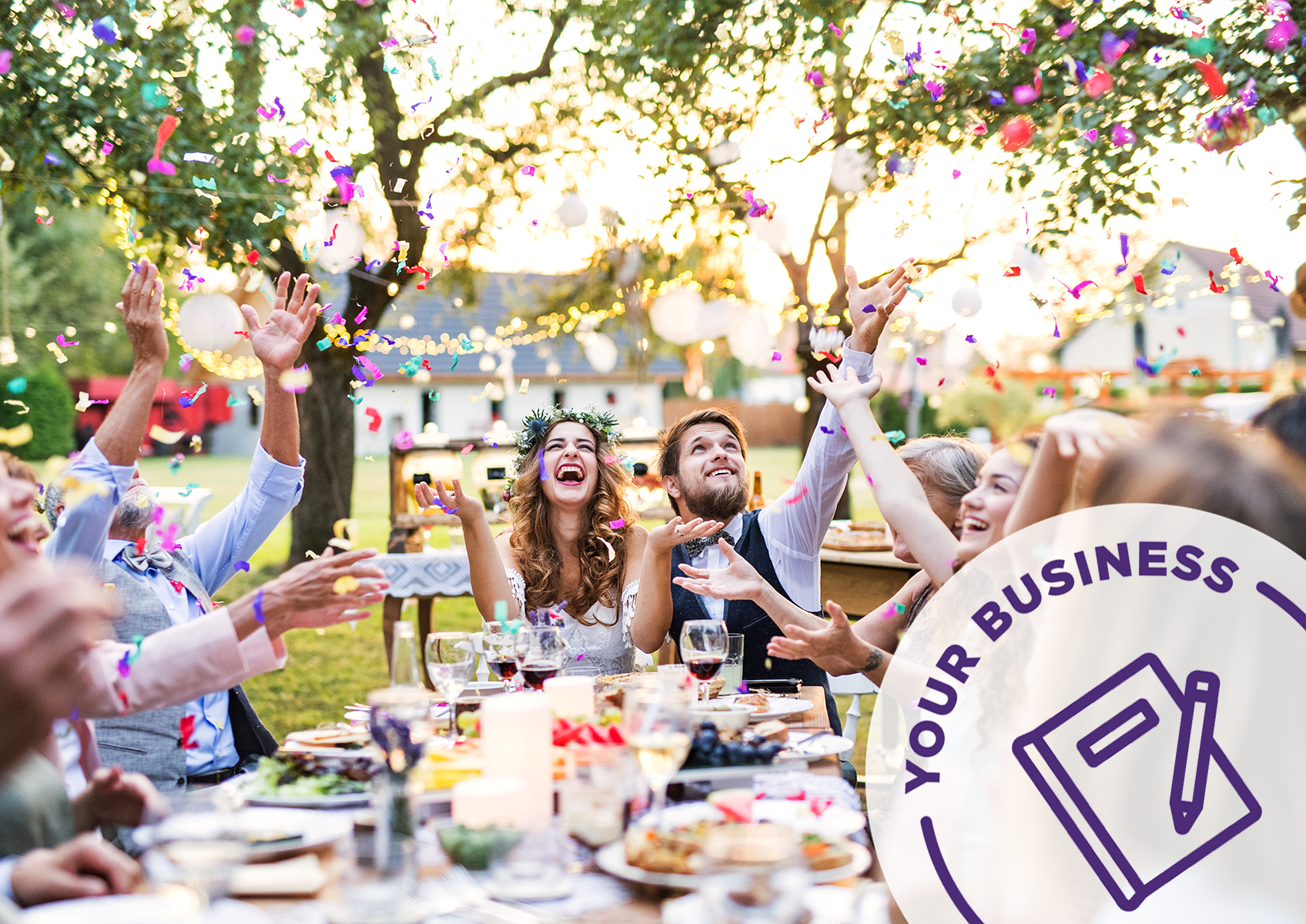 In recent weeks, we've seen the industry shift to experiment with new ideas in order to continue booking weddings while social distancing guidelines are in place. While most couples are rescheduling their weddings for dates when they can proceed with a large gathering, we are also seeing many couples honor their original dates with a miniwedding or microwedding. These changes have challenged industry pros to think differently about their business and innovate on their existing offerings in order to create new revenue opportunities. Our conversations with pros have been so inspirational that we wanted to bring the details of these new ideas directly to our WeddingPro Community live on Instagram. 
Our first conversation was with WeddingPro Educator Bethel Nathan of Ceremonies by Bethel and Elevate by Bethel where we discussed how she's experimenting with different wedding formats as an officiant. Here are the 5 key takeaways:
Takeaway: Adjust Your Existing Strategies and Offerings
The current climate has given Bethel the opportunity to take a step back and look at her current strategies and offerings to see how she can adjust. For the couples who had already booked her, she's communicating even more with them. "Customer experience has always been a huge part of what we do and why couples rave about us, and it's even more important now," she says. "By over communicating with couples and being extra flexible, you're helping them understand that you have their back. This cultivates trust in your relationship."
Meanwhile, Bethel has created offerings for couples who want to get married on their original dates. "While it may not be the wedding they planned on, it's important to support them," she says. To cater to couples, she has created a midrange package that she calls a "legal and sweet elopement." According to Bethel, it's more elaborate than a legal signing, but not as personalized as a custom ceremony. She also designed a "less-custom elopement" that is still personalized, but not to the previous extent. In doing so, couples still get an intimate wedding without devaluing her offering. It's a smaller package and requires less prep on her part, but is still an amazing celebration for the client. 
Pro Tip: While creating new offerings, make sure to consider the restrictions you'll be functioning under. Think about where you're located and what is logistically and legally doable. Then, think about what you do well and what you could offer to couples. Finally, what other pros do you need to complement? Who do you trust that'll treat the celebration the same way you do? Take these answers into consideration before jumping into new ideas.
Takeaway: Get Creative With Fellow Pros
Bethel has partnered with a few different groups of local pros to create new, smaller options for couples. One option is what she called a 'shotgun wedding': a single day at an incredible venue with a mixture of pros involved, but for a small guest list of 10 people. Six to eight couples and their guests will celebrate for an hour or so before the space is fully sanitized and the next group comes in. Bethel notes the advantage here is that "in a single day, couples get so many perks that they normally wouldn't for a 10-person elopement."
She's also offering a few other packages–an elopement where the only pros present are her and the photographer, with other pros dropping off flowers and a cake before the ceremony, as well as an incredibly styled shoot with all pros present. 
Pro Tip: There are many ways to keep generating cash flow while staying true to the work you love, but make sure you play to your strengths. "There are options where we get to play roles based on what we specifically do. Different pros have asked me to be part of what they want to create and it's fun to see what that could be." 
Takeaway: Know That There's No One-Size-Fits-All for Couples (or Pros)
Bethel plays a different role in all of her packages, both old and new. She structures her ceremonies differently when it's just the couple or when there are 20-25 guests present. "There's a difference between an elopement and a microwedding: an elopement is just about the couple, whereas a microwedding is geared toward guest experience as well." 
Making her packages highly customizable has allowed Bethel to better cater to couples. For her "legal and sweet" package, she only provides a few options for the ring exchange and some suggestions for vows. If they'd like, couples can upgrade to get a more personalized ceremony. However, if they don't see the value, there's no reason to force it. This also creates upsell opportunities where couples can add on additional readings or increase the level of customization available to them. 
Pro Tip: Help your clients find the right option that works for them. "If people don't value something, they will never rave about it or review it because they never cared about it to begin with." 
Takeaway: Look Out for Future Opportunities
During these unprecedented times, it's even more important to take care of people and treat them with kindness and respect. When couples are shown care, they will remember it and can translate that to future bookings. Bethel works to deliver a great client experience, regardless of the size of the event and it's paid off –she recently performed a small wedding for a new client and they loved her work so much that they have booked her to be part of their larger celebration at a later date.  "Even if it happens once or twice, this still means more business," says Bethel. 
Pro Tip: She makes sure to charge appropriately for the first celebration and then offer a discount if they hire her for a second celebration. That way, if the couple doesn't move forward with the second event, she won't lose money on her work. 
Bethel reminded us that right now, pros can rise to the occasion and showcase their quality. "We now have the opportunity to show the value we bring to the table in a way they've never understood before." 
Takeaway: Community is Key
Community support is always important in the wedding industry, but crucial during this uncertain time. Bethel has encouraged her community by offering help and advice through Facebook and Zoom. Every category is handling virtual weddings differently, and gathering advice is key to staying informed. 
"This is a rare time where we're all going through something together. We're all in the same ocean, but we're not in the same boat," Bethel explained. "We're all in a different situation of how we're handling this, but we're all dealing with the same sea. Empathy for what pros and couples are going through is so important."
Watch the full interview with Bethel Nathan and more about the innovative things she is doing to continue to grow her business. Stay tuned for more conversations on the Future of Weddings and what it means for pros.
Photo Credit: Halfpoint/shutterstock.com