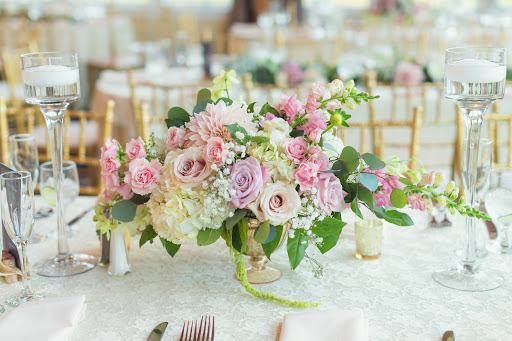 I remember the first time I went to a wedding convention. It seemed like everyone knew everyone else; but the only person I knew was the bathroom attendant because my naturally introverted self would frequently hide there. I'm sure I'm not alone in being able to empathize with DJ Tanner from Full House, eating alone in the bathroom on her first day of high school. For the record, no, I didn't eat in the bathroom – ew.
If you're a budding industry professional, you may notice that a large part of the industry is who you know. Now, that's not to say our livelihood is superficial in any way. It's to draw attention to just how powerful networking is in our line of work. We're a large industry, but a small community.
Networking may seem daunting, but building relationships within the wedding world is crucial not just to the success of your business, but to your enjoyment of it as well. After all, don't you want to work with your friends every weekend? Here are 4 tips to up your networking game.
Read up on it
If you're not a natural go-getter or social butterfly, it's ok! Heck, I was homeschooled for 9 years of my life. Social graces were not on my side for most of my life. I had to learn them the good old-fashioned way: reading a book. Ok fine… listening to one on audible.
I do recommend Carnegie's book, but another favorite of mine is Never Eat Alone. As an Italian, this is pretty much a rule for me anyway, but bringing it to business takes it to a whole new level. Read it and you'll have breakfast, lunch and dinner dates at the next social, no problem.
Use social
In what other century have you had direct access to someone's personal line, without needing to get through their secretary? None. Thanks to social media, you have that power right at your fingertips.
Don't underestimate what you can use social media for. I recently covered a HUGE part of this on a recent webinar called Social Media: A Guide for Wedding Professionals. You should be using social media to connect with as many other wedding professionals as you can. Here's an even bigger tip – connect with professionals before an upcoming conference by searching the conference's hashtag. Bingo! You've made friends before you even stepped off the plane.
Stop reaching for the stars
Now I know your mom told you otherwise, but I'm here to bring you down to earth. As fabulous as it would be to take my advice from the previous tip and contact David Tutera and Silvia Weinstock and become besties immediately, it's probably not going to happen. Why? Not only is everyone already barking up that tree, but they've been in the business for a while and already have their circle of tight friends.
Instead, make your own referral network. Befriend the next Marcy Blum or Fred Marcus (sorry to keep using NYC Wedding Vendors… it's just where I'm from) by reaching out to people on your level of experience and clientele. Build each other up to be the next big thing.
Find photographers
It's always funny to me when I hear that other wedding professionals have a hard time getting photos from photographers. You might not know this, but wedding planners, caterers, florists, bands, DJ's and venues are like the holy grail to us wedding photographers. To me, you're the key to clients, and usually luxury clients that'll spend more money on photography.
However, I know that it can be hard to get photos, so inside this last tip, I've got a few more for you that'll help you get more photos of your work that you can use on social media to show off your services and connect with other vendors.
Offer Something, Anything
Now, I do not charge most vendors to use my photos on social media from weddings that I've worked. A lot of photographers feel the same way and are happy for the cross-promotion. However, contacting a photographer and expecting them to give you photos for free isn't going to fly. It's only polite to offer something in return, even if it's not monetary.
Help Submit Weddings
You wouldn't believe how much work is involved for a photographer after a wedding. Usually it's where your wedding headaches end, and ours begin. Often when we're being asked for photos, it's another thing on our long to-do list.
However, if we give you photos, you can help us by submitting the wedding photos to popular magazines and blogs. If you have connections to some – even better! Obviously, make sure this is ok with the photographer first. But typically we'd be thrilled to have this taken off our plate and it's a win-win when the photos get published.
Offer Future Collaboration
Us photographers need (and should want) to build relationships too. When you're asking for photos, find ways to work with us again. Maybe you're a makeup artist and you can offer to do hair and makeup for the photographer's next headshot (we all need updated ones!). Or perhaps you're an officiant that can provide some ceremony text that'll make for a great blog post on the photographer's blog. You could even suggest doing a styled shoot and get a whole group of vendors involved. The possibilities are endless, but if you start your intentions with serving other people, it's amazing how much more you'll get in return than you originally hoped for.
Use the Photos
Once you've snagged some photos and hopefully started a wonderful new work friendship, don't hesitate to use the photos for LOTS of things! The more times you use them, the more the photographer will benefit from the cross-promotion. Make videos (super amazing for social posts) like these marketing and communication videos I've made right here. Use the photos alone in tons of social media posts like the ones I suggest here.
The Wedding Industry may ebb and flow but it's always built on relationships. Spend time cultivating new ones and nurturing the ones you have and you'll never be without work.
Vanessa Joy has been an influential photographer in the wedding community for a decade. Starting her photographic journey in 1998, she has since earned 5 college degrees, and has spoken at almost every major convention and platform in the industry such as CreativeLIVE, Wedding MBA, WPPI, ShutterFest, Imaging USA, WeddingWire World, and Mobile Beat. Recognized for her talent and more so her business sense, her clients love working with her and industry peers love to learn from her generous, informative and open-book style of teaching. Check out more of her resources at www.BreatheYourPassion.com