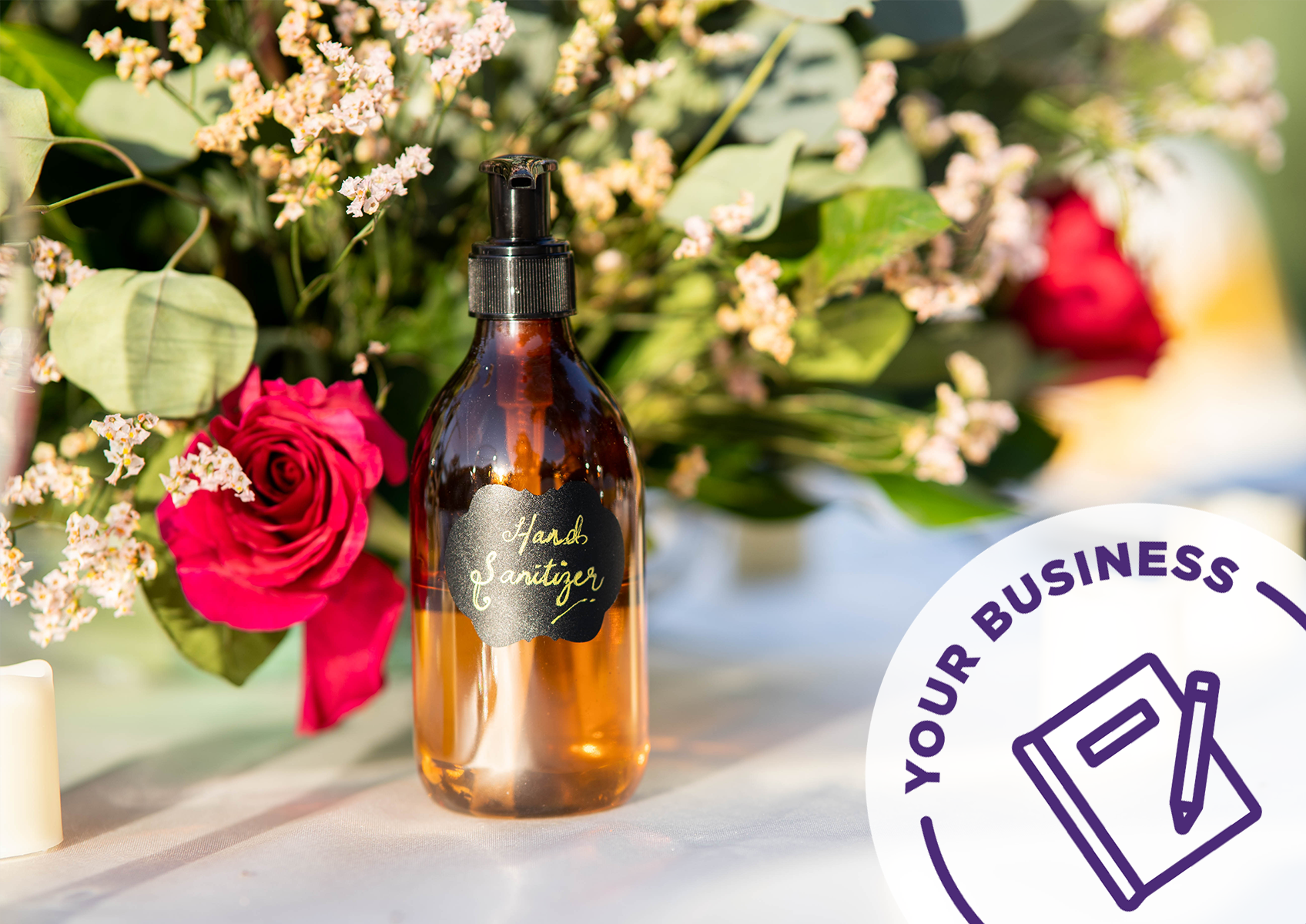 Ask any wedding pro what's been running through their mind lately and you are likely to hear some version of, "I am trying to figure out ways to work while keeping everyone safe." Because, after months of staying at home, couples are anxious to get married and pros are anxious to get back to work. With regulations differing from state to state (sometimes even between cities) and people seeing the numbers in their bank accounts drop, we understand that you might find yourself in a situation where you need to work but are conflicted about how exactly to do so. And, while we certainly don't have all of the answers, what we do have is an amazing community to lean on for ideas and inspiration. If you're finding yourself with weddings on the calendar and wondering how to keep yourself, your team, couples, and guests safe, read on for some innovative safety precautions you can take. 
Precautions you can take before wedding day
Putting safety measures in place for a wedding starts well before the actual event. And, whether you are planning ahead for weddings that have been postponed or more near term for ones you have in the next few months, there are definitely things you can do now in order to set both you and your team up to run a smooth and safe wedding. The first step? Making sure you are up to date on the latest regulations. And (lucky for all of us), the team at Plannie has put together the Gathering Guide to help everyone stay on top of changing policies. 
The Gathering Guide is a global directory of regional COVID-19 event rules and regulations created by Plannie's global network of event professionals. This list is crowd sourced by top local event experts in each corner of the globe who are knowledgeable of their specific community's event standards and protocol. The goal is to provide clear and current information about hosting events in cities around the world and to promote safety compliance by event professionals and clients alike. 
Guidelines are changing every day, so make sure you double check your local government website for what regulations apply at the time of your event. Once you've familiarized yourself with what's allowed and what's not, the next step is making sure that you and your team have a safety plan. Hawaii wedding planner and owner of For the Good Events, Richel Cole, is working with her associates to ensure that everyone knows the plan and procedures before showing up on wedding day:
Internally, we've started safety training with our staff to make sure that everyone knows our new procedures. It's unique in the sense that a lot of our job is centered around being personal and comforting for our couples, so being able to still provide that level of service, while taking safety precautions is something we take very seriously. This means that all our staff (and vendor partners) will be wearing masks and/or face shields, wash their hands regularly, have sanitizer on them, and remain at least 6-feet in distance from others. We will also be training our bridal attendants more thoroughly on how to attend to the couple as well as have them as the designated person of contact to the couple for the day. 
In addition to training your team, here are a few unique things you can consider doing before the wedding in order to help keep everyone safe:
Consider designing seating charts to be by household and/or family unit since those individuals either live together or are likely to be in a pod

Think about

a shift wedding

if the couple wants to include more guests than are allowed to be together at any one time 
Precautions you can take when social distancing isn't possible
But, regardless of how much planning and preparation takes place, it is not possible for some pros to provide services while staying socially distanced at all times, adding another layer of challenge. Because of this, we touched base with a couple of beauty teams to see what they are doing to ensure everyone's safety. The team at Domenica Beauty suggests:
Working with one client and one team member per room when possible and always maintaining a set up that is at least 6 feet apart from other team members and their stations. And, in addition to a normal standard of practice that includes washing hands and sanitizing tools and workstations in between each client, we highly recommend that all clients wear a mask at all times except when receiving makeup services.  
Stacey Triplow, owner of Beauty by Stacey, pretty much developed a new product in order to comply with California's COVID-19 regulations:
"I wanted to be able to clean my makeup chair in between clients but, unfortunately, there isn't a makeup chair on the market that comes in a wipeable fabric, nor in all plastic. While my makeup chair is still usable, it wasn't what made me feel safest. So, I made a "jacket" of sorts for my chair, composed of vinyl cut to size, then hand sewn to fit more snug. This covers all the fabric on my chair so it complies with [health and safety guidelines] for makeup artistry."
Fun ways to help stay safe with wedding photography
The other space where it can prove difficult to keep socially distanced (other than on the dance floor) is during photos. And, our friend and wedding photographer based in New Orleans, Catherine Guidry, shared some fun ideas with us to pass along in order to help you still capture those first family heirlooms with extra care:
When it comes to photography, there are a few ways to keep your images beautiful and memorable while staying safe! Because your guests are going to be wearing masks, consider passing out masks that match the wedding colors so that, in your photos, it becomes a part of the aesthetic. (This is a time in history and your images are going to reflect that!) 
Another idea is to think about creating a life-size photo cutout of any important family members who cannot attend! You can incorporate it into a portrait with you to show them how much you are missing and thinking about them on your big day. Plus, it's sure to get some laughs!
Looking for ways to keep yourself and wedding guests socially distanced for photos? Here are more ideas to help:
Schedule a virtual posing session before the wedding so you have the opportunity to help your couples practice. This will help them feel comfortable and confident working their angles without you needing to be as hands-on as usual

Consider using different lenses that allow you to stand further back but still capture the details and portraits you need to

When posing groups, bring something small to mark the ground where you want each family member or person in the wedding party to stand

Make measuring easy by purchasing a measuring wheel or have pre-measured a length of rope and mark 6 foot increments
Innovative ways to incorporate safety into wedding design
We are all used to the wedding day feeling like controlled chaos but during COVID-19, it is important to make sure it actually is (controlled, not chaotic). Because, with family and friends coming together and everyone craving social interaction, creating a safe but celebratory space is a modern challenge we know you are up for. So, if you are looking for ways to dream up a wedding design that looks good while keeping wedding guests 6 feet apart, here are some innovative ways to approach it. Annie Lee of Daughter of Design shared this unique way to still have a "dance floor" at weddings:
I personally really like bottle service style clubs where everyone has a booth and the alcohol is brought to you and you dance by your banquette. If you do this, make sure to add more speakers and subwoofers around your venue so that everyone can feel the music. Having an area that looks like the big dance floor might be too alluring and will be so hard to police so try to avoid creating that temptation.
Looking for a literal way to incorporate safety into your design elements? Dallas wedding planner Jacqueline Hill of Jacqueline Events shared this great idea with us:
A wedding during COVID-19 doesn't have to be design compromised to be safe. We incorporated our bride's monogram and colors into vinyl markers instead of using bright yellow stickers. This allowed guests to know where to stand at the guest book and bars, but matched the remainder of the decor so that they didn't stick out. Have fun with them or make them serious—either way, you can make them pretty! 
And, the team at 24 Carrots Catering has started working with clients to make sure that guests are safe and comfortable with their options for spacing at their venues:
We have started walking our clients through a full wedding planning guide and using it as an opportunity to let them know about our new standards and additional safety measures. For example, we'll show a client diagrams for a ceremony and reception with adjusted spacing to allow for appropriate distancing (as our standard safety option). In addition to that, we are now including the option for them to set extra tables in the back of the reception to allow guests who want to separate themselves additional options and a little more for comfort.
Want a few more creative ideas to help keep your wedding guests safe without compromising on their experience? Consider these:
Create a floor plan that incorporates smaller dance floors that are spread throughout the space 

Have bottles of wine and/or carafes of signature cocktails at each of the tables in order to avoid guests needing to congregate at a bar

Use umbrellas or cabanas to clearly mark each table and provide shade for your guests too

In lieu of a guest book, leave an envelope, pen, and piece of paper at each guests' seat for them to write a note and leave it in a designated box at the end of the night (the couple can read through them after letting them sit for a few days)
It's times like this that make the importance of community so clear and we are so thankful that this one has come together and jumps at the chance to support one another! This wedding season might be like nothing we have ever experienced but we are confident that each of you is up for the challenge and we hope these safety ideas help you plan some amazing (and safe) weddings.
 COVID-19 regulations and guidelines are changing rapidly, and vary by location. Before putting your safety plan and precautions into place, make sure you check the federal, state and local regulations applicable at the time of your event. 
Photo Credit: Fiza Mairaj/shutterstock.com