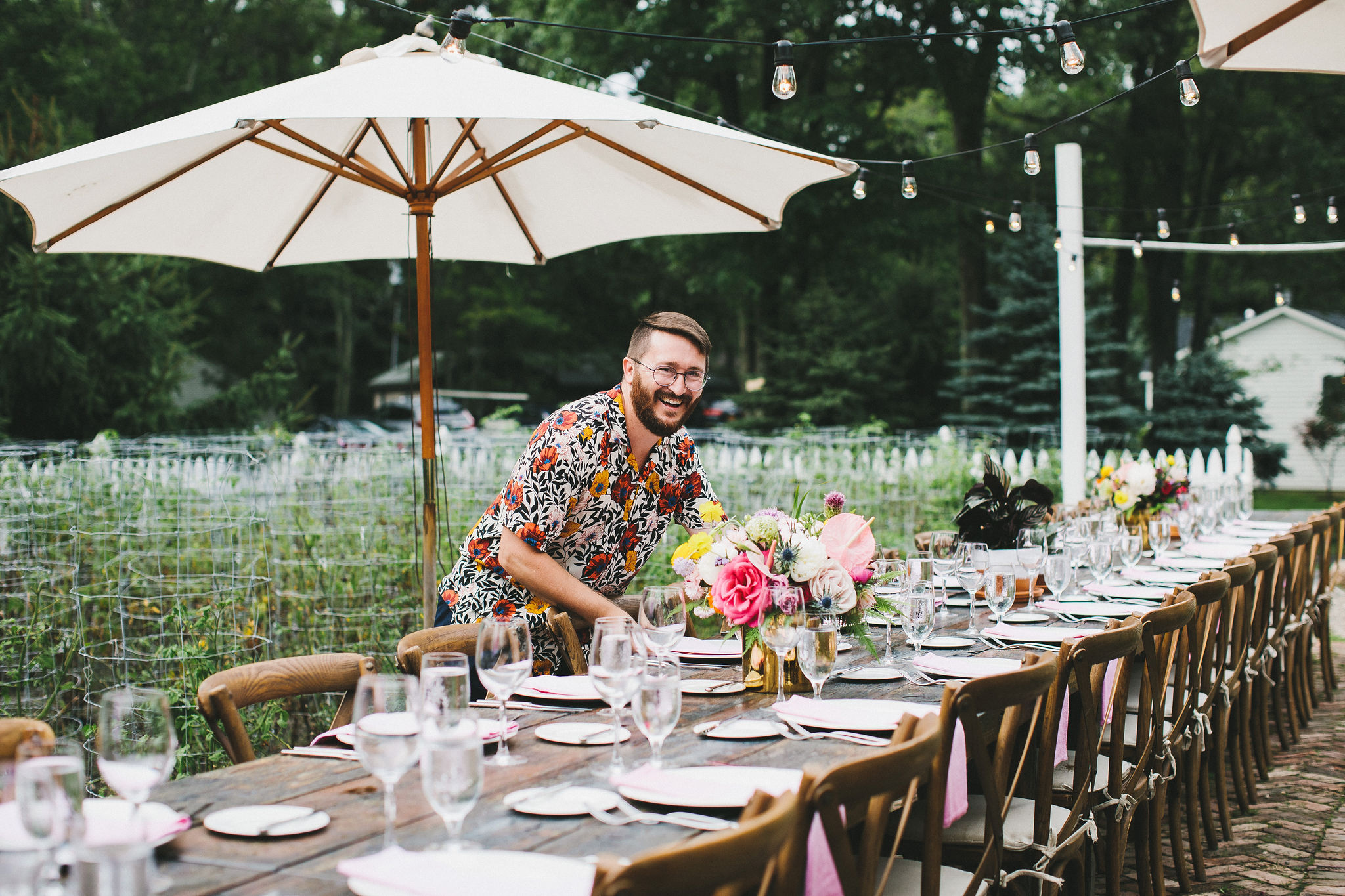 This post is part of a new series of first-person Q&As with WeddingPro educators to find out how they went about building their brands and businesses–from their big goals to mistakes made and top takeaways. Today, it's Jove Meyer of Jove Meyer Events.
Jove is a Brooklyn-based wedding planner, designer, speaker and fierce LGBTQ weddings advocate. His biggest piece of advice? Figure out who you really are and then own it. From waiting tables at Bubba Gump Shrimp Co. restaurant at Times Square (while pretending to be a fancy Manhattan wedding planner) to finding himself and his ideal clients in Brooklyn, we hope his story inspires you to do you. Enjoy!
WeddingPro: Tell us about when you first started your business. Paint the picture.
Jove: Informally my very first wedding was my best friend's wedding. That was during my first summer in New York in 2008. That summer I did a couple weddings for friends. And then I made my own logo and really bad website and started advertising on Craigslist.
I thought at that time that I had to be a certain way and design a certain way and look a certain way based on what I was familiar with from TV and the world around me. So that's what I did.
I didn't have a beard, had a suit, and I would call a car service to get me to client appointments. But I was really not fancy at all. I was waiting tables at Bubba Gump Shrimp restaurant in Times Square and I was in school. I wasn't a fancy wedding planner but I kept attracting clients like that because I played the part. But it wasn't making me happy.
So during that time, I booked a really big gig for $500K. I felt so fancy but ultimately I was uninspired, exhausted, depressed. Something wasn't working because I wasn't being my authentic honest self. I had pretended to be this bourgeois fancy gay who loved uplighting and crystals but I was putting on a show for the client in the way I thought they wanted in order to achieve what I thought success looked like.
WeddingPro: Why did you think that's how it was supposed to be? What was stopping you from being yourself?
Jove: I got it from TV and magazines and media–this idea of what a fancy wedding looked like and what I thought the business had to look like. I had Franck the wedding planner from Father of the Bride and David Tutera showcasing these grandiose weddings and opulence and over-the-top elegant weddings and I was like, sure I could do that. At least that was the stereotype that was in my mind. That's what I had to act like in order to fit in that world and get that job.
But in many ways, I was in a phase of self-discovery. And what I realized was that that style is for someone else, and that I shouldn't be the one presenting that when it's not even close to my style or what I love.
WeddingPro: What happened next? How did you go from planning weddings with uplighting and gobs of flowers to where you are today? 
It happened in Brooklyn. This couple booked me for a wedding at the Green Building in Brooklyn. We had our first meeting at the venue and I was going to be late. I live in the borough so I hopped on my bike, unshaven, in shorts and a T-shirt and rode as fast as I could. As soon as I arrived, I just stood there waiting for their judgement. I thought they would judge me because I was showing up as myself and that's not what I thought people wanted. But instead the couple was like, "we ride bikes too" and "we like your tattoos," all of which I had been hiding.
And after that, there was this shift in me because I realized that they liked and hired me for me and not me trying to be a fancy Manhattan planner. From there it was almost like I took the power back from my own identity. I realized there's a market for me. I could be who I am. And I could be good at my job while having my own taste, and people will want that.
And that was the real beginning of Jove Meyer Events.
WeddingPro: Was it scary shifting like that? Were you worried it wouldn't work?
Jove: I'm always afraid there won't be enough work or that people won't like me, so yes. But by the same token, there was a level of peacefulness when I realized there was a market for me and I didn't have to chase this other market. Manhattan was saturated with high-end planners and those high-end planners were not interested in this tiny Brooklyn borough with its farm tables and warehouse venues. It wasn't their vibe, tribe, or what they were drawn to. So it sort of felt like I was at home and I had arrived in the space after having been almost a foreigner in the other space for so long.
WeddingPro: What would you suggest to other pros who might deep down feel like they're not working with the clients they want to be or in the way they want to be working?
Jove: Growing your business and understanding your own identity and brand is a process. It took years to figure out. I don't regret those years though. They were very informative for me. And we all grow and we all change and I'm still evolving. Give yourself permission to change every year as you see fit for yourself and for your business. As long as you're rooted in the core of who you are, you're good. But the moment you start to build a business like someone else because that's what you think you should do that's when you have to reflect.
So ask yourself: What is your way and how are you serving your clients in a way that reflects that? And know that it's okay to be different. It's okay not to have the same customer base as your idol or your hero.
WeddingPro: Any other parting words of advice?
For me, the success of my business was in attracting and collaborating with the ones who were different. That made me happy so I did it all the time, which then attracted more of those clients.
So I would say, celebrating your diversity and your difference should be a big part of your business. Don't be afraid to sing your own songs as long as that's who you are and it's really authentic.
Uncovering who you are and what your business should look like is about testing and learning who you are and who you want to be. So if you're struggling, spend sometime with yourself and maybe that means doing something out of your comfort zone. Maybe assist someone outside of your style. That might help you decide that it is, or is really not, for you.
And then find that sweet spot, find that target audience and then hone in on that. The more work you do with them, the easier it is for them to find you and for you to do more of what you love.
And you do you boo!
About the author: Anja Winikka is the former editor of TheKnot.com and The Knot Magazines turned educator and contributing editor @WeddingPro. She's on a mission to help creatives, community leaders, and wedding businesses own their stories and tell the world about it (follow along via Instagram @anjawinikka).