Why Character Matters Most to this Wedding Pro
By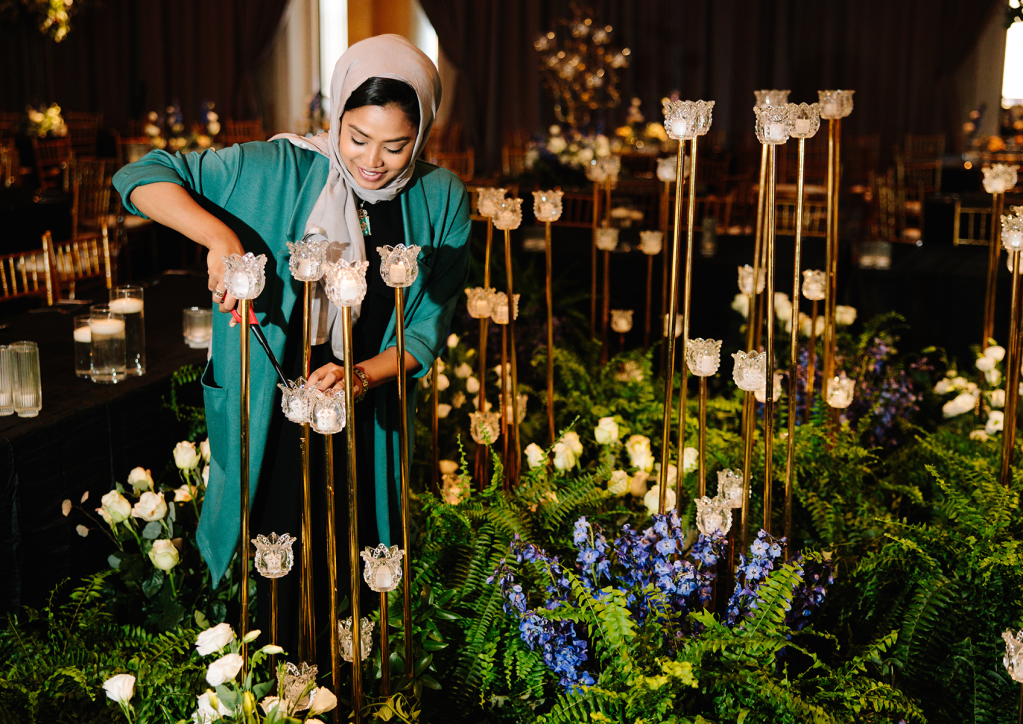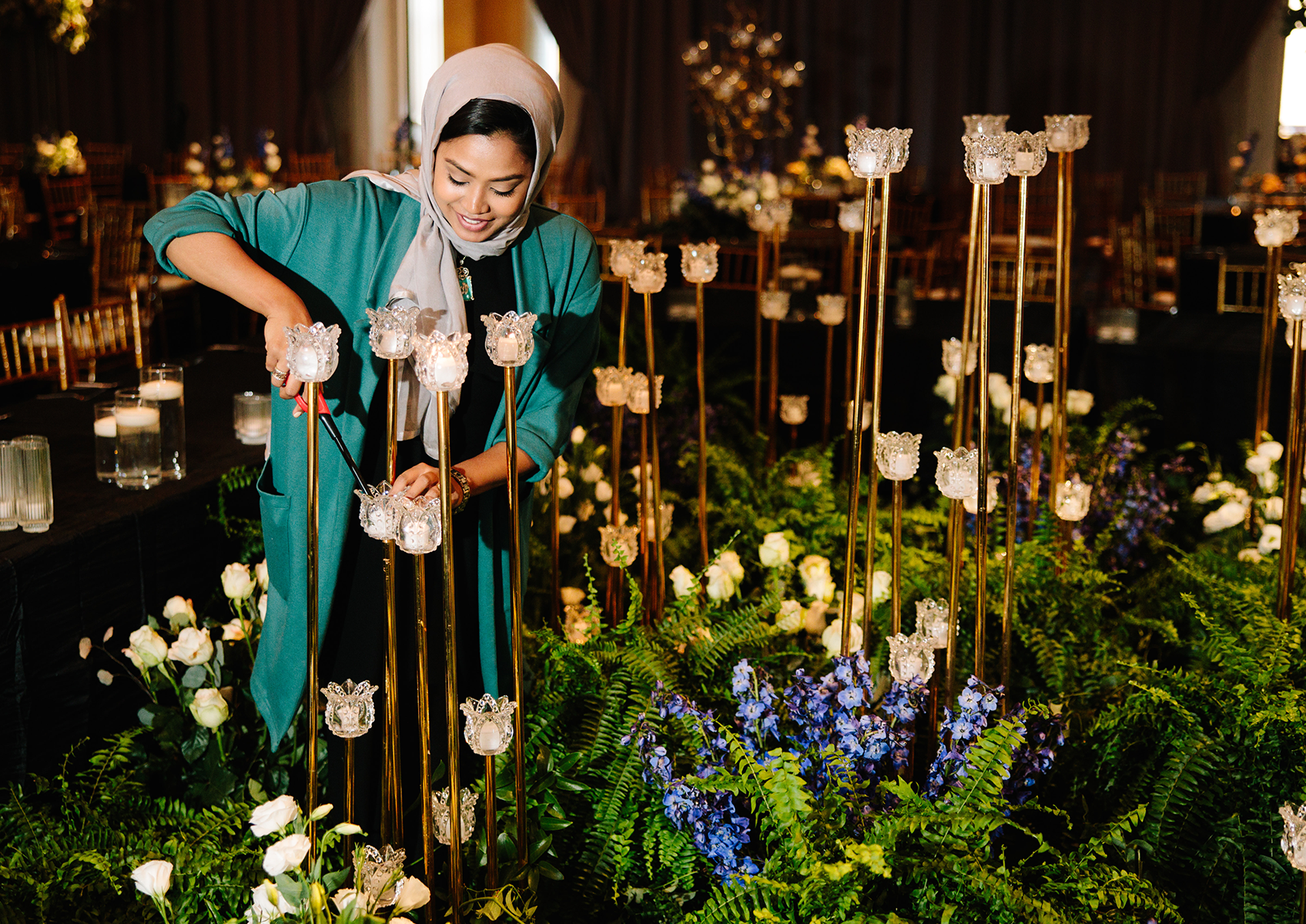 Building a business around the goal of happy clients is one thing—building it around your values is another. Because, having a thriving business that also fulfills you is as much about your creative skills as it is the character behind it. And as most business owners grow into a place where they can marry the two, Sarah Khan didn't just make the decision to do that when she started her business 8 years ago, she is doubling down on it during this incredibly challenging time. Based in Maryland (but with her weekend bag always nearby), Sarah is someone who not only honors the stories she tells on behalf of her clients, but her own as well. And today, we are excited to share more about her with you! Read on to learn about the mistakes she made when first pricing her services, what she wishes she could do, and what she is always here for.
Tell us a little bit about your company.
Sarah Khan Event Styling is a floral, event design, and production company that curates environments for couples with exquisite taste.
Is there a particular moment or story about why you decided that being in the wedding industry was what you wanted to do?
During my own wedding planning I could not find a floral or décor vendor who I felt looked at the larger picture of a wedding to ensure all visual elements are cohesive. I looked at the market, the lack of services, my own strengths and skills and attention to detail and thought it was ripe for the picking. I wanted to provide a service that otherwise was not available in my area for a particular demographic, there was a handful of competition (if that), and I felt it was a reliable market. Whether it's balloons and streamers or magnificent fresh floral installations with exotic imported décor elements, the décor is always present, and I am here for it!
How would you describe your favorite couples to work with and is there something you seem to connect with them over?
My favorite couples to work with are ones that care immensely about creating an environment, then an experience for their guests. With that, we don't necessarily need a theme, the overall design is based on a feeling we want to invoke in their attendees and themselves when they walk into a room. These clients truly value décor for their nuptials and this opens the door for me to throw all ideas their way— and we end up incorporating almost every idea in some way or another. Luckily, this is the case with most of my clients and I feel so fortunate to have success in attracting my ideal client; I owe this to targeted marketing.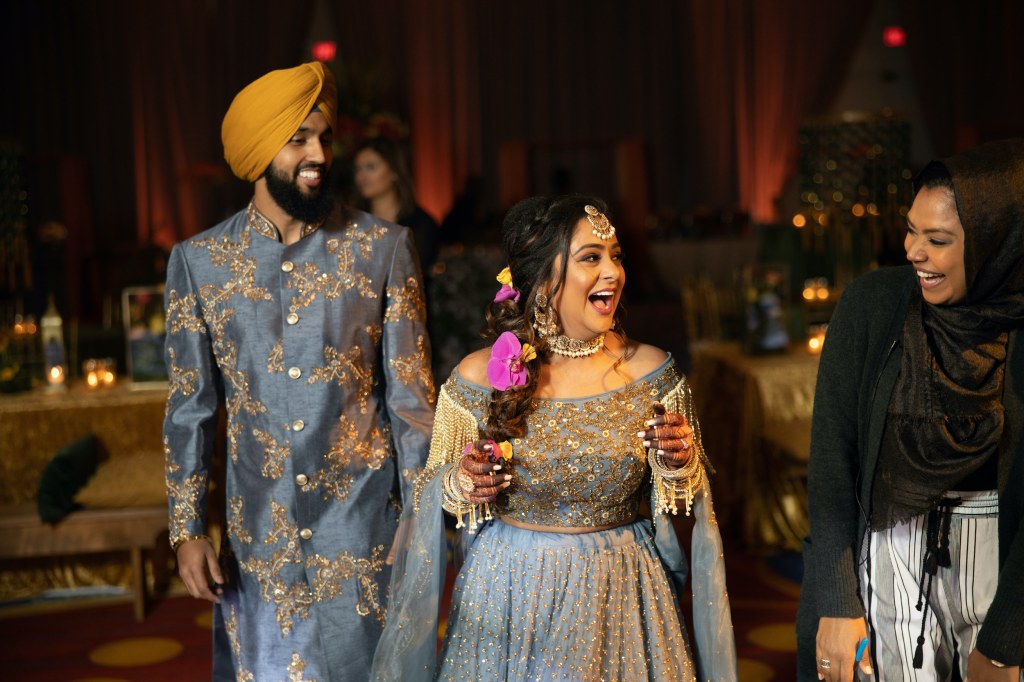 What is your favorite part of working with your clients during the planning process? On the wedding day?
My favorite part of working with clients during the planning process is presenting them with ideas I feel are fitting to their personality and design aesthetic. I love the rush and mystery of not knowing if they will love the idea or veto my concept. On wedding day, I love doing the reveal to show them how that particular concept looks and feels in real life. It is so magical to see their happiness and pure joy in knowing something was conceptualized, designed, and created just for them.
How many weddings did you do during your first year? Do you remember how much you were charging?
I think it might have been 3-5 events and, as for what I was charging, most definitely not enough! I literally would calculate how much it would cost me for material and add like $50 to it. No consideration for labor costs, transportation costs, parking costs, assembly, build, quality check nothing at all. Definitely learned the hard way on this one, but I think we're at a good place now.
Looking back, what was the most important thing you did in your first year that ended up setting you up for success? And, what has been the thing that has helped you level up since?
The most important thing I did in my first year that set me up for success was determining what specific services I was willing to offer and which ones I was not (and still don't). Also, determining what market and niche I want to be in. Embracing these decisions is what has helped me level up quarter after quarter, year after year.
I stand for…transparent business practices to maximize my clients' experience for their dollar.
My clients are…sharp and truly committed to creating an aesthetic and experience for their guests.
If I could…do anything on an event day, I would bring my grandmother with me through the day for her to experience a day of event production from start to finish. I've learned everything creative I have from her and it makes her so proud to hear about the projects I'm constantly working on. Unfortunately, her health and mobility won't allow for her travel.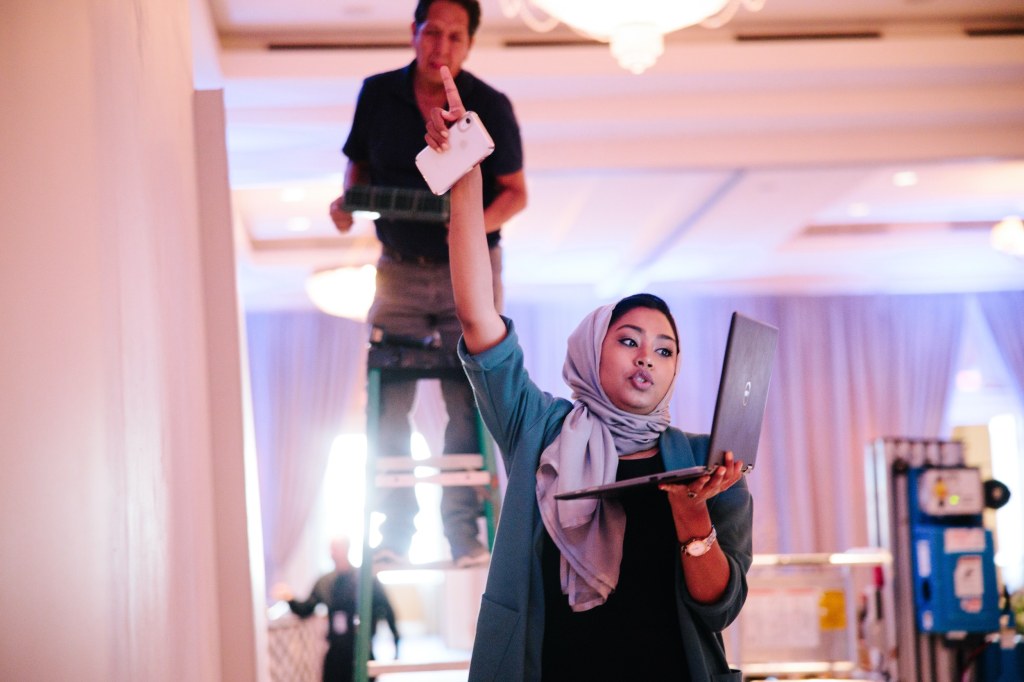 Tell us about a pivotal moment you have had in the last year. What was the impact it had on your and your business?
When COVID first hit, the initial instinct was to freeze and shut down business and see what happens. It was a week in when I decided, no, we are going to keep working and learn and adapt based on circumstances. The news, blogs, industry people only recently started talking about how they are pivoting or handling things with clients through COVID but the only way to truly know what to do is to go through it and learn from client conversations. We have to talk to people to know what they need and then develop within our capacity how to maintain a client experience. And, based on their obstacles, curate a new process to resolve them and we can't do it without knowing what the problems are. I think this decision was the best decision and allowed us to continue booking, successfully reschedule booked clients, and maneuver around the challenges arising from industry related changes.
What are you doing to get through this particularly challenging time in your business?
I started praying five times a day. I'm Muslim and this is already required as part of our daily regimen but, when I get stressed out (as anyone from any background may do), I pray more. When work or anything in life is particularly stressful, I forcibly take time out in the middle of a crisis for myself to pray, it keeps reminding me throughout the day that whatever I am stressed out about and working on is not greater than my responsibility to work on my discipline, my character, ethics, morals, and values. When I come back from prayer I have a different attitude and a clear mind; I think this is something anyone can attain from even specified meditation times during the day. I approach solutions differently because of this, in business and in my personal life and I am loving the result.
What is the one business project you just can't seem to get done? What is keeping you from completing it and what will finishing it help you do?
A daily blog discussing different industry related topics for wedding professionals AND a separate one for couples and prospective clients. Education on both fronts is important for clients to truly understand what they are paying for and I believe this will aid greatly in wedding pros not having to justify why they charge what they do for their work. Most clients have no idea about the hours of work associated with the services and product they are receiving which is why they can get stuck on negotiating and bargaining. I think, as an industry on the whole, we need more interactive educational opportunities for prospective clients to understand what they are investing in with their vendors so they can prioritize and make educated decisions.
The most important investment I have made in my business is…
Hiring and working to keep the right people around me. With the right people you can weather any storm in business.
Tell us about a time you actually did a happy dance!
Every time a client agrees to a design piece and the price associated with it without asking for a reduction in price! It helps me maintain the integrity of the original design and avoids a watered down version of what we originally wanted to do. The next best part is seeing it installed. 
Once you've reached a goal, how do you decide what goals to set next?
Resetting goals comes naturally because there is always room to improve and build on a developed process, procedure, skill or service. I don't think there's ever been a time that I set a goal and then just rest after reaching it—I feel like that is the enemy of progress. 
What do you know now that you wish you did when you started?
Any sort of guideline on how to charge for my services and the hidden costs associated with completing each job would have been great information to have when I started. I had none of this and would lose so much money because of severely underestimating expenses and it took me quite a while before I saw profit or had the confidence to charge appropriately.
If you want to connect with Sarah and check out her more-is-more approach to design, you can find her on Instagram at @sarahkhaneventstyling.
Photo Credit: Nat Wonsaroj Photography
Let's grow your business together!
Start advertising on The Knot and WeddingWire, the top two wedding planning platforms.