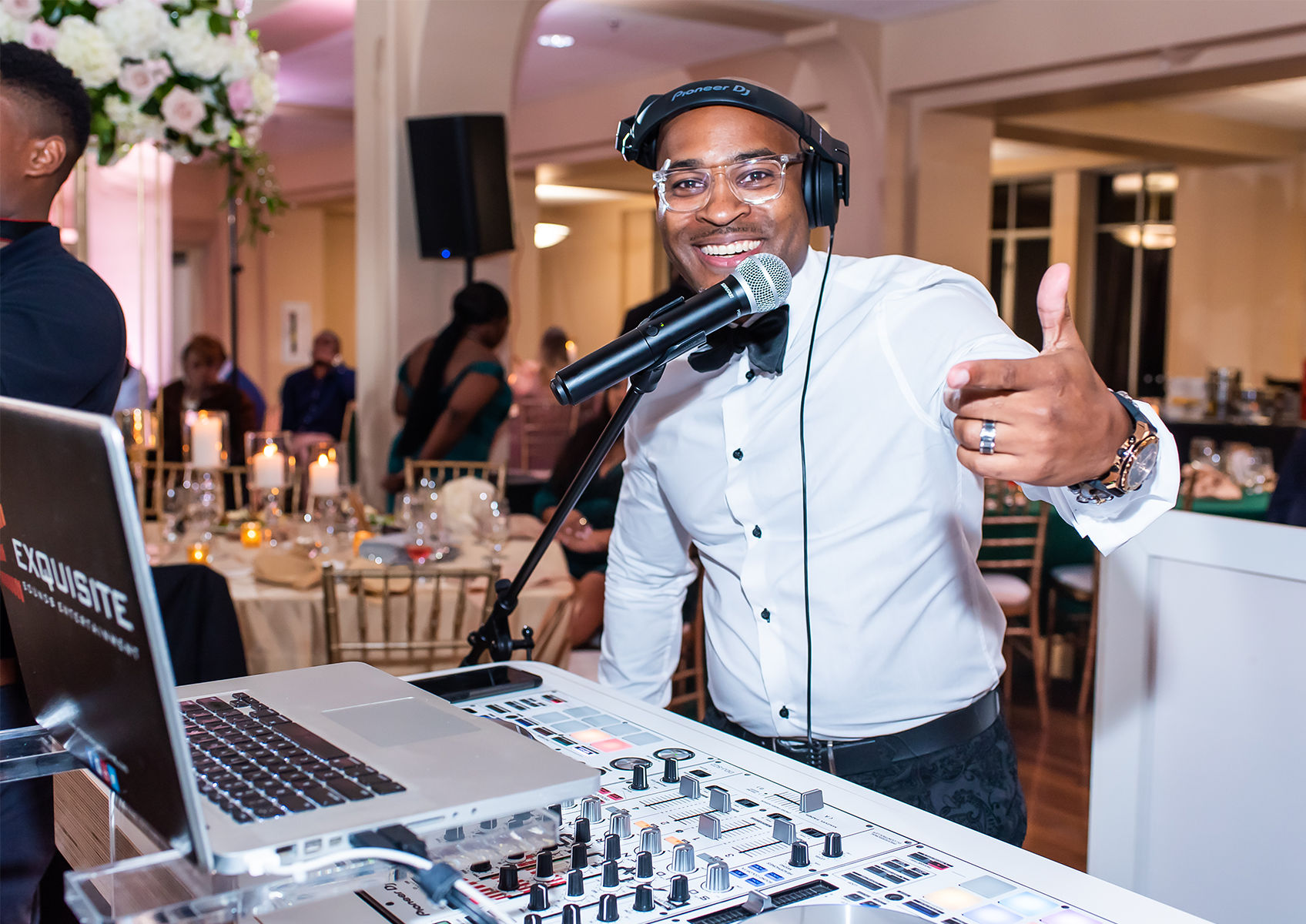 A lot of people start their businesses crossing their fingers and toes that they are doing the right things. Though everyone's path to success looks different (some more straight forward than others) there is one thing most will do to make sure they are on a good one—ask others for help. And, when Toryn decided to ditch his life as an IT professional and become a DJ, what does he say was the most important thing he did? Researched everything and then leaned on his relationships to learn along the way. We're excited to introduce to you Toryn and for you to learn about his journey to getting where he is today (bringing the energy to the best weddings and events in Atlanta!).
Tell us a little bit about your company.
Exquisite Sounds Entertainment is one of the best DJ and entertainment companies in our city. From our inception, we've always focused on the client, the planning experience, and the delivery! We've learned that the gear we use is important, but it's not the most important thing, even the thing that matters the most, or that our clients remember. It's literally the way we make them feel with the planning and effort we put into executing the small things and how we overdue the BIG things—which all help them celebrate one of the most important moments in their lives!
Is there a particular moment or story about why you decided that being in the wedding industry was what you wanted to do?
Being in the industry was actually a natural fit for me—the planning, the lead up, the advice and sales process, and even the sometimes dreaded client follow up, these are all things I was accustomed to doing as a part of my everyday job and it just fit! Although breaking into the industry was a challenge, from the beginning I understood that clients have more birthdays, they have more parties, but there's only one wedding day and it's important!
Looking back, what was the most important thing you did in your first year that ended up setting you up for success? And, what has been the thing that has helped you level up since?
Honestly, there were a few things that helped when I initially started, and they're still instrumental to this day. The first was having my company structure actually on the right track from day one. This helped me to separate business and personal and, in turn, gave me the ability to invest into the business without taking away from anything personally that needed to be done.
The other huge advantage I had was having reference points in the industry that I could begin to look at and see how their businesses ran. And, as time went on I was able to even approach some of these businesses and even other DJs to gain firsthand knowledge on the day-to-day operations and practices that helped them.
What do you know now that you wish you did when you started? I wish I'd known or realized just how important relationships are. As I've grown in the industry, I've been able to forge relationships through hard work and common bonds with fellow vendors. But, there are those relationships I had to seek out and nurture that have also helped me to grow personally and to eventually help grow our company!
Once you've reached a goal, how do you decide what goals to set next?
For me, it's about priority and impact. The goals that will have the biggest impact (either for me, my team, or our clients) always get pushed to the top and other goals are placed on a list. Over time, I check off items on that list and see what's next and order and arrange them on their impact and importance.
Tell us about a pivotal moment you have had in the last year. What was the impact it had on your and your business?
This past year easily has been one of the most difficult and, not just for us but for everyone as the world has dealt with COVID. For us, we saw so many clients move their dates, lose their original dates altogether or even cancel their events with no reschedule in sight. There have definitely been a few sad days. The upside is that the pandemic forced us to look closer at our processes, our contracts, and even our level of communication with our clients in order to make sure that we're protected as a company as well as so that our clients aren't impacted by these types of things again in the future. It's been a true experience!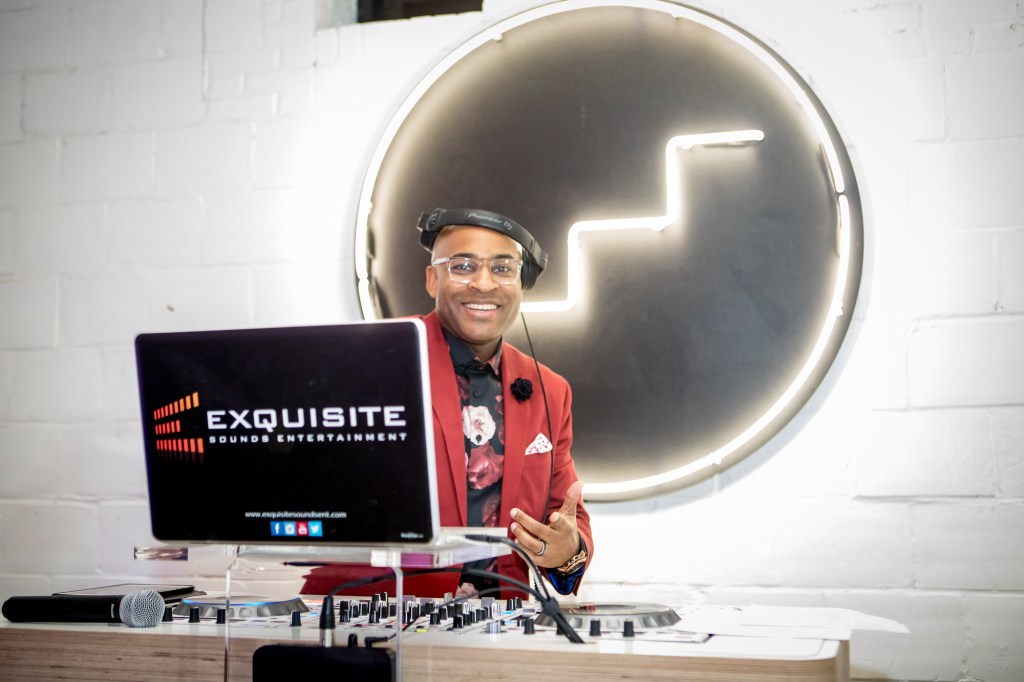 I stand for… integrity, hard work, commitment, and loyalty
My clients are…some of the most amazing people you'll ever meet that literally want to have the BEST night EVER!!
If I could…tell the future!
One time I…actually DJ'd from a closet
How many weddings did you do during your first year? Do you remember how much you were charging?
It honestly feels like a million years ago and, while I can't remember the exact number, I know it wasn't more than fifteen. And charging? Did I even do that the first year!?!? Just a joke but I do know it wasn't more than $500 dollars and the few that were…ah, they felt so extra special!
How would you describe your favorite couples to work with and is there something you seem to connect with them over?
You know, my favorite couples are those couples who are really in tune with wanting to really be into their wedding. They want to celebrate with good food, drinks and company, and actually be there and present for their day. They know they want to party, they know they themselves will be on the dancefloor, and they want to create that really, really magical experience with their guests. Of course everything is important but being on the dance floor is the highlight of the evening for them!
What is your favorite part of working with your clients during the planning process? On wedding day?
For me, there are a few key moments in the planning process that I absolutely love—the biggest being the initial consultation with my clients. Within the first 10 minutes, I can tell if this is an ideal couple for me to work with and to be onboard to help navigate their night. It doesn't take tons and tons of conversation for me; it's a connection that's there or not, centered around the experience they're wanting to create for their guests! That connection and that desire to give their guests a little of everything literally makes everything leading up to wedding day that much easier!
On wedding day, I just want them in the moment! On the dance floor, in the Social Booth, taking pictures, dancing, and having the best time. And, I love seeing the reaction of their guests who are there to celebrate with them and to be a part of their forever moment. Those moments when all those things come together and you see it before you…it's UNMATCHED!
The most important investment I have made in my business is…actually seeking mentorship from some of the industry vets that have come before me, via online learning, workshops and one-on-one training! There are a lot of things that you "think" you know about business and then there are those things that you learn via experience, or even having a mentor that can share those things with you. In my later years I've embraced the organizations, groups, and individuals who can help share the knowledge it takes to sustain in the industry and excel.
 If you could do something to encourage diversity in our industry, what would you do?
I'd encourage everyone to not just think about diversity but to also think bigger and think about inclusion for everyone! Our industry is filled with businesses and owners that come from various backgrounds and ethnicities; however, they're not all getting the same invitation to be included for opportunities that help to shape our industry. There's a lack of inclusion in publications (both print and web), in conferences that are taking place, and even on panel discussions that are being held and matter in our space. As an industry we have to go above and beyond to ensure that we not only embrace and promote diversity but that we also go the extra step to ensure that those diversities are included in every facet of the industry from marketing and education to promotions and more.
5 years from now, where do you hope to be?
5 years from now, I'd like to still be entertaining couples and helping them celebrate their most amazing moments. In addition to that, I'd also like to see myself more established as an industry leader, writing, speaking, participating on panels, and leading the way while helping my peers and other businesses in the events space.
Make sure you follow Toryn on Instagram to see him and his incredible team bring it to each and every one of their events! You can find him at @exquisitesoundsent.
Photo Credit: Racheal Photography & Janet Howard Photography