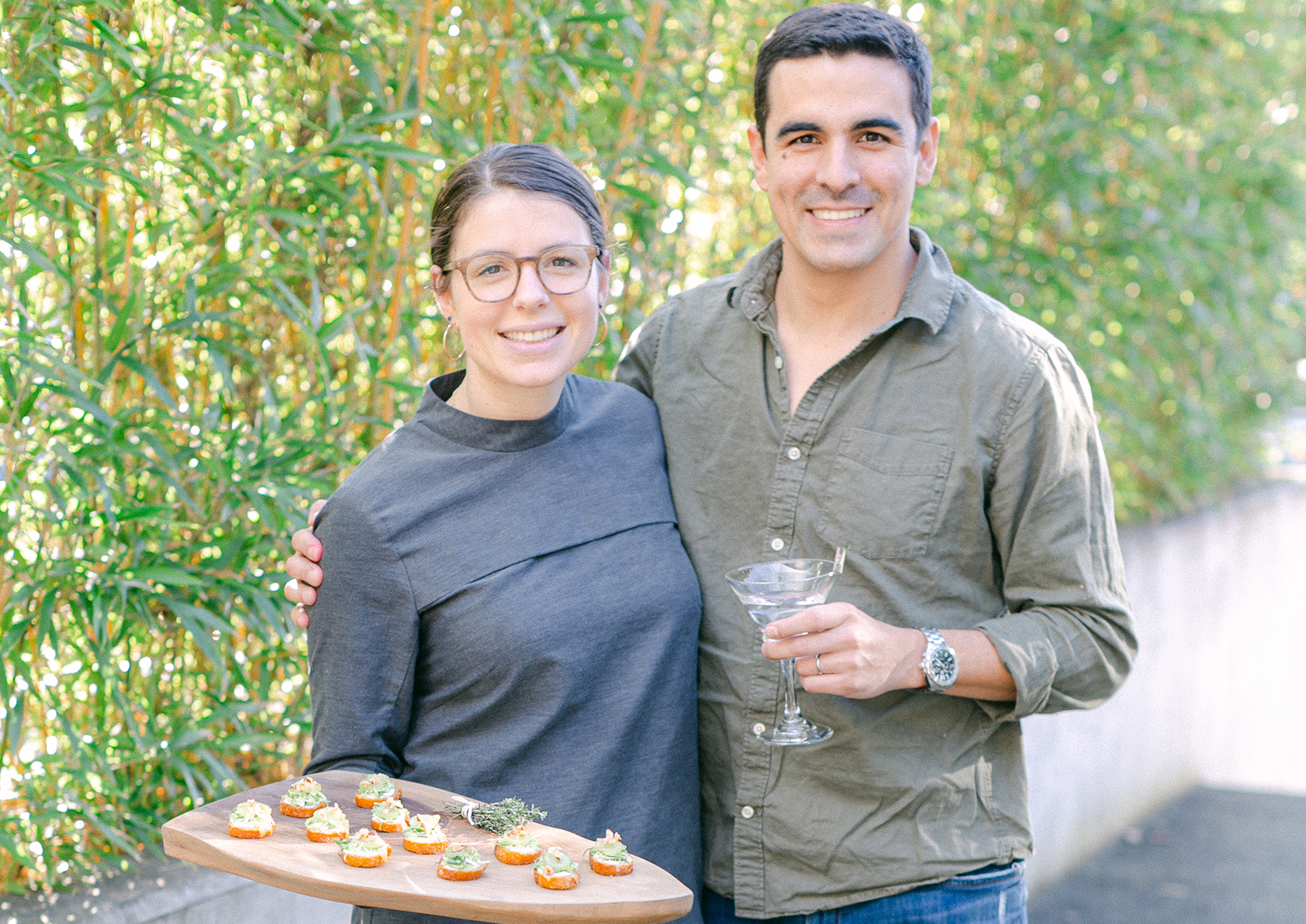 The first five years in business are an incredibly exciting and challenging time for most wedding pros. It's when you learn that the nuances of the wedding industry are different than others. It's when growing your network quickly and establishing strong relationships is important. It's when you figure out what might have worked in your head might not work so well in practice (Oh well! Onto the next!) But, it is also the time that you are establishing your culture, work ethic, and level of service. And today, we are excited to introduce you to a couple working to do just that, Brooke and Tomas Perez—the husband and wife duo behind Seattle Catering Company, Table Catering Co. Read on to learn all about how these Food and Beverage Coordinators and former coffee business owners have poured into building their business with a service excellence approach!
Tell us a little bit about your company.
At Table Catering Co., we focus on the couples' taste and style preferences to customize a menu that brings out their personality and is a reflection of them through food. We pair this with our exceptionally high hospitality standards in our full service catering operation.
Is there a particular moment or story about why you decided that being in the wedding industry was what you wanted to do?
The first wedding we catered as a company was in the middle of the field on an island with no running water or power—so it took some serious planning. After dinner was over, the bride and groom walked over to our tent and were sincerely grateful and amazed how this incredible food and challenging menu could be served on a field in the middle of nowhere. That was the moment we knew we were able to make a difference in the wedding industry and that this job was right for us. 
Looking back, what was the most important thing you did in your first year that ended up setting you up for success? And, what has been the thing that has helped you level up since?
We do not take relationships for granted. We know that every single event is an opportunity for us to get our name out there. So, our first year we truly learned how big this industry is and how there is room for so many of us that can specialize in so many different things. We have stayed true to our core from the beginning and quality food and service excellence are our priorities. We have deepened our relationships with wedding industry professionals that has allowed us even more creativity and innovation.
What do you know now that you wish you did when you started? How great and healthy our competition is—we are an awesome community!
Once you've reached a goal, how do you decide what goals to set next?
We are always in exploration mode for the next thing to challenge and motivate us. 2020 has thrown us for a loop, so we've had to pivot in new directions and set new goals.
Tell us about a pivotal moment you have had in the last year. What was the impact it had on you and your business?
This pandemic has changed the way we celebrate weddings and special occasions. Soon after COVID started we realized we had to figure something else out, so we started a cookie company called Bell's Cookie Co.! This has allowed us to keep some of our staff employed and be creative in a new way.
We stand for…creativity and innovation.
Our clients are…food lovers and a lot of fun!
How would you describe your favorite couples to work with and is there something you seem to connect with them over?
One of the questions we ask our couples when developing their menu is, "What are some of your favorite restaurants and places for special occasions." That is how we can easily get a sense of their personality and the style they love—and, how we can really connect on flavors, textures, and presentation. Our favorite couples are the ones who trust us fully with their vision and allow us to be creative with their food.
What is your favorite part of working with your clients during the planning process? On wedding day?
Our favorite part of working with our clients is definitely planning the menu and getting to know their food preferences and personalities. On their wedding day, we are there every step of the way to make sure we have executed well above their expectations.
My secret trick for peeling hard boiled eggs is using a spoon.
5 years from now, where do you hope to be?
Healthy, watching my daughter grow up, and in Martha Stewart Magazine!
Make sure you follow Brooke and Tomas on Instagram at @tablecateringco. But, don't look when you are hungry because it definitely won't help your snack attack!
Photo Credit: Katie Parra Photography