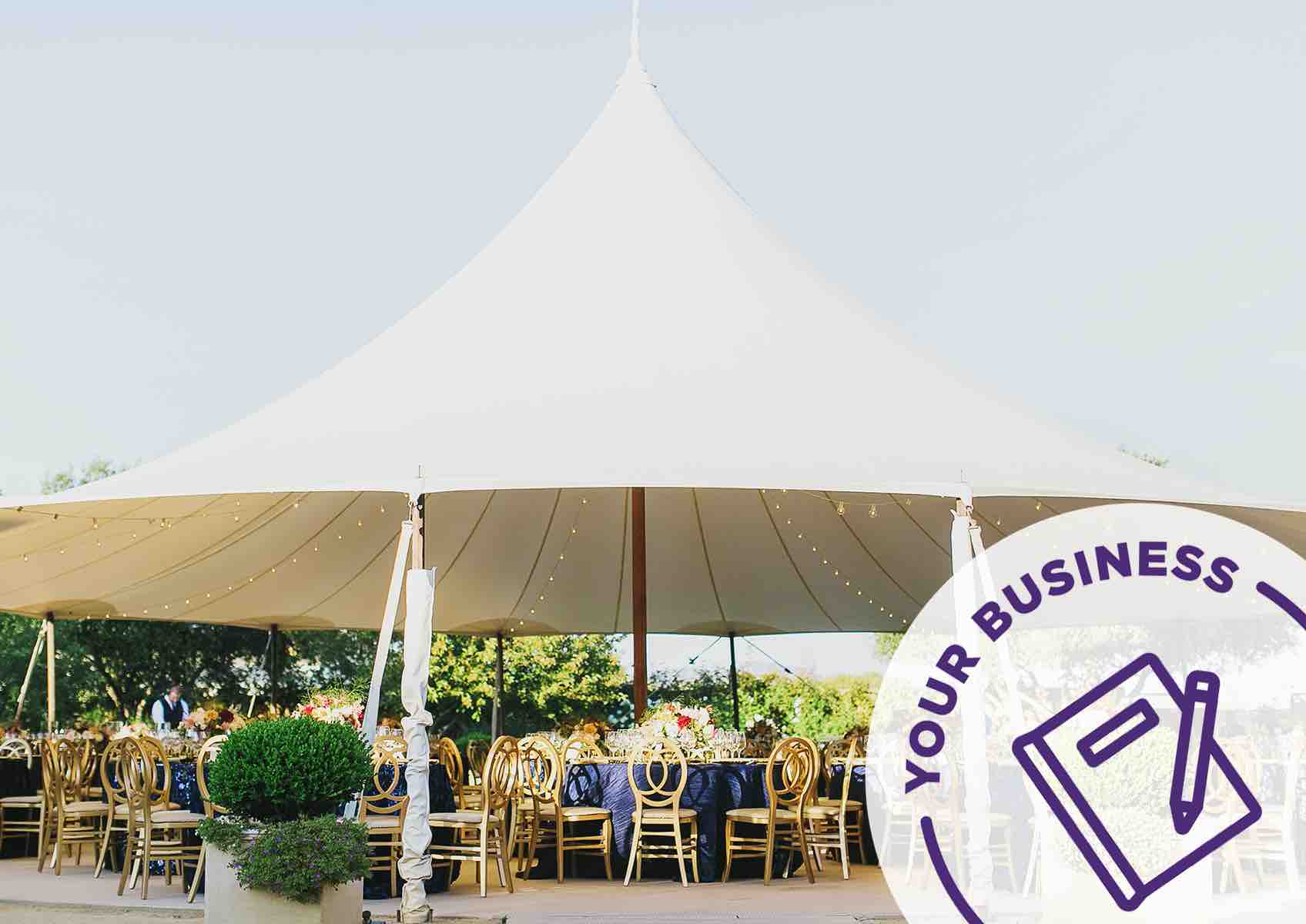 As we know, large gatherings have been banned in some places due to COVID-19. This has raised many questions about how this will impact the wedding industry. In an effort to support you as we navigate this uncharted territory together, we've come up with 10 things you can do to set your business up for success during this time. 
1. Don't Panic
Take the time to educate yourself using reputable sources like the Centers for Disease Control (CDC) and the World Health Organization (WHO). 
"I think the big thing is that we need to understand the facts of what's happening so that we can explain things to our clients and help them stay realistic about things." —Leah Weinberg, Color Pop Events
2. Utilize Your Network
Knowing that your community has your back anytime of year is huge, but it's even more important during times of uncertainty. Don't be afraid to ask for help from your fellow pros.

"In times of crisis our community comes together as it always has, and I simply encourage pros in every field to talk to their counterparts, share information, and work together as much as you can." —Andrea Eppolito, Andrea Eppolito Events

Not sure where to look? Turn to local connections in WIPA, ILEA or even on Facebook, drop them an email or post and say hello. 
There are so many ways that you can help your fellow pros. For example, "if you're a bridal salon and are unable to get a certain size, reach out to other salons in the area to see if they have it. You can also consider selling a sample size or something off the rack as needed." —Beth Chapman, The White Dress by the Shore
3. Adjust Timelines
Take a look at your normal ordering timelines and update accordingly so that you can advise your clients. While there aren't delays for all products, it's better to play it safe. "Normal manufacturing lead times from international dress designers is 12–16 weeks, but now we are seeing those timelines grow to 16–25 weeks, which isn't affecting current couples, but will impact brides shopping for their fall and spring weddings." —Beth Chapman, The White Dress by the Shore
4.  Make Sure Your Contract Is in Order

Take time to consult an attorney who specializes in contract law to make sure your contract is up to date and includes the appropriate cancellation and force majeure language. You can work with them to discuss options for how to enforce and handle the situation in the event the contract is breached.
You may encounter a situation where a client requests to reschedule their wedding. "Even if not in your contract, consider allowing for a transfer of date assuming you're available with no restrictions and additional fees." —DJ Brian B
5. Be Aware of Your Financial Situation
There's no question weddings will be disrupted over the next few months. It's just a matter of how soon and how much. Make sure you're up to speed on your cancellation and deposit policies so that you can answer client questions clearly.

Your projected cash flows may change, so make sure you have a financial emergency fund should you need it. "This is the time to be smart with expenditures and trim the fat on expenses not needed. Even saving a little bit each month will be helpful. And, if you can work with clients to postpone events (versus cancellations) this is an ideal financial situation for controlling the cash flow." —Michelle Loretta, Sage Wedding Pros
6. Be Patient and Stay Positive
Appointments will need to be rescheduled or changed to video calls, and new questions and situations will arise. Do your best to serve your clients with grace. At the end of the day, everyone is in uncharted territory—but we're in it together.
Let your clients know you're there for them and available to chat through their concerns, and show up for them on social media, but be mindful of what you post. While you may think something is funny, someone else may find it triggering. "Joking or stoking fear with pics of you in masks, etc. can reflect negatively on your brand. Follow the old adage that if you don't have anything nice to say, don't say anything at all." —DJ Brian B
7. Over-Communicate
Your clients already view you as an expert in all things wedding planning, so expect them to rely on you even more right now. "As always, please remember that you are the experienced professional, while your couple is likely doing this for the first time and is relying on you for guidance and suggestions." —Bethel Nathan, Ceremonies by Bethel, Elevate by Bethel 
There is no hard-and-fast rule on how to process the uncertainty, but you have the power to help them make the best choice for them. "Be proactive with your couples, and offer suggestions to make their lives and the planning process easier for them." —Bethel Nathan, Ceremonies by Bethel, Elevate by Bethel
8. Limit Shared Surfaces
Opening a bathroom door with a paper towel or washing your hands after pressing an elevator button are common sense actions during flu season, but it's easy to forget that shared surfaces like iPads, photo booths or serving utensils also create opportunities for germs and viruses to spread.

At an event, consider dedicating someone from your team to be 'master of the photo booth' for a touch-free experience or have a manned food station to limit the number of people touching the same surface. "As a venue, we've added multiple hand-washing and hand-sanitizing stations throughout the event space. Additionally, consider single-use products to eliminate cross-contamination." —Kinsey Roberts, Vista View Events & She Creates Business Podcast
9. Use Technology to Cross Borders
If you have a wedding scheduled in the coming weeks, there is a very good chance you will be dealing with cancellations, postponements and other situations where a significant number of guests are unable to attend. Get creative and work to find ways for your couples to still celebrate with them. "If you can, provide a virtual experience for clients if their guests can't make it. For a DJ, maybe create a playlist or live stream mix. Think outside the box for solutions." —DJ Brian B
An event planner took it even further when grandparents were unable to attend. "To keep them close and to ensure that they get to share in the experience, I invested in 360° virtual cameras [or an iPhone works just fine!] that will allow me to livestream the wedding ceremony, toasts, dances, etc."  —Andrea Eppolito, Andrea Eppolito Events
10. Take Care of Yourself
Every day we make lists, hustle, do all the things, and then wake up to do it all over again, but it's important to remember that you cannot take care of your clients unless you take care of yourself first. Self-care looks different for everyone; whether it's a bath, meditating, reading a new book or taking a walk, make time for the things that will help you recharge. 
As always, we will continue to provide a place for community, conversation and exchange of learnings to uphold the industry. Make sure to stay on top of more updates via the Centers for Disease Control (CDC) and the World Health Organization (WHO).
About the author: Meghan Stolar Brown is Director of Marketing at The Knot Worldwide. She has extensive marketing and event management experience and understands the challenges and opportunities creative entrepreneurs face. Meghan has been a featured speaker at Wedding MBA, Showit United, and on The Goal Digger Podcast. Growing up with a booking agent and a wedding band leader for parents, there is no doubt that marketing and events are in Meghan's DNA (follow along via Instagram @meghan_sb).
Photo Credit: Milo and Olin Photography