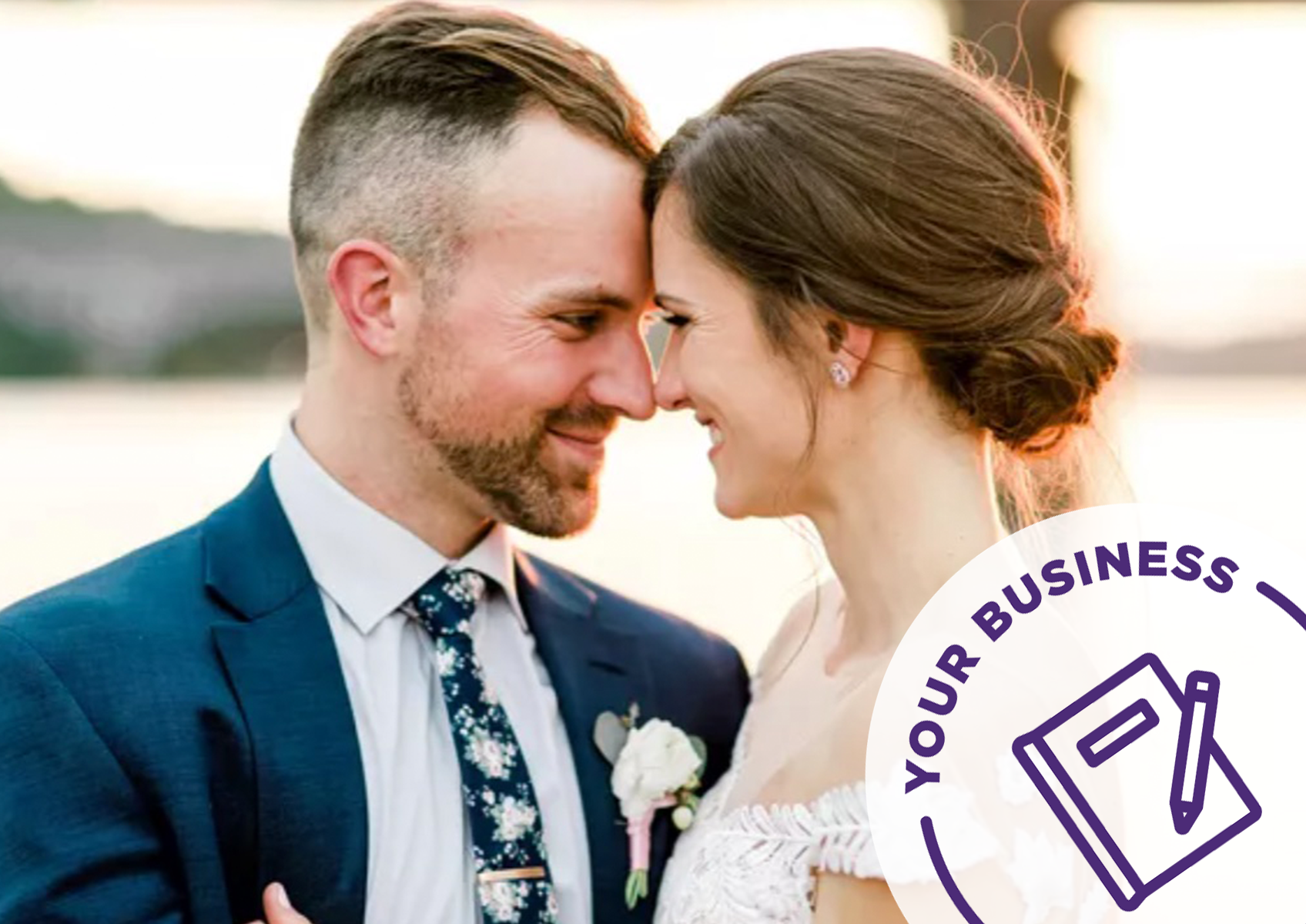 In recent weeks, we've seen the industry shift to experiment with new ideas in order to continue booking weddings while social distancing guidelines are in place. While most couples are rescheduling their weddings for dates when they can proceed with a large gathering, we are also seeing many couples honor their original dates with a miniwedding or microwedding. These changes have challenged industry pros to think differently about their business and innovate on their existing offerings in order to create new revenue opportunities. Our conversations with pros have been so inspirational that we wanted to bring the details of these new ideas directly to our WeddingPro Community live on Instagram. 
Last week's conversation was with event planning and design company, Em and E Events. From leveraging your brand to leaning into what you do best, here are the top 5 takeaways from our chat.
Takeaway: Lean Into What You Know Best
Normally, just about every weekend, Emily and her team are planning and executing weddings and events for their clients with guest lists between 100-300. When they learned along with the rest of the world that that just wasn't going to happen this year, they started to brainstorm new ideas. She and her team are known for their design-focused services and events and so in the end, they landed on a product that played up their edge.
What That Looks Like: The new offering is called "An Intimate Affair" package. "We don't want to call it an elopement because it's more than that," she says. The package is custom to the couple and includes a caterer, serving a full dinner, a fine art photographer and all the makings of a wedding (just smaller!). "We're picturing it to be about 10 guests–the couple and 8 of their closest family and friends, completely taken care of and fully designed by my team." 
Takeaway: Think Long-Term
Instead of coming up with a concept that may or may not live beyond the wedding day, she and the team wanted to ensure that this was something even her current clients would want now and down the line. "I could totally see my clients that have gotten married or are getting married, wanting to do an intimate affair renewal." In fact, she's already had past clients asking if they can do the same for at-home dinner parties. 
What That Looks Like: Instead of designing a product that might expire at the end of this pandemic, they imagined something that has staying power. Whether it's planning an intimate wedding or an anniversary party for 10, the concept and offering is big-picture enough that she and her team don't have to worry about it losing its relevance in the next year or two. "It's here to stay," she says. "It's not just weddings. It could be vow renewals or dinner parties–really anything goes." 
Takeaway: Continue to Price Accordingly
The biggest question here is how to protect profits while offering these smaller gatherings. "You can't come up with your price without knowing how much your time is worth," Emily says. That in mind, Emily and the team did what they do for all of their services: They started with keeping track of their time and how much it's worth. From there, they worked out a price for the new package that made sense for them and their couples. Once they had a number in mind, they also made sure to do a little comparison shopping to ensure that they were in the range of what other pros were doing. "A lot of people are giving slight discounts for the intimate affair," she says. 
What That Looks Like: The key here is that she doesn't see this as a business opportunity that takes the place of her current clients. "An intimate affair isn't going to take up every single weekend," she says. "We have enough people on our team that we know that this isn't going to take away from our other clients." In other words, it's a nice addition to their offerings, not a replacement. "I don't see it being something where it's like I need to book 10 intimate affairs to pay my bills," she says.
Takeaway: Leverage Your Brand
Instead of going off and launching a brand-new website and digital marketing experience for a totally new audience, they're leveraging the brand and keeping this new offering under the current website. "We had seen the popup weddings but we wanted to do something that really fit the brand," she says. "It was a lot of brainstorming, throwing ideas around. I talked to my team, talked to my photographers, and my partners to see what would fit all of our brands."
What That Looks Like: She's keeping the on-boarding process the same for both types of clients. "We'll do the same as what we do with all of our clients with our new brand," she says. "They'll answer questions about what they love to do on the weekend to what their favorite colors are, to where they love to travel – we just want to learn as much as we can about them so that when we are designing and planning their day, it is 100% them and not something that you've seen before." 
Takeaway: Before You Launch, Get Everyone On Board 
For those thinking about creating a new brand extension or launching a new product, one of Emily's biggest tips is to ensure that everyone is on the same page and up for the challenge. Make sure your team has the time, that you have the right pros and partners, and that it's a good fit. "If you're someone who thrives on those big parties that are constantly moving, this might be too slow-paced for you," she adds. 
What That Looks Like: Talk to everyone before you act. "You want those vendors who are good with this," she says. "You don't want to be scrambling to find a team who can pull it off." So sit down with your team, your potential partners and friends. Collaborate. Poke holes in the idea and really get clear on whether it's right for you.
Watch the full interview with Em & E Events to learn more about the innovative things they are doing to lean into their strengths. Stay tuned for more conversations on the Future of Weddings and what it means for pros.
About the author: Anja Winikka is the former editor of TheKnot.com and The Knot Magazines turned educator and contributing editor @WeddingPro. She's on a mission to help creatives, community leaders, and wedding businesses own their stories and tell the world about it (follow along via Instagram @editorinchiefmedia).