A Conversation with Bron Hansboro About #UnityThroughCommunity
By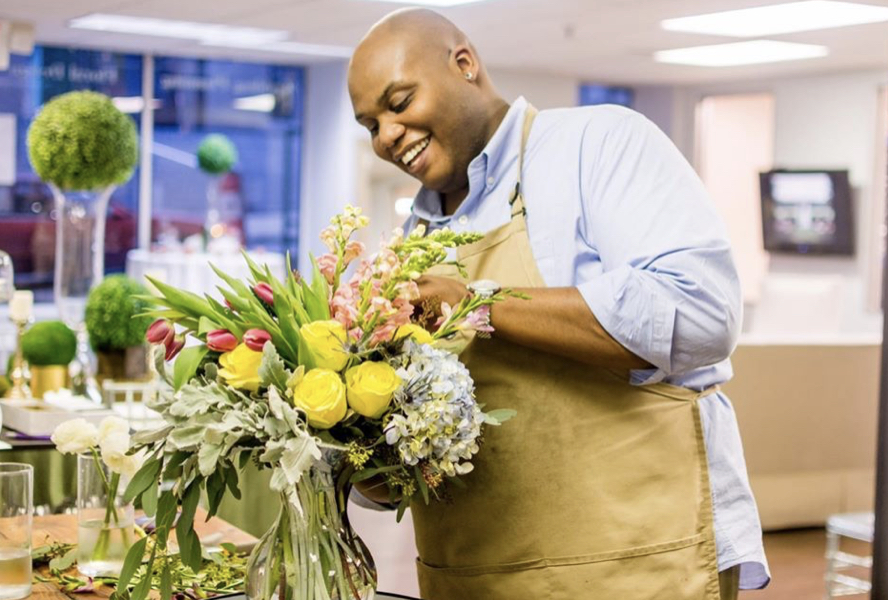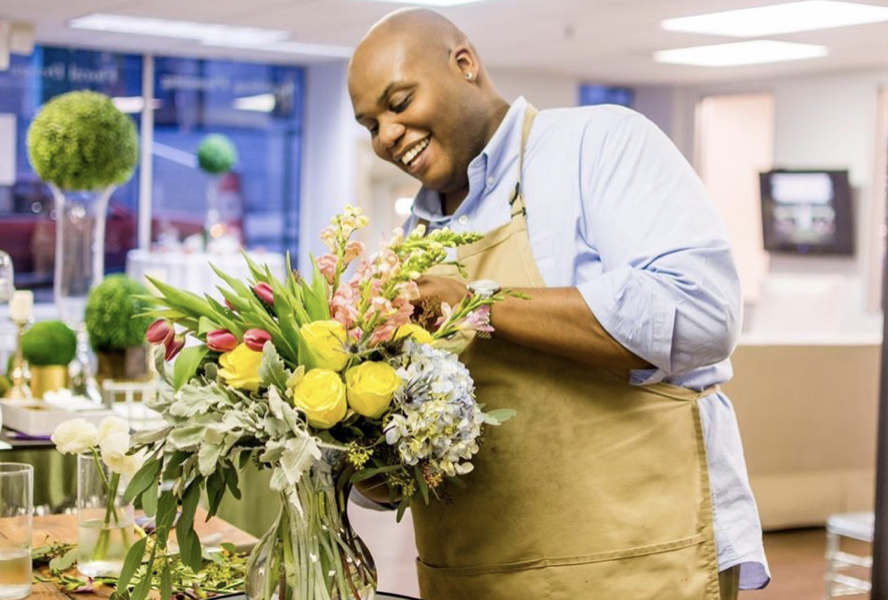 Award-winning floral and event designer Bron Hansboro has devoted his career to navigating clients through the creative process and transforming their visions into exquisite events since 2014. Fondly referred to as "The Flower Guy," he is the Owner and Art Director at The Flower Guy Bron. Last week WeddingPro Director of B2B Marketing Meghan Brown hosted a Sanity Session with Bron @WeddingPro via Instagram Live to discuss his ongoing work to promote diversity and a lack of representation within the wedding and event industry.
Meghan: How are you doing?
Bron: I have my feet on the ground, my head down, and I am doing the work required of me in this particular time. I want to make it crystal clear that this conversation is long overdue. This work is not new for me, and it is work that I've been promoting since the start of my career. Now is the perfect time since we have people's eyes and ears. Right now is the perfect time for us to have a collective conversation to get on the same page. 
Meghan: How did #unitythroughcommunity come about, and how can the rest of us get involved?
Bron: Before we get into the present, we need to review a quick history lesson. We make assumptions about what people know and are aware of. It's crucial to embrace our differences — even in our ignorance. It's important to push the gas pedal in the right direction. 
Let's start off with the social issue. Here's a quick anecdote from my own experiences: I live in a majority-white community. One night while celebrating my mother's birthday, I had a gentleman in a robe and slippers walk into my home and proceed to yell at me and my mother because he could hear the dog barking from my upstairs window. This white man felt privileged and encouraged to walk into my house. When the police arrived, they thought it was a group home. My home has a grand piano and a chandelier and should never be mistaken for a group home. These incidents and racially-biased assumptions happen to Black people, and it's our responsibility to talk about the fact that they happen. The social issue impacts the wedding industry, too. I work in Richmond, VA, the former capital of the Confederacy during the American Civil War. My home city comes with everything you would imagine. Upon walking into venues, I have been told by the banquet staff that the florist and his team need to get out of the way. We do not have any rights because it's a private club, and they have their own rules. In the name of awareness, we need to acknowledge that these situations are happening to other Black wedding pros.
This is how we arrived at #unitythroughcommunity. To me, it's a demonstration of a steadfast commitment to moving the race needle forward in a positive way in the industry. It is a statement directly speaking to race-related diversity. Historically, race has always been black and white. We have to be intentionally diverse with race-specific issues. Positivity doesn't always look like unicorns and candy; sometimes it's moving forward in the right direction. It should be an extremely uncomfortable conversation. For too long, we have twiddled our thumbs and, in all of that time, we've forgotten that we do not need to be experts on a subject matter to speak from our hearts. I'm a former educator, and I've learned over the years that an incremental increase is still an increase. We have to be mindful that we are not diminishing the progress of other people. We all have our own lanes, scopes of influence, different platforms. What everyone is going to do is very different. Again, is our foot on our gas pedal? 
Here's an excerpt from poet Lindsay Young: "A revolution has many lanes. Be kind to yourself and to others who are traveling in the same direction. Just remember to keep your foot on the gas." Things that are meaningful will only be sustainable if you're in a certain comfort realm. Use your platform and do what you can do within your platform. My foot is on the gas, and I am going 300 MPH to keep up and stay ahead. I seek to protect the sacred industry in which I earn my living — that is my realm and zone. Find your realm and zone and get active. There is no excuse for inactivity. The entire wedding community is watching. If you haven't posted, that is a statement in itself, and it is unacceptable.
Meghan: We know there is so much progress that we need to make. Can you share a few examples of actions that will be the most impactful?
Bron: That's the best question that you could've asked me. The best thing you can do is implement a grassroots effort. I have been having conversations with my family, friends and neighbors in my all-white neighborhood who are very conservative people. I'm not knocking anyone's political objectives. I am knocking people for their social perspectives and making statements without having the full storyline. It's so important that we all have context. I'm starting these conversations at home in my community. 
Once we've had these very uncomfortable conversations in our social circles, we must take them directly to our teams. I need you to look at your teams and ask yourselves the hard questions: Where is the diversity? Why do you not have an African-American or a Black person on your team? Then you should address your business. You need to hold your professional counterparts and collaborative partners in your industry accountable. It is unacceptable to walk into a ballroom and only see Black people in service roles. It simply does not make sense — I am not the only Black person that is creative. I need you all to be mindful and proactive about ensuring that the spaces in which we all work reflect the fabric and landscape of our country. It is your responsibility as an American. 
One more thing: Check out your marketing. It is unacceptable for me to go three or four huge swipes on your feed without seeing a person of color. My thoughts are coming from a place of compassion for our industry. I don't want anyone to mistake me for angry — I'm not angry whatsoever, but I am passionate about the move we all need to make. We can't hide in the kitchen or behind the scenes. This is work we must do because this is our only option. We are leaders and have been leaders for a very long time. Charity begins at home.
Meghan: How do we turn these discussions into action and make changes within the industry?
Bron: I want you to feel as safe with me as I feel with you. I don't want anyone to feel attacked. I don't believe this is an issue of awareness. It is an elephant in the room. Racism is something we would have rather not talked about. 
Two things you can do are attend Black conferences and advertise with Black media outlets (e.g., Munaluchi, The B Collective, Black Bride). It's disappointing to see only hair products and makeup marketing in our magazines. It's so much bigger than that. I want you to advertise with Black companies because you care about our dollar. I want you to make a show of demonstrating that you are committed to supporting us. We are in business not just because we love this — we are in business because it's an economy, and we have to make money. If we are not given the opportunity to work for you and with you, that takes away money from us and becomes a social issue. To address the problem, you must be intentional about marketing with African-American, Black, and minority multicultural media outlets. Be intentional about where you spend your money and how you spend your thoughts. There are tons of conferences (e.g., Signature CEO, The Planners Suite, The Floral Encounter). Consider going to different conferences so you can have the skill set that many of our Black brides are looking for. Luxury is available in a variety of packages. If you're marketing toward the client, you need to have the skills to do the work. It's crucial to learn how to service your Black clients. It's not an easy task. You might be the only spot in the room and, in that case, welcome to my world! It's okay because that promotes change and initiates conversations. You can do this type of work at the dinner table and the bar, while washing your hands in the bathroom, or during the break at a conference that you never thought you'd attend. 
Meghan: Who are some of the people you think we should be following for resources and continued education? Can you highlight some Black wedding professionals who are doing amazing things that we need to see?
Bron: All three media outlets that I previously mentioned — Munaluchi, The B Collective, Black Bride — do a great job of keeping content flowing. I also have a Facebook community called The Village for event pros, and we are constantly posting there. Please keep checking my social media posts because I will be making an announcement about the next steps of the movement. We made it through almost a week of black tiles, muting and #unitythroughcommunity. What's next? We will be releasing our next steps through our scope of genius and zone, what we want you to do and how you can join us in the effort.
Please don't be scared to speak up because you feel as though you might get attacked. You'll soon realize: Whenever you choose to be on the right side of history, it has never come without backlash or ridicule. This is a grassroots effort, and solutions will take some time. Don't be scared of the backlash. Join us in the work. The work is meaningful. If we bridge together through #unitythroughcommunity, we will get the job done.
You can find out more about #UnityThroughCommunity here. The goals of this movement within the wedding industry are as follows:
Rid the wedding industry of racism, prejudice and bias
Support, promote and purchase from  creatives of all backgrounds
Diversify the industry's educational platforms
Commit to being accountable and holding each other accountable
Photo Credit: The Flower Guy Bron
Let's grow your business together!
Start advertising on The Knot and WeddingWire, the top two wedding planning platforms.