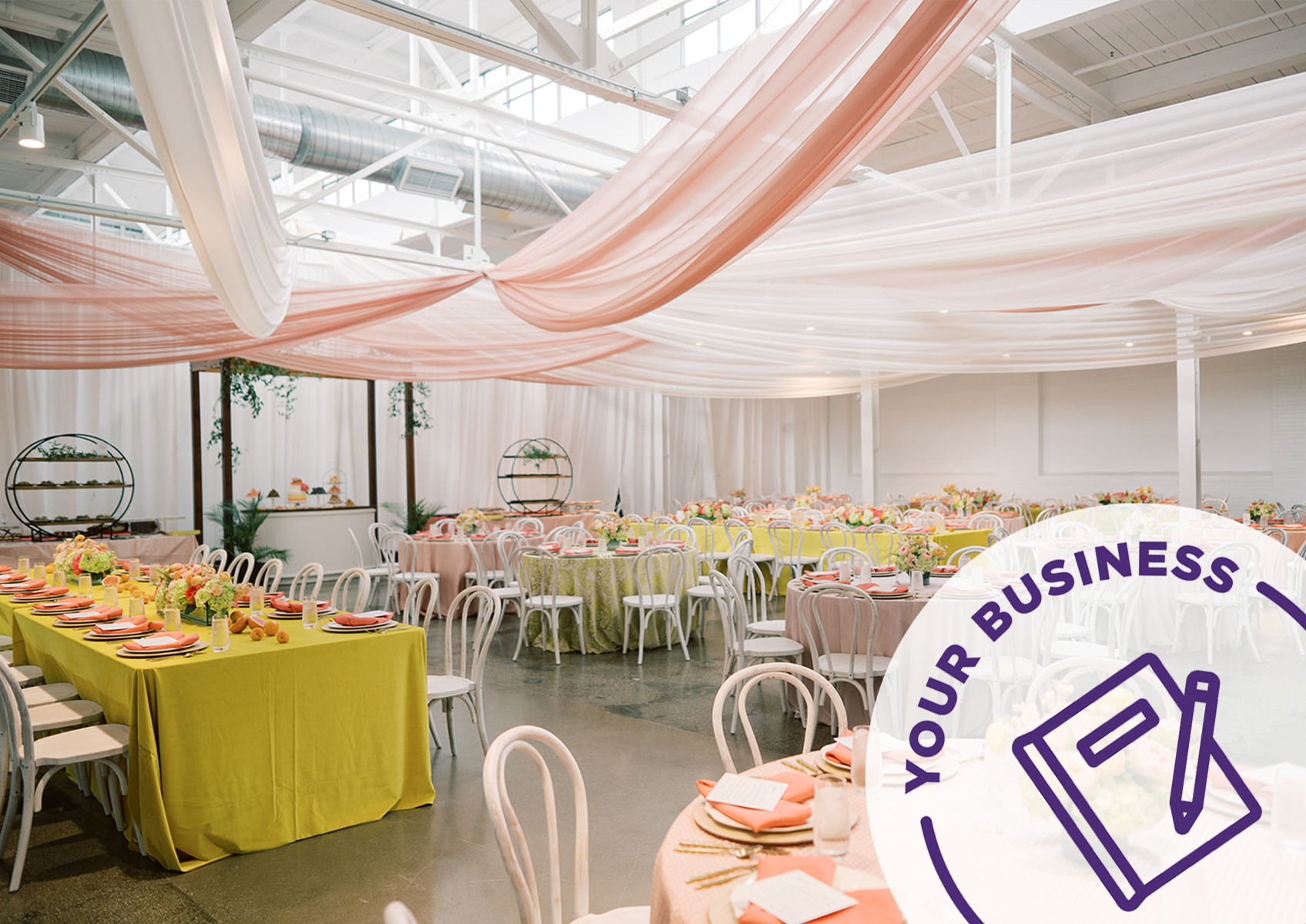 As a venue, you and your business face a unique set of challenges as the country reopens amid the COVID-19 pandemic. That's why we hosted a webinar designed solely for you. To help address some common questions and concerns, we tapped the following three industry experts: 
Keep reading for their advice on how to prepare for reopening — from safety to new layouts — and adjusting payment structures and fees. Here's the recap from our recent webinar.
Venue Question #1: How are you continuing to book new weddings?
WeddingPro Answer #1:
Improve the virtual tour experience. – "We created a template in Google Slides to walk our couples through the venue and explain the packages and pricing. We've worked to fine-tune that process and become masters of virtual consultation." – Julia
Keep selling. – "We're usually a destination spot in Orlando, so intimate weddings have always filled our calendar Monday through Thursday. Now we're seeing more local couples take advantage of the intimate elopement packages as well. Also, we're trying to make sure that couples understand that even a small wedding can be an amazing experience. If they opt to add a dinner party, the wedding is not limited to the ceremony." – Tamuel
Encourage potential clients' excitement. – "Once the [Ohio] governor gave the okay, people wanted to come in. There are people who want to keep looking for next year. They are excited and so are we!" – Chris
Venue Question #2: Have you made any adjustments to your contracts, fees or payment structures?
WeddingPro Answer #2: All three experts said "YES" to revised contracts!
"Our force majeure clause needed work, and we added details regarding postponements and cancellations. We defined the timeframe to reschedule postponed weddings, which is within the same calendar year or at least within 12 months. Our cancellation policy hasn't changed. However, our deposit structure for anyone booking in 2020 is different; they can put down a smaller initial deposit and then pay the remaining balance closer to the event date. It offers those clients a sense of security since we have no way to know what will happen this fall/winter. We're trying to be as flexible as possible." – Tamuel
"Our contract, especially our payment policies, is a lot stricter. It clearly shows what is owed, when and why. We had to ensure that we were protected. It's fair on both sides because being clear is fair. There is no gray area." – Chris
"We have a brand-new contract. I don't think there's any wedding venue in the industry that wasn't taking a long look at their contract to make sure that it fits the business and clearly manages the expectations of the relationship. We haven't changed our fundamental policies, but we've outlined everything in detail. Now we know exactly what a postponement looks like." – Julia
For more information, check out Contracting for Coronavirus: Your Top Questions, Answered.
Venue Question #3: How are you preparing for reopening? Or, if you have reopened, what does that look like?
WeddingPro Answer #3:
Masks, gloves, and sanitation stations – "We recently had our first (Florida) wedding with approximately 65 people; none of the guests were wearing masks. They were comfortable, casual, hugging, dancing, and enjoying themselves. We did our best to oversee the guests' safety and monitor their behavior without ruining their experience." – Tamuel
Staff wellness checks + organized release from ceremony to dinner tables – "We've had a few weddings in our Arizona market to date. We've focused on creating a safe environment for our team with a four-page back-to-work document that outlines all of our new procedures. We also perform a wellness check and test our team's temperatures. From the operations standpoint, we're making small adjustments that won't negatively impact the guest experience to provide an extra level of safety. One example is that we have seated guests with their dinner tablemates (i.e., by their assigned table number) for the ceremony. It's all spaced out and still pretty in a photo. Then, the officiant releases the ceremony guests by table number, as you would for a buffet dinner. This new practice prevents bottlenecking.  We're evaluating the whole wedding experience top to bottom to enable people to socially distance throughout the entire day." – Julia
More cleaning, HVAC upgrades, and conversations with vendors – "Our Ohio venue is not all-inclusive; we have the space, the bar, chairs and tables. We've worked with our cleaning company to stock extra cleaning supplies and install ten new hand sanitizer stations. Our HVAC system now has medical-grade filters. I think it's crucial to review your local rules and guidelines as you create a plan. As a venue that's not all-inclusive, we believe it's our responsibility to speak with the vendors to find out what they are and are not doing, so we can return to our clients with all of the information. We want to be an advocate and a resource for our clients." – Chris
Venue Question #4: Are you experimenting with any smaller wedding formats or packages?
WeddingPro Answer #4: 
Shift wedding – "We've created some solutions in preparation for a situation in which there's a guest count of 100 but we're only allowed to have 50 people in the space. One idea is offering a shift wedding with staggered start times. One group, such as close friends and family, would arrive early for the ceremony and dinner. That's followed by a break to sanitize the space, and then a second group would arrive for the party. Our wedding planners can present this scenario as an option. Even if no one moves forward with a shift wedding, we want to demonstrate to our clients that we're here to work with them if they don't want to cut their guest list." – Julia
Sequel wedding – "We're starting to see some real interest in the idea of a sequel wedding. For us this means hosting a ceremony now and rescheduling the reception for a later date. Essentially, it's a postponement in a cuter outfit. It's a great option for the couples who are excited and ready to be married as soon as possible. They can have the ceremony experience, and then we can press pause on the reception." – Julia
Smaller space(s) – "Before COVID-19, we began to renovate one of our smaller rooms. Our venue is a huge, open, 10,000-square-foot room, so we're working to finish a smaller space as an option. We expect to book many of our 2020 events, which may be smaller in general for safety reasons, in the new room." – Chris
Lower food and beverage minimum – "For newer bookings, we present weekday date options with lower food and beverage minimums as an incentive. We're offering a variety of options (e.g., intimate elopement packages), but most of our couples don't want to downsize. They have a specific vision and strongly prefer the big celebration. If Florida doesn't advance to phase three of reopening soon, many of the couples will postpone in lieu of cutting their 150+ guest count. We make them aware of their options, but we don't push the smaller event out of respect for their unique visions." – Tamuel
Venue Question #5: How are you keeping cash flow going right now?
WeddingPro Answer #5:
"Our Director of Sales switched the fee schedule to four equal payments. Doing so has helped us tremendously while sales were slow during the global pandemic. We're also brainstorming new ideas, such as partnerships with food trucks. That's not possible for all venues, but I'd encourage everyone to get creative. I'm trying to think of events beyond weddings, so we can explore how we as venues can continue to be a place that gathers people together safely." – Chris
"We're bundling packages and offering more hourly meetings to some of our business clients. Of course, we're also reducing any unnecessary spending. As soon as COVID-19 started in March, we cut all non-essential expenses with the primary goal of keeping our staff. Luckily, we had a really good fall and the spring was going to be amazing, so we had some money in reserve. I've applied for every possible grant you can receive, and now I'm praying that fall does happen. We always plan for a slow summer, but we need a return to normal by September." – Tamuel
"Similar to the others, we've always done a three-payment structure: 25% at booking, 25% at six months, and 50% at our final appointment. For that reason, we are receiving payments. We still have some new bookings as well. However, there are clients who are delaying their second payment until they have a better sense of what's going to happen. With some financial discipline around expenditures, it's possible to stay afloat." – Julia
Venue Question #6: Can you distinguish between a payment and deposit? And what do you do if a client is asking for a refund?
WeddingPro Answer #6:
"We're all using the word 'payments' because that's what they are. It's best to avoid the word 'deposit.' By now most venues have heard from clients who want their money back because they believe that the venue has not done any work for their event yet. We all know that's not true. You have to think about your payments as payments, not deposits." – Julia
"For us, the initial retainer is non-refundable. It covers the cost of the sales process, tastings, my staff's time, etc. For some of these couples, the wedding is in 90 days or less, so we can't refund everything. We've made very few exceptions to our policy regarding the non-refundable initial deposit. If we've collected additional payments and have not incurred any expenses associated with the wedding, we do return those." – Tamuel
"We're on the back-end of refund requests now, but we basically told our clients that we will refund them if we can rebook another event of equal or greater value for their date. The majority of our clients seem to understand." – Chris
Venue Question #7: What's your biggest piece of advice for other venues?
WeddingPro Answer #7:
COVID-19 is no longer a reason to postpone or cancel after a certain point. – "We've had clients try to cancel events that are two years away because of the pandemic. So, we're now communicating that COVID-19 is not a valid reason to postpone." – Chris (based in Ohio)
Stay the course. – "Every business is different. Contact your local officials and pay attention to the rules in your state. Speak with your attorney and ensure your contract will protect you and your business. Take all advice under consideration and carefully apply the relevant pieces to your specific business and your clients. When the pandemic began, most of us made decisions that could've been better. It's too late now, but we've learned something. Keep moving forward."- Tamuel
Make planning fun again! – "Let's get back to the fun part of weddings. Right now there's a very vocal minority that's being negative and eviscerating us with negative reviews; they'll never be satisfied. More importantly, there are couples who are sad that their wedding planning hasn't gone as expected, and you can help them. Give those couples an opportunity to focus on the enjoyable parts of the wedding planning experience." – Julia
Reach out to all of your couples. – "Communicate with your clients and let them know that they matter. Even the couples booked for 2021 are worried, so don't forget about them." – Tamuel
Be a leader in your community. – "Step up, be positive and determine what you can or cannot do in accordance with the current rules and regulations. Here in Ohio, we've partnered with other wedding pros to collaborate with the local government. We want to know: How can we help? What can we do? Let's lead by example. You can outline the safety procedures that you believe are necessary and then implement them. Advocate on behalf of the event industry." – Chris
If you weren't able to join us live for the webinar, or if you want to brush up on the content again, you can view the recording at any time.
Photo Credit: Lauren Gabrielle Photography
This post is for general informational purposes and does not intend to provide legal or financial advice. Government guidance and restrictions for events and businesses during the COVID-19 pandemic vary by location. Before implementing any safety measures for your business, we recommend consulting the government guidance in your area, or your legal or business advisors.