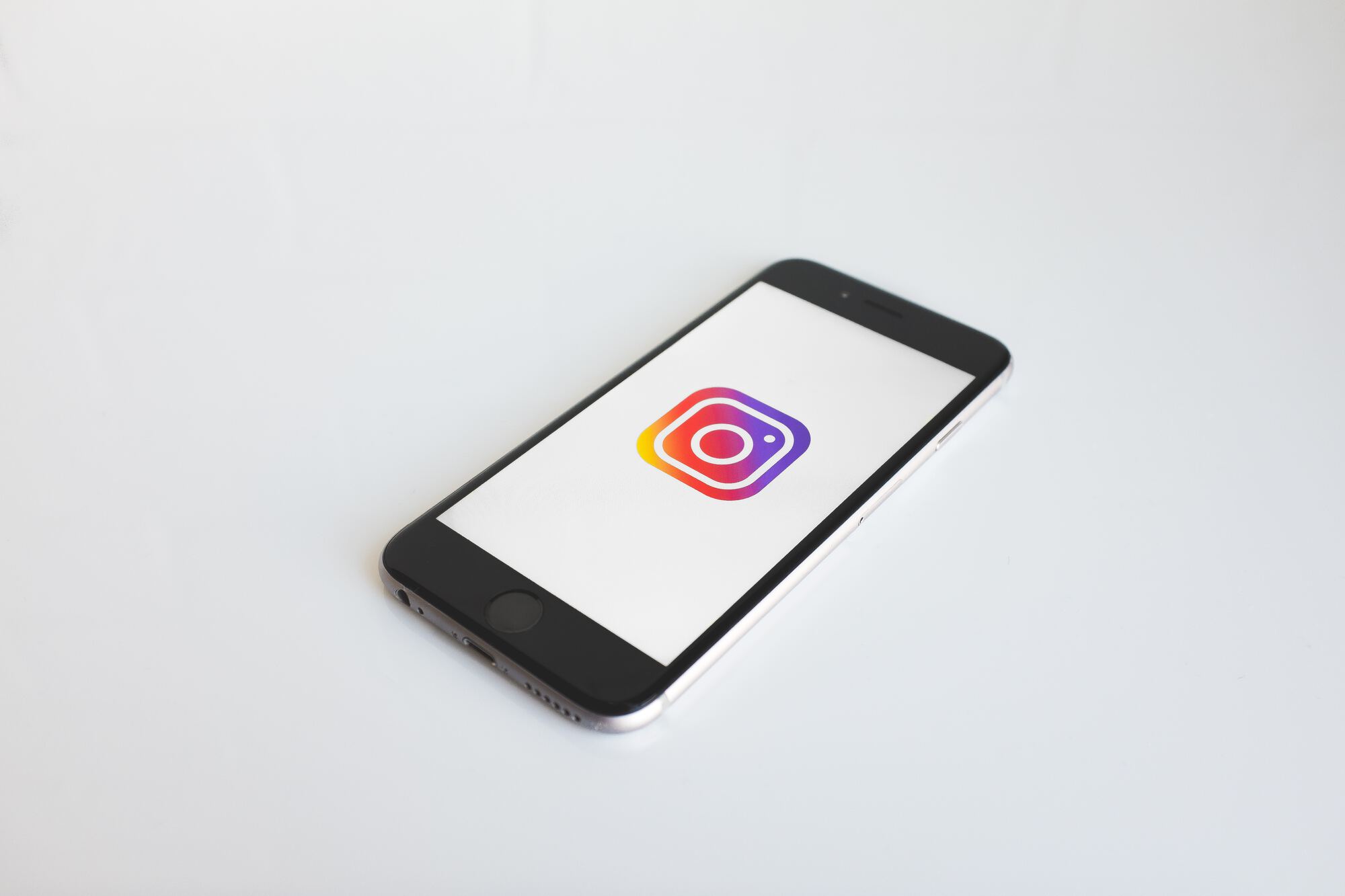 Instagram is inarguably a powerful social channel for the weddings industry (that's why we made it our business to become the number one bridal brand on Instagram with over 1 million followers!). And that's also why it's up to each and every one of us to learn and use Instagram like the pros we are. Read the list below and never be caught committing one of these offenses again!
1. Instagram Offense: You brag too much.
We get it. How is anyone going to know that you [speak at events, travel to cool places, eat amazing food, wear the cutest clothes, go to amazing events, etc] if you don't post about them on Instagram, right? Yes and no. The key to posting content that your followers will love is to FIRST think about your audience. So do your followers really care about food and do you have the expertise to offer something new about food because you're a caterer? Great. If that's the case, post the photo. But post that photo with a thoughtful caption about the ingredients, the way it's plated or the suggested complementary cocktail (as opposed to, "look how delicious this is!" which adds little to no education). Same goes for speaking events. It's great to promote events that you'll be attending or speaking in and to tell your audience why it might be important to them. It's not great to simply post a photo of yourself speaking just because you want other people to see you speaking.
The Exception? If you've been hired for or were a part of a celebrity wedding, have been asked to speak on a big stage, will be on TV, scored a book deal, etc, then brag away. Just make sure you're only doing it for the biggies that ideally come along once or twice a year max! Where to post all the rest of your brag-worthy stuff like rave reviews from your past couples and smaller achievements? Add those moments to your Instagram stories and then archive them as highlights just below your bio.
2. Instagram Offense: You're not taking advantage of Instagram highlights.

Photo via Instagram @marcyblum (who, by the way, does a great job of using highlights to showcase her work!)
You don't have to hope that prospective couples will scroll through all of your photos in your main feed. Instead, use the highlights feature at the top of your Instagram feed. It's a really great way to organize and promote your work in a place that your couples are likely to spot and engage with. So if you're a designer or florist, you might have centerpiece highlights, bouquet highlights and ceremony arrangement highlights. If you're an entertainer, you might have dance floor highlights, first dance highlights and behind-the-scenes highlights. The idea is to really play up your business and offerings, and all of its parts.
The Exception? Don't go too far overboard with highlights. You probably don't need more than 4 or 5 max!
3. Instagram Offense: You're smashing your photos together and using grids.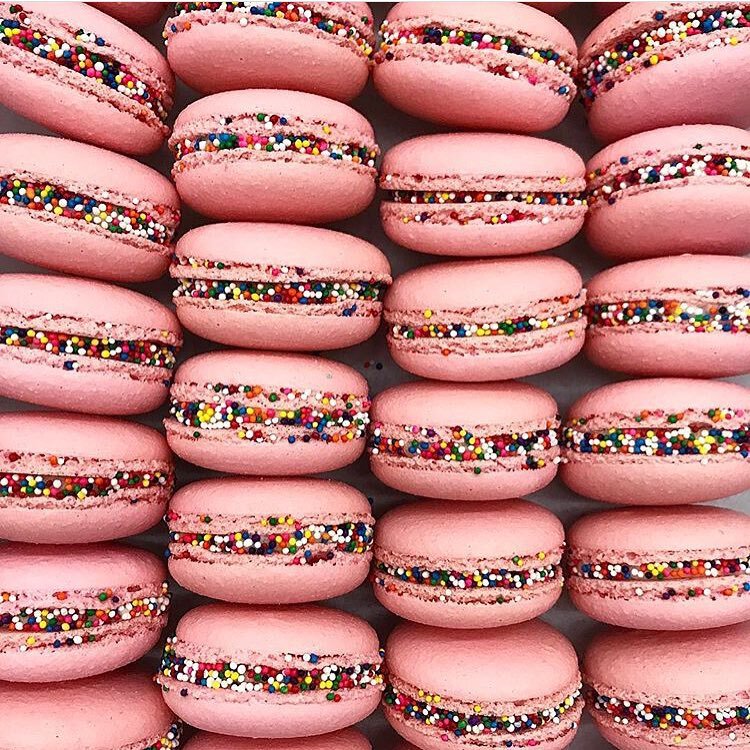 Photo via Instagram @kelseyelizabethcakes (a Cleveland-based cake baker and sweets maker!)
Sorry not sorry. The grids have got to go. We're talking about the photos on Instagram that have been mashed up to combine two or three or more photos into one using a photo cropping or layout app. Why no grids? Grids make it difficult to see the subject of the photos because they require your images to be so small. Plus grids get less engagements (likes and comments) than individual photos. So for those of you who have posted them in the past, go through your feeds and archive those images so that they don't appear in your feed. And then get in the habit of choosing your hero shot and skipping the others (or put them on Instagram stories!).
The Exception? There is none! Ban the grids, friends.
4. Instagram Offense: You use funky filters and angles.
Photo via Instagram from our Miami workshop taken by the talented @katielopezphotography (who produces beautiful images that aren't overly edited!)
Ever heard someone say, it looks like the dress is wearing her? It's the same thing with overly edited images and photos with out-there angles posted to Instagram. They distract from the message you're trying to send, and the last thing you want to do is post an image that requires your followers to squint. Stick with the subtle filters or do a little manual brightening to your posts — but stay far away from the heavy filters.
The Exception? If you're a photographer and the product you're selling is photography with a lot of funky angles and filters, then that makes sense for you. Otherwise, stick to the original images as much as possible!
5. Instagram Offense: You post when you feel like it.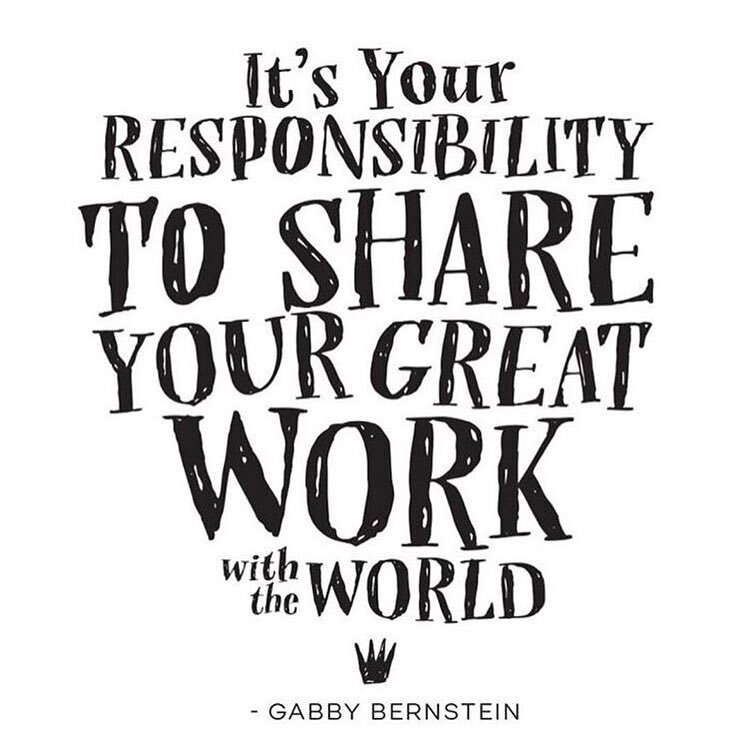 Photo via our Instagram @weddingpro regrammed from @gabbybernstein
Read this: If you're serious about connecting with couples and building a brand, then social media should be a part of your day job — not an after-thought and not part of your I'll-get-to-it-eventually to-do list. Inconsistency sends a message that you're not taking your relationship with your followers very seriously. In today's climate, where couples are looking to connect with you via social media before they even pick up the phone to call you, you can't afford not to post consistently. Aim to post to your Instagram feed three to five times per week.
The Exception? If you're a one-woman (or man) show, and you're going through a major life event, give yourself permission to take a break or hire someone to help you do it in the short-term. Your profile is is important to building a great brand and connecting with the right couples but real life trumps your social media presence.
6. Instagram Offense: You never use hashtags.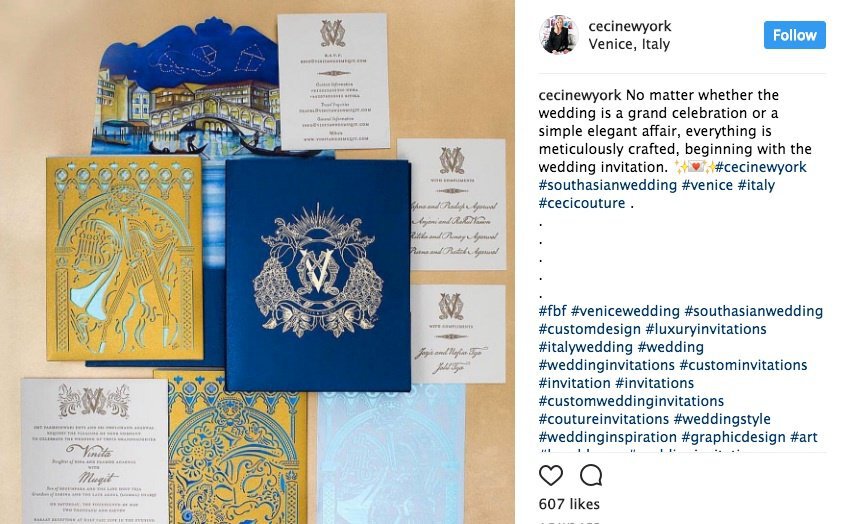 Photo via Instagram @CeciNewYork (who religiously uses hashtags like a boss!)
Hash-tagging your images is like SEO for Instagram. So not to be a nag, but if you're posting to Instagram and not using hashtags, you're only doing half the job. Your hashtags are the first and most important way to get your Instagram posts appearing in more feeds.
The Exception? On occasion, if you have a post that is about something super serious, sad or just extra-personal, then you don't need to add hashtags. In those unique cases, it should be more about telling your story than finding new followers.
7. Instagram Offense: You never geo-tag.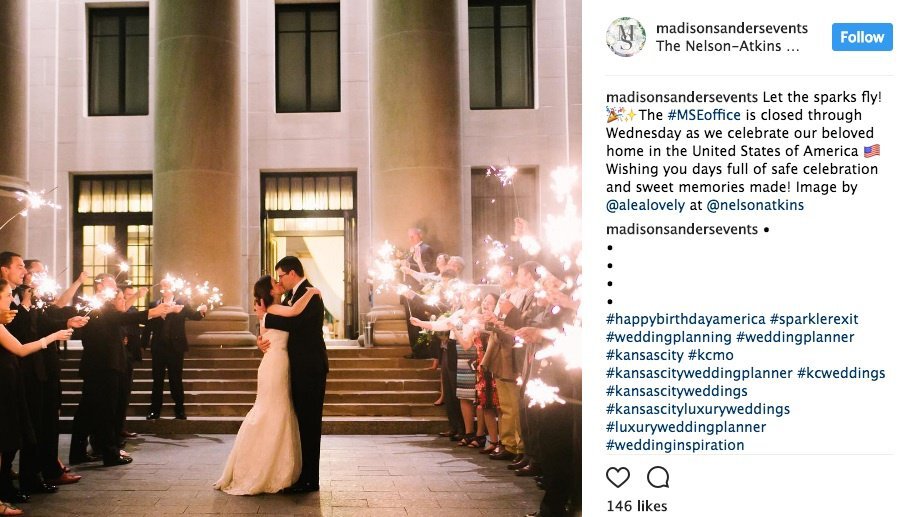 Photo via Instagram @madisonsandersevents (an awesome KC wedding planner who always geo-tags her posts!)
This is similar to the points above about tagging and hashtags. If you're not using geo-tags on your posts, you're not telling the full story and you're not giving your posts the opportunity to be discovered via map in Instagram. This is especially important for any photos you post that were taken at a venue (and paramount if you are a venue!).
The Exception? None! Even if you can't find the exact location the photo was taken, you should try to geo-tag your photo to a city, a neighborhood, or even a state.
8. Instagram Offense: You never tag anyone in your photos.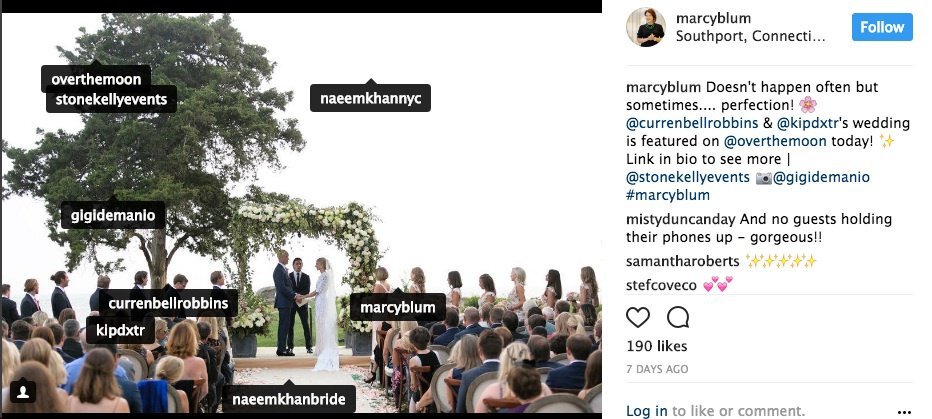 Photo via Instagram @MarcyBlum (who always tags her fellow wedding pros in her images!)
While it can be tricky to literally mention each and every wedding pro that worked on a wedding in the caption, you should absolutely tag all of them in the image. It's one of the very best ways to celebrate the community of pros you worked with and signal to future couples that that group of people are the types of businesses that you align yourself with. Powerful stuff!
The Exception? Unfortunately, not all wedding businesses have Instagram handles. If you have a favorite wedding pro that you like to work with, encourage them to get with it and start one.
9. Instagram Offense: You add graphics and watermarks to your images.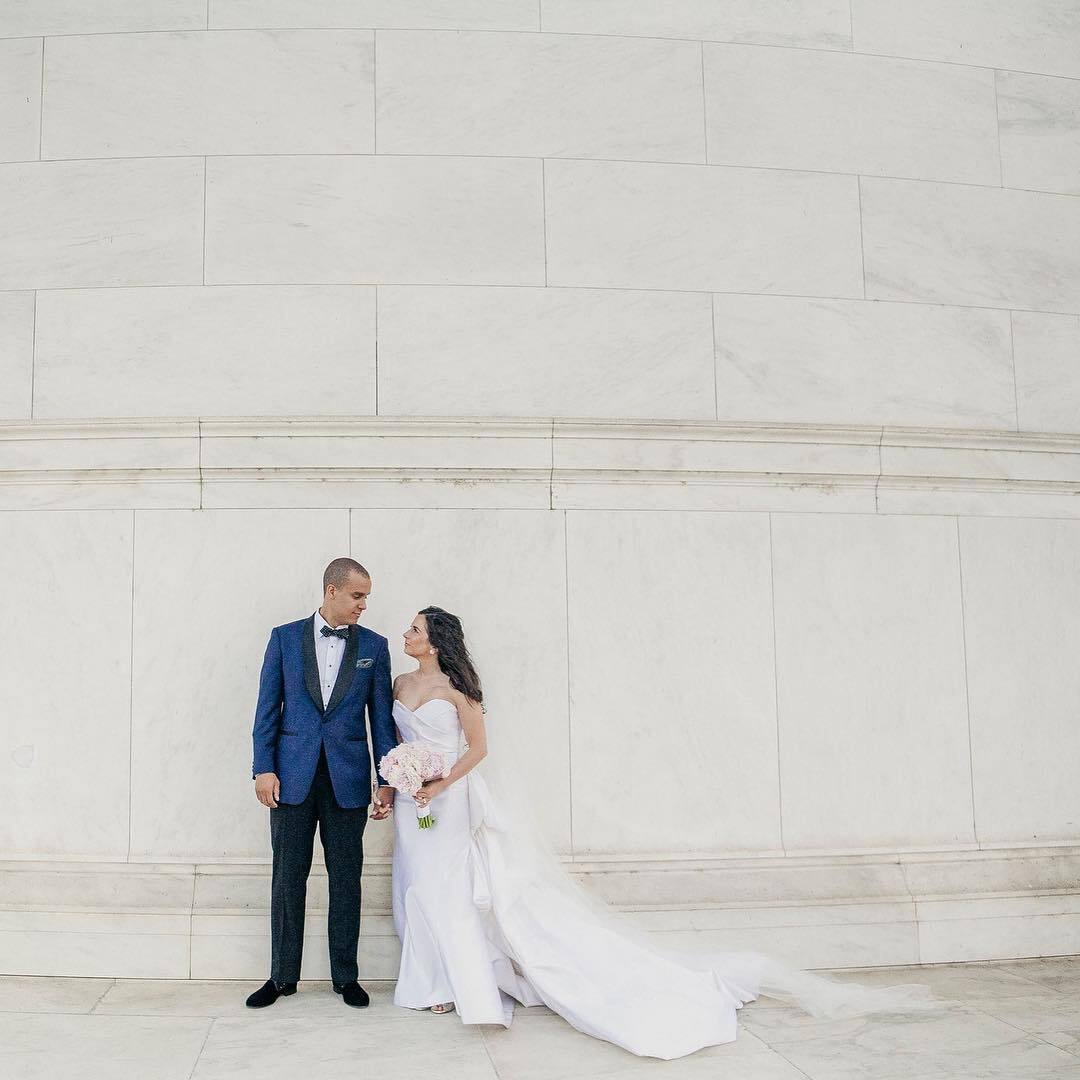 Photo via Instagram @lovelifeimages (who never ever put graphics or watermarks on their images on social!)
This may sound controversial to some, but graphics and watermarks on Instagram photos are a total no-no in our book. They don't perform as well (for follower growth and engagements) as photos that are left clean and un-touched. Images that have overlaid typeface will make your Instagram feed look messy and hard-to-see and can hurt follower growth.
The Exception? Inspirational quotes are the exception to the rule. If you want to add quotes into the mix of images in your feed to help connect better with your followers, that's ok. Just make sure the typeface and font match the story and brand image you're trying to create.
10. Instagram Offense: You sometimes post photos that aren't of the highest quality.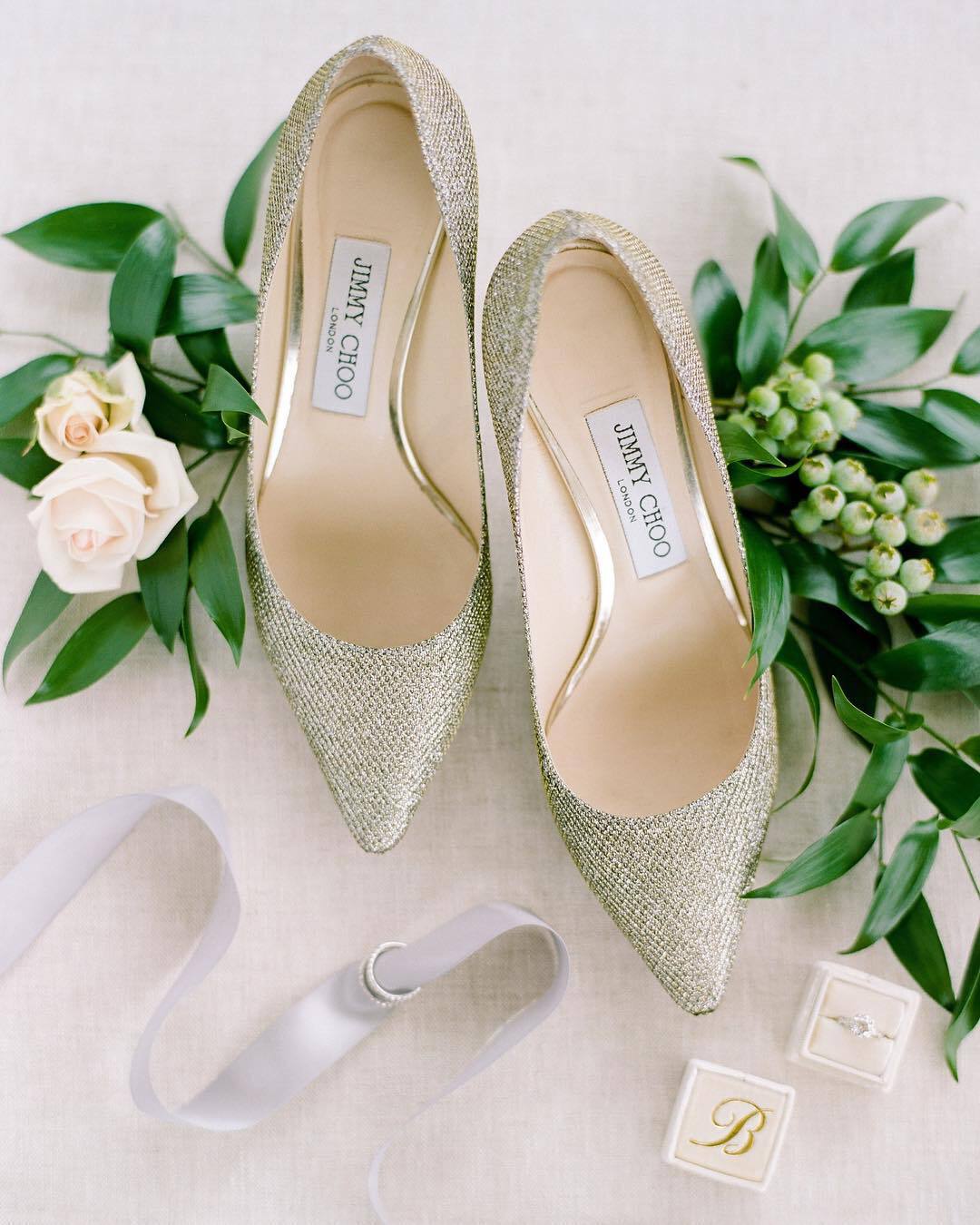 Photo via Instagram @danafernandezphoto (whose Instagram feed photos are always on point!)
We know it can be really difficult to find an image that is high-quality, tells the right story, shows off your work, and is also timely. But you just can't afford to post an image to your Instagram feed that doesn't pop and look on brand for you. So when in doubt, don't post it. Instead, look for content in other places. You can always resurface photos from lower in your feed that you love. You could re-gram your favorite wedding pro and give them an extra special shout-out. You could even post a photo of your favorite wedding venue or centerpiece style. Anything goes so long as you're crediting everyone involved in the creation of the image (especially the photographer!).
The Exception? If it's the funniest photo or video you've ever seen and you know will make your followers laugh out loud, and you just don't have a better quality version of it, post it.