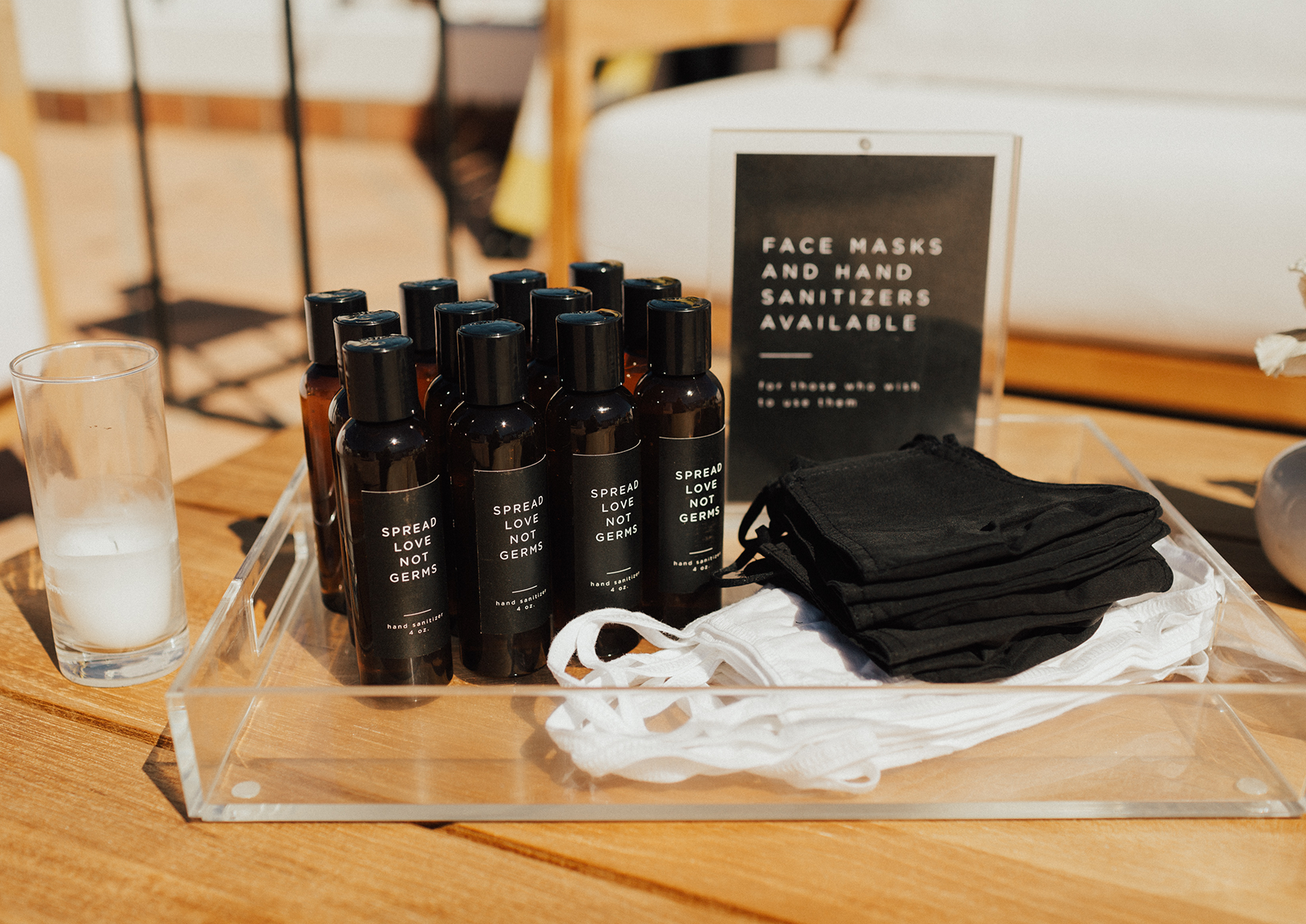 One of the most important things you can do when marketing your business is show your potential customers and clients that you are relevant. And, when it comes to proving just that in an industry that is creative, being able to demonstrate your knowledge of trends and ability to create on-trend work is essential to convincing them. But, with it sometimes being hard to know the difference between a lasting trend and a fleeting fad, you might hesitate in the name of saving face. Lucky for you, you know some people who talk to millions of couples every year and have the team to do the research—and today, we are going to dive into six of the trends you'll see well into 2021. Read on to learn what the six wedding trends are and how to incorporate them into your content marketing plan this booking season!  
Six 2021 Wedding Trends to Incorporate into Your Content Marketing
Trend #1 – Health and safety remains a priority
With almost every couple needing to make changes to their wedding plans in 2020 and some facing uncertainty about 2021, working health and safety into the Plan A is something we will see. Between staying up-to-date on local event restrictions, choosing venues that are more fresh-air than not, and providing guests with what they need to stay as safe as possible, couples will want to have confidence in your ability to make it all happen. So, when it comes to earning their trust and showing your experience in this area, here are some ideas to help:
Blog – Publish a piece about the lessons you learned in 2020 and the learnings you will be carrying into your future weddings

Portfolio images – Update your Storefront(s) to include a few images that show guests in masks, hand sanitizer favors or decorative decals that mark a safe distance

Captions – Write captions for social media posts that share tips, lessons learned, and advice to help couples plan a safe wedding

Samples – Have examples ready to show or talk about if asked in a DM, message or on a consultation call

Reviews – If you worked a wedding this year, ask your couples to write a review that specifically mentions something you did because of COVID. Whether it was rescheduling their date three times or helping them figure out the perfect hand sanitizer favor
Trend #2 – Hiring vendors who align with their values
Authenticity has been an important part of any business' marketing strategy over the last few years, but we are seeing the communication of values become even more important. According to The Knot, "Engaged couples in 2021 will seek allyship when selecting vendors who not only can offer products and services that will help bring their unique wedding visions to life, but who align with the values and causes they stand for." While you are never obligated to overshare, if values are important to your ideal couple, you can do yourself a favor by not keeping them close to your chest. You can talk about your values by taking these steps:
Website – Update your about page and Storefront(s) to include a company mission or value statement

Portfolio images – Be sure to include images on your website, Storefront(s), blog, social media, etc. that show your diverse clientele and allyship

Captions – Write captions about your values on a regular basis to demonstrate that it is truly a part of your core values 
Trend #3 – Out with the old and in with the bold
When safe gatherings can be a challenge to coordinate, couples are wanting to make sure that their celebrations are anything but dull. Get creative and set time aside to:
Blog – Publish a piece about your favorite color palettes and combinations being sure to give examples of how you can incorporate them into every aspect of a wedding's design

Portfolio images – Update your portfolio page and Storefront(s) to feature any recent weddings with bright palettes

Captions – Write captions about color trends and unique palette picks to show potential clients how you think about using them in the service you provide

Samples – Don't have a previous wedding in a fresh palette? Think about coordinating a small styled shoot to make sure you have the images you need to speak to this trend
Trend #4 – Wedding welcome boxes 
Wedding invitations are often talked about as being the kick off to the guest experience but things are stepping up a notch with the welcome box trend! Whether a couple wants to curate a lavish experience to invite guests to their wedding or wants to replace the traditional receiving line, welcome boxes are a great way to incorporate more of an interactive storytelling component to a wedding. And, you can walk people through what you have in mind with these content ideas:
Blog – Publish a piece with ideas of what to include in a welcome box or tips about designing and sending one to guests who may not be attending the wedding in-person

Captions – Give a shout out to your favorite collaborators and products to include in welcome boxes. Posting on social media about them is a great way to inspire potential clients and increase engagement
Trend #5 – Streaming is for more than Netflix nowadays
Due to the fact that guest lists have been limited and travel difficult for some, couples have been leaning on technology to still share their wedding with the ones they love most. According to WeddingWire, "In fact, according to the Global COVID-19 Weddings Report, 43% of couples in the US plan to include streaming technology in their wedding celebrations for guests who don't feel comfortable attending an in-person event." Couples will be looking for pros who can help them set up the technology to do this without the headache of needing to figure it out themselves. Show them you know how to get it done:
Blog – Is technology your thing? Publish a blog post about what goes into live streaming a wedding and the important things to know  

Portfolio images – Because technology can be intimidating, be sure to update your portfolio and Storefront(s) with a few images showing couples' faces and reactions to seeing their family over Zoom

Captions – We'll say it again—technology is intimidating. Write captions that break it down and make it easy to understand what is required to live stream an event

Samples – Share testimonials from couples who you helped because

reviews are always a powerful marketing tool

Trend #6 — Bistro-style entertainment 
With couples adjusting dance floors but still wanting entertainment at their wedding (who would want to sit in silence after all?!), booking small bands and acoustic performances in addition to their main entertainment is a trend we actually hope sticks around forever! It's a unique way to keep guests entertained while staying at their socially distanced seats, which helps avoid crowding throughout the reception. Share your ideas about this trend in wedding entertainment with these content marketing ideas:
Website — Video is always a great marketing tool and nothing beats it when it comes to entertainment. Update your website with a video or two so couples can see and hear what the experience is like

Samples —Have sample sound bites or song lists ready to share. Better yet? Create content to share on social media with them to catch people's attention
Excited about next year's trends and want to learn more about them? Check out The Knot's picks for wedding trends and WeddingWire's too!
Photo Credit: Heirlume Photography