How To Win With Hashtags For Weddings
By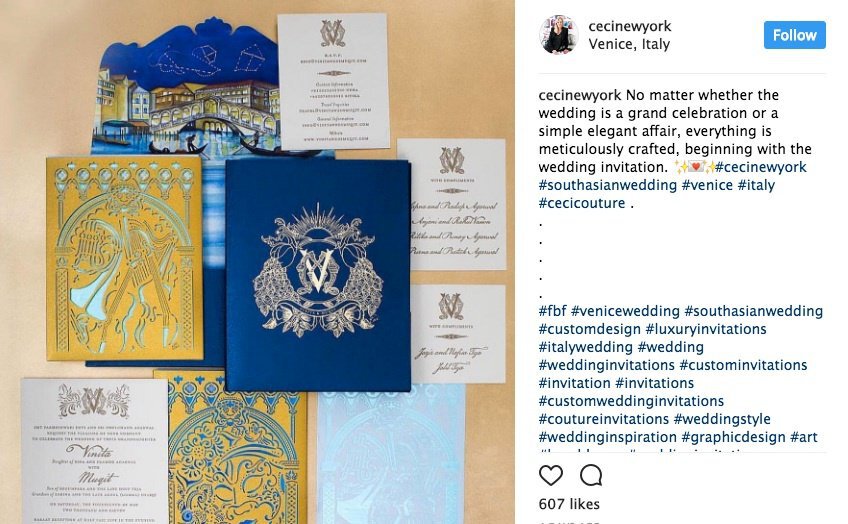 Taking a great photo for Instagram or Twitter is really only step one to crafting a successful post. Hashtagging your images is the best way to be discovered by engaged couples looking to hire their wedding pros. It's like SEO for Instagram because couples use hashtags to search for new photos and people on Instagram. So if you're posting to Instagram and not using hashtags, you're only doing half the job. Give these 5 easy steps to writing hashtags a try the next time you post.
Step 1. Ask yourself, "What would I search to find this photo?"
Go ahead and break down your photo in the most simple of terms. Imagine you want to find your photo on Google or Pinterest, and make a list of the words you would use to find it. We're talking primarily nouns and adjectives. Industry buzzwords are key. Think: rustic wedding, boho wedding, and romantic wedding.
Step 2. Take out the space, add the hashtag.
Break down your terms into pairs that complement each other and push them together into one word, eliminating the space. So it might look like this: [adjective][noun]. Next, add a hashtag (#) at the front, so [#][adjective][noun]. A photo of a rustic pink peony and rose centerpiece might include the following hashtags: #pinkpeonies #pinkflowers #pinkcenterpiece #rusticwedding #rusticflowers.
Step 3. Scout out related hashtags.
Ever use the "Discovery" tab of your Instagram app? This is a cultivated feed (thanks to the Instagram algorithm) to help you find new accounts related to ones you already follow. The useful portion for you is the search bar. Try typing in some of the key terms you assigned to your photo, with a hashtag at the front. You will find already existing hashtags that relate to the ones you're using. Add those hashtags to your photo to maximize your reach.
Step 4. Include a mix of generic and specific.
While you're scrolling through your Discovery tab, make a note of what hashtags have tons of posts associated with them. Some have a lot and some have a few. For example, there are 9 million photos tagged to the hashtag #wedding. These hashtags are worth including, but know this: Your posts with generic tags will most likely get lost in a big sea of the same. Your best bet is to use a combination of popular, and less popular (aka more specific) hashtags on your image to cast a larger net, while also catching couples searching for super specific wedding trends (like #flowerwalls).
Step 5. Comment on your own post with your curated hashtags.
Here's a hack to show you're a true social media guru. Instead of including your hashtags in the caption of your photo, comment on the post immediately after you share it with your list. Use Note Pad on your phone for best results on this step. Open a new notepad, and add a period (.) and a return. Do that 5 times. Then type in your hashtags. Copy the whole note (with your periods), and paste as a comment. Easy peasy.
Photo by Jen Fariello Photography
Let's grow your business together!
Start advertising on The Knot and WeddingWire, the top two wedding planning platforms.