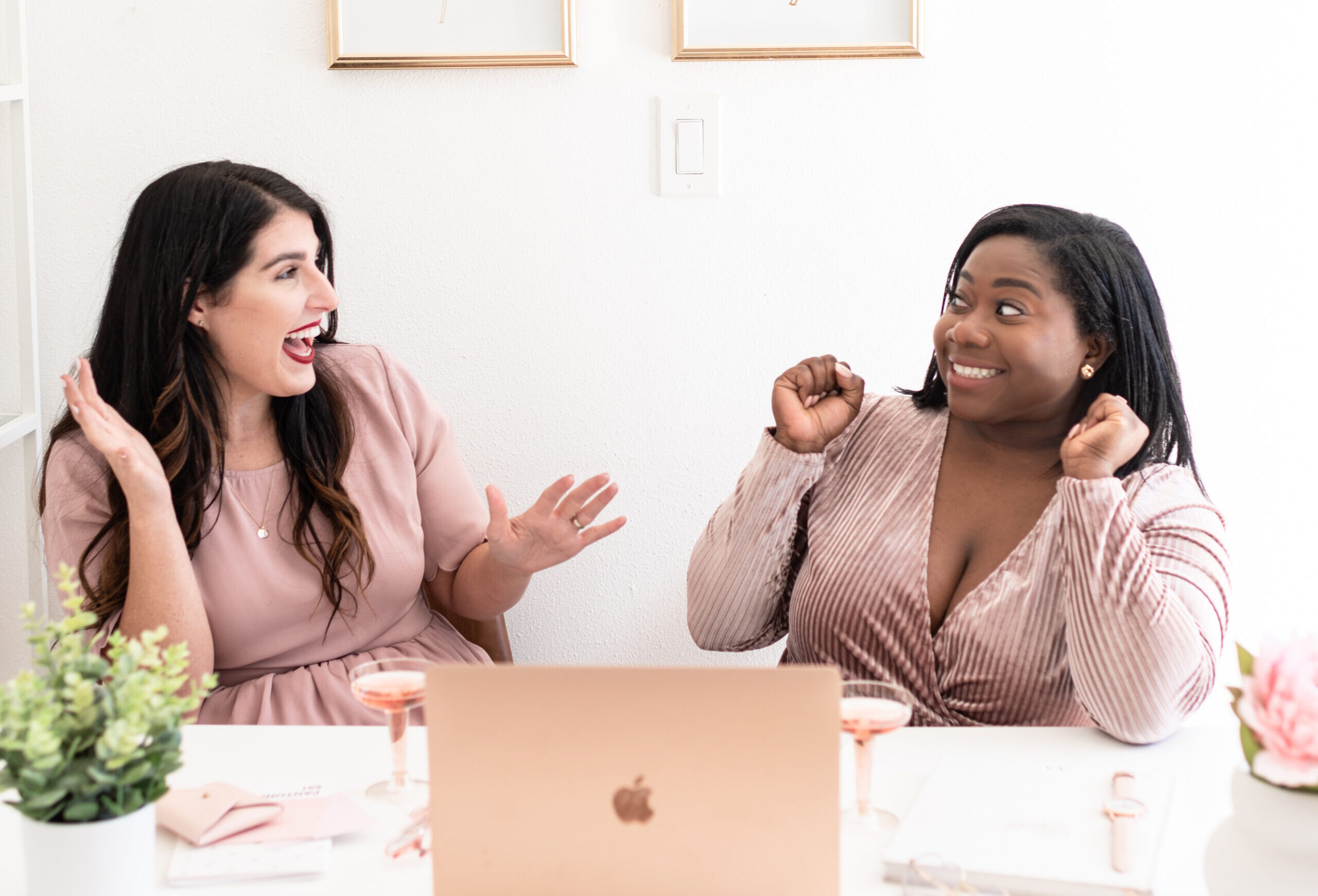 Marketing tactics
that are worth giving a go as a wedding pro
Marketing your wedding business takes a lot of creativity, even if you consider yourself the most creative person in the world, there comes a time when you will feel stuck. Perhaps you feel stuck because you're too close to your business and have a hard time looking at it objectively. Or it could be you've exhausted the ideas you had. Regardless of the reason you might feel stuck, we want to help you get out of that funk. We've rounded up some marketing ideas to get the wheels turning—and to spark some creativity. Read on for the marketing tactics that are worth giving a try and resources to get going again.
Become a brand report for your own wedding business
Brand journalism is an impactful marketing tactic made popular by a number of Fortune 500 brands and I'd love to see more wedding pros consider [using it]. It combines promotion with storytelling, allowing you to be the reporter for your brand. You can share in-depth profiles of each event or snippets into the behind-the-scenes planning. Perhaps you profile your couples at length, allowing them to share their story of how they came to work with you, the event itself, and the difference you made. – Meghan Ely of OFD Consulting
Pro-tip: In addition to being your own reporter, you can also pitch yourself to be a guest on podcasts and submit your best weddings for publication on The Knot and WeddingWire.

Cross-promotional interviews
One of my favorite tactics that most wedding pros haven't tried is vendor spotlight blog posts. If you want to get more visibility for your business, how about showing up in search results when couples search for other vendors you love to work with?  To do this, interview another wedding pro Q&A style. Write out their answers and post a "spotlight" of that person on your blog. After a bit of time, it could show up on the first page of Google when people search for them, bringing more traffic to your website.
Here are a few SEO tips on how to make this show up higher on Google and be a successful marketing tactic for you: 
Put the person's name and business name in the post title

It's important that the post is at least 500 words, so aim for at least 5-7 questions

You'll likely get longer answers and more responses to this request if you offer to interview the person and transcribe their answers. Make it easy for them and don't make them write out their own responses, if possible. You could even email the questions and have them send you a voice memo with the answers.

Don't forget to introduce yourself in this post too! Assume the reader of the post has never heard of you, so you need to draw them in and get them curious about your services as well. In the intro you could write something like, "As a wedding planner who has worked with Shayna multiple times here in Springfield, I know her clients absolutely love her…" 
– Sara Dunn of Sarah Does SEO
Pro-tip: Another cross-promotional marketing idea is to include the wedding pros with similar ideal clients (and with whom you love working with) on referral lists you share with clients.
Advertise your wedding business
If you ever find yourself looking for ways to get "unstuck" with marketing your business, one of the best things you can do is simply try something new. And, as mainstream as advertising is, there are many wedding pros who have yet to see what it can do for their businesses. From wanting more leads to trying to book your first client, if you haven't ever experienced what advertising on The Knot and WeddingWire can do for you, it's probably time to try.
Pro-tip: If you're experiencing any of these things, it's time to start advertising your wedding business.
Develop a loyalty program
Do you know how a simple punch card can keep you going back to the same cafe repeatedly to get that free coffee one day? Or how exciting it feels to rack up loyalty points by writing reviews and referring friends for a discount? That's the power of a loyalty program—it keeps people inside a brand's ecosystem. 
The best part? Nothing is stopping creative pros from leveraging this tactic. After all, client retention and referrals tend to be far simpler than booking a cold lead! For wedding pros, this could be a "buy 2, get 1" offer (whether it's photoshoots or beauty packages). It may be a handful of special perks for customers who purchase a certain dollar amount, or it could be a rewarding referral system for people to share your brand with friends. Get creative! – Aleya Harris of Flourish Marketing
Start creating short-form video content
Though you may have heard us suggest Instagram reels and TikTok videos before, it is worth mentioning again. Because short-form video content is in-demand and here to stay. And even though this is not an entirely new concept, what it can do is help you look at how you market your wedding business in an entirely new way (most of us don't move through life thinking about what video content we can create, after all). So, this is definitely a marketing tip to try, and here is an Instagram reels and TikTok guide to help you get started—content ideas included.
For more marketing tips to help get (and keep you) unstuck, here's what to do and what not to do when it comes to your marketing strategy.
Photo Credit: ColorJoyStock.com