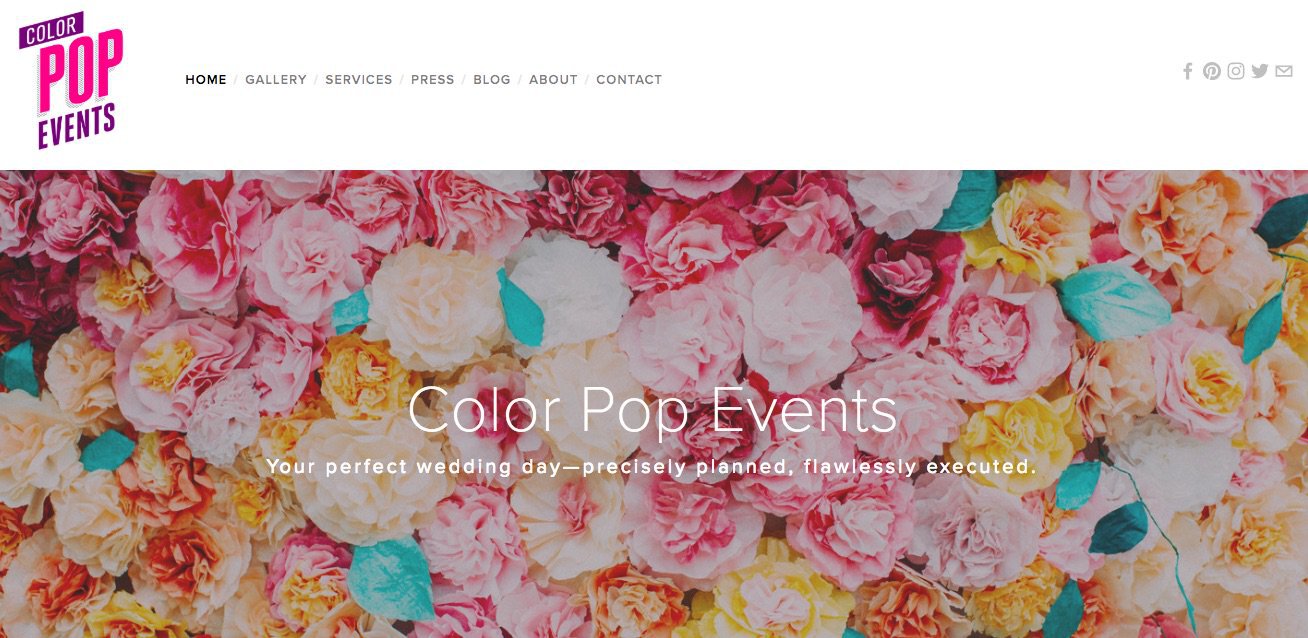 We've all heard about the importance of creating a great brand (and keeping it consistent). Your brand is how your wedding business is perceived through your couples. It all comes down to your current and future clients: developing a strong brand is crucial to connecting with them. Make sure you know what your brand stands for and what you care about.
What is branding?
Whether you're new to the wedding industry or you've been at it for more than a decade, your brand is more important than ever to finding and connecting with the right couples. Your brand will make a memorable impression and keep them coming back for more. The keys? You have to be easy to find, instantly relatable and totally trust-worthy. 
Why should I digitally brand my wedding business?
Our industry is growing: There are more photographers, wedding venues, planners, makeup artists (and the list goes on) joining the world of weddings today than ever before. Add to that, mobile phones have completely changed couples' expectations as to how they find and discover their wedding pros. This year, we're asking all of our pros to put wedding branding on the top of your New Year's resolutions. Here, some of the most important wedding branding must-dos that belong at the top of your list!
#1 Wedding Branding Must-Do: Do The 3-Second Test On A Phone


When a couple discovers you online on their phones, chances are good that they will make a decision as to whether you're the right person for them in less than 5 seconds. In other words, they're not going to scroll and they're not going to tap around to read more about you. It's on you to make a really great first impression in less than 5 seconds.
Need An Example? Brooklyn-based Color Pop Events (screenshot above) is a great example — with just a gorgeous photo, clean simple background and their pretty logo and font, it's clear at a glance that they offer flawlessly executed events that tend to look bright and colorful.
How To Do It: Use your phone (we repeat, use your phone — not a laptop or full desktop computer) to do an audit of how you appear online. When you land on your storefront or on your website, don't tap or scroll around. Take note at what fits on your phone screen and ask yourself: Is what I do clear? Does it look and sound personal? Is the photo the very best representation of my work? If you have to scroll around to communicate the answers to those questions, it's time to reassess those pages.
#2 Wedding Branding Must-Do: Edit Your Elevator Pitch Down to One Sentence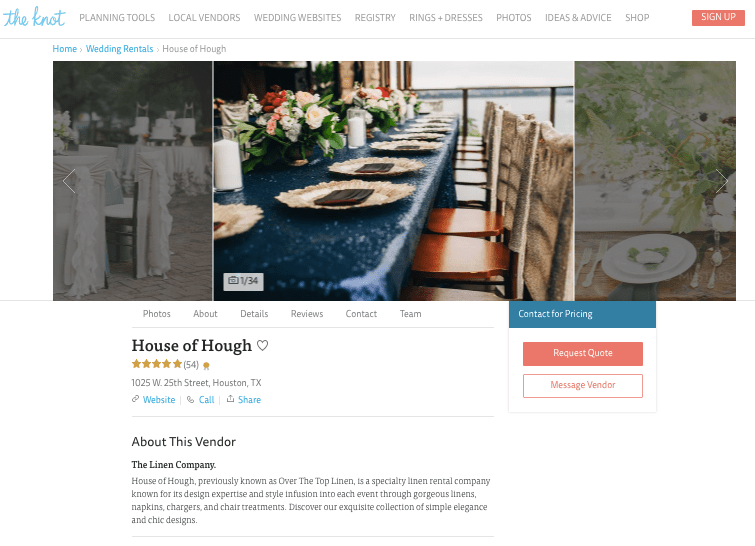 What you sell should be crystal clear and simple to understand so that you, your team and your past and future clients can repeat it easily to everyone they meet. If you can't articulate your business in less than one sentence (both in person and online), it's time to put on your editing hat.
Need an Example? Our friends at House of Hough (screenshot above) do a great job of articulating their offering and what makes them unique — "House of Hough is a specialty linen rental company known for its design expertise and style infusion into each event through gorgeous linens, napkins, chargers, and chair treatments."
How To Do It: Edit your product offerings until you have it down to one sentence.
So for example, you might take this: "We rent out tents, lighting, chairs for weddings and events. We are located in Phoenix but will travel outside of the city. We also do custom and have been a family-owned business for over 25 years."
And turn it into this: "We are a family-owned tent rental company that specializes in Phoenix and Scottsdale weddings and events."
Still struggling? It's also possible that you could be offering too many services and you need to separate out one from the other (possibly into two separate businesses or divisions). For example, our friend Emily Clarke has two divisions, Emily Clarke Events and The Detail Department.
#3 Wedding Branding Must-Do: Create A Tagline To Accompany Your Logo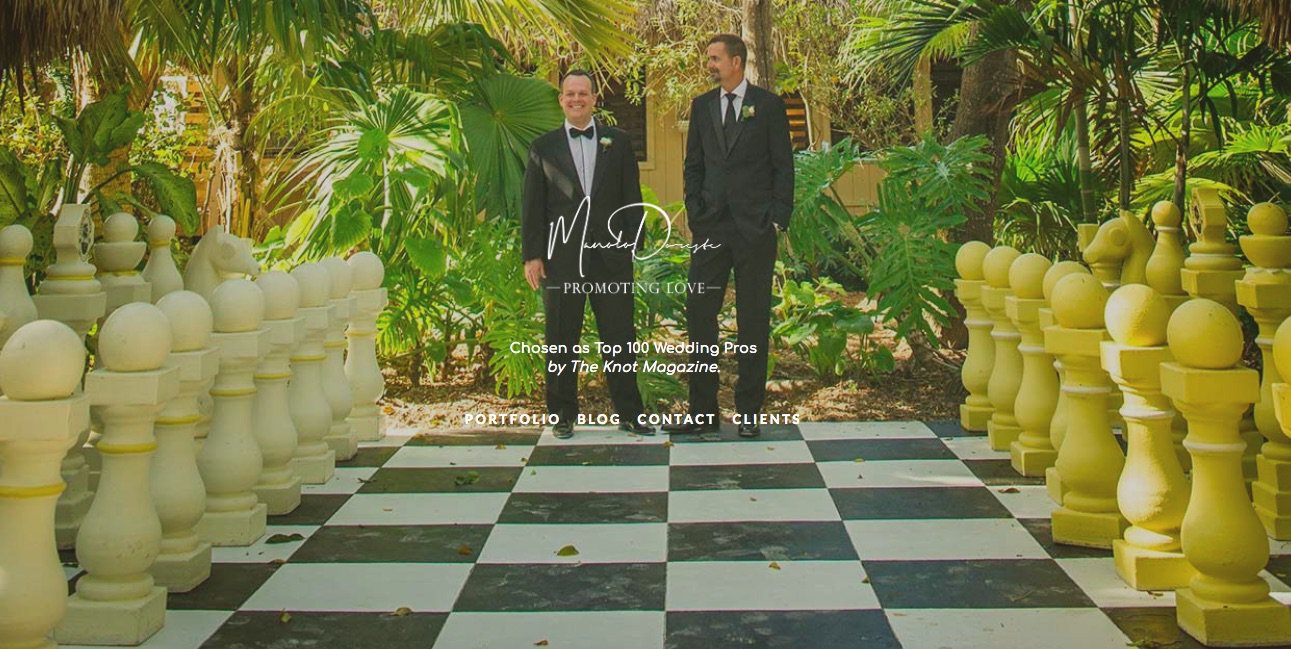 This is different from your one-sentence value prop (#2). While your one-sentence value prop should contain what it is that you're selling, your tagline is like the caption to your brand. In other words, your tagline should allude to your story, your point of view, and how you want your clients to feel.
Need an Example? For a great example of a tagline, check out photographer Manolo Doreste's website (screenshot attached). Manolo's photography is glamorous and high-end, but if you've ever met him, you would know that Manolo and his brand are all about the love story behind the wedding. That's why his "Promoting Love" tagline is the perfect way to communicate the essence of what it means to work with him. 
How To Do It: If you don't have one, get to work! Sit down with your team and create a word cloud of phrases or words that relate back to your story and personality. Don't settle for one that sounds generic like it could be someone else's. You do you!
#4 Wedding Branding Must-Do: Curate A Folder of Hero Images That Represent Your Brand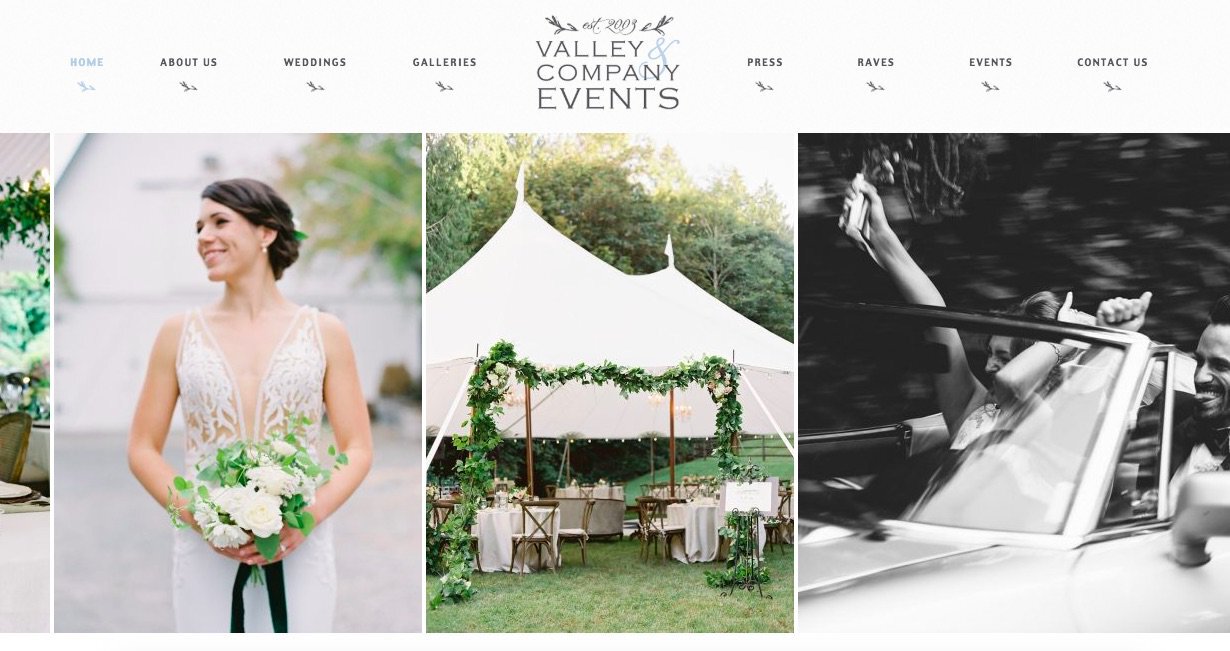 You may have hundreds (or thousands) of images of your photography or examples of your work but trust us, only a small handful belong at the top of your website. Those are what we would call your hero images: the images that you use to draw in visitors to your storefront, on your website, and social media channels. If the images you're using to represent your brand are all different and don't tell a cohesive story or send the same message, you're creating visual confusion. In other words, you're essentially creating a question in couples' minds as to whether you're really who you say you are. Don't let that be you!
Need an Example? Above are the images that appear at the top of Seattle-based wedding planning and design company, Valley & Co.'s website — totally signature! The husband and wife team have clearly taken the time to curate images that best represent what it is that they do best.
How To Do It: In a word? Curate. Go through your body of work and pinpoint the 10-20 images that best represent your brand and business. Then replace your landing pages (eg, all the places couples can find you online) with your new branded images. If you don't have the right images, it's worth investing in a photo shoot or hiring a photographer to shoot details of your work at your next big event.
#5 Wedding Branding Mistake: You Don't Have Design Brand Guidelines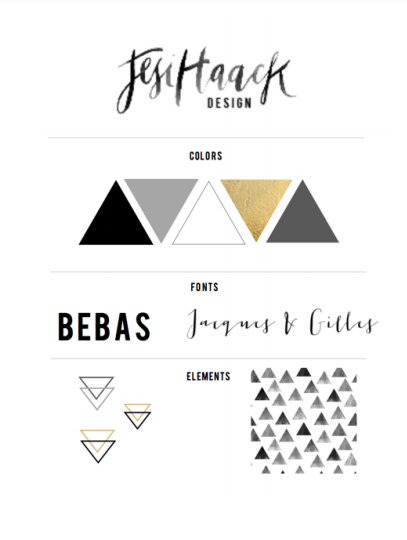 We know most of you aren't designers with InDesign chops (neither are we!). But the design (as in your fonts, design elements, colors, graphics) along with the signature words used in association with your brand (be it "playful" and "fun" or "classic" and "sophisticated") should be consistent. Without a set of guidelines, you're essentially creating a question in couples' minds as to whether you're really who you say you are. 
So for example, it would be confusing to see lots of blush and gold real weddings on your storefront but then to go to your website and find a bold, modern fonts. Or it would be odd to see lots of edgy real weddings in your portfolio accompanied by captions that sound super fluffy like, "We're swooning over this bouquet"). It just doesn't fit together.
That's where your brand guidelines come in. They're like a rule book that you and your team should follow when publishing any content on behalf of your brand.
Need An Example? Our planner and designer friend, Jesi Haack from Jesi Haack Design used these basic design guidelines to help put together her website.
How To Do It: Sit down and outline the fonts, colors and even the words you use (or definitely don't use) in association with your wedding brand. Some business owners will hire a designer or a consultant to work with them to get this done. Others will start small with basic guidelines. Regardless, you should have at least a very basic set of fonts, colors and voice guidelines for you and your team to use.