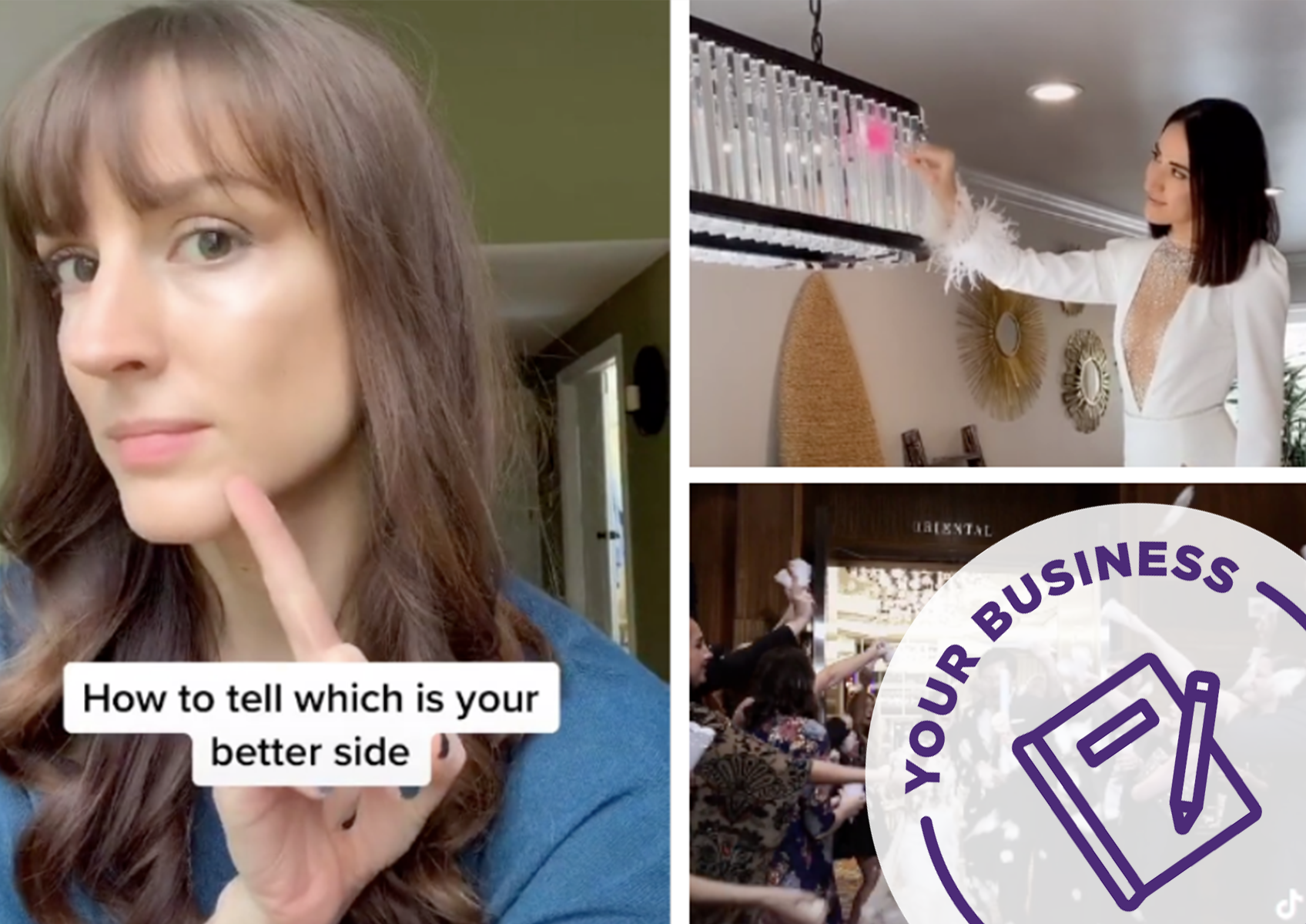 If you've heard of the new (not-really-new) short-form video social media app TikTok, you may be wondering if your wedding business should have an account. We're here to tell you that the answer is YES! Now is the time to dive in. It should come as no surprise that couples who are postponing their weddings are turning to TikTok for lighthearted content. Like everyone else in varying degrees of isolation, couples are looking for laughs and entertainment. Some wedding pros have already leaned into TikTok to create content — including behind-the-scenes event production, wedding planning tips and dance challenges! Let's break down all the need-to-know information on the latest social media craze. 
First, what is TikTok? TikTok is a video-sharing social networking platform where users post 15- to 60-second videos of anything from dance challenges and skits to pranks and lip-syncing. The platform is meant to be authentic, so you don't have to worry about polishing your videos. It's all about having fun! According to Hootsuite, TikTok's biggest age group in the US is 18- to 24-year-olds. For that reason, many brands are using the app to create engaging content to connect with this specific target audience. For a while now, some industry pros believed TikTok was mainly for Generation Z (Gen Z for short, born 1995-2015). However, as quarantine and shelter-at-home orders have kept people at home, the app has gained popularity rapidly with all age groups. 
If you're thinking that it's annoying to learn a new social media platform, we promise it's worth it! TikTok is an excellent way to keep your business up-to-date with the latest trends. Below are five ways that you can jumpstart your TikTok presence. 
1. Create an Account
First things first, download TikTok and create a profile for you, your brand and/or your business. Since everyone is using TikTok lately, why not leverage it for your wedding business? It's easy to "Edit profile" here: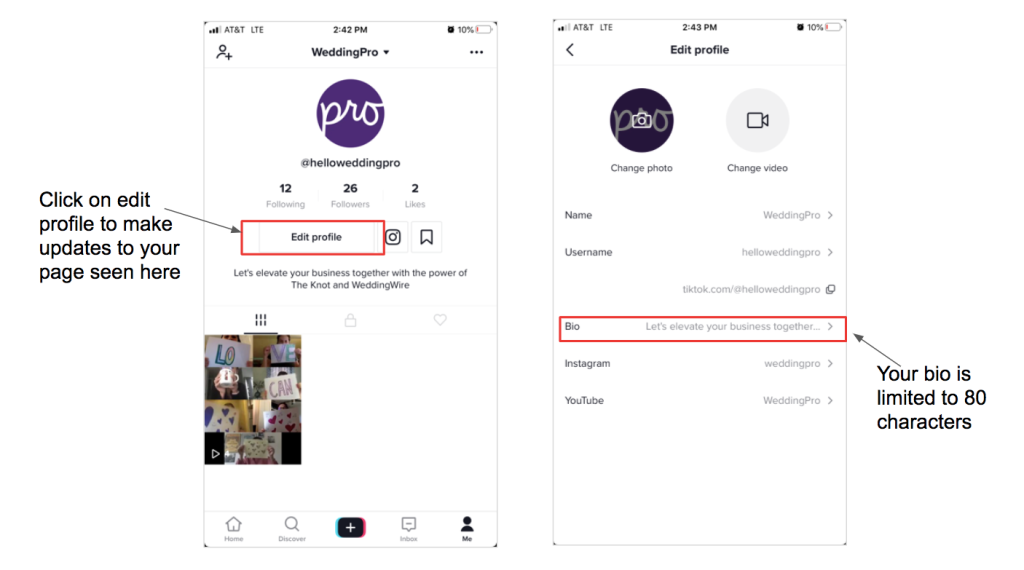 Pro Tip: If you want to get the tools to grow and track your performance, make sure to "Switch to Pro Account." You can toggle this feature under "Manage my account."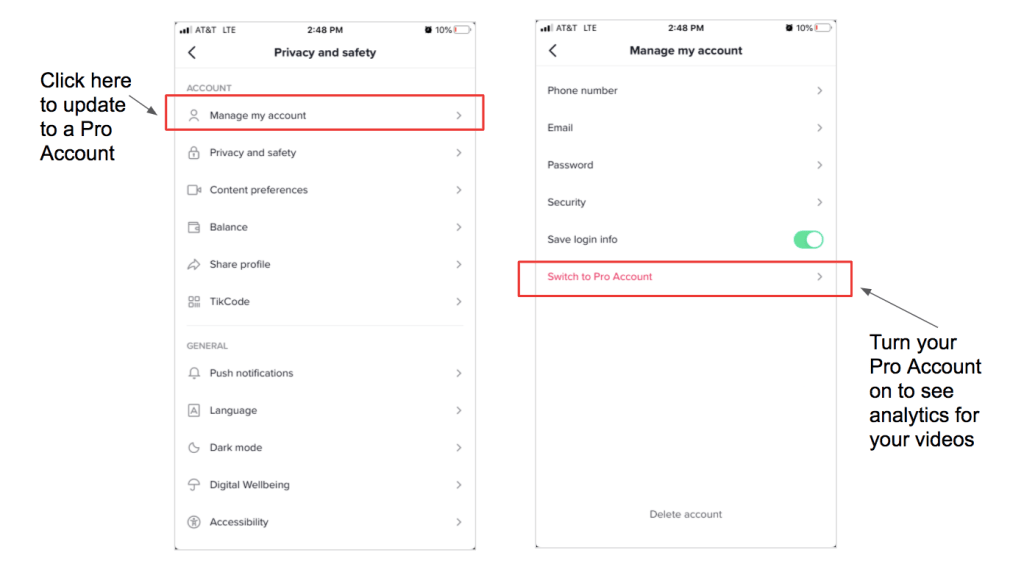 2. Follow Accounts That Align With Your Interests 
Start with the "For You" page. The "For You" page shows videos from accounts that are suggested by the TikTok algorithm based on your engagement within the app. The "For You" page collects data regarding how long you watch, which accounts you follow, and if you like or comment on a video; this data helps TikTok recommend relevant, likeable content for you. Look for videos that capture your attention. When you find content you enjoy, be sure to follow the trending songs and hashtags tied to it.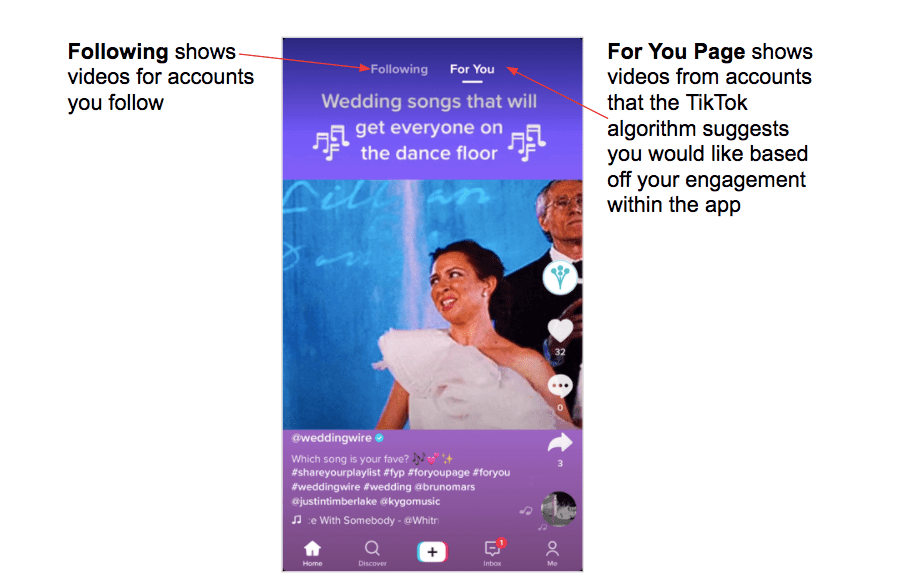 Pro Tip: Get inspired by these videos and then put your own spin on the idea(s) when you begin to create content. 
3. Start With What's Trending
Discard what you know about social media when it comes to TikTok — you shouldn't try to create a video that will go viral. Instead, see what's trending in the app and create a video that relates to you and your brand. That's how you'll get in front of more people. Here are a few examples from our WeddingPro Educators:
Vanessa Joy of Vanessa Joy Photography leaned into her area of expertise and created a video to help you determine your best side for photographs.
Take the pose challenge and find out what your better side is: 
Nayri Kalayjian of Lovella Bridal used a trending song on TikTok and created a version that aligns with her bridal salon featuring multiple wedding dresses that she carries in her store.
Check out Nayri hanging at home in stunning wedding dresses: 
Andrea Eppolito of Andrea Eppolito Events shared a highlights video from one of her weddings at the Waldorf Astoria in Las Vegas.
See the beautiful details from the multicultural wedding: 
4. Use The App as a Creative Outlet 
Don't take it too seriously! Make it your goal to have fun with creating content. Let your personality or brand shine through. If you're looking to increase engagement, try creating these types of videos:
Learn one of the trending dances (e.g., Say So, Cannibal, Renegade, Supalonely)

Express your POV (i.e., point of view) with the voiceover skits 

Provide value and pro tips based on your area of expertise 
5. Create Content on Your Page 
When you're creating content, remember that it is quality over quantity. Play around and use music in your videos to attract users. Be authentic and relatable to your audience. WeddingPro recently learned that creating a strong hook is crucial. The key to getting on the "For You" page is having users rewatch your videos multiple times. 
If you're having trouble coming up with an idea, here are a few to consider: 
Tour an event space before and after it's designed 

Highlight behind-the-scenes footage from a wedding

Show a wedding highlights video 

Make a signature cocktail

Provide pro tips 

Decorate a cake or cookie 

Write a motivational or funny message in calligraphy 

Share photos from a wedding with a trending song in the background

Create a tablescape

Arrange a floral centerpiece

Try on wedding attire 

Show your reaction to a wedding ceremony

Do your makeup or hair tutorial 
We understand that starting something from scratch is scary, but now is the perfect time to discover your potential on TikTok. If you immerse yourself in the platform, you can connect with pros and potential clients, build brand awareness and reach your target audience. Spend a little time each day engaging, commenting, liking and following accounts. You'll be glad you did!
Photo Credit: Vanessa Joy/TikTok, Lovella Bridal/TikTok, Andrea Eppolito/TikTok