In the midst of the current COVID-19 crisis, there's no doubt that business has changed. Client meetings may be virtual and possibly less frequent due to rescheduled dates, but even with weddings being on pause, couples are still getting engaged and moving forward in their planning process. The fortunate part is that we can use this unexpected downtime to make updates to our procedures and processes that will improve business later.
Although things have shifted, the 700,000+ couples who got engaged between December and February during engagement season (immediately before COVID-19) still want to get married – it's only a matter of when.  And we're all asking a lot of the same questions about the timing of those weddings: 
When will guidelines allow for gatherings greater than 10 people?

When will social distancing be gone for good?

When will cash flows normalize?

When will guests feel comfortable traveling and when will at-risk guests be able to attend?
The specifics are a little uncertain right now. So, what are those 700,000+ couples doing while waiting? Answer: What they've always done! They're doing their research online and looking at your website. You may not be paying close attention (We all get busy! Can you recall when you last checked your website analytics?) but don't forget, just because a couple is on your website, doesn't mean they're ready to buy anything. If you could pop onto the site and ask them, "Can I help you find something?" they'd probably respond with, "Just looking." But that's nothing new. 
Check your analytics each month over the past year, and compare it to the number of inquiries you got that same month. If 5% of the people on your website send an inquiry, you're doing better than most. That's why, more than ever, it's so important to engage buyers on your website while they're browsing. Here's how to do it:
Pro Tip #1: Stop making it hard for couples
One of the biggest false beliefs from the past decade is that your wedding business website exists only to funnel an interested couple to your inbox to then send them all the information on a pretty pricing PDF.
First of all, don't do that. 
Why make interested couples inquire to get basic info?

Why send the same info over and over again?

Why provide info in PDFs that aren't phone friendly?
The Golden Age of weddings hid real issues with this kind of sales process and it took a pandemic to see below the surface of this less-than-optimal sales approach. Keep reading to find out what you should do instead in Pro Tip #3.
Pro Tip #2: Adapt to the new decision-making process
Make no mistake: Your website has always been a part of couples' buying experience. But right now, they're going through much – even most – of their decision-making before they inquire with you.
To be clear, I do not believe you can sell your wedding services successfully without talking to potential clients. That's the best way to reassure potential clients of their decision to choose you over another professional. Just like having a drink in front of a screen full of friends will never replace a real happy hour, reading an email will never replace hearing the tone of someone's voice as they connect with you in person, over the phone or via video call. 
But for now, we can't ignore the simple fact that people don't want to talk with a "salesperson". If you want to share information, do it on your website instead of over the phone.   
Pro Tip #3: Design a site that helps guide them through the buyer's journey
Couples will visit your site during different stages of the buyer's journey. Some will have no clue what they're looking for, while others might already have a proposal from you and simply need to overcome their fear and sign the contract. Unlike a good salesperson, even the best website can't know exactly where the visitor is at in the decision-making process. That's why you need to have content for all buyers at all stages. 
Here's a checklist of questions to answer "Yes!" to if you want to stand out from the crowd and start the sales process on the right note:
Home page
Visitor is likely just starting out the search. It orients visitors and lets them know they've arrived at the right place to get their needs met. 
Do they know my company name?

Have I told them what I do?

Is it clear where I offer services?

Am I showing only my absolute best images?

Do I have testimonials sprinkled throughout the page?

Can they reach all my other pages with clear calls-to-action (CTAs)?
About page
Visitor is still learning what they need from a vendor like you. It gives visitors insight into who your brand is and why you're different. This is not just about your hobbies, your kids' names, or what kind of coffee/cocktail you like (although if those things are part of your brand, they should be included!). It's all about your "why."
Do they know why I do what I do?

Did I tell them my own story of getting here?

Is it clear who/what kinds of clients/events I work?

Have I differentiated myself from my competitors?
Services page
Visitor is interested in knowing what you do to meet their needs. If any page on your site was a salesperson, this is it. This is the "how" to your "why."
Have I let visitors know what services I offer?

Is it clear how I meet their needs?

Am I focused on benefits instead of features?

Is my process transparent?

Did I create value in the intangible areas that help clients?
Contact page
Visitor is considering more questions but isn't ready to commit. Think of the contact page like the last few seconds of a speed-date. Just get the basics so you can have a second date. 
Did I draw them in with a clear headline that calls-to-action?

Do I explain what will happen when they submit the form?

Did I keep the form to five fields or fewer?

Is there only one call-to-action (i.e., submit the form)?
We've all been asking ourselves what the "new normal" is going to look like for our wedding business. If past trends and current information hold true, websites will be more important than ever to your strategy. 
The best sites are designed with more than an eye to the visual brand.  They're constructed around a narrative that resonates with couples and compels them to take action. In the coming months, your website is your #1 salesperson. The future is now, and your business can't afford to wait.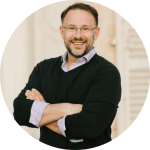 Sam Jacobson
Ideaction Consulting
Friday Harbor, WA
About the author: Sam Jacobson is a problem finder, solution seeker and business driver. Sam focuses on possibilities, challenges, outcomes, and usefulness. He likes a lot of action in a short time period. Sam's motto: "If it works, let's do it." Sam led event and hospitality teams to over $50mm in revenues, provided oversight for over 200,000 labor hours, and developed award-winning business models. He has held leadership roles in sales, recruiting, operations, and marketing. He is conversant in accountant-ese. Sam does his best work with people who want to collaborate to make an idea better and/or use him to put action behind the ideas. 
Photo Credit: GaudiLab/shutterstock.com