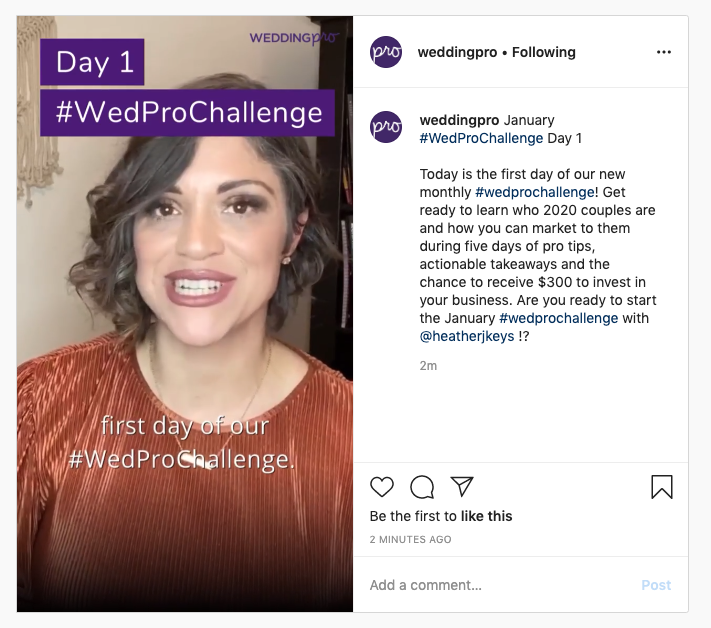 Hey there wedding pros! We are excited to announce that we are hosting a monthly #WedProChallenge that officially starts TODAY! During the challenge, we will be here to walk you through setting up and achieving your business goals and preparing you for 2020 couples and beyond! Oh and we almost forget… it's FREE!
Are you ready to Level-Up your wedding business?
To receive your first #WedProChallenge, be sure to check out WeddingPro on Instagram IGTV. January's #WedProChallenge will run between January 27th-January 31st.
Get ready to receive step-by-step guidance from all of us here at WeddingPro, which will help you level-up your business! We will drop our education #WedProChallenge videos with new actionable challenges and offer up WeddingPro Educator Pro Tips daily!
That's not all…
Every month we will select two winners of the #WedProChallenge.
Winners will each receive $300 to invest in their wedding business as well as be featured on WeddingPro Social and within our monthly winner's blog, which is seen by thousands of wedding pros! Plus all participants will receive completion certificates and the opportunity to have their challenge posts reshared to over 88,000+ followers! 

How do you enter to win?
It's super easy, just watch the #WedProChallenge videos each day on WeddingPro IGTV and complete as many #WedProChallenge tasks during the challenge.
To be officially entered to win
All you have to do is tag @weddingpro and use #wedprochallenge for your chance to win. The more tasks you complete, the more times you'll be entered!
Wedding pro friends #WedProChallenge together!
Have a wedding pro friend that would be interested in the #WedProChallenge? Be sure to share this post with them! Here at WeddingPro, we are all about community.  These challenges are open to EVERYONE… just like our monthly educational webinars!