Author: DJ Brian B
With events on hold for the time being, it can be a challenge to provide a high-touch client experience when your services — and face-to-face interactions — are paused. Where there's a will, there's a way! Here are three ways to remain top-of-mind and continue delivering an amazing client experience while you and your couples are working/planning from home.
1. Take Care of Clients Who Are Postponing Events 
It goes without saying that we should do everything we can to make the postponement process as easy and seamless as possible for our clients. Even so, they are likely to be disappointed when their initial wedding date comes and goes. It wouldn't take much time to send them a card and possibly a gift (wine or champs, anyone?) to arrive on their original date. Your thoughtful gesture will not go unnoticed!
2. Reach Out to Your Fall-Winter 2020/21 Couples
Your clients with fall and winter weddings may not be impacted by the COVID-19 pandemic. At this point, these couples may not even be concerned about the possibility of postponement and probably are not expecting a call from you. What a perfect opportunity to check in and ask how they're doing! They will be delighted by your attention and concern, and you will reaffirm their decision to hire you to create a part of their wedding day experience.
3. Showcase What You Do and Your Value on Social Media 
Your clients (and potential clients) are using social media more than ever. I encourage you to give them a sneak peek of what you do on your preferred social media platform(s). If you're a DJ, why not livestream a mix? If you're an event designer, perhaps you can assemble a simple tablescape? We all have skills, and behind-the-scenes content is fun! Your post or story could brighten someone's day and display your unique talent.  
Right now we have an amazing opportunity to think outside of the box and create unique client experiences. How are you using your time? It only takes a few minutes to build a stronger rapport with your couples. Let's all push the bar!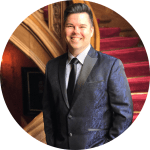 Brian Buonassissi, DJ Brian B
NYC
About the author: Based out of NYC, DJ Brian Buonassissi is an internationally traveling DJ/MC specializing in destination private events.  He's also a WeddingPro Educator and one of the founders of the DJ Collective. You can connect with him at brian@djbrianbofficial.com or through his podcast, The Travel DJ Blend. Follow on Instagram at @djbrianbofficial.
Photo Credit: Ivanko80/Shutterstock.com