4 Ways LGBTQIA+ Couples Are Reinventing Today's Weddings
By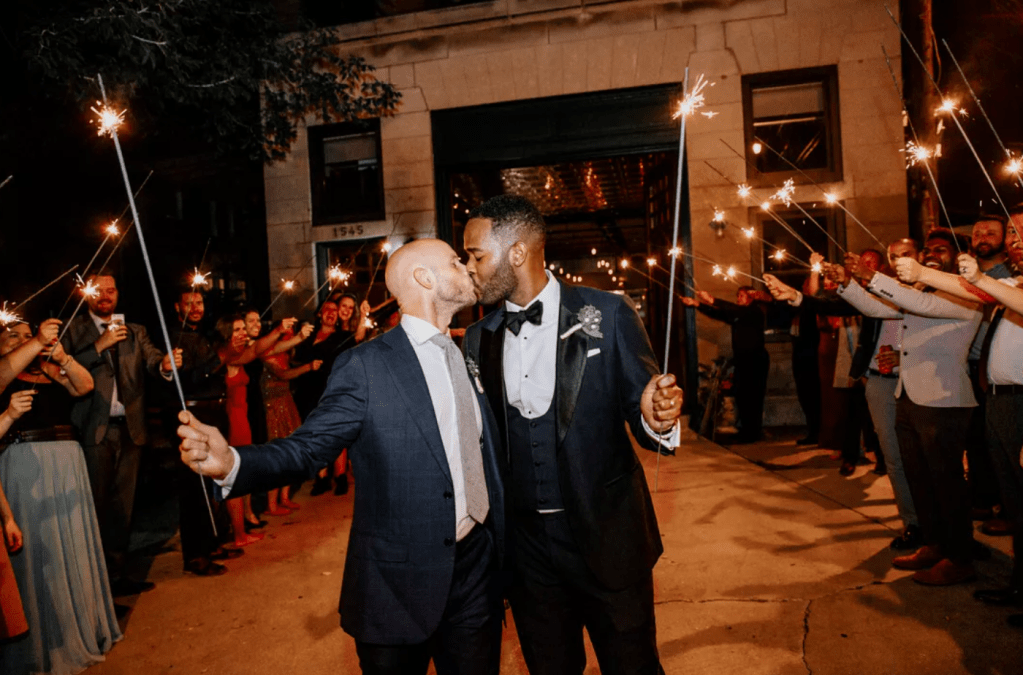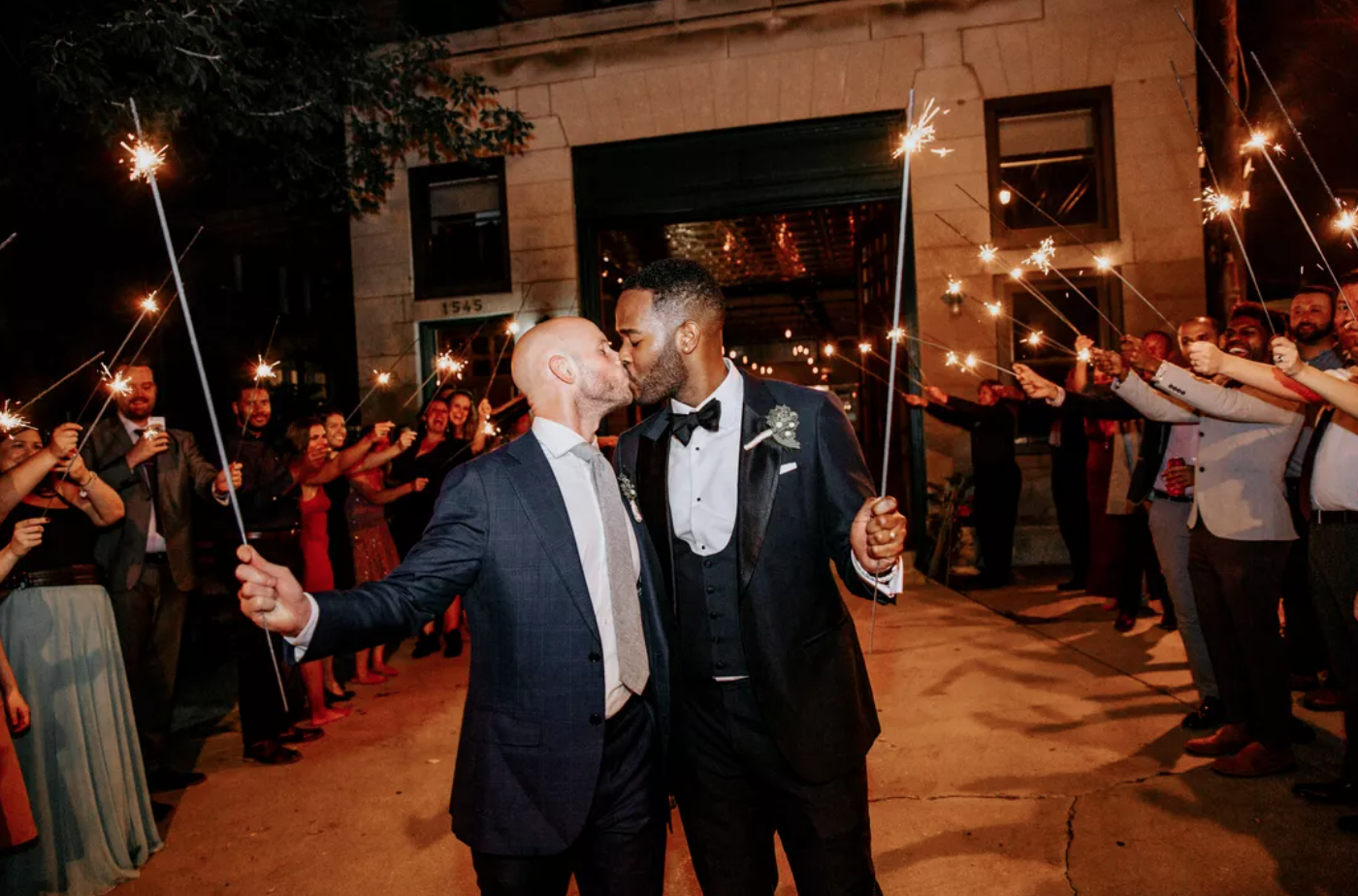 Let's face it: Old-school wedding traditions (as in, the Emily Post do-this-not-that wedding rules) were definitely not designed to be inclusive of same-sex couples. From the traditional walk down the aisle with dad to the bouquet toss, so much of what a wedding used to look like just does not apply to same-sex couples.
It has been 5 years since Obergefell v. Hodges which allowed for all couples, regardless of their sexual orientation, to legally marry in the United States. And since then, we've seen a real shift in the planning behaviors of ALL couples–a serious departure (and in some cases, straight-up rejection) of the wedding traditions and wedding terminology that exclude–many of which started to take shape amongst LGBTQIA+ weddings first. Here are five major shifts that are taking place across the country (for all couples!).
1. Customization–Especially When It Comes To The Ceremony
Historically, LGBTQIA+ couples have had to innovate to design a ceremony that would work for them. In other words, ceremony customization was the rule, not the exception. 
Today, LGBTQIA+ couples are more likely to have guests sit on both sides of the aisle rather than separating sides. And a mixed gender wedding party is the norm for same-sex couples, not the exception. But here's the thing: Our research shows that all of today's couples (Millennials and soon Gen Z!) crave this same level of customization and tradition reinvention. A vast majority of couples (75%) are planning their ceremonies at non-religious institutions and writing their own vows (44%). In addition to that, 37% of all couples report having a mixed gender wedding party (a number that continues to rise year after year). 
Why the shift for all couples? Well for one, more and more couples are marrying someone of a different background (58%). And 18% of today's couples planning their weddings report having different religious beliefs, and 15% have different racial identities. 
Translation: Today's couples are looking for ways to mix traditions, blend their backgrounds, religions and families–not adhere to traditions that assume they're all the same. 
2. Hyper-Personalized Details
LGBTQIA+ couples have had to customize their wedding rituals just to get down the aisle–leaning on personally meaningful details as a means of inspiration instead of traditions. In other words, for LGBTQIA+ couples, their experiences have become the foundation for their wedding day details.
In the same vein, you would be hard-pressed to find a couple, gay or straight, who wants to have a totally "traditional" wedding, without any customization. And while the word "personal" is probably one of the most overused wedding-related terms in the history of ever (sorry, not sorry), it's important to recognize the reason today's couples are so darn concerned with personalization: Today's couples are looking for ways to make their weddings make sense in the context of their very diverse lives.
Our research also supports this. Today, more than a quarter of couples (28%) have a signature cocktail and 15% hire unique entertainment (like fortune tellers and sommeliers) to give their weddings a very personal, special and unforgettable experience.
3. Removing the Gender Bias
If you're following us so far, then this one probably makes a lot of sense. The idea is simple: Gender-specific wedding terms like "bride", "groom", "bridal party", "bridal suite" and "bridal bouquet" don't work for LGBTQIA+ couples. As a result, LGBTQIA+ couples have helped  to usher in a new era of unbiased wedding terminology. 
Wedding terms don't need to be male or female. It's not "bride" and "groom," it's "the couple." It's not, "bridal party," it's "wedding party." And there is no reason to put the word "bridal" on the door of a room that is meant for getting ready, nor is there a good reason to put the word in front of the word bouquet.
This doesn't just go for LGBTQIA+ couples. In fact, 59% of today's couples are likely to have a friend or relative who identifies as LGBTQIA+. So whether they're gay or straight, most couples are very sensitive to these terms and those gender biased terms are a turnoff. Remember that your words, images and actions matter when running an inclusive business.
4. Valuing Inclusion
The conversation about being inclusive of LGBTQIA+ couples, coupled with recent nationwide protests against racial injustice, has opened a broader dialogue of being inclusive of all couples who have been historically overlooked by the mainstream industry.
Add to that, 69% of millennials say that they are more likely to do business with a company that offers inclusive representation or different types of people in its advertisements and marketing materials.
So check yourself and take time to review your mission statement, contracts, website images, referral lists, social media follows, on-boarding scripts, reviews, company policy and overall makeup of your team and leadership. 
We'll leave you with this: Whether you're providing wedding services or saying "I do," we want everyone to know that 100% of our vendors and couples support inclusion. WeddingWire and The Knot prohibit discrimination based on race, color, religion, sex, national origin, ancestry, disability, marital, family, pregnancy status, sexual orientation, gender identity, gender expression, veteran or citizenship status.
The Knot Non-Discrimination Policy
WeddingWire Non-Discrimination Policy
Sources: The Newlywed Report 2019, The Newlywed Report 2020, The Knot Real Weddings Study 2019, The Brookings Institution
Photo: John David Weddings
About the author: Anja Winikka is the former editor of TheKnot.com and The Knot Magazines turned educator and contributing editor @WeddingPro. She's on a mission to help creatives, community leaders, and wedding businesses own their stories and tell the world about it (follow along via Instagram @editorinchiefmedia).
Let's grow your business together!
Start advertising on The Knot and WeddingWire, the top two wedding planning platforms.