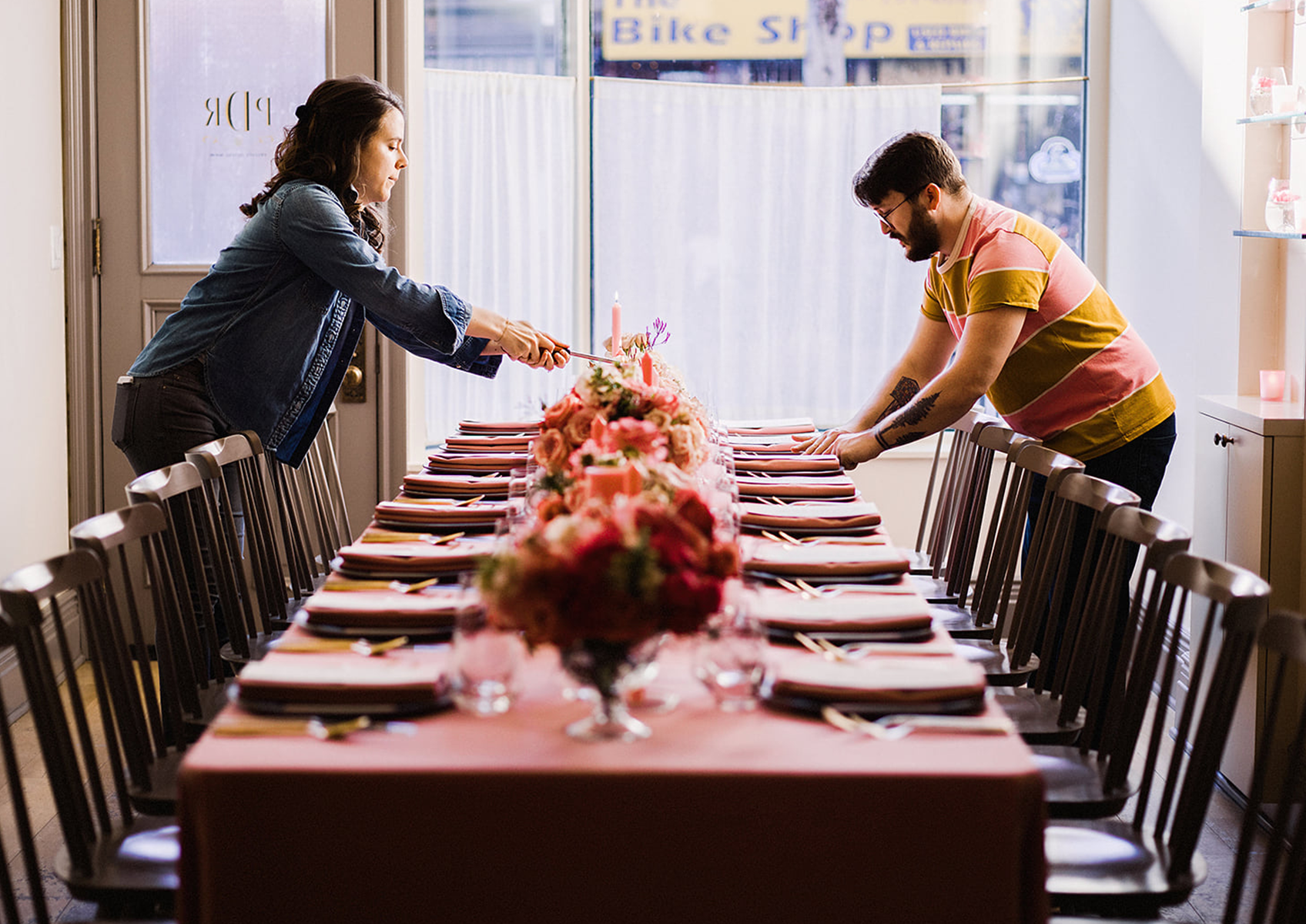 When you start a business in the wedding industry, you are doing more than just that—you're actually joining a supportive community of passionate, driven, and creative people just like you. And that really is what makes the wedding industry great, because it is a place where anyone who is wanting to serve others as they celebrate a milestone in their lives can come and do just that. It is a warm, welcoming, jovial place where a lot of hard work and heart goes into bringing a wedding to life—and one where teamwork is the key to making it all happen.
But, as much as we think of our responsibility being to the couples who hire us, being a member of a community also means having a responsibility to pour back into it (sometimes more than it pours into you). Because we all know the work is hard and we all need someone to push us through the challenges sometimes—both when it comes to our professional and personal lives. We all need an ally every once in a while and we all can be one too. 
So, in celebration of this wonderful community we are lucky to be a part of, our friends, confidants, partners, and collaborators, we wanted to dedicate this piece to the importance of allyship. From learning how to be an ally to others and how we all can stand up to create a safe space for everyone who contributes to this amazing industry, we hope you read on and are inspired to make a commitment to yours with an ally pledge this pride.
What does it mean to be an ally?
An ally is someone who is not a member of an underrepresented group but who takes action to support that group. And while you can be an ally to others for a host of reasons, there is one very important factor—that you are an ally always and not just when it is convenient. That's because the work you do and the support you give as an ally is a part of how you live your life and you can be one in situations big or small. From speaking up for others and lifting them up to amplifying other's voices, becoming a mentor, and simply being there to listen, being an ally takes many forms—each important in their own way. And, being an ally is an incredible way to be an active member of the wedding community because of how you end up helping to create a safe space and equal opportunities for everyone to chase their dream.
How to be a better ally
Becoming a better ally to a community other than your own is a continual journey. There is a lot to learn and things can change over time, so your commitment to the people you are supporting is paramount. And if you are actively wondering how you can be a better ally, there are a few things you can take a step back to think about:
Recognize your own privilege or lack of having certain obstacles. How did this impact the trajectory of your business and how might you be able to help remove obstacles for others?

Learn to see power dynamics in different situations. While it can take courage to stand up and speak out, learning to see when someone needs to be heard, uplifted or amplified can not only create more opportunities for them but help others learn as well.

Be open to feedback because we all can do better and we all make mistakes. And, while it can be difficult to hear that you could have gone about something differently (even when you had good intentions), it is key to growing as a person and as an ally.
Take and/or share an ally pledge
Like many things in life, sometimes a pledge helps us commit in the long term. And, while being an ally can take many forms and be practiced in many ways, we encourage you to make a private (or public) commitment with an ally pledge. WeddingPro Educator and New York based wedding planner, Jove Meyer, has a very thoughtful ally pledge on his website—one that you can take!
"My Ally Pledge is much more encompassing than just LGBTQ+ people for pride—it is a pledge to help us all choose love above hate! I think we will be stronger as minority communities if we stand up for each others rights, not just our own." – Jove Meyer of Jove Meyer Events
This commitment is for you, those around you, and the wedding community as a whole. And, this pride, we hope that you take the time to educate yourself about something you have been meaning to or reach out to someone you've been thinking of. We're in this together and there is a lot of work to do—but there is even more to celebrate!
If you'd like to learn how to be more inclusive with your business, you can educate yourself about inclusive language, the important things to know about inclusion and accessibility as well as ways you can help your couples be an ally in the wedding planning process.  
Photo Credit: Jenny Fu Studios