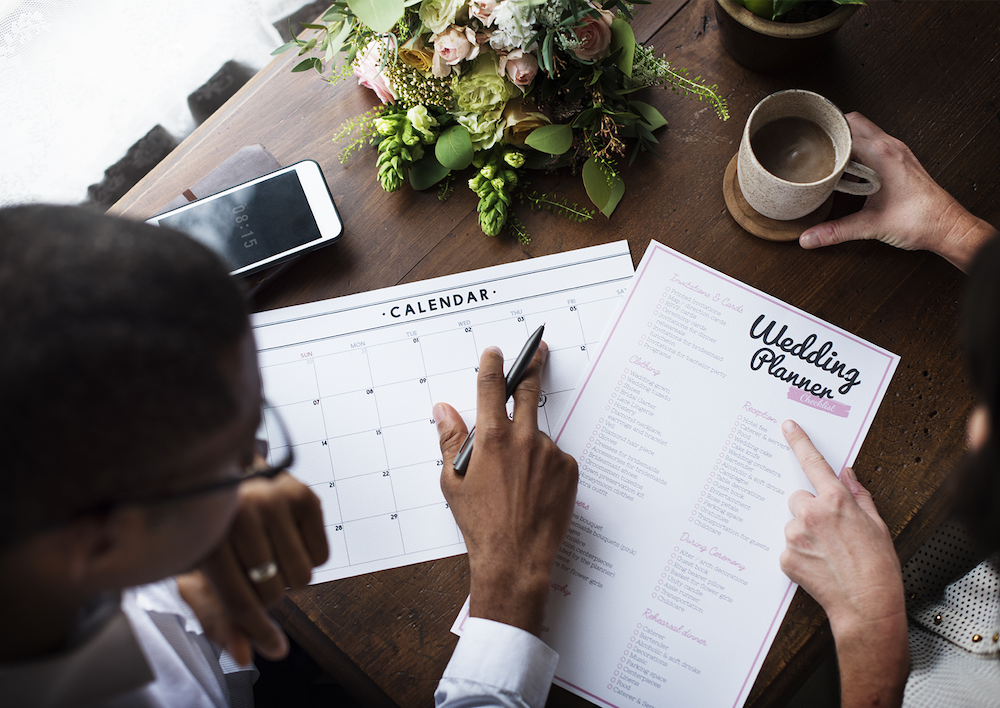 Whether you find yourself with a couple looking to book you for 2022 or working with one that has already been on your calendar since early 2019, one of the unique challenges wedding pros are facing right now is an extended planning period. Because, with couples across the country choosing to push back or postpone their weddings, an 8 to 12-month planning period can all of the sudden become 18 to 24-months. And, while you've worked hard to hone your client experience for a "normal" amount of time, it can be hard to find ways to fill the extra time that feels intentional. So, we turned to Instagram and asked our wedding planner friends to share what they are doing to keep the enthusiasm high! Read on for their ideas to help you keep your client experience exciting during an extended wedding planning period.
Keep in touch
Your couples hire you because they want an expert to guide them through different parts of their wedding planning. And, a major part of filling that role successfully is making sure that they feel emotionally supported. The last thing you want to do during an extended planning period is leave your couples feeling like you've gone dark on them (even if you've agreed to a "planning pause"). Rather, you want them to know you are still there, keeping on top of things, anticipating their needs, and ready to jump in when the time is right—because you also want them to feel like their money was more than well spent with you. So, what can you do to keep in touch with your couples to remind them that you are always there?
"Check in on them regularly and always be sure to sound upbeat! Even if there is nothing to update about where you are in the planning process, it is important to remind your couples that you are thinking of them." – Victoria Ann Events
"Engage with your couples on social media so you can see how their personal lives are going. This way, you can help them celebrate little life wins or intentionally check in if something is stressing them." – Ruby Collaborative
Rearrange your pre-wedding timeline
It's easy to feel less than inspired when something takes too long, so you want to try and eliminate long lulls between tasks, milestones or meetings. (There is a reason most wedding planners won't start actively planning a wedding until about 18 months out—there is such a thing as too much time.) So, if you are finding yourself with more time than usual, think about rearranging your planning timeline to space things out and keep progress moving at a regular pace. Not only will this help you keep your couples feeling productive but it also adds a few extra touch points to keep in touch. Here are a few ways that you can approach making these changes and keep your client experience exciting!
"If you are working with a couple who has had to postpone their wedding pretty close to their wedding date, you might not have much left to do and a lot of time left to do it. Spread out those last few planning tasks to fill the calendar; this will help keep them feeling productive and engaged!" – The Coordination Company
"I've been creating a 'wedding planning win' for each month left in the planning process. Just a small task that moves planning forward but that we can kind of turn into a game to keep spirits high!" – Your Favorite Day
Surprise and delight
Earlier this month we talked about ways to surprise and delight your couples without needing to spend any money. But, if there was ever a time to spend a little something on your couples, during an extended planning period would be it. And, whether you are sending something small but thoughtful like a Greetabl or a bigger gift because your couples have become some of your favorite people, strategic gifting is likely already a part of your client experience and you simply need to reimagine what you are giving and when you are giving it. Need a few ideas to literally brighten your couples' day? Here are some unique gift ideas.
"I recently sent some of my couples an 'at home' date night with an UberEats gift card and a conversation starter sheet because it can be hard to carve out quality time with each other right now but it's so important to stay connected." – Chancey Charm Weddings, Houston 
"We love the idea of sending couples drink kits so they can taste their wedding cocktails on a Friday! And, we think sending them links to watch a recorded performance of their band or DJ is a great way to turn it into an evening." – Valley & Company Events
Ready to make sure that your client experience is exciting from start to finish (even if it's over an extended period of time)? Get more ideas to help you check in with your couples here!
Photo Credit: Rawpixel.com/shutterstock.com