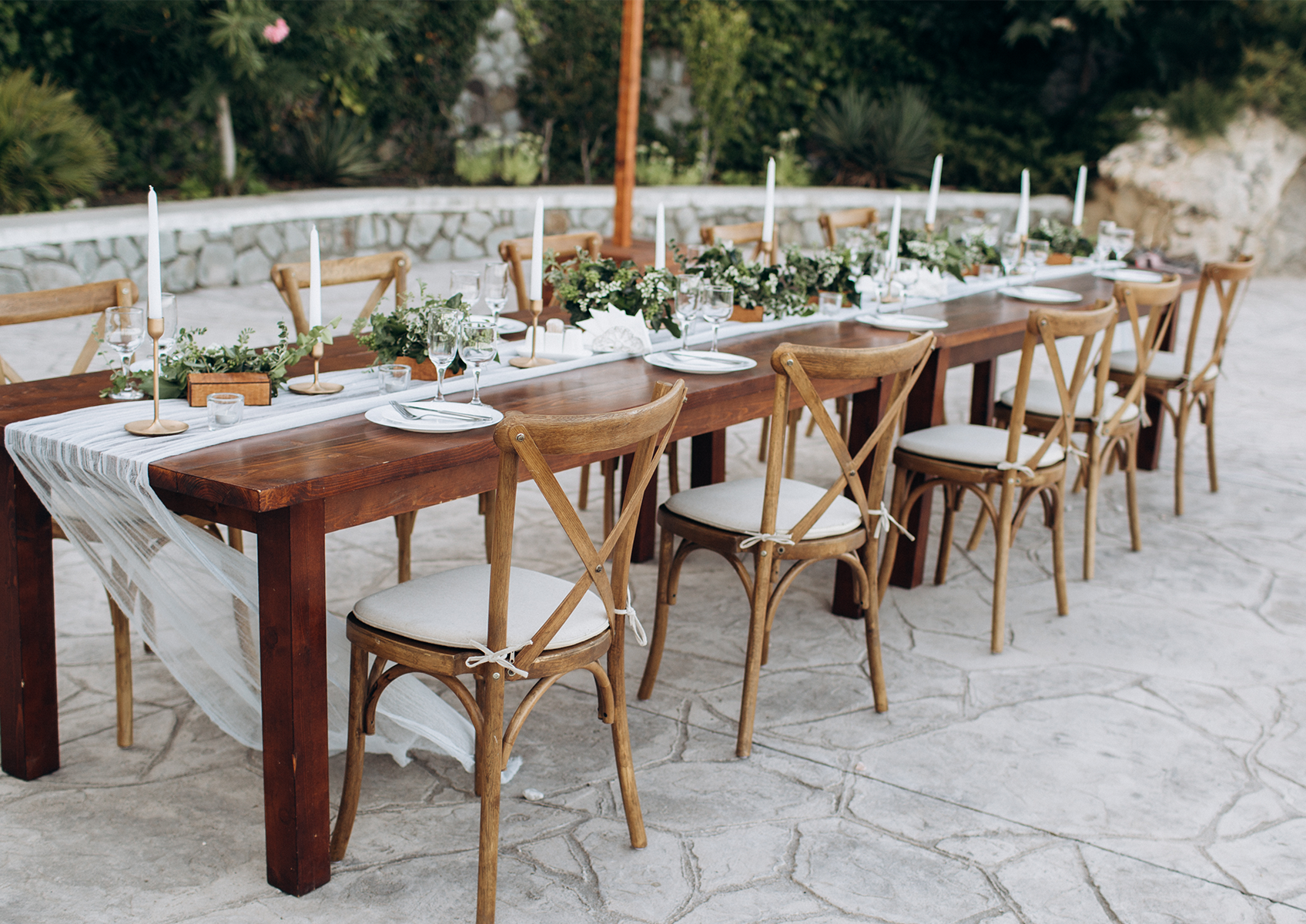 Tips for an
eco-friendly wedding
When you're working with your couples to plan their wedding, there are (obviously) a lot of details to think about. From helping them find the perfect venue and creating their playlist to finalizing dinner service and whether or not they are going to do a first look, every wedding pro has a lot to consider and communicate to each of their couples. But, one detail that is very often overlooked? Presenting and making eco-friendly choices for different elements of their celebration. And, we get it. Planning a wedding is a lot of work already and adding a layer of sustainability only makes things more complicated—but can you imagine the positive impact we could have on the environment if as an industry we all committed to making more eco-friendly choices? So we talked to three wedding pros who have already put environmentally-friendly practices into place so you can learn ways to get started and how easy it can be! Ready to do more than ditch the mylar balloons and single-use plastics? Read on for expert advice about how you can help your couples plan a green wedding!
Why working with local vendors and products is important 
"There are many ways to be eco-friendly in your wedding planning process, in ways both large and small. As a planning and design company we are paperless and do all of our planning and production work paper-free! Our contracts are sent digitally, our budgets and design decks are also shared digitally. We encourage all vendors we work with to send digital contracts—and our clients to pay digitally as well, which reduces paper every step of the way. On the wedding day we also do not print any paper and all production documents like the timeline, floor plan, and seating chart for my planning team are digital on an iPad. 
Weddings and events themselves are wasteful in nature because they use a lot of resources for a short period of time for an event that is not necessary. We encourage our clients to be mindful of the environment when planning their celebrations! When it comes to stationery we encourage digital when possible—from digital save the dates to digital reply cards with the invitations, these small efforts add up to a big impact. For the wedding day itself we encourage our couples to rent items that already exist, rather than have them custom made. We encourage them to work with local and hyper local vendors, which reduces the carbon footprint by eliminating travel and air pollution. We also encourage our couples to work with local vendors who source locally or hyper locally—think caterers who work with local farmers (those that are 100-150 miles away), get fresh products (that not only taste better) but are also better for the environment. Things like this are important because local food products travel less, do not need to be frozen or use as much packaging as those that come from across the country. Another example is hiring florists who work with local growers to source flowers and greenery so it is not all coming from across the globe on an airplane, to a truck, to a warehouse, to another truck, and finally to their studio. We also love working with florists who are foam free (floral foam is a toxic, non biodegradable material)." – Jove of Jove Meyer Events
Ways to rethink wedding décor and attire
"Planning sustainable weddings is about forming habits because the choices we make now and repeatedly benefit the environment (and our communities) in the long run!  And, it is as easy as "reduce, recycle, and reuse." Rentals are a great way to reuse items like napkins, linens, flatware, and even décor instead of purchasing new products that may never get used again. And, it is especially important to avoid single-use products like paper plates or napkins. 
For eco-friendly wedding attire, you can also encourage people to choose garments made from sustainable fabrics! Our friends at Silviyana Weddings are revolutionizing the fashion industry by producing gowns made from banana and pineapple fibers—a cleaner and greener choice for attire. 
What's my favorite sustainable wedding tip, though? Hiring local vendors because local vendors will automatically reduce a wedding's carbon footprint while supporting small economies."  
– Kayce of Kay Mae Design 
It's time to think about composting
If you only make one change towards a more sustainable business this year, I implore you to compost. I know everyone loves to have wedding flowers 'repurposed' and 'not wasted' by donated to nursing homes and hospitals, but this just passes their inevitable fate of ending up in the landfill onto someone else. Organic waste in landfills (which is mainly food waste) is a major creator of methane, which we all know by now is not good for the environment. What to do? Compost all of your green waste from conditioning, design, and strike! We use paper lawn bags (instead of plastic ones) for this and reuse them until the bags themselves have to be composted. We are lucky enough to have a compost farm about 20 minutes away that we drop off to once a week, but check with your local botanical garden, town, waste disposal company, or even landscapers to find places that will accept your green waste. It does require more time and diligence (no bits of wire, no floral foam, no water tubes, etc. can be mixed in) but it is definitely worth the effort! On average we compost 10 30-gallon bags per week during wedding season and just knowing that is getting turned back into healthy soil and not adding to our climate crisis helps me sleep at night." – Laura of Fig & Squill
Do these ideas have you wanting to find more ways you can help your couples plan green weddings and events? Check out this eco-friendly wedding guide on The Knot!
Photo Credit: Pichukova Ekaterina/Shutterstock.com