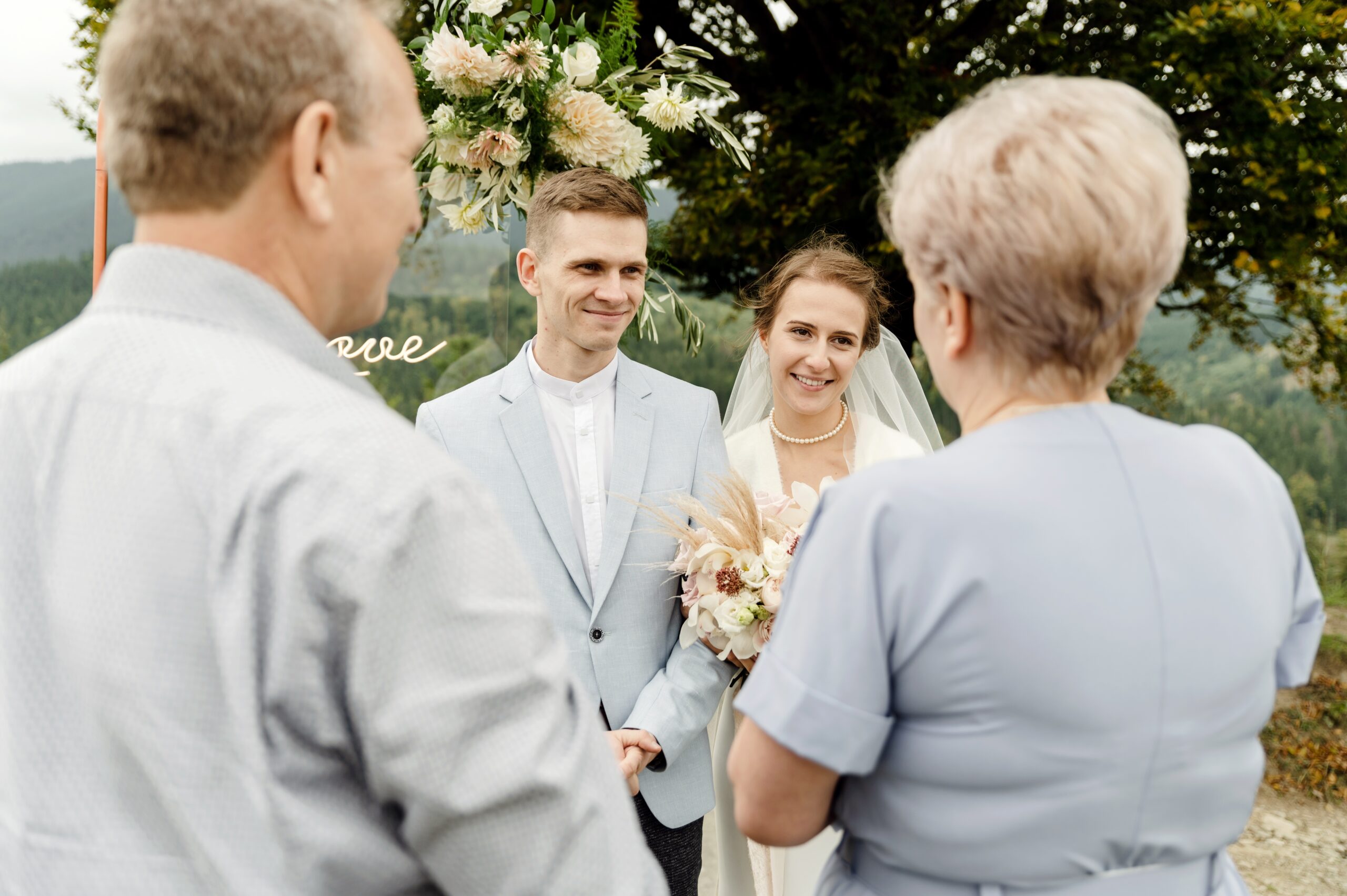 Tips to help you handle "Parentzillas" while
wedding planning
Even though running a wedding business wasn't interesting enough, you're bound to experience days where a couple's emotions and stress are sky-high. But, once you throw controlling parents into the mix, your trying, yet manageable day can turn into a real headache fast. And, while solving deep-seated family dilemmas definitely doesn't fall within your scope of responsibility, knowing how to navigate a sticky situation is always a good trick to have up your sleeve. So today, we're going to talk about "parentzillas" and share some tips to help you build the trust you need to make the wedding planning process go smoothly for everyone. 
What is a Parentzilla?
In a nutshell, a parentzilla is a parent who oversteps you or your couples' boundaries during the wedding planning process. It can happen in a number of ways and manifest as many things, but generally, parentzillas come out when finances are involved. 
3 in 4 couples are receiving some sort of financial support from parents for their wedding. 
This financial support sometimes comes with baggage—directly communicated or not. And when parents are contributing money to their child's wedding, the couple (and you) may encounter competing expectations and priorities because there are multiple stakeholders. Here is a real-life example pulled from a forum on The Knot:
"I have been engaged for only 3 months and every conversation that my parents and I have had about the wedding has been full of shouting and tears and arguments. They are calling me a "bridezilla" because my fiancé and I want to get married in the church that we go to together and I would like to pick out my own dress. They are trying to control everything. They are saying that it's nice that I have these ideas but that isn't how it's going to be. My dad even went as far as to tell me that they were going to be IN CHARGE OF PICKING OUT MY DRESS!!! They want us to get married in the church that they go to (which I went to when I was little), but I never liked it. They want to pay for the wedding but have a very small and unrealistic budget. My fiancé and I want to pay for everything so we can have some input, after all, it is our wedding. Any advice on how to deal with them? I feel like they don't understand that this wedding is ours and they already had theirs."
How to earn parents' trust as a wedding pro
The best way to create a good working relationship with parents who might be parentzillas is to earn their trust and recognize them as key stakeholders. How do you do that? We suggest you do two things:
Market to them – Since it is very likely your couples' parents are paying for

something

(and are

wedding planning

stakeholders in some way, shape or form), you should market your services to them in some capacity. A great example of this is to incorporate them in any

appropriate

marketing messages, like asking for and sharing reviews from parents of past clients. 

Account for them in your

client experience

– Think about asking your leads about their parents during the inquiry process. Whether you ask a question or two to understand what they are paying for, what's important to them or how they are involved in the planning process, you can then use that information to address their needs in your proposal (if they are paying for

your

services, it's likely they are going to see it). 
The key thing to remember here is that, while you should never focus on the parents more than your clients, you also don't want to leave the parents out entirely since being left out can sometimes be the root of the problem. 
Pro-tip: Trust is imperative as a wedding pro! Here are tips to help you build client trust before they've even signed a contract.
How to build a good working relationship
It's harder to be rude or pushy with someone you trust and respect, so building a good working relationship with your couples' parents is the goal. But even though you knew that already, building a good working relationship with a parent who has the potential to be a parentzilla can take some finessing, so here are 3 tips to help: 
Establish and

communicate your boundaries

right out of the gate; these may or may not be the same boundaries you have with your couples 

Include them in your part of the

wedding planning

process at strategic times

Give them something to "own" since doing so may give them power over what they want or give them a sense of control if they feel out of it 
But even as you work to build a productive relationship with them, you may encounter a bump in the road. So how do you start a conversation with a couple or parent if the parents become too overbearing? Wedding planner and WeddingPro Educator Jacqueline Hill of Jacqueline Events & Design has some advice—and that is to defer to who signed the contract. In general, Jacqueline prefers to have the couple sign the contract since it's their wedding. And, when that is the case, you have more to lean on when you might need to stand up to controlling parents as your couple's advocate. Regardless, communication is always key, and the stakeholders should be informed of what they need. 
Pro-tip: Jacqueline hosted a great webinar about managing clients for us. You can watch the replay here.
Your priority is always to deliver the highest level of service you can in the name of making your couples' wedding days great. So, why all the talk about controlling parents and how to work with them? One word—referrals. Because just like you want each of your couples to leave a raving review on your Storefronts, having one from their parents is equally as great for your business. 
Need a few tips to get more 5-star ratings on your Storefronts? Here are 8 ways to get more reviews on both The Knot and WeddingWire.
Photo Credit: Vadym_Hunko / Shutterstock.com