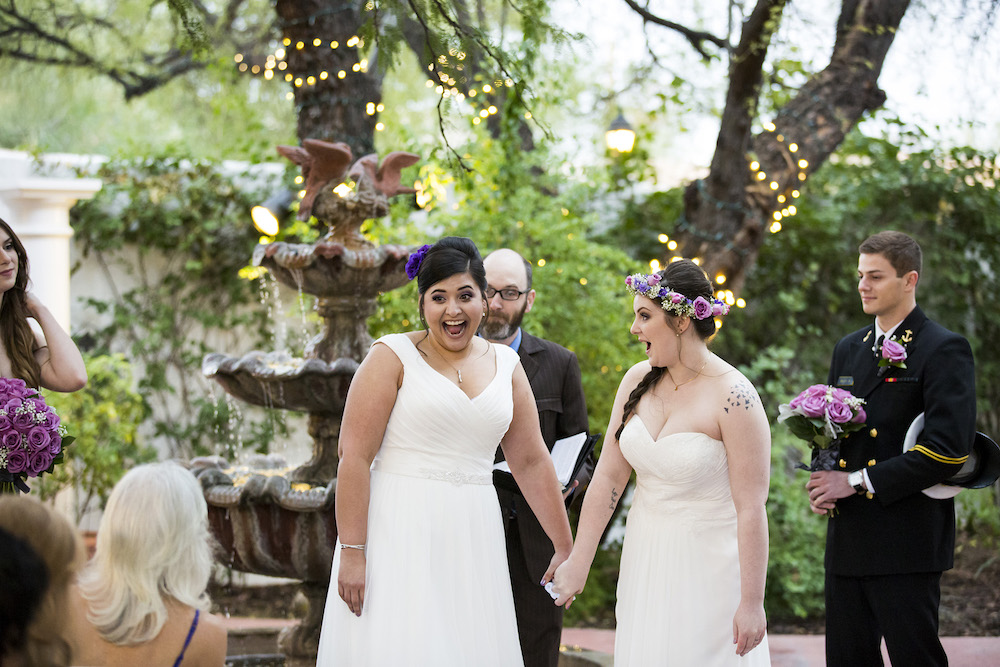 This article was written by WeddingPro Educator, Kathryn Hamm.
I was at a luncheon a few weeks ago, and a new acquaintance asked me about my line of work. I explained that my straight mother had founded our business — GayWeddings.com — almost 20 years ago and that now, I was spending the majority of my time helping wedding vendors understand how to best serve same-sex couples and explaining LGBTQ wedding trends to journalists.
A Manhattan resident who was in her seventies, my new friend was excited and curious about my work, especially because she had enjoyed the same-sex weddings she had attended. So our conversation continued, and, in response to one of her questions, I answered by saying something to the effect of, "For example, at a gay wedding…"
But this is where she interrupted me.
"Don't call it a gay wedding!" she admonished. "A wedding is a wedding! It's not a gay wedding!"
I understood what she meant. I've heard this refrain and have even found occasion to use it myself in certain contexts. A wedding is a wedding when the consideration is how much it costs to produce a ceremony and a reception at peak season on a Saturday night. These are structural elements that impact the price of the wedding, the budget, the availability of a venue, the size of the guestlist and so on. A wedding is a wedding when we are talking about two persons in love choosing to exchange a solemn and legal vow in front of their loved ones. In these ways, I agree with her.
I think I surprised her, however, when I pushed back — graciously, of course — on her premise.
Actually, I said, a wedding isn't always a wedding, but I appreciate your message of equality and recognition. By custom and habit, I went on to explain, weddings have been a strongly gendered, heteronormative exercise where all that flows seems to come from planning around a pair of pants and a dress — but especially around the dress! — and that this equation can be very different for two brides, two grooms or two persons who define themselves in a way other than "bride and groom."
This is where there is room, I explained, to recognize that a "gay wedding" is different, and that understanding and addressing those differences is key to helping a couple celebrate.
For example, though statistics show that most couples are most concerned about price and availability when trying to locate and book wedding professionals to help them, LGBTQ couples are just as concerned about being rejected as they are about price and availability. This is an important difference and, even since marriage equality was recognized by the Supreme Court of the United States in 2015, that fear (and reality) of service refusal remains.
Additionally, same-sex couples have tended to be older in age and have tended to pay for most or all the wedding themselves. This has an impact on budget priorities, the guest list, and who the decision-maker(s) are in the planning. Over time, however, same-sex couples are getting younger and families are getting more involved in the planning and budgeting for the wedding.
Another key difference is what it means to photographers in how they plan to work with same-sex couples. One must consider posing, detail sessions with attire, having enough photographers to cover the wedding preparation rituals for two brides wearing traditional gowns and needing styling services. They must consider how two gowns or two bouquets can be awkward to stage in close proximity or how two tuxes next to one another provide no color contrast. If a photographer plans with 'a wedding is a wedding' in mind, he or she will likely stumble into unexpected traps that can impact the final product.
I'm not sure that my lunch buddy fully understood what I meant about how important nuance and cultural competence is in helping wedding pros deliver superior services to LGBTQ couples in a competitive market. I certainly hope, however, that she felt my appreciation for her unabashed support of marriage equality and recognition that same-sex couples deserve a seat at the proverbial table.
As same-sex couples continue to assimilate into the larger wedding market, I invite everyone to remember that two grooms and two brides still have some unique needs that shouldn't be overlooked. So, until the dust has settled on the modern market, let's not fully retire the phrase "gay wedding" or "lesbian wedding" or "queer wedding;" there is still something very special to remember and celebrate about our unions.

This post was written by Kathryn Hamm WeddingPro Educator, Diversity and Inclusion Specialist. Kathryn is also co-author of the groundbreaking book, The New Art of Capturing Love: The Essential Guide to Lesbian and Gay Wedding Photography. Follow her on Twitter @madebykathryn.
Photo by Gawne Designs Photography