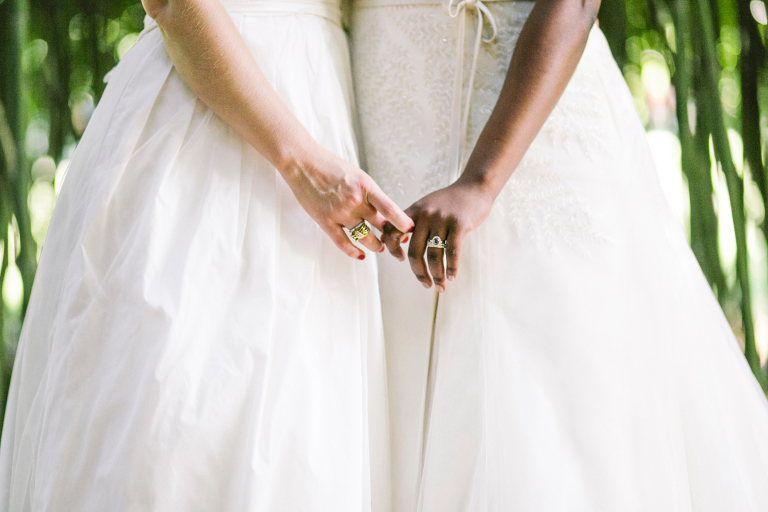 Our friend, LGBTQ+ weddings expert, co-founder of Equally Wed and all-around awesome guest blogger is Kirsten Palladino. Please enjoy her tips!
xo
The WeddingPro Team
All too often, wedding contracts include a line for the bride's name and a line for the groom's name. But what if there are two brides and no groom? Two grooms and no bride? A person who identifies as a bride and another who doesn't identify with either term? Two people who just want to get married but aren't into those labels, whether they're too heteronormative (a mindset that heterosexuality is preferred over other sexual orientations, and therefore the standard and considered "normal") or too restrictive.
The One Thing To Do Instead?
The remedy to this bride/groom, bride/bride, groom/groom conundrum is to remove gender all together. Words like CLIENT 1 and CLIENT 2 and PARTNER 1 and PARTNER 2 are straightforward and take nothing away from your hetero clients, yet show so much love and acceptance to your LGBTQ+ clients as well as make a statement to your hetero clients that you're a good choice for their LGBTQ+ friends. (Referrals are everything.) If you're feeling like CLIENT 1 and 2 aren't honoring the celebration enough—or even the commitment-based term of PARTNER 1 and 2, go for more wedding-related terms, such as CELEBRANT or MARRIER.
Confused? If it's your first foray into thinking beyond the bride/groom everyone's-straight perspective, that's okay. The wedding industry—and society—is changing. It's okay that you've done it how you've been doing it up until now. But now we all get the opportunity to change along with society, to embrace a larger group of marrying people!
Why It Matters
LGBTQ+ couples are looking for wedding professionals who sincerely believe in their right to marriage. It's not enough to just be okay with gays getting married or seeing the potential for increasing your income. We—I'm LGBTQ+ as well—need to see your authenticity in your support for the LGBTQ+ community. One way you can do this is by being inclusive in your language in your wedding contracts. And while it's important to consider your current and potential LGBTQ+ clients with your written communication, keep in mind that millennials are by and large proponents of marriage equality and LGBTQ+ rights. Your authentic efforts to be diverse and inclusive with your company's communications speaks volumes to all of your current and potential clients. They're paying attention to what you do, say and write, and your actions influence them to want to engage with you—or not. Every stage of your interaction with clients has the potential of propelling your relationship forward or falling apart. One of these stages is reviewing and signing the contract.
What About Your Hetero Clients?
Worried about turning your hetero clients off by the neutral language? Don't be. The thing is, your girlie-girl brides who are gushing about being the blushing brides could not care less about being named as a bride or a client or a celebrant or a marrier or a partner in your contract. But your clients whose very existence is challenged by laws and society every which way they turn notice every time they're acknowledged, thereby accepted, understood and dare we say celebrated? Which is good because you're in the business of celebrations. And now you know how to celebrate everyone equally—even in a business contract!
Read: Use That Find + Replace
Don't forget to use that find and replace. Kick out all the references to bride(s) and groom(s) throughout your wedding contracts and replace them with the inclusive term of your choice.
Want more equality-minded wedding pro tips? Head over to EquallyWedpro.com
About the author: Kirsten Palladino is the cofounder and editorial director of equallywed.com and the author of Equally Wed: The Ultimate Guide to Planning Your LGBTQ+ Wedding (Seal Press, Hachette Book Group). She's an educator and speaker, and a proud queer activist.
Photo by Love Me Do Photography
And now for a legal disclaimer from us to you! 
Disclaimer: The information herein is provided to you for your convenience only, and you access and use this information at your own risk and in accordance with the guidelines set forth by The Knot Worldwide ("The Knot Worldwide"). Do not consider the opinions expressed here as legal advice. The opinions expressed here are solely those of the contributor, who may or may not have legal training. You should consult with a legal professional about your specific legal needs (even if it's something you have read on our site).  The Knot Worldwide does not recommend or endorse any specific lawyers, law firms, professionals, opinions, or other information that may be mentioned on or through this site. This information is provided "as-is". The Knot Worldwide and its affiliates, expressly disclaim any and all liabilities related to the receipt and/or usage of this information.