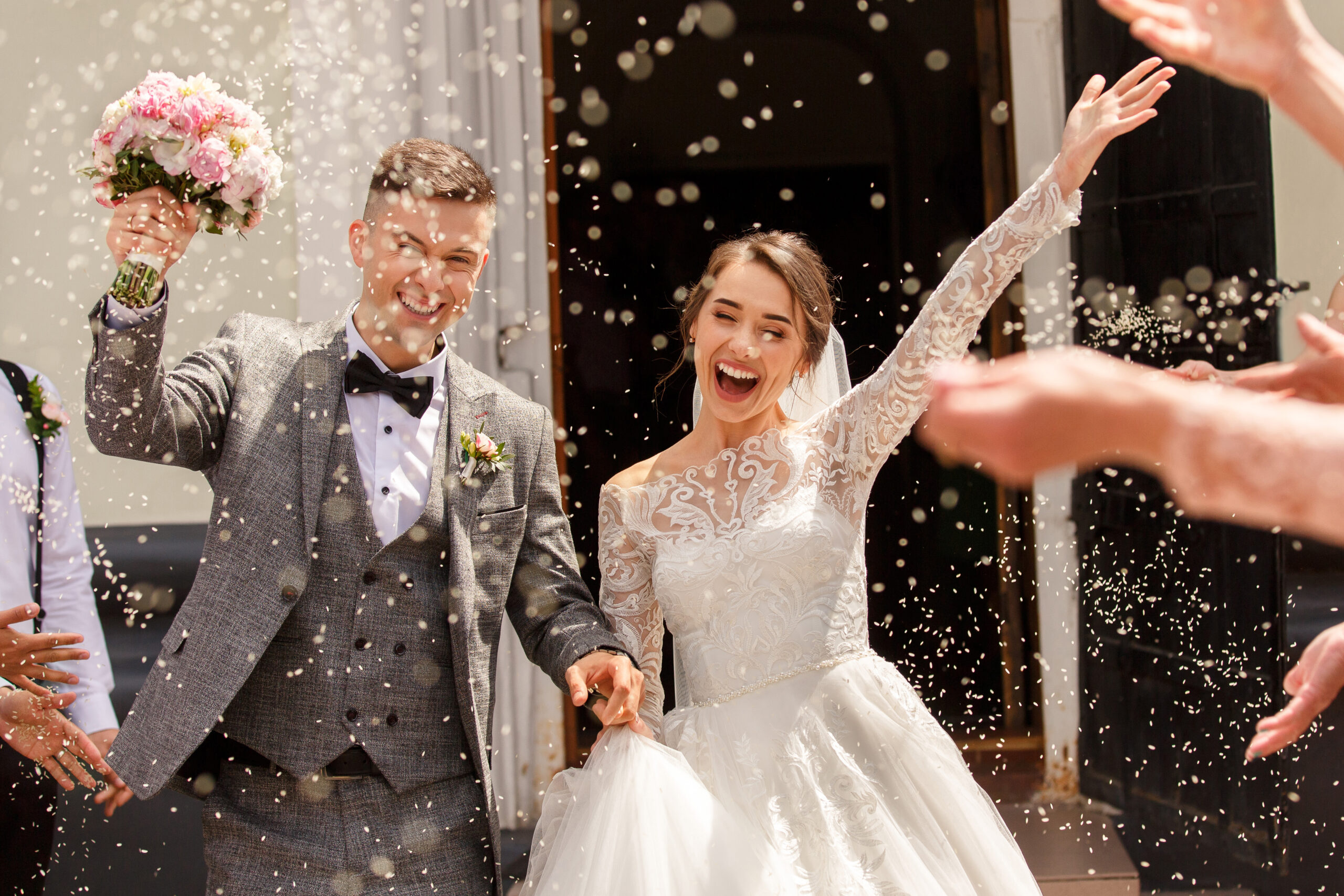 You didn't start a business in the wedding industry because you wanted to do the same thing over and over again—you decided to become a wedding pro because you wanted to work in an exciting and ever-changing environment! And, while occasionally the never-stops-moving mentality of the world of weddings can make your head spin (especially in this wedding boom), the regular change we see in our industry is one of the things that keeps us excited and inspired. Today, then, we wanted to share the trends that will both keep you on your creative toes and ahead of the curve. Read on for the 9 wedding trends you (and your couples) need to know about as we get closer to 2022.
Trend #1: Weekday weddings
With a record number of weddings happening in 2022, there is a crunch on available dates (and white flowers and paper and a lot of other things impacting your ability to do your job). But, rather than choosing to push their wedding dates further out, couples are opting for weekday weddings since Fridays, Saturdays, and Sundays are already booked for the foreseeable future.
What this means for you: Time off for rest might be hard to schedule but it is important that you do. Because, in addition to having weddings creep into what are usually your days off, you might find yourself working multiple in one week. Be sure to have strong boundaries around your personal days so you still have something to give.
Trend #2: Just-for-you details
Guest experience has long been something couples paid attention to, but it is getting kicked up a notch in the next year. Couples are now wanting to take more of a guest-centered approach to planning as a way to ensure they have an immersive experience. From round ceremony set ups that allow everyone to have a full view of the couple as they exchange their vows to individual servings of nostalgic food and meaningful surprises planned throughout the wedding, couples want to make sure each of their guests sees, hears, tastes, and enjoys it all.
What this means for you: You want to make sure couples know you are thinking about this level of detail before they have the chance to ask. Consider adding questions about guest experience to your sales call sheet or client questionnaire.  
Trend #3: Laid back luxury
Likely related to increased popularity of outdoor ceremonies and receptions, couples are (in general) taking a slightly more casual approach to their weddings. That doesn't mean black-tie affairs are a total thing of the past—you're just likely to see more cocktail style parties, food trucks, and less fuss about certain traditions.
What this means for you: Couples are ready to break the rules and just have a great time. And that is just exciting for everyone!
Trend #4: Pops of color
White weddings and soft neutral palettes have been popular for years now, but couples are feeling color after a year and a half that was quite somber. From patterned linens to standout centerpieces, bright and bold tones are going to be all the rage.
What this means for you: It's time to rethink your portfolio. Update your Storefronts and website pages with your more colorful weddings and be sure to share those images on social media as well.
Trend #5: Destination or bust
Another likely result of people hunkering down for a long while, destination weddings are being considered by more couples for weddings in 2022 and beyond. One of the wedding trends we've noticed is that Europe is currently a popular choice, but couples are also choosing domestic destinations that are just within a few hours' drive. 
What this means for you: Logistics becomes one of the biggest things to focus on when you add the word "destination" to your service. Network with vendors who are local to the popular destinations near you and revisit your services, contracts, and process docs to make sure you are prepared.
Trend #6: Inclusive language and roles
Today's couples care about inclusivity and we're really starting to see more inclusive language being used around weddings. More couples (and pros) are using terms like "wedding party" and opting out of gendered roles. Terms and roles like "groomsmaid" and "man of honor" are a thoughtful way for couples to simply ask the most important people in their lives to stand up with them at their wedding. 
What this means for you: Take some time to do an audit of your website, marketing materials, and contracts to update things with inclusive and gender-neutral language.
Trend #7: Shopping small and sustainable
A wedding trend we are very happy to see is a bigger priority on planning weddings that are more sustainable and that support small business at the same time. Couples are acutely aware of things like climate change and how their choices impact the environment—they are wanting to source and shop locally in order to reduce their wedding's "footprint." 
What this means for you: There are lots of ways to plan a green wedding but you can also make changes to how you do business. Here are ways for you to go-green with your wedding business.
Trend #8: Multi-day mix-ups
Just like how couples are excited to shake things up and get married on a Tuesday, they are up for rethinking what their wedding celebration looks like—because why only have one party? More couples are planning multi-day wedding events or breaking things into intimate celebrations with smaller guest lists (which is a great way to make memories with grandma and grandpa while keeping health and safety in mind). In addition, we're starting to see couples turn traditional timelines on their heads by hosting things like pre-ceremony cocktail hours.
What this means for you: The bottom line for a lot of these trends is that couples are not afraid to try something new—so you shouldn't be afraid to propose your "wild ideas!"
Trend #9: You guessed it—technology
Technology was the glue that held a lot of things together in 2020. From couples leaning on wedding websites and text messages to communicate the numerous changes in their plans to their guests and digital stationery sometimes being a life-saver, technology is officially an item on the wedding planning checklist. 
What this means for you: Do you want to send digital save-the-dates? Do you want to live-stream your wedding? These are just some of the questions you should add to your checklist because they are quickly becoming standard.
Photo Credit: Wedding and Lifestyle/Shutterstock.com