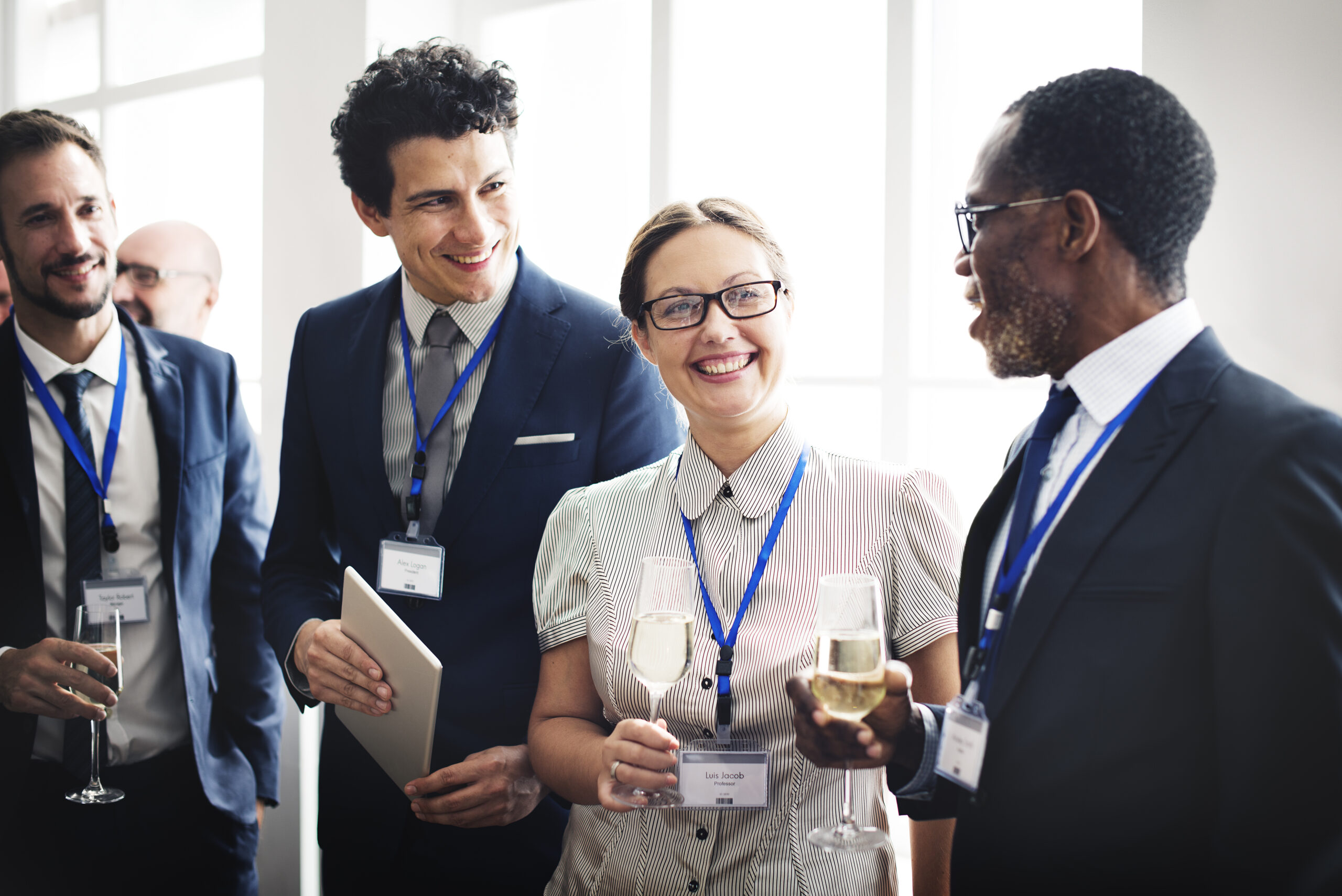 When you're running a wedding business, you have a lot on your plate. Between everything you need to do for each of your couples and the exhausting list of tasks you need to keep on top of to move your business forward, you learn (pretty quickly) the importance of maximizing your efforts. But flexing your make-the-most-of-it muscle isn't reserved for that long list of business tasks—it comes in handy when you're networking too. So today, we wanted to make sure you're making the most of the networking events you attend—whether you're just starting in the wedding industry and are meeting other pros for the first time or are more established but want to grow your network. Read on for our advice to help you maximize your networking efforts, so you always have someone to lean on.
Set an intention or goal
You can certainly sign up for and show up to a networking event without an intention or goal but showing up with one helps you make the most out of your time there. Now, your goal(s) doesn't have to be nearly as SMART as your business goals, but they should exist in some way, shape or form. Here are a few goals you can think about setting your intention around before you walk through the doors at your next networking event.
Connect with people you can refer couples to 

Connect with people who might refer couples to you

Build a more

diverse network

Meet people of the same vendor type to share resources and best practices with
Meet and connect with people
If we had to guess where you might want to maximize your efforts the most, it would be in the "meeting people" department. That is why you're brushing up on your networking skills, right? And even though we know this is the hard part for a lot of people, here are our tips to help you make the rounds and real connections.
Attend networking events by yourself over bringing a friend (unless that friend is going to encourage you to go meet others over just sit and talk with them the entire time)

Be open to meeting anyone and everyone because you never know who you are going to click with

If you want to practice feeling comfortable approaching people, look for the person standing alone vs. in a group (this makes it easier for you to introduce yourself and that person will likely be very thankful you did)

Challenge yourself to start the conversation! You can have a few questions prepped to get things going

Keep the conversations short (5-10 minutes) since it will allow you to meet and talk to more people
Pro-tip: Going to an online networking event? Here is how to work a virtual meeting like a pro!
Follow up to build your network
Without following up, there is little chance you'll actually build a meaningful relationship and achieve any of the networking goals you set. So, on top of sending a text message or DM over Instagram here are a few more strategic ways to follow up with the people you meet for you to consider doing.
Send a handwritten note to the pros you felt you clicked with. Sure, you'll likely need to ask them for their mailing address if it's not listed on their website, but the gesture will make you stand out

If you had a conversation with someone that ended in an action item or you literally saying, "I'll get back to you with that," you should definitely follow up (and follow through)

On occasion, sending a gift is a good strategic idea. This is dependent on your goals, but it is another way to make an impression. 
Pro-tip: Looking for a fun way to follow up that's more than a card but affordable? We love Greetabl! You can customize the design, message and include a small gift.
Have fun!
While networking events technically work, you should definitely be having fun at the same time. Industry events are planned by people in our field, so they know how to throw a party that keeps people interested and having a good time. So, when you get there, lean into that fun atmosphere and enjoy yourself. When you're having fun, it will be a lot easier to meet and mingle with new people. 
Networking events to attend as a wedding pro
There are more than a few ways to build your network—but they're not all created equal. That's because running a business in the wedding industry is unique, so building a network of people who truly understand what your days are like is important. So next time you're ready to really make the most of a networking event because you're attending one that's meant for you, be sure to check out these great options.
Attend

WeddingPro COR

! This 2-day event isn't just a great way to meet new people, it's a great way to invest in your business education

Attend a  WeddingPro social! We're hosting intimate networking events for wedding pros in cities across the country 

Research the

wedding industry associations

in your area and find their calendar of events
Networking doesn't have to add any stress to your experience as a wedding business owner—so push yourself the next time you're meeting new people to make the most out of everything you pour into what you're doing. Looking for a few more networking strategies to learn and grow? Here are 7 that really work.
Photo Credit: Rawpixel.com / Shutterstock.com