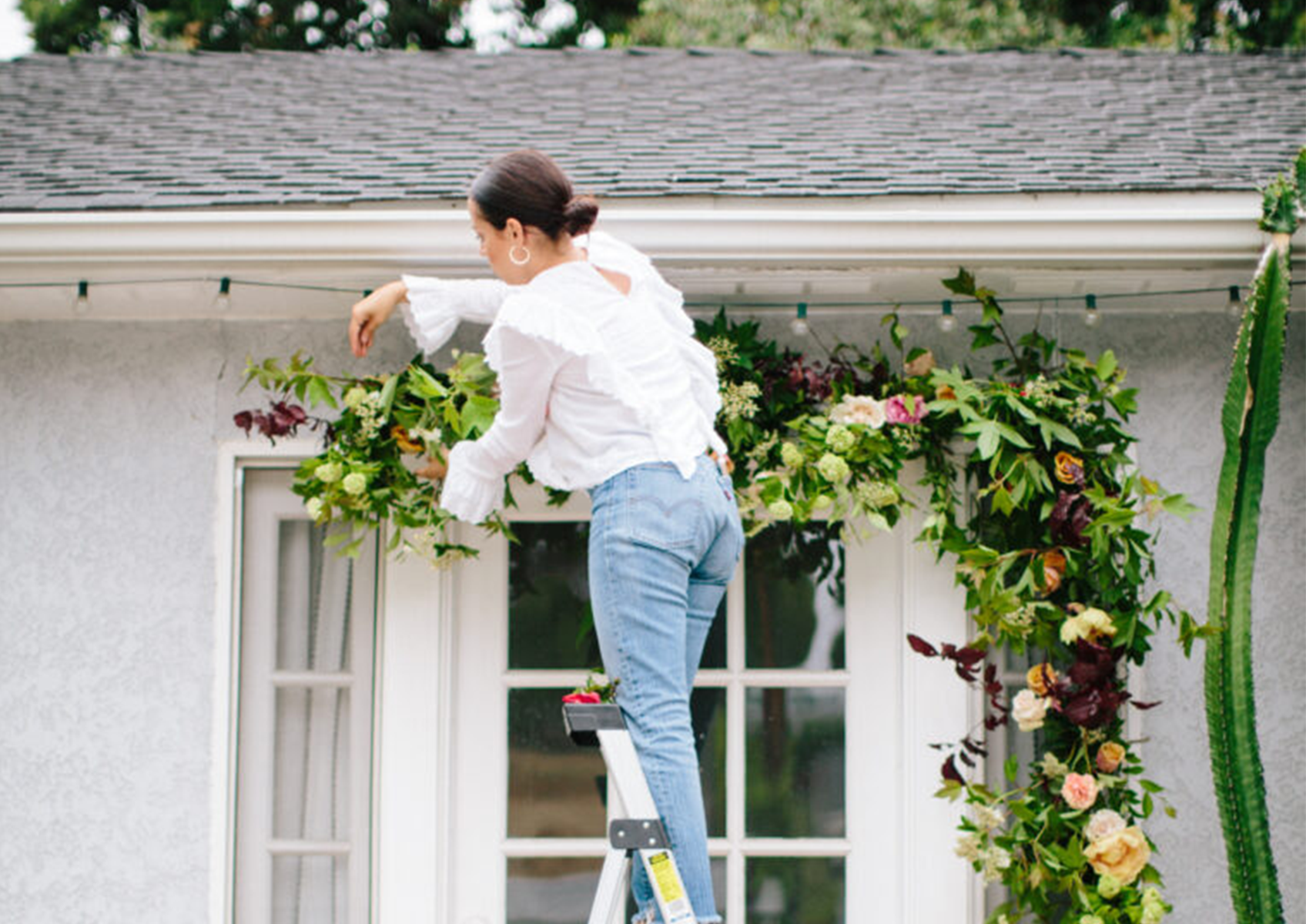 How this year was still full of wins for wedding pros
We had the privilege of talking to a lot of wedding pros this year and, despite the challenges everyone faced, a lot of great things still happened this year (read: people worked really hard to make awesome things happen for themselves). We celebrated pros Big Little Wins and you helped us donate $500 to Wish Upon a Wedding. And, in a time where more good news is exactly what we all need, we wanted to celebrate the strength, ingenuity, and resilience of this amazing community! So, we reached back out to some of the pros you saw featured and asked them to share what their big win for the year was. Keep reading for your daily dose of good news and time a moment to reflect on what your big win was too!
Victoria Ann Events
"The biggest win this year for me was one of my couples to tell me 'I'm the best thing that happened to them in 2020.' When you're working so hard to try and postpone and re-plan weddings in a matter of days (sometimes hours), not to mention multiple times sometimes, having my couple tell me that was amazing! This is why I got into wedding planning—to be able to take the stress and worry out of one of the biggest days of people's lives, knowing that, even if I don't know the answer right away in these strange times, I am still doing what I really feel like I was born to do! I am still making a difference for my couples with all the ups and downs they might endure and making the process just a little more bearable as we all learn together." 
Read more of Victoria's story in her feature here!
Shean Strong
"This year has brought a key element to success to the forefront in every industry professional's skill set—adaptability. With all of the changes and challenges we've faced in 2020, I choose to look at the positives that have come from all of this madness. There has been a renaissance of the intimate wedding—something I have been trying to persuade my couples into doing for some time now—because scaling back your guest list brings into focus the reason we have weddings in the first place, to share and celebrate the love of two people. It's reduced the anxiety surrounding the guest list, our 'must and should' of who to invite no longer have the same power over us. I definitely believe that's one thing we should carry with us into the future of all weddings. 
This has also been a year where event professionals have been given the gift of time. While so many of us had to put our weddings and events on pause, that rest also allowed us the opportunity to make our brands better. It was a rare chance to rest and reset on those things we rarely get to work on because we invest so much time into our client and their needs. Websites are looking refreshed, contracts have been updated, and most importantly, this year has reminded us of why our work matters: the connection, love, and health of those dearest to us."  
Read more of Shean's story in his feature here!
Lily Roden Floral Studio
"Oh 2020…I am not going to lie, sometimes it has been weirdly helpful to sit in the pain and frustration this year has brought me. It hasn't been an easy one for small business owners in the event industry and I see you all working so hard! But, it has also been healthy to sit in gratitude and focus on the good this year has brought my business. One of those good things was finally having the time to rebrand. I've had a desire to rebrand for quite some time but, with ongoing weddings and a busy toddler at home, it became the constant item on my to-do list that never got crossed off. When COVID hit, I was left with a lot more time on my hands like most of you! So, I began my project rebrand and decided I would take it one day at a time and have fun with every step. I started by changing my business name. Then created a brand new logo with the help of my husband who was also stuck at home. I am not a techie person in the least, but I somehow managed to build a website that I am very proud of! I successfully checked the project off my list in June and it has been exciting to see how it has benefited my business in just a few short months. I am not sure I would have found time to execute an entire small business rebrand without quarantine and, although 2020 has brought us a lot of lows, it has definitely seen some highs! A full rebrand was definitely one of them for me and my business!"
Read more of Lily's story in her feature here!
José Rolón Events
"In 2020, my personal brand organically helped build up my professional brand at José Rolón Events. Many of us parents in the industry took on the triple duty of being entrepreneurs, parents, and teachers! As all-consuming and sleep-depriving as this has been, I needed to break up these crazy routines creatively. Enter TikTok. Working with heartbroken clients, frustrated teachers, and new late night hours past midnight, creating TikTok videos became my refuge. The first video to go viral on my personal page, @nycgaydad, was showing how one can multitask answering client emails while my daughter groomed and massaged my head.  It became clear I was onto something people could relate to and since then I've created over 100 videos— we've even been featured on various talk shows and media outlets. 
10 months later, more than 3 million views and 165K followers, we not only have had residual income coming in through various sponsorships like YouTube Kids, Keebler, and Amazon, but have booked new clients due to the massive exposure of potential clients digging deeper into what I actually do for work. Some call it a pivot (though I cringe at the sound of this word), but it surely wasn't as intentional. I didn't even realize I was building a brand I could monetize until well after the offers started coming in. I'm now considered an industry expert speaking on harnessing TikTok for your business and created a wealth of heartfelt and comedic memories for my children that would've never existed outside of the pandemic. The magic truly happened organically because I chose to be open to possibilities."
Read more of José's story in his feature here!
Anée Atelier
"This year proved to be turbulent but also transformative in many ways. As a result of the tragedies that shook our nation, and the millions who acknowledged the racial disparities and dissonance that still affect our society, a massive shift began within the wedding industry in particular. There was such a profound response from wedding professionals at every level; those who resisted the temptation to pretend it was merely 'someone else's problem' to solve. Instead, so many chose to take a posture of humility, vulnerability, transparency, selflessness, and (at times) sacrifice as they began the continuous journey through education, uncomfortable conversations, impactful changes, and ongoing commitments to implement the actions needed in order to move our industry forward with greater strength through meaningful diversity and inclusion. As a Black-owned business, we couldn't have imagined a better 'win' than to play a small part in a movement that gives us such hope for the future and proves there's so much good in the hearts of those within our industry. Yes, it's been a hard year but, because of 2020, we're now poised for much more beauty than we could have ever imagined or achieved without it."
Read more of Gina and Sheena's story in their feature here!
Exquisite Sounds Entertainment
"The biggest win of the year for us was being able to make positive long term business changes in the midst of uncertain times. Although our contracts, processes, and relationships with and for our clients were solid, this year definitely prompted us to make them even better. As a result of the pandemic, we've made contract changes and updates to protect all parties, increased outward and internal communication, and even explored and implemented new steps and tools for planning meetings, consultations, and marketing. The year has definitely been a challenge but also been a great opportunity to take a step forward as well!" 
Read more of Toryn's story in his feature here!
Table Catering Co.
"Back when COVID was becoming serious and we were starting to get cancellations, we knew we had to figure something else out. We started the process of elimination with things we knew we didn't want to do: start a small tasting room, a restaurant or take-out business. So, we asked ourselves, 'What else are we passionate about that can possibly succeed in a time when we aren't allowed to gather?'
We had thought a while back about opening a cookie company because of the attention our cookies were getting with clients on corporate catering orders. Actually, about 6 months prior to COVID we had already picked out a name and had someone working on graphics and marketing, so we had a little head start but, at that time, had ultimately decided not to start because 2020 was shaping up to be our biggest year with catering and we had a newborn. But, when COVID hit, it became obvious that it was the perfect year to start Bell's Cookie Co! We started doing nationwide shipping, delivery, and pick-up at our kitchen in Seattle but then opened our little retail window at our kitchen in July. We didn't anticipate the company to grow as fast as it did but are very grateful that it has and we are able to keep a couple employees full-time. We have recently signed a lease in Greenlake and will be opening up a full retail shop in April! So, even though 2020 was so tough in a lot of ways, it gave us the opportunity to start something great and employ people in the process. Thanks 2020!" 
Read more about Brooke and Tomas' story in their feature here!
Photo Credit: Mirelle Carmichael Photo