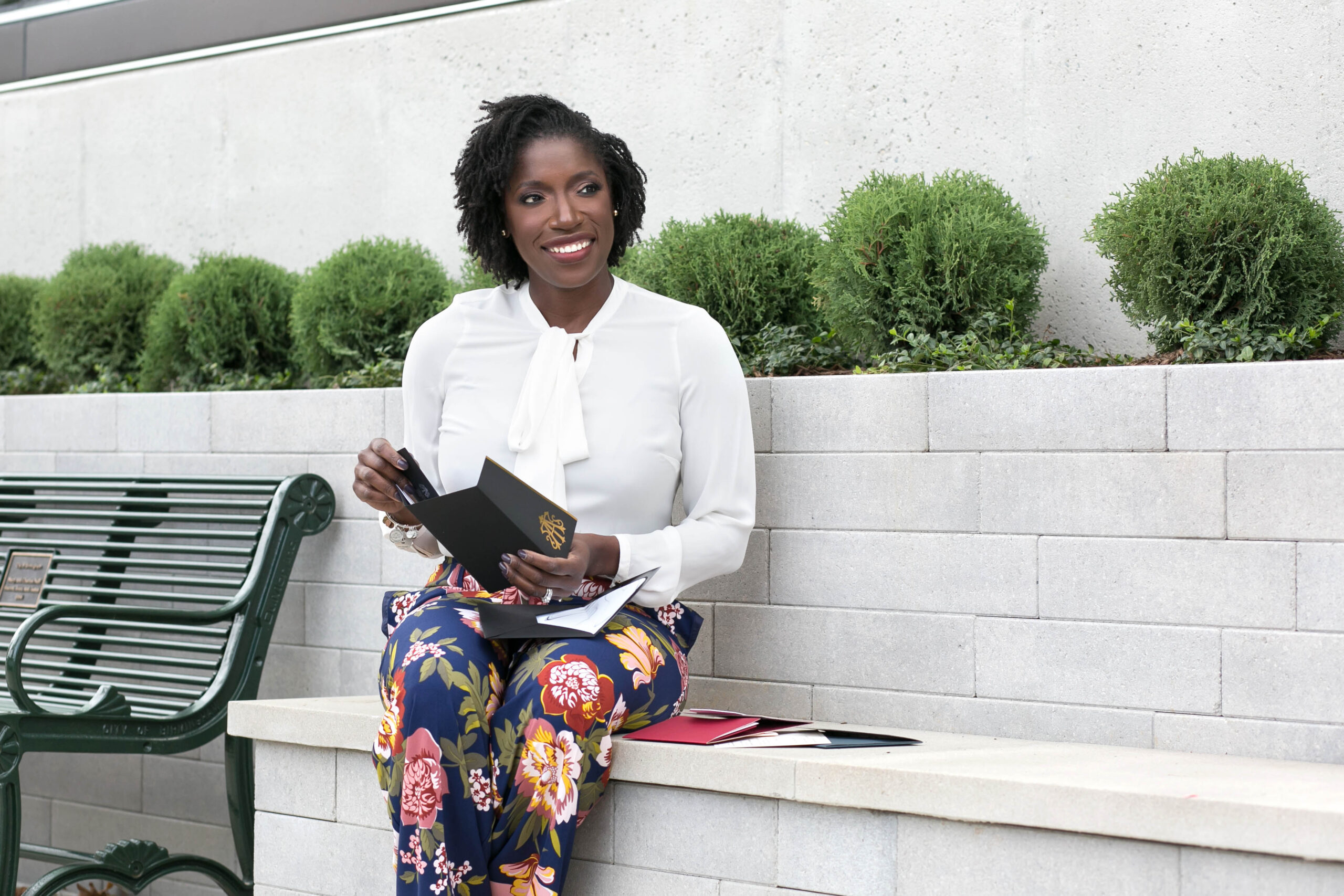 Your business is something that demands a lot of your attention on a daily basis. From making sure your inquiries get timely replies to providing your service to already booked ones (and literally everything in between), you can feel pulled in 10 different directions. That doesn't leave a lot of time and energy to really focus on being the best at what you do at the highest level you can do it. But, the key to long term success is finding a way to dedicate the majority of your time to your craft, in order to have the happiest clients you can. And, after 17 years in business, Le'Trice Penn of Penn Designs has worked toward (and we think found) that delicate balance of working in and on her business. It's something we all strive for and we are excited to share her story, secrets, and success with you today!
Tell us a little bit about your company.
Lepenn Designs is a full service stationery and graphic design studio specializing in one-of-a-kind custom invitations. We provide design services for weddings, celebrations, and corporate events by creating an invitation that appropriately sets the tone for their affair along with creating all of the event day stationery and special details.
Is there a particular moment or story about why you decided that being in the wedding industry was what you wanted to do? When my husband and I decided to create a family business, my love for graphic design transferred over to stationery and I just knew that wedding stationery was where I wanted to be!
Looking back, what was the most important thing you did in your first year that ended up setting you up for success? And, what has been the thing that has helped you level up since?
The most important thing I did in the beginning was to understand the importance of providing great customer service to my clients. That same thought has transitioned into me making sure I have systems and workflows in place that guide my clients seamlessly through the design process from beginning to end. You can't truly level up your business without providing BOTH great service and quality products!
The most important investment I have made in my business was…hiring a design assistant! Several years ago, I reached a point where it was way too overwhelming to manage projects and clients by myself and I had no choice but to hire some help. Investing in a part time contract employee was one of the best decisions I ever made and I wish I had done it much sooner. To truly scale your business, you must look for areas where you can outsource and hire someone that will save you time in one area so you can focus on other areas that will bring you more business and clients.
Once you've reached a goal, how do you decide what goals to set next?
I decide my next goal based on the long term direction I see myself going. For example, I was doing a great job posting my work on Instagram (gaining traction and inquiries), but my website did not reflect the higher level of work that I was featuring on social media. In 2020, even through the pandemic, I set a goal of going through a rebrand that would result in a website that matched my work! I knew that a higher investment than I'd ever made before would need to be involved, thus setting a goal to reach a financial level in my business that would allow me to do so.
Tell us about a pivotal moment you have had in the last year. What was the impact it had on you and your business?
A pivotal moment was realizing that I needed to focus more on the graphic design side
of my business that can reach further out than the wedding and event industry. Due to COVID, lots of weddings and special events had to unfortunately be cancelled or postponed—which had a large effect on all wedding industry vendors. I realized that since I am a graphic designer, as well as a stationer, I should grow the design side of my business by doing more work for small businesses. Designing brands for small businesses is an area of my business that isn't dependent on live events that could be affected.
I stand for…providing amazing service to my clients while ensuring I am bringing their vision and dreams to life.
My clients are…amazing people who trust me with being a part of their major life events!
If I could…help everyone in some way big or small, I would!
One time I…thought that my business would not be where it is today and that I might have to close the doors.
How many weddings did you do during your first year? Do you remember how much you were charging?
During my first year I only did about 4 weddings and they were for close family and friends! I averaged about $500-700 for the orders as compared to my current minimum investment which is now $1,500-1,800.
What is the one business project you just can't seem to get done? What is keeping you from completing it and what will finishing it help you do? 
One business project I've always wanted to do is a newsletter. I've sent out just a handful over the years but I can never turn it into something consistent. I am definitely a designer and not a writer so that is my roadblock every time! If I were to outsource this piece I would turn it into either a monthly or quarterly newsletter to share wording tips, current trends or recent work. I feel like this would help to keep my brand continuously on the minds of my
clients and also allow me to reach new potential clients who sign up for it.
Tell us about a time you actually did a happy dance!
I literally did a happy dance (and huge thank you to God) after my request for proposal for the 2020 Detroit Institute of Arts Fundraising Gala was selected—allowing me to become their official graphic designer and stationery printer for their huge annual event! Totally a game changer for my business!
If you could do something to encourage diversity in our industry, what would you do?
I would encourage couples and planners in search of wedding vendors to fairly judge everyone according to their caliber of work and services they can offer. If you turn away from considering a company because they don't look the same as you, that is a huge missed opportunity to possibly have an even better team of vendors who work together to make your special day amazing. Vendors of color do not want to be considered only because they are a person of color but because they do amazing work!
My secret trick for managing multiple projects at one time is using Trello and a CRM in tangent. For me, the balancing act of managing project stages and workflows through Trello and managing client invoices and documents through Tave has made all of the difference over the past few years. I no longer feel like I'm in a cloud of confusion everyday when I'm trying to figure out who needs what and when. I wish I knew and understood the importance of creating a client workflow and system for how I would operate the day-to-day operations of my business in the beginning!
5 years from now, where do you hope to be? 
I hope to be leading a full staff of at least 3-4 employees who work with me in a much larger studio space. I would like to be able to 100% focus on designing and continue to grow my business while they take care of the day-to-day administrative tasks and client services.
Want to keep up with everything Le'Trice is designing? Follow her on Instagram at @lepenndesigns and you'll see the gorgeous work coming out of her studio!
Photo Credit: LeoSage Images