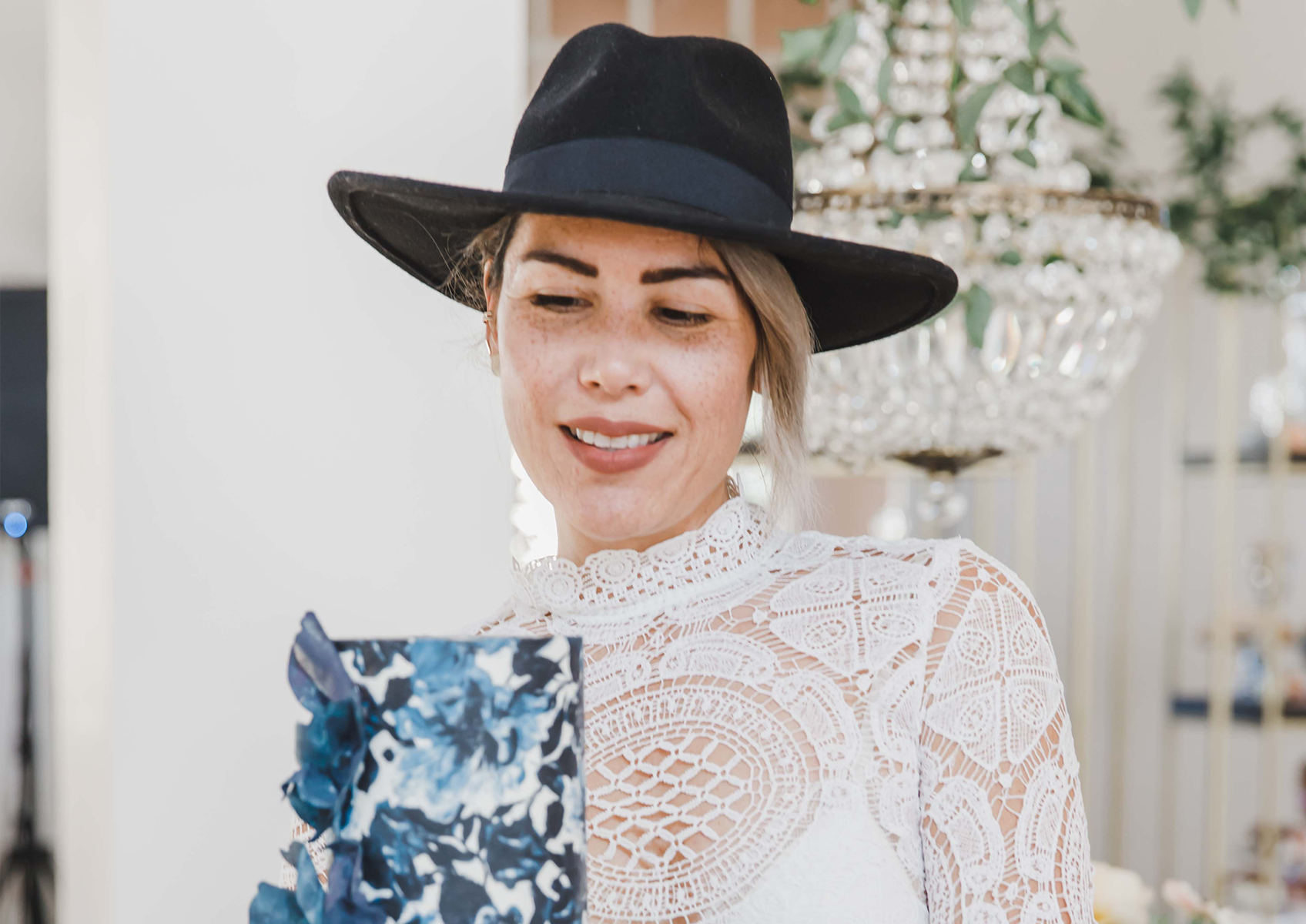 Building a successful business in the wedding industry is equal parts creativity and business acumen. While people on the outside looking in are likely to think everything about being a wedding pro is glamorous, we all know that it takes a lot of heart, drive, and hard work. So, when Stevi Auble of Hey there, Cupcake! left the world of interior design to jump into the world of weddings, it felt like a natural progression as she found another home for her creativity. And today, we are excited to introduce you to her (and her awe-inspiring work) as she celebrates 10 years in business this month! Read on to learn about how goal setting is an important part of her propelling her business forward, what she spends the majority of her time doing, and what she would like to be reincarnated as in her next life!
Tell us a little bit about your company.
Hey there, Cupcake! is Southern California's premier wedding cake and petite dessert bakery. Focusing on classic and unique flavors using only the finest fresh ingredients, every sweet creation is made from scratch. Hey there, Cupcake! is an award winning, world renowned leader in the cake design industry and is known for their modern, unique and trendsetting designs.
How many weddings did you do during your first year? Do you remember how much you were charging?
I had under 20 weddings my first year in business. When I first started, we were making mostly decorative cupcakes (which happened to be a big trend in the industry at the time). I remember booking the largest invoice for that first year being close to $1,000 and thinking that was such an amazing accomplishment.
Looking back, what was the most important thing you did in your first year that ended up setting you up for success? And, what has been the thing that has helped you level up since?
I attribute two main components to the success of the first year. The first being Facebook—social media was a huge factor for the early success of Hey there, Cupcake! because it put my work in front of countless eyes and that created an abundance of business that afforded me opportunities I believe would not have had otherwise. The second would be not letting fear guide my decisions and trust in myself. Not so much an act of bravery on my part as much as it was just being green and not knowing any better. But, ultimately having confidence in my own abilities and not letting fear get the best of me contributed to many successes (and stumbles) within that first year.  
The most important investment I have made in my business is…continued education in diverse fields of study. I really try to push myself to take a class, read or learn something as often as possible—monthly at the very least. It doesn't always have to be something that is directly relevant to my profession or industry. In fact, I find that the more information I accumulate outside of my comfort zone is precisely what triggers my creativity and enthusiasm within my own art and, in turn, helps to continually move my business forward.
Once you've reached a goal, how do you decide what goals to set next?
Typically, my goals are natural progression and I find that I tend to unconsciously have goals set in my head prior to completing the one(s) that I have in motion. Those future goals usually manifest and come to fruition in part because I repeatedly verbalize them in everyday conversations or in my personal thoughts. They always seem like passive thoughts at first but over time I come to realize they are items that I want to accomplish.   
What is your favorite part of working with your clients during the planning process? On wedding day?
By far my most favorite part of working with my clients is the design process! It's a real opportunity to truly get to know my clients, their story and history and, in turn, gives me the insight I need to create a design that is unique to them.
What is something from a typical day that might surprise people?
It never fails that when someone asks what it is I do for work and I tell them I own a custom order cake business that their answer is, "Wow, how fun! That must be so great to get to just make cakes all the time." But, the truth is I make cakes 20% (max) of the time and the remaining 80% is spent on the backend of the business. All of the admin tasks, marketing, sourcing, etc. are the bulk of the overall operations. I know this doesn't come as a surprise to anyone in the industry, or any business owner for that matter, but to the general public it's a huge detail that is often unrecognized or acknowledged.
I stand for…inclusivity, fairness, empathy & freedom
My clients are…diverse, fun loving, worldly, creative & adventurous
If I could…be reincarnated into something of my choice in my next life it would be as a professional dancer.
One time I…wrote a book, and it was by far the most difficult professional task I've accomplished to date making it one of my proudest achievements.
What is the one business project you just can't seem to get done? What is keeping you from completing it and what will finishing it help you do?
Website updating and SEO!!! It's an ongoing internal battle I have with myself. There is so much of that side of the business that I do not understand (or relate to), so it ends up being something I am constantly avoiding and pushing off. I know the solution is to look for external help and that ultimately making these updates will not only bring in more of the clients we are trying to reach but it will also create a huge amount of peace of mind (well, at least until another six months passes and it needs updating again, haha!). 
My secret trick for ­combating procrastination and taming time management skills is to… reword "I have to" with "I want to ________, so I can _______" in my internal dialog. I find that if I feel like I have to do something I tend to look at it negatively and avoid it as much as possible. So, I've learned to adjust my thought process to "I want to clear out my inbox by EOD today, so I can have some free time in the evening to get out and golf without feeling anxious about lingering emails." This was a trick my therapist suggested to me recently and it has made a huge difference in my overall productivity and time management skills.
If you could do something to encourage diversity in our industry, what would you do?
I think the biggest way all of us can encourage diversity is by actively advertising that our businesses celebrate it. I know that by default the majority of our industry fully supports diversity, inclusivity, and love in all of its forms. But, I don't necessarily see that advertised forthright, I am guilty of this as well. I think because we naturally embrace this ideology, we tend to presume that everyone around us (including our potential clients) would just know this but, unfortunately, I think at this point in time it's something that needs to be advertised aggressively. So, showing this within our social media outlets, marketing campaigns, and notably on our websites is an extremely important factor and necessary tool to utilize and use to air your beliefs and endorsements of your company's activism for diversity and inclusion. 
5 years from now, where do you hope to be?
I feel my answer to this question is always so pending. I am currently focusing 100% on growing Hey there, Cupcake! on the course it is on and do have some long term goals for it. However, I have lived through enough of life's curveballs, miracles, and opportunities to know that sometimes things do not go according to plan and that we can easily end up somewhere we never would have thought we could. Regardless of where life takes me, I hope to still be creating in some capacity.
If you want to connect with Stevi, you can find her on Instagram at @heytherecupcake_ where you are sure to satisfy both your sweet tooth and design eye!
Featured Image: Jessica Jaccarino Photo
Cake Image: Sourced Co.