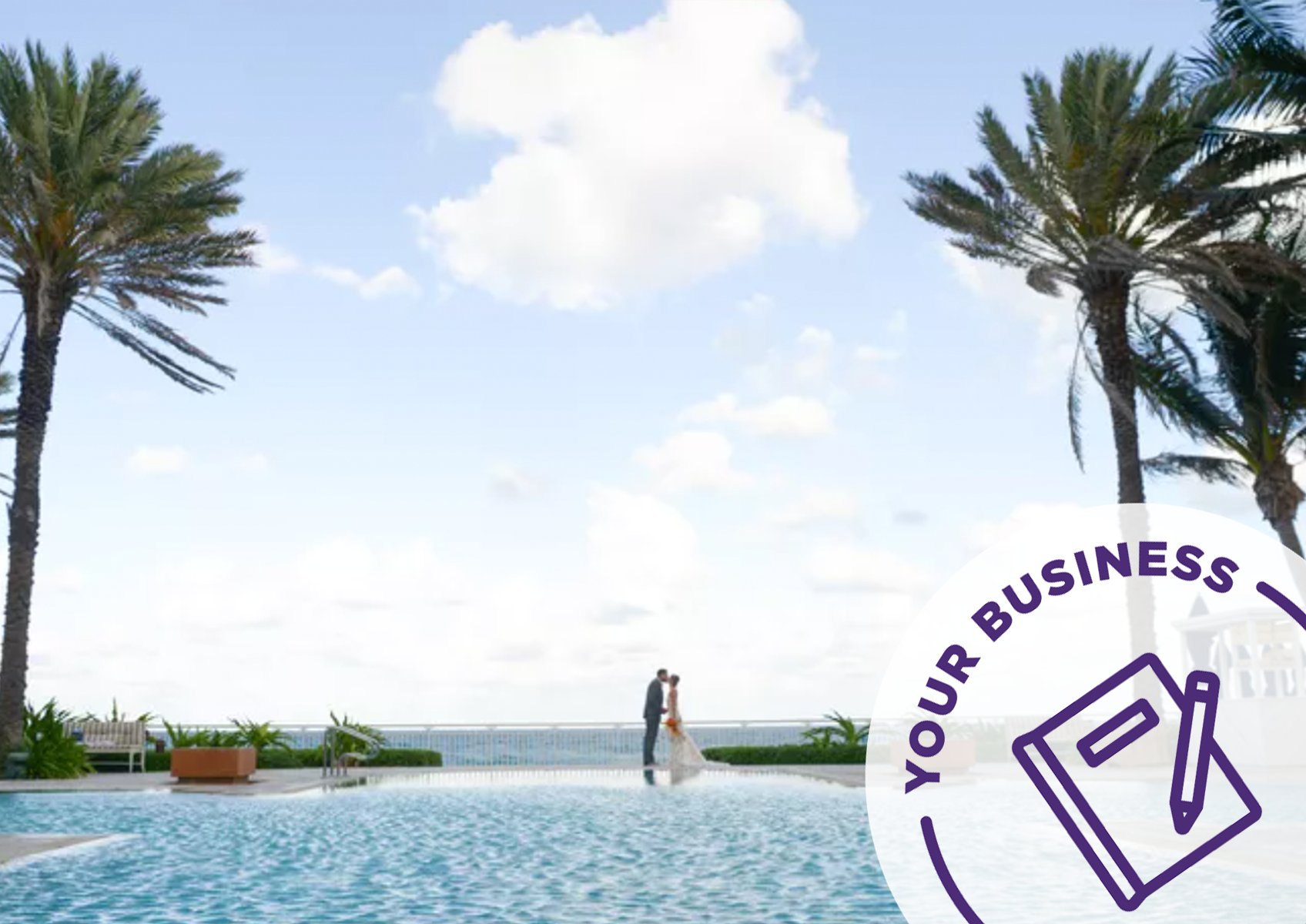 In recent weeks, we've seen the industry shift to experiment with new ideas in order to continue booking weddings while social distancing guidelines are in place. While most couples are rescheduling their weddings for dates when they can proceed with a large gathering, we are also seeing many couples honor their original dates with a miniwedding or microwedding. These changes have challenged industry pros to think differently about their business and innovate on their existing offerings in order to create new revenue opportunities. Our conversations with pros have been so inspirational that we wanted to bring the details of these new ideas directly to our WeddingPro Community live on Instagram. 
Our conversation was with wedding photographer, Dani Klein-Williams of Dani Fine Photography. From partnering up with the people you trust to anticipating your clients' needs, here are the top takeaways from our chat.
1. Create New Revenue Streams By Partnering With People You Trust 
Looking for ways to adapt to restrictions and help those clients who still want to get married during this time? Dani partnered up with a good friend, Tara Consolati of Tara Consolati Events to brainstorm ideas. Together they came up with several small, intimate wedding packages designed for those couples who wanted to keep their original wedding dates. "What's unique about Tara and I is that we go way above and beyond for our clients," says Dani. "I'm usually an hour early to the event because I'm just so excited to be there. And she's the same way." 
What That Looks Like: For two seasoned pros, the hard part about developing a package that would work well for couples had nothing to do with the planning or the photography (the two of them have plenty of experience doing both). "The newness in all of it was how do we make this so that it doesn't take much time," Dani says. "We put together a really easy no-brainer package with four options," says Dani. Couples can tell them how many guests they're having–be it 25 guests or under, 10 guests or under or just the two of them. From there, couples can choose from four color schemes and palette options.
2. Keep Your Target Audience Top of Mind
While they're fielding calls from all types of couples (from couples who want an elopement sans reception or details to clients who originally wanted a big event but are now looking to adapt), Dani stresses how important it is to stick to your target market. Think about what your type of client needs the most and market to them.
What That Looks Like: In Dani's case, many of her clients host larger events, so she's dialed into that. The new intimate wedding packages she's offering in tandem with Tara include dinner, flowers, cake, photography and all of the other details her clients would typically include. "We want to help them know that it doesn't have to not be beautiful just because it's small," she says. "Maybe they wanted a 200-person wedding but now they have to do 25 people. They can still do all of those other things. We want them to know that you don't need to give up on everything you wanted–I know it's disappointing but you can still have live music and gorgeous flowers."
3. Be Careful With Your Pricing
For those offering new packages or features as a result of COVID-19, Dani stresses how important it is to be mindful of your pricing. "If you normally charge $7,000 to shoot a wedding and now it's $250, that's a steep jump," she says. "What is it that you're doing so differently? Are you shooting on an iPhone?" Instead of dropping your price just because of the circumstances, think about how what you're offering is different and why that might cost less to someone now, versus during normal times. "So maybe you used to charge $7,000 for a wedding and now it's $1,750 and the reason for that is that you're only shooting for 2 hours," she says. 
What That Looks Like: Sit down with your numbers and figure out what you can offer during this time that is easy enough for you to create but that might appeal to couples with smaller weddings. Fewer hours per event and the more formulaic package is hers and Tara's reasoning for the lower price. "We normally would start from scratch," Dani explains. "But we've made it so that these are basically kits. We estimate that each is 4 hours of work instead of hundreds of hours–so it's custom-ish." 
4. Be Transparent with Pricing Fluctuations and Offerings
"If you're offering a limited time package, be clear about it with your clients and prospective clients," she says. In her case, the pricing and offerings are very Covid-specific. "Truthfully the rates we're offering now are something we couldn't afford to offer normally," she says. In other words, she's certainly not planning to extend the same price and package to couples marrying in 2022.
What That Looks Like: To ensure that everyone gets the message, she and Tara are clear with their clients from the start. "We put everything out there," she says. "Everything is super up-front and honest. It says that these are reduced prices because we love what we do and we want to keep doing it–and we know that this is a tricky situation and there are people out there who just want to be married and we want to help them." They're also making sure their clients know that these are limited time prices and offerings. "So we do say what our regular rate is so that they know the value they are getting because we want to help —you can't book one of these elopement packages in 2022 because it's not going to be available."
5. Be a Problem Solver
One of the best ways to differentiate and move forward during this time is to act like problem solvers and then to market those services differently than the rest. "Make yourself seem different," Dani says. "Like instead of saying now we do elopements like everyone else is saying, anticipate their problems, educate them and then show how you can solve them."
What That Looks Like: For example, Tara and Dani's packages include set-up so that more people don't have to be involved. In other words, the key is not only pinpointing the problems that your clients haven't thought of yet–but they've also come up with a solution for those issues and then marketed it back to them.
Watch the full interview with Dani Fine Photography to learn more about the innovative things she is doing to lean into her strengths. Stay tuned for more conversations on the Future of Weddings and what it means for pros.
About the author: Anja Winikka is the former editor of TheKnot.com and The Knot Magazines turned educator and contributing editor @WeddingPro. She's on a mission to help creatives, community leaders, and wedding businesses own their stories and tell the world about it (follow along via Instagram @editorinchiefmedia).
Photo Credit: Dani Fine Photography