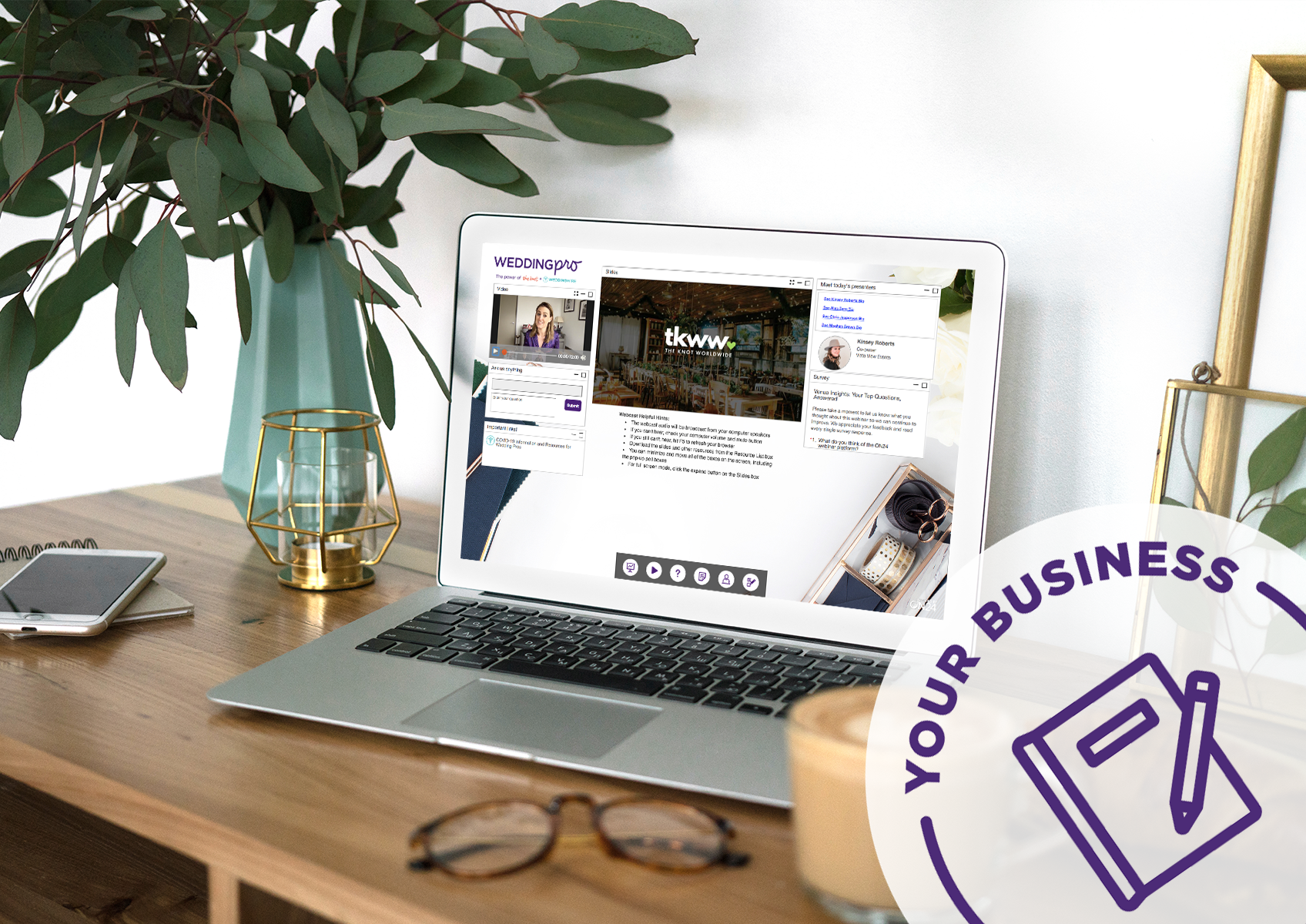 As a venue owner, you face a unique set of challenges during this time. That's why last week, we unveiled a webinar designed solely for venue owners and businesses. In order to help address the oft-asked questions and topics facing venues, we tapped three of our WeddingPro educators and experts: Kinsey Roberts, owner of Vista View Events in Colorado and She Creates Business podcast, Alan Berg, CSP speaker and consultant, and Chris Jespersen, owner of The Madison venue in Cleveland, Ohio. Just in case you missed it, here is a quick recap from the webinar!
Venue Question: How to handle postponements and reschedules with couples?
WeddingPro Answer: Be proactive. Reach out to your couples with a positive tone and create a rescheduling plan with a new date. The more you can do to get those dates on the calendar now, the better. Also, remember that there are a lot of other pros attached to each client's wedding. You don't want to keep the rest of the wedding pro team waiting!
Venue Question: How to handle fees and pricing related to reschedules?
WeddingPro Answer: Remember that this is emotional for everyone involved. That's why communication and transparency is so key right now. On one hand, you don't want to charge couples just for having to change their date. On the other hand, if you move all of the 2020 Saturday couples to next year, you risk losing out on 2021 couples. Consider not charging a rescheduling fee and incentivizing couples to go for Fridays, Sundays and Mondays in 2021. 
Venue Question: What are some effective ways to communicate your availability moving forward?
WeddingPro Answer: The more communicative and transparent you can be with everyone, the better. Chris and his team simply set up a shared Google doc and calendar with their couples and affected wedding pros to help understand who's available and when. He's asking his couples to send 3 different backup date options so that everyone has visibility and a working understanding as to what's possible. Kinsey and her team are getting proactive with their wedding pro friends, gathering up their postponement policies and then communicating that back to couples. 
Venue Question: How to handle couples who want to cancel?
WeddingPro Answer: The experts agreed that most couples weren't looking to cancel. Kinsey initially had a couple who expressed a desire to cancel but once they got to talking on the phone, they decided to postpone for 2021. The lesson learned there? Do what you can to get your couples on the phone, rather than try to resolve these big questions via email so that nothing gets lost in translation.
Venue Question: How much marketing should venues really be doing right now? 
WeddingPro Answer: The experts agreed that consistent marketing during this time is key to continue funneling new leads that result in bookings for 2021 and beyond. Alan's suggestion: Stay out there marketing your business but don't do it so much in a promotional, salesy way as you might do during "normal times." Anecdotally, Chris is still seeing new leads coming through on The Knot. Kinsey also encourages venues to re-examine your marketing message so that it feels relevant. For example, change any pre-scheduled content you had planned for this time of year and instead focus on messaging that acknowledges this challenging time. 
Venue Question: How should venues continue selling while not sounding too salesy? 
WeddingPro Answer: The experts all agree that virtual tours are key to helping couples picture themselves in your space. Don't just think about how you can provide a tour virtually; consider how you might even be able to sell it virtually, Alan suggests. Kinsey's tip: Ask yourself, what do couples need right now from me? Is it content for rescheduling like a postponement checklist? Do they need to see your face more to level up that trust factor? Whatever it is, provide it for them.
Venue Question: Any ideas for what to do with our venues right now? Are there other ways to bring in revenue during this time?
WeddingPro Answer: For one, look for ways your business might be able to step in and help out in the community. Perhaps your venue could be used to house supplies for a local hospital or volunteer group. 
Separately, diversification is key. Kinsey and her team are applying for their liquor license and have added in-house transportation. She also suggests looking for ways to add to your 2021 packages to increase the value of each client. Ask yourself: can you upsell a package, add a service, or re-package an existing offering to make it more all-inclusive for an intimate set of guests on non-peak days? 
Venue Question: What types of updates should venues focus on right now during this down time?
WeddingPro Answer: Now is absolutely the time to review your packages and pricing. Give your processes and sales tactics a good once-over as well, suggests Alan. When it comes to your digital footprint, do a self-audit and make sure your business profile on The Knot and WeddingWire are up to date. Respond to all of your reviews, update photos on your storefront and look for ways to personalize and update your social channels.
If you weren't able to join us live for the webinar, or if you want to brush up on the content again, you can view the recording at any time.
About the author: Anja Winikka is the former editor of TheKnot.com and The Knot Magazines turned educator and contributing editor @WeddingPro. She's the founder of Editor In Chief Media – on a mission to help creatives, community leaders, and wedding businesses own their stories and tell the world about it (follow along via Instagram @anjawinikka).
Photo Credit: Kate Aedon/Shutterstock.com