3 Ways to Increase Brand Authenticity
By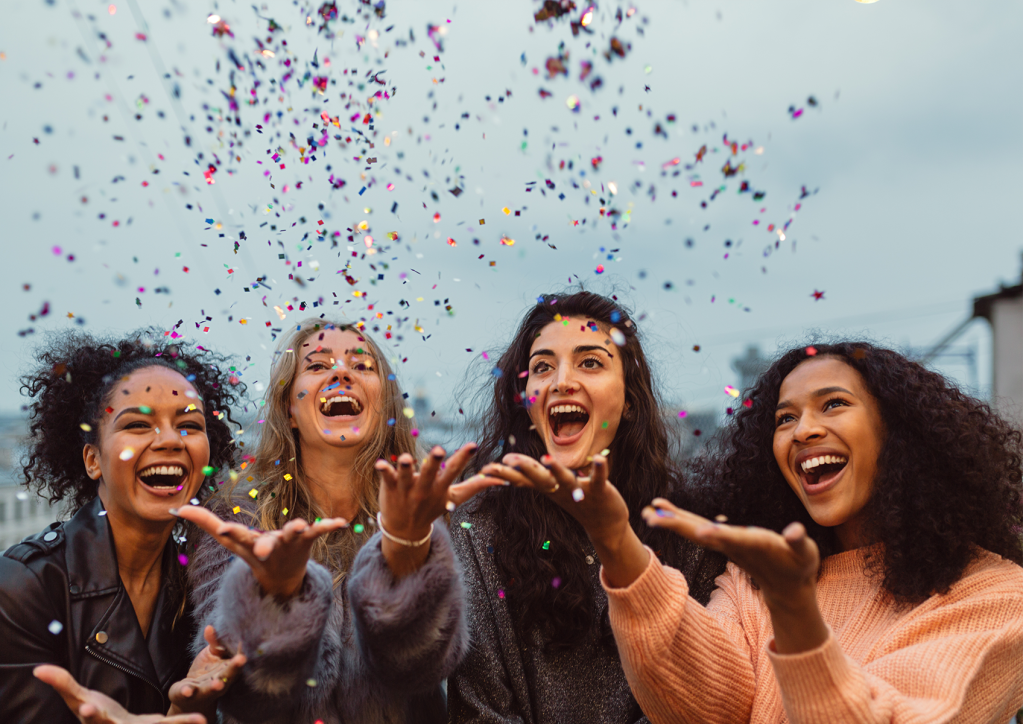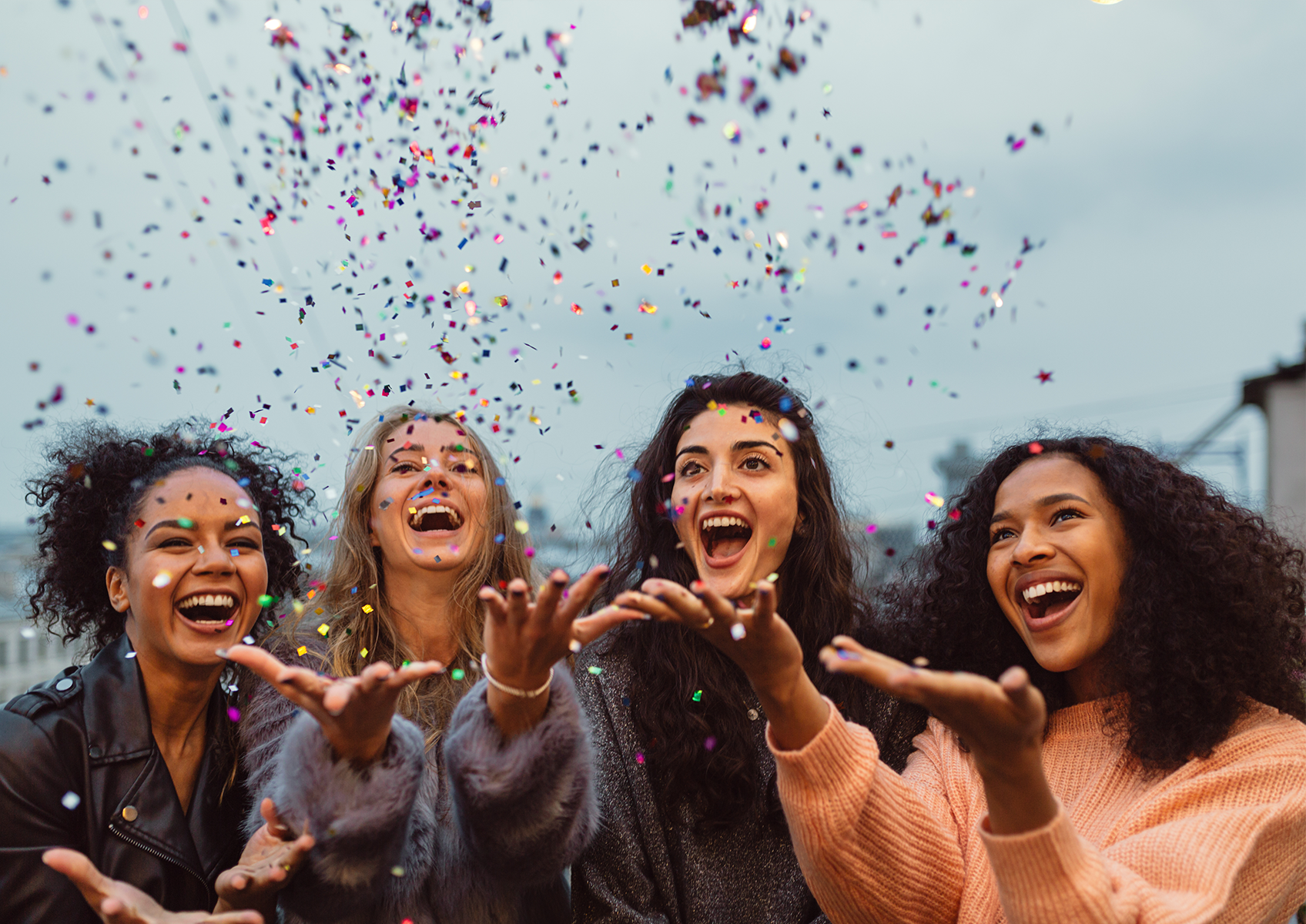 When it comes to conversations about authenticity, they are often centered around things like your purpose, personality, brand voice, and story. And, while all of that certainly comes together to help you build an authentic brand, there is something even bigger (and more personal) that is perhaps the true key—showing exactly who you are. Sure, who you are comes out through your voice, your mission statement, and the parts of your personality that you broadcast on Instagram stories, but there is that part of you (while it may seem obvious), that rarely is actually folded in. And that's how you self-identify as a person. So today, we wanted to share not only three ways you can increase your brand authenticity, but ways to show the world exactly who you are—because we think you're more than pretty awesome!
How to be more authentic on social media
Social media is one of the easiest places to build an authentic brand and we have the video features to thank for that. But if you want to immediately show the world the most important parts of how you self-identify, your bio is the perfect place for that. We love how Lily Roden Floral Studio wrote her bio for Instagram!

"Potential clients want to make connections with real people. Being genuine and transparent is easily perceived and will lead to a trusting client experience with only positive outcomes." – The Flower Guy Bron
How to be more authentic on your website
Did you know that you should talk about yourself on more than just your about page? It's true—your homepage, services, contact page (even your footer) are all places that you can help your potential clients get a better sense of who you are. And here are a few updates you can consider making yourself:
Add a headshot to your homepage with a headline describing yourself and a short excerpt of your bio that links to your full about page

Whether your business is women-owned, LGBTQIA+ owned, Black-owned, Asian-owned, veteran-owned or Latinx-owned, you can add a statement about that as a headline on your homepage, on your about page or in the footer of your website so it is a part of every page

Include a photo of yourself (or yourself working with a client) on your contact page to give it a more personal feel
"Being authentic to yourself running your business and planning weddings is so important. I didn't start to get my ideal client until I started showing the true me! I know it can be scary, but once you infuse your own personality into your business everything will start to click. You will feel more confident on sales calls, and you'll start to believe in yourself in ways you never imagined." – Victoria Ann Events
How to be more authentic on your Storefronts
The Knot and WeddingWire are where millions of couples start their vendor searches, so your Storefronts can help you establish your brand as an authentic one right out of the gate. This is why making sure your Storefronts are complete, have a unique and personal description, and feature reviews from past clients that help communicate who you are are not just important to your marketing strategy but your brand strategy as well. 
Get discovered with our business filters
At WeddingPro, our goal is to help pros succeed by connecting them with couples searching for them. Today's couples are passionate about allyship — in fact, a recent survey showed that the majority are looking for tools to easily discover businesses they want to support.
That's why we've introduced new filters and badges on The Knot and WeddingWire allowing couples to discover wedding pros who identify as an Asian-owned, Black-owned, Hispanic or Latinx-owned, LGBTQ+-owned, Native American-owned, Pacific Islander-owned, Woman-owned and/or Veteran-owned business.
If you identify as a member of any of these communities, log into your account(s) to opt in. Then, you will appear in the filter results and receive a badge on your Storefront.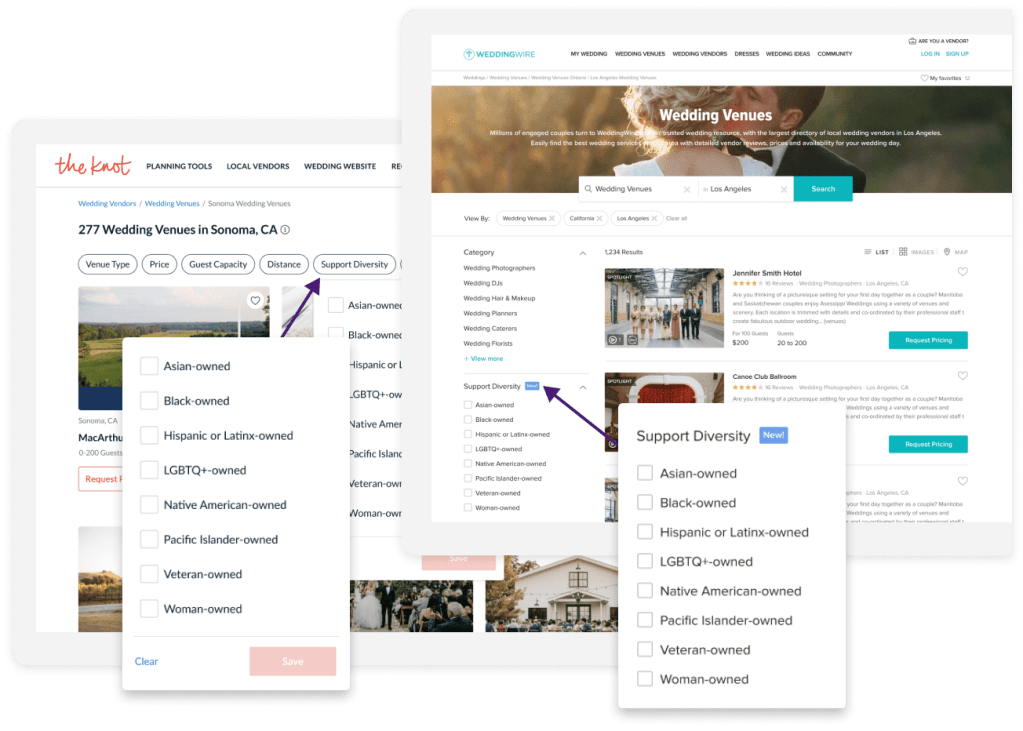 Please note, our marketplace default view and settings will remain the same, so couples will still see your business even if these new filters don't apply to you. 
This is just the beginning of our ongoing commitment to support diversity, equity and inclusion. Stay tuned as we continue our efforts to help pros see themselves represented in the wedding industry and propel their businesses forward.
"It is uber important to be authentic and transparent as a wedding pro in this creative industry.  Your clients and vendors not only want to work with a professional, but someone who is honest and upfront about what they can or cannot bring to the table. Do not perpetrate. Be real and watch your business soar in the right direction." – Dejanae Events
Photo Credit: Artem Varnitsin/shutterstock.com
Let's grow your business together!
Start advertising on The Knot and WeddingWire, the top two wedding planning platforms.