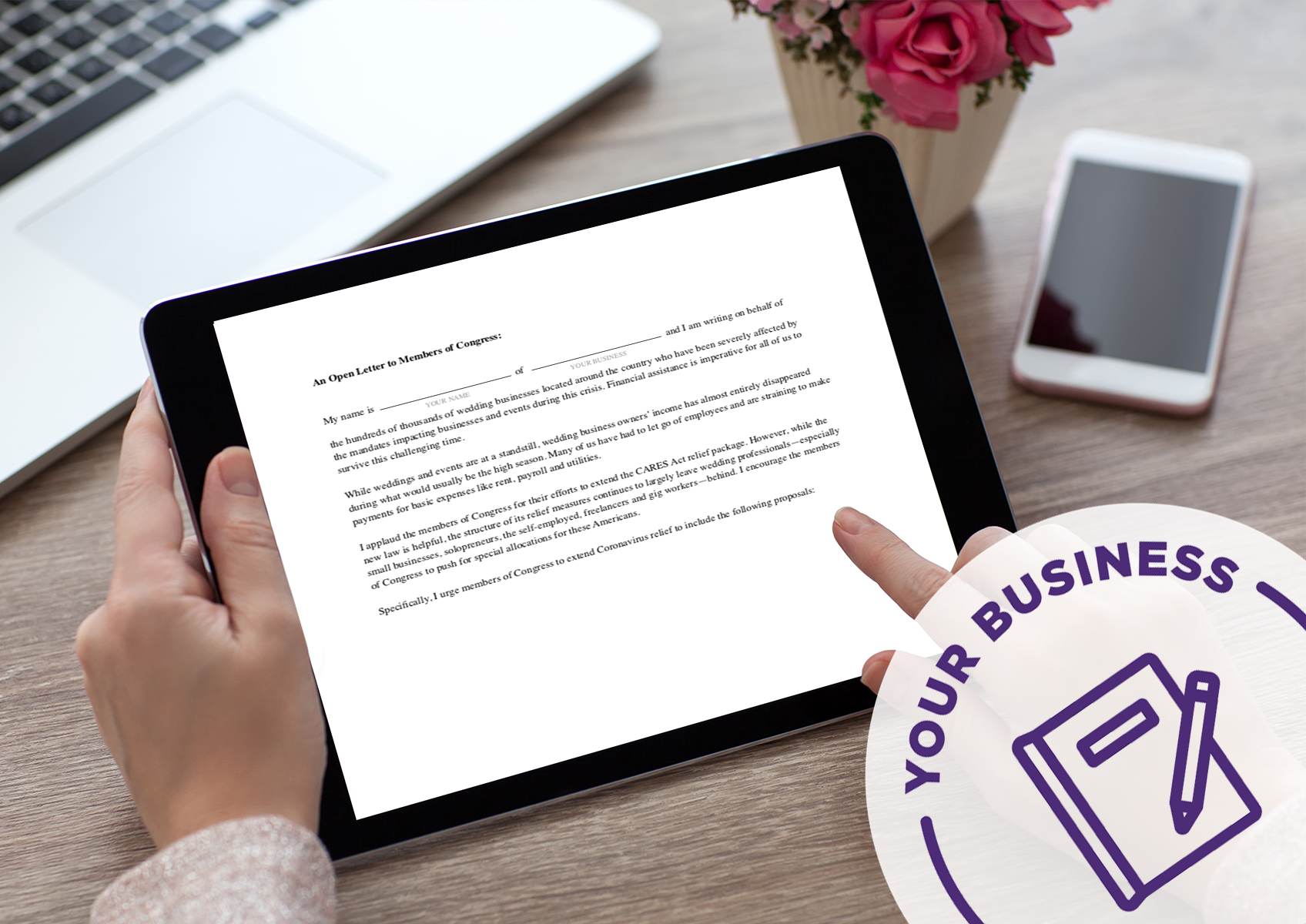 At WeddingPro, we remain committed to helping you weather the storm of COVID-19. In that spirit, we have written letters to our members of Congress to urge them to further support the wedding and small business industry in their stimulus packages. We have included our open letter below and we encourage you to write one as well as our industry is stronger together. Download our editable letter to use as a template for your own.
An Open Letter to Members of Congress:
My name is Tim Chi, CEO of The Knot Worldwide, the nation's leading wedding marketplace in the $100 billion wedding industry. I am writing on behalf of the hundreds of thousands of wedding businesses located around the country who have been severely affected by the mandates impacting businesses and events during this crisis. Financial assistance is imperative for them to survive this challenging time.
While weddings and events are at a standstill, wedding business owners' income is severely impacted during what would usually be the high season. Many of us have had to let go of employees and are straining to make payments for basic expenses like rent, payroll and utilities.
I applaud the members of Congress for their efforts to extend the CARES Act relief package. However, while the new law is helpful, the structure of its relief measures continues to largely leave wedding professionals—especially small businesses, solopreneurs, the self-employed, freelancers and gig workers—behind. I encourage the members of Congress to push for special allocations for these Americans.
Specifically, we at The Knot Worldwide urge members of Congress to extend Coronavirus relief to include the following proposals:
Set Aside Funds for Smaller Businesses, Solopreneurs, Freelancers and Gig Workers:

Smaller businesses were largely left behind by the PPP. We ask you to provide much-needed economic relief for these parties and specifically to set aside a portion of PPP funds exclusively for these types of applicants. 

Include Grants or Loans Tailored to Solopreneurs, Freelancers and Gig Workers:

We urge you to include grants or loans based on verifiable anticipated earnings and prior earnings history for these small businesses. In today's economy, an increasing number of individuals make their living as solopreneurs, self-employed, freelancers or gig workers. The government's aid package should be tailored to the realities of today's workforce and support these hardworking Americans.

Expand Forgivable Uses of PPP Funds:

PPP-based forgiveness focuses on using funds primarily for "payroll costs."  Wedding professionals with few employees will find it difficult to fill out the application or to qualify for forgiveness, and thus will not get any relief. Many of our customers have other fixed expenses, such as rent or equipment rental that cannot be deferred; so, the requirement that about 75% of the funds go toward payroll does not address their most critical needs. We urge you to fight to expand the forgivable uses of PPP funds to further cover these essential business expenses. 

Further Expand Disaster Loan Advance to Support Severely Affected Businesses:

We are hearing that many of our customers are receiving just $1,000 disaster loan advances if anything at all, instead of the previously advertised amount of up to $10,000, because that fund was depleted. In the wedding industry, a $10,000 advance makes a huge difference in a vendor's short-term survival. The $60 billion reportedly allocated to replenish the disaster loan fund will not be enough and we urge you to expand this essential disaster assistance to provide these businesses with the short-term relief they need to survive this crisis.
Hundreds of thousands of wedding professionals are waiting and ready to apply for the increased PPP and disaster loan funding. For many, this relief will determine whether their business survives or fails. The current structure and red tape tying up this funding prevents wedding industry professionals from accessing relief during this crisis. 
I am confident that this pandemic will not last forever, but weddings will. Social distancing will only enhance our deep human desire to be near our family and loved ones. We at The Knot Worldwide look forward to being a part of each and every one of these unique, once-in-a-lifetime events alongside the thousands of wedding vendors, the 2 million engaged couples that get married and the 50+ million people that attend a wedding each year. Until that time, we implore the members of Congress to fight for the proposals we have outlined above to support the hundreds of thousands of small businesses that create millions of Americans' biggest and most meaningful celebrations.
Sincerely,
Tim Chi
CEO, The Knot Worldwide
Photo Credit: Denys Prykhodov/Shutterstock.com