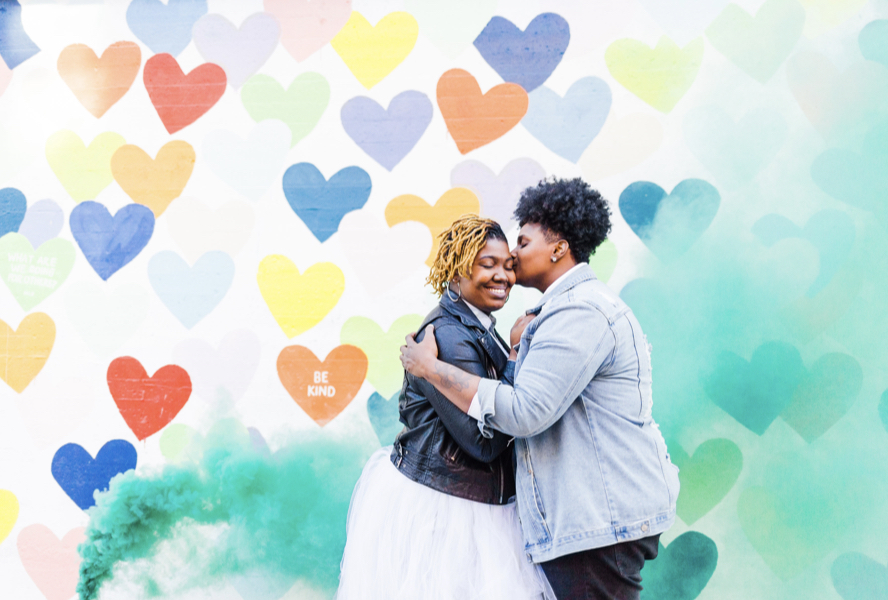 June 26, 2020 marks the five-year anniversary of the Supreme Court landmark ruling in Obergefell v. Hodges which validated same-sex marriage in all 50 states. To commemorate this milestone, we analyzed data from 2015 and 2019 to understand the shifts that have occurred among LGBTQIA+ weddings in the past 5 years. 
Today's couples are focused on planning a highly inclusive and personal wedding with increased parental involvement. While COVID-19 has had a major impact on recent nuptials, this study highlights shifts in LGBTQIA+ weddings that are likely to hold true in the long-term while also addressing areas in which the wedding industry will need to continue to make progress in the future to be more inclusive and equitable.
Today's LGBTQIA+ Couples
By the numbers, LGBTQIA+ couples are getting married at the average age of 36, having an average of 115 guests at the wedding, engaged an average of 20 months and including an average of 8 people in their wedding parties— all averages that are up from their counterparts in 2015.
But over the past five years, one of the biggest changes we've seen is that LGBTQIA+ couples have become significantly more likely to share the news of their engagement on social media—71% of couples in 2019 did so compared to 37% in 2015. This major shift coincides with an overall increase in support for the LGBTQIA+ community in the US. According to Pew Research, 61% of Americans now support gay marriage, though roughly 3 out of 10 oppose. 
"With the majority of Americans now supporting same-sex marriage, I have witnessed a huge shift of eagerness from the wedding industry to be involved in LGBTQ+ weddings." Kirsten Ott Palladino of Equally Wed 
Additionally, when it comes to social media announcements, couples who both identify as female are more likely to spread the news on Facebook, Instagram and other websites than couples who both identify as male (74% vs. 63%). Like, comment and follow pros in your area sharing images of LBTQIA+ weddings and engagements to make connections and get your name out there. 
LGBTQIA+ Couples Lead the Charge in Hyper-Personalized Celebrations
LGBTQIA+ couples have been leading the way to make traditions more inclusive and incorporate hyper-personalized details that are now commonly done among many non-LGBTQIA+ couples too.  From having mixed-gender wedding parties so all loved ones can be included to creating their own vows, LGBTQIA+ couples are ushering in the trend of crafting a wedding that's uniquely their own.
"As time passes I am proud to see LGBTQ+ couples begin to create their own traditions and not just do what they think they are supposed to do, because it is all we have known and seen. I have noticed that more and more LGBTQ+ couples are having their wedding their way, not the way they feel they should to make their hetero families feel comfortable or happy. Our trend is bringing our full self to our weddings, not the self our parents or the society expects, but our best, honest self." – Jove Meyer of Jove Meyer Events
Over the past five years, LGBTQIA+ couples have largely preferred to have their ceremony in unique venues like backyards/private gardens (15%) or barns/ranches (14%). The majority walk down the aisle to non-classical music and continue to have mixed-gender wedding parties.
LGBTQIA+ couples have also spearheaded the trend of couples writing their own vows. The majority opted to write their own vows in 2015 (59%) and even more did so in 2019 (70%). This continues to far surpass usage among all couples (44%).
Looking Ahead
LGBTQIA+ couples have a lot to celebrate regarding progress in marriage equality, but the community still has hurdles to overcome. Despite strict non-discrimination policies by wedding companies, stories continue to regularly appear in the media about couples being turned away by wedding vendors due to their gender identity or sexual orientation.
"Wedding vendors must continue to educate themselves to be LGBTQ+ inclusive. Not only for their potential LGBTQ+ clientele, but because even cishet millenials and Gen Z are looking for inclusive vendors too. Our group of allies is growing." – Kirsten Ott Palladino
"If vendors are not clear on their website and social media that they want to work with us it can be intimidating to reach out as there is a fear of rejection based on who you love. Imagine planning what is supposed to be one of the happiest celebrations of your life and each time you reach out to a vendor you have to come out, explain your love, and hope they will work with you. When you get a response your body tenses up as self protection for rejection and hate! We have to be better about making it very clear that LGBTQ+ couples are welcome and celebrated in the wedding industry, not just during pride." – Jove Meyer
We as an industry still have much more to do when it comes to making sure all couples feel loved, accepted and free to plan their wedding, their way. The good news is we are learning and growing together. Don't be afraid to ask questions if you don't know the answer to something. Give yourself and others grace and continue to lead with authenticity.
To learn more about how couples prioritize guest experience when planning and budgeting, who's paying for the wedding and what kind of twists LGBTQIA+ couples are putting on tradition, check out the full study.
To make your wedding business more inclusive we put together a quick checklist to help you resonate with a wider audience. 
Photo Credit: Images by Amber