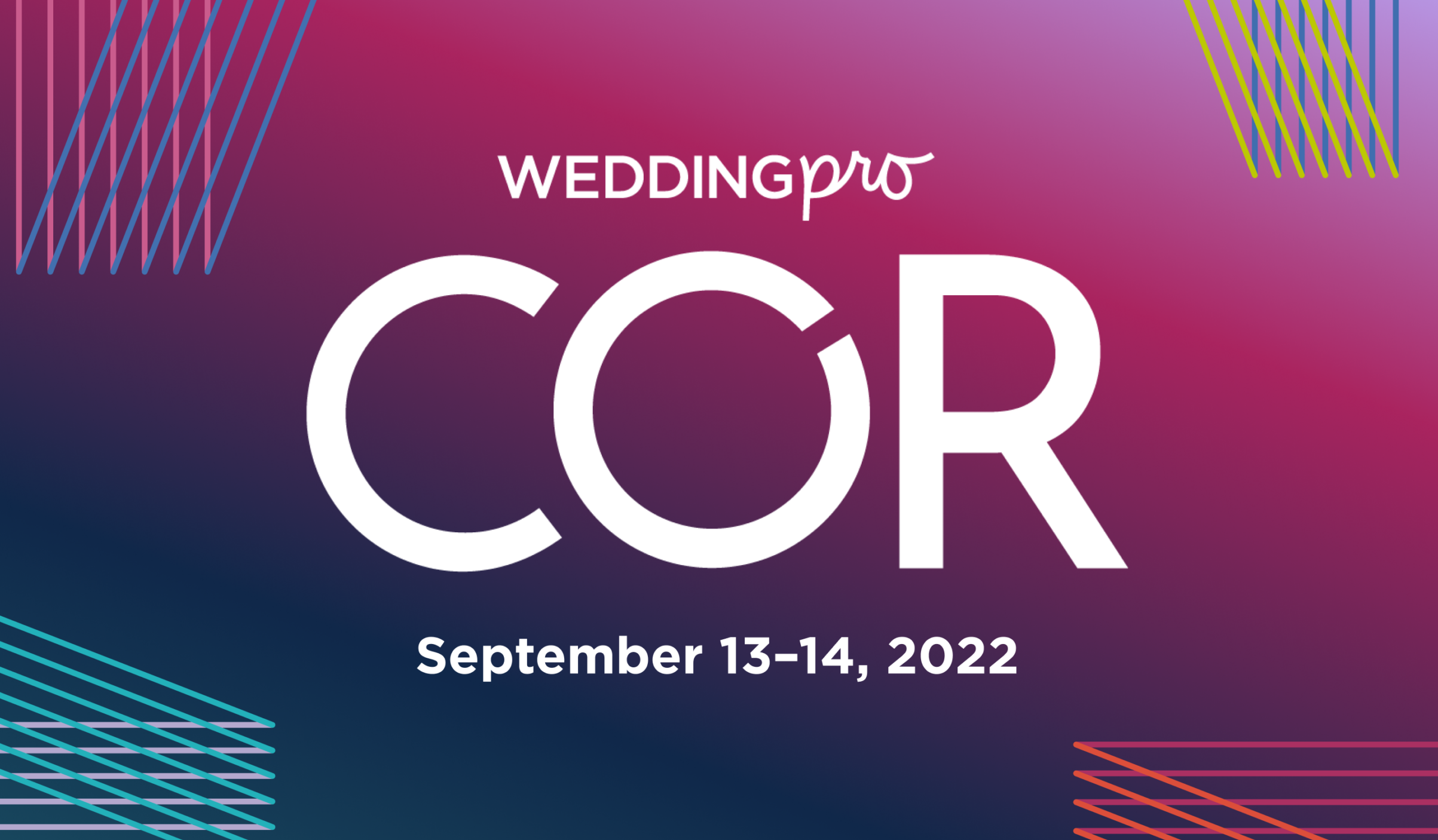 We're back in the full swing of events and are counting down the days to our second in-person wedding conference—WeddingPro COR! This year's event is going to build off all the fun we had last year to make sure you get the absolute best (because you deserve it). So, if you haven't purchased your ticket and are wondering if it's the right event to add to your calendar, we're here to help. Here are 8 reasons you should RSVP and join us September 13-14 in Chicago!
Want to get a taste of what COR is like? Here's a great video from our last event in New York City!
Business education you can act on
Supporting you and your continued growth is at the core of what we do here at WeddingPro, and this event embodies that! We're planning two full days of speakers, breakout sessions and content to make sure you leave with a clear list of ways you can better your business as well as the resources you need to make it all happen.
Get inspired by industry leaders
The speaker lineup for COR will feature some of the WeddingPro Educators you know and love, plus other wedding industry and subject matter experts. You'll have the chance to learn from experienced entrepreneurs, innovative marketing minds and wedding business owners who have been where you are and will help get you to where you want to be.
Small group breakout sessions
It's always fun to be surrounded by your peers and listen to an inspirational keynote, but we're adding breakouts to the mix this year too! These small group sessions will be a great opportunity to get tactical, personalized advice about different business topics, and we're going to host even more intimate sessions to focus on specific topics that affect you as a wedding planner, venue owner, photographer, florist or… you get the picture. These intimate breakout sessions will be a place to network with other pros who offer similar services, and therefore, experience similar highs and lows.
Spark your creativity
When it's your job to be creative, it can be hard to stay inspired. Luckily, COR won't just be a bunch of people in a conference room listening to lectures—it's going to be an immersive event that gets your creative juices flowing! There'll be tons to look at and do, and you can bet you'll find yourself taking tons of photos throughout the wedding conference (hey, it's content creation!).
Swag
Who doesn't love swag? Every year, our attendees RAVE about our COR swag. And this year, you won't be disappointed–you'll get exclusive merch you'll love and wedding industry-specific swag we know you'll put to good use.
Grow your network
It's been a challenge to network with other pros for the past few years, so turning what started as an online wedding conference into an in-person one was important to us—because we know so much magic happens when we can get together. We've worked in networking breaks throughout each day, and we'll be hosting dedicated happy hours to connect with pros. Come solo or with a crew, either way, you're sure to grow your network.
A unique experience
What would a conference for wedding pros be without a unique experience? We're always inspired by the things you dream up for your couples and are trying to match your creativity with some engaging activations throughout the 2-day event. 
Because Chicago!
If you've never been to Chicago, this is the perfect reason to RSVP! Chicago is easy to get to from most cities across the country and has lots of great restaurants, world-class museums and more than enough attractions to give you a reason to extend your trip. Also, we're hosting COR at The Geraghty which is reason enough to join us.
Ready to pack your bags and join us September 13-14 in the Windy City? Purchase your ticket to COR today and we'll see you there!