What the COVID Vaccine Might Mean for Weddings in 2021
By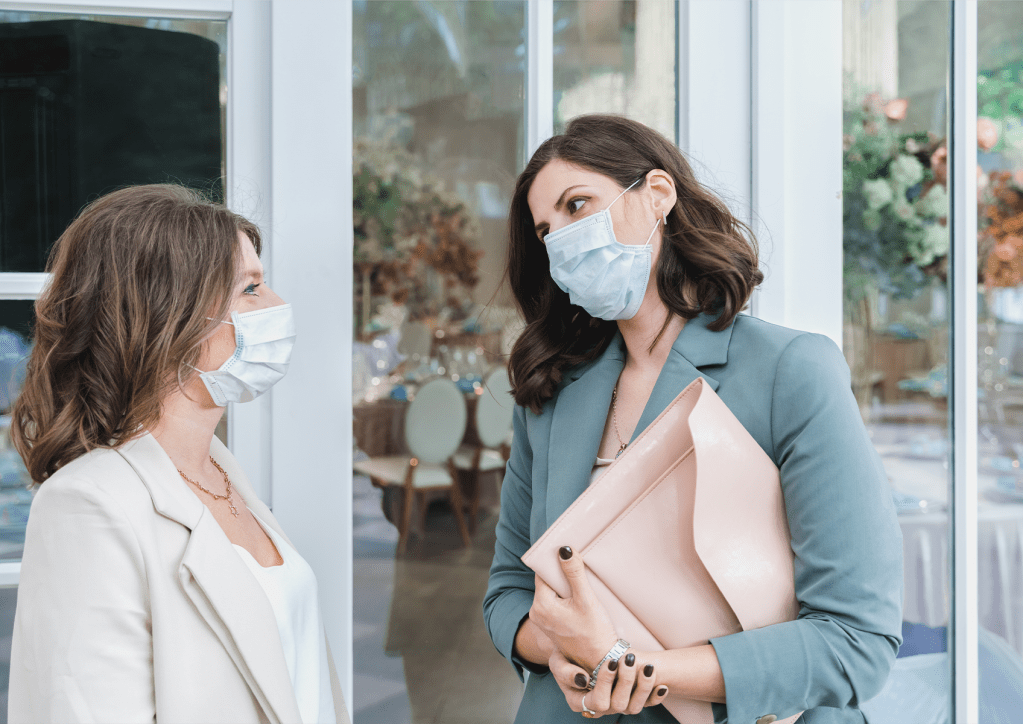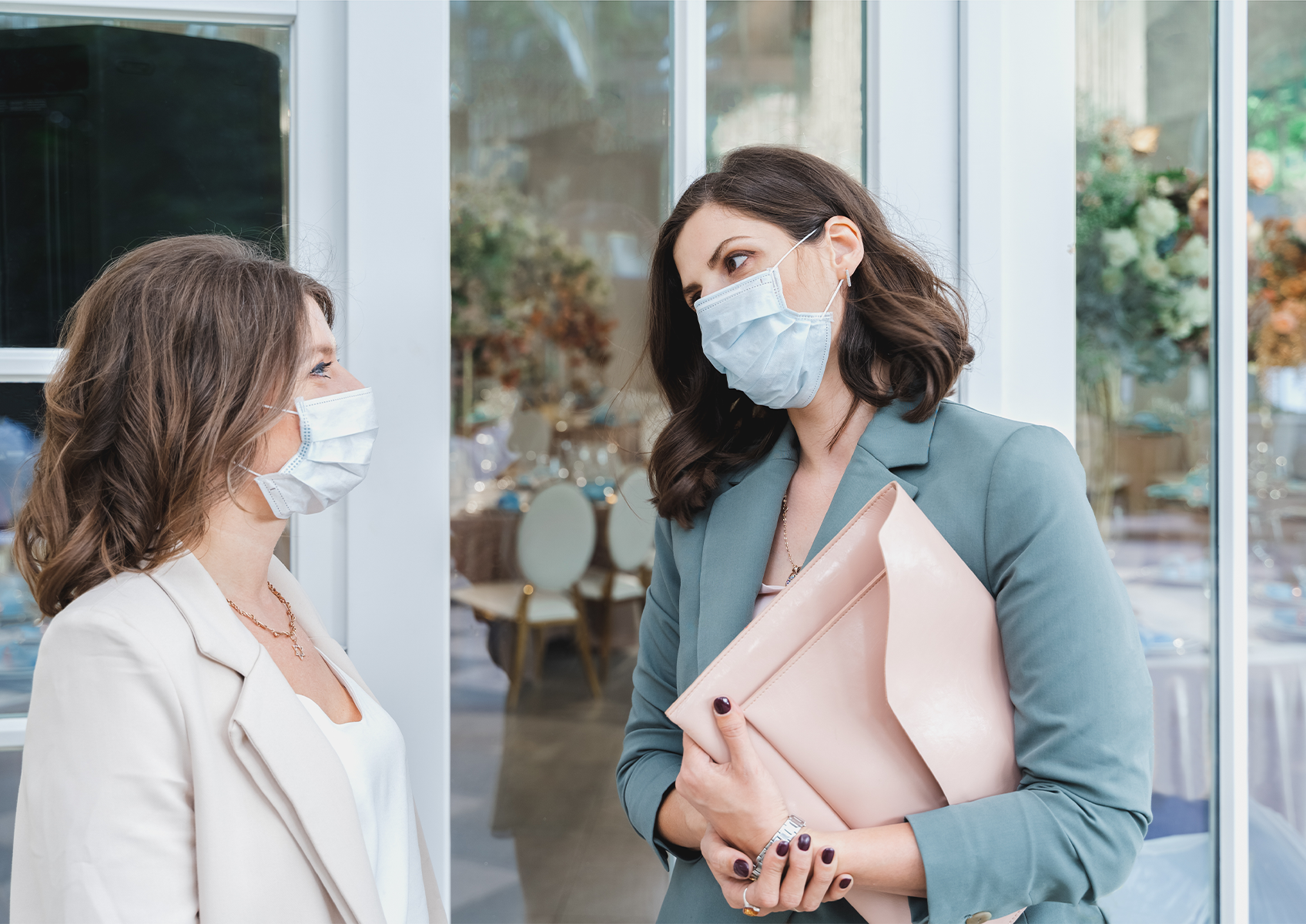 COVID-19 regulations and guidelines are changing rapidly, and vary by location. Before putting your safety plan and precautions into place, make sure you check the federal, state and local regulations applicable at the time of your event. 
Updated on September 16, 2021
You're used to having answers to every possible question your couples might send your way. From How much of this do I need? to How long do we have for that?, sending confident and decisive replies has kind of always been your thing—that was until 2020 came along and put everyone in an unfamiliar situation of not having the answers. But, through it all, you put in the time to make sure you got each of your couples the best information and updates you could find.
COVID-19 severely impacted the personal and professional lives of millions and people have been holding onto optimistic expectations for what this year might be—optimism that often rested on the notion that a vaccine would become widely available. And, now that vaccinations are well underway, you (and your couples alike) might have a new list of questions you need to find the answers to. So today, we wanted to start a discussion about what the COVID vaccine might mean for weddings in 2021. Whether you're asking for yourself or your couples are asking you, here are a few things to consider as you look to the future. 
Guest lists and travel
In a recent study completed by The Knot and WeddingWire, engaged couples expressed high levels of optimism when it comes to fall weddings. In fact, most told us they expect the pandemic will be winding down and that weddings will not just be back on track but mirroring pre-pandemic events by the fall. They backed up this view by also telling us they anticipate being able to have more than 100 guests in attendance (75% believe all or most guests will have had the vaccine) and that they will continue to implement health and safety precautions. Although at this point, less than 20% of all future couples are requiring guests to get vaccinated before their wedding, of those requiring COVID vaccinations:
65% will make a case by case exception

61% will allow guests to attend if not able to get vaccinated but test negative

28% will require guests to show proof of vaccination

17% will not allow guests to attend without vaccine
The COVID vaccines have been studied and proven to be highly effective in protecting individuals from the Coronavirus (serious illness and death), but the CDC travel guidelines have not changed much due to the Delta variant. As of September 16, 2021, the CDC recommends that fully vaccinated people continue:
Wearing a mask over your nose and mouth during travel; masks are still required on planes, buses, trains, and other forms of public transportation 

Wearing a mask in crowded settings or when around people who are not vaccinated 

Washing your hands often or using hand sanitizer (with at least 60% alcohol)

Self-monitoring for COVID-19 symptoms after travel; isolating and getting tested if you develop symptoms
 As of September 16, 2021, the CDC recommends this for people who are not vaccinated:
Delaying travel until you are fully vaccinated

Getting tested with a viral test 1-3 days before your trip

Wearing a mask over your nose and mouth during travel; masks are still required on planes, buses, trains, and other forms of public transportation 

Avoiding crowds and staying at least 6 feet from anyone who is not traveling with you

Washing your hands often or using hand sanitizer (with at least 60% alcohol)

Getting tested with a viral test 3-5 days after traveling and self-quarantining for a full 7 days after travel (even if you test negative)

If you don't get tested, self-quarantine for 10 days after travel

Avoid being around people who are at increased risk for severe illness for 14 days, whether you get tested or not

Self-monitor for COVID-19 symptoms; isolate and get tested if you develop symptoms.
Health and safety
According to the Mayo Clinic, "experts want to learn more about the protection that a COVID-19 vaccine provides and how long immunity lasts before changing safety recommendations. Factors such as how many people get vaccinated and how the virus is spreading in communities will also affect these recommendations." So, as you work with and answer questions from your couples about how they can move forward with their wedding in 2021, the same health and safety recommendations you have been sharing will still be considered as best practice. The good news? You're already very familiar with safe wedding precautions and simply need to continue putting them into your plan.  
Practicing social distancing at all times between guests and staff

Having guests and event staff wear face masks

Incorporating technology to keep guests informed about any changes that get made

Live streaming weddings to reduce the number of in-person guests but still including all your couple's loved ones

Planning shorter celebrations to limit the amount of time people spend together
When it comes to couples establishing health and safety guidelines for their upcoming wedding, clear communication is going to be key. If couples are going to require testing on-site or proof of a negative test or vaccination before a guest can enter the venue, couples need to make that clear to their guests in advance. Then the couple will also need to communicate in advance what happens if a guest tests positive or fails to provide the requisite information in order to set expectations. 
"Last fall, one of my couples required all of the guests for their micro wedding to get tested at 14 days out from the wedding, send the couple their results, and then self-isolate for 14 days. On the couple's website, they politely established these requirements and then said that if someone couldn't comply, they understood, but unfortunately any non-complying individual could not be in attendance at the wedding. To make it short and sweet: Couples need to (a) communicate the rules, and then (b) communicate what happens if the rules are broken." – Leah Weinberg of Color Pop Events
In addition to these health and safety tactics, a new one is becoming available (depending on which state you are planning events in). Vaccine passports are a digital proof of vaccination and New York state is the first in the nation to create and utilize such a thing as a way to help safely open up large-scale weddings and events. While they are just becoming a part of the general conversation, we've all seen how quickly things can change, and the main takeaway is that we may see a shift as proof of vaccination becomes easier to implement and as couples start to see it as another way they can ensure their wedding is utilizing all the health and safety precautions it can.
Pro-tip: If a digital vaccine passport is not available in your state or any of your couples' guests do not have access to a smartphone, paper vaccine cards can be used to provide proof of vaccination.
Questions you might get from couples 
Which brings us back to where we started—having answers for the pressing questions your couples may have. And, while we don't necessarily have the answers for you (you do need to formulate your own based on local regulations and what is best for your business), there are some familiar questions you are still likely to need answers for as well as some new ones. So, we encourage you to think about how you can prepare to confidently answer:
What is the likelihood I will have to reschedule my wedding?

If I have to postpone my wedding more than once, what does that look like?

Can we restructure the amount I pay for a deposit?

Have you had a COVID vaccine? 

What is your cancellation policy?

How can I ask my guests for proof of a negative COVID test or vaccination?
How COVID made wedding pros need to say no
Wedding pros everywhere have been put in complicated and unforeseen situations since the start of COVID-19. And, while everyone did their very best to provide an outstanding level of service, there were lots of ways in which you were pushed. We hope these days will soon be in everyone's rearview, but the lessons we learned are for a lifetime. Here are some of the hard positions we've seen and how to respond. 
How to say "no" when a couple wants to exceed the number of guests allowed
Normally, disagreements over the guest list are left to the couple but with ever changing regulations, you may have found yourself needing to interject. So, if and when that time comes, and you need to educate your couple about the local regulations regarding the number of guests they can have at their wedding, here is one way you can start that conversation: 
Finalizing guest lists is always a hard thing to do because you're excited to celebrate with everyone you love (and everyone who loves you!). Thankfully, there is always the option to share the experience with loved ones not included on your guest list by utilizing technology. I've already touched base with your videographer and they are more than happy to set up a camera to live stream your ceremony! This will allow you to celebrate with the people who mean the most to you without needing to worry about exceeding the local guest count limits.
How to say "no" when a couple refuses to require masks and/or social distance at their wedding
Depending on where you live, rules about masks and social distancing are different. And, if you live in a state where one or both are required, it may become your responsibility to make sure that a wedding you are a part of is complying. While enforcing rules may be the last thing you want to do, it is important to follow local rules and regulations—even when the couple feels differently. So, if you need to say "no" to the couple about saying "yes" to the rules, here is a way to put it delicately:
I understand that some of these requirements are not what you had envisioned for your wedding and for that, I apologize. As a business owner, I am required to follow the local rules and regulations in order to keep my license. 
Questions you might be asking
We've received lots of questions from pros across the country asking different versions of "How can I talk about my vaccination status and ask couples for theirs?" It can feel like a hard conversation to start, but it is an important one to have when you are trying to keep yourself and others safe. Here is some guidance to help you talk to your couples.
What's the best way to showcase my vaccination status? There are a few ways you can show your vaccinated status to inquiring couples. The first is by updating the description on your Storefronts to include a statement that you are vaccinated. Next, you can add a similar statement to either the services or contact pages of your website. Lastly, you can consider adding a bullet point to your social media bios.

How can I ask about the vaccination status of our couples? Just as your couples might ask about your vaccination status, it perfectly acceptable to ask them theirs. Here are some ways you can approach the subject:
Be direct (but kind) and ask, "Are you fully vaccinated against COVD-19?"

Broach it in regards to health and safety, "I'd like to talk about ways we can plan a safe event for you and your loved ones. Are you fully vaccinated and would you like to require that your guests be as well?"

Share your vaccination status first, "I'm happy to let you know that I am fully vaccinated as well as my staff. Can I ask your vaccination status?"
Excited about the wedding comeback and want to learn more about how couples are feeling about their spring and fall weddings? Click here to download our latest report with insights from engaged couples about what they are prioritizing and how they are approaching weddings in 2021.
Photo Credit: Ira Lichi/Shutterstock.com
Let's grow your business together!
Start advertising on The Knot and WeddingWire, the top two wedding planning platforms.