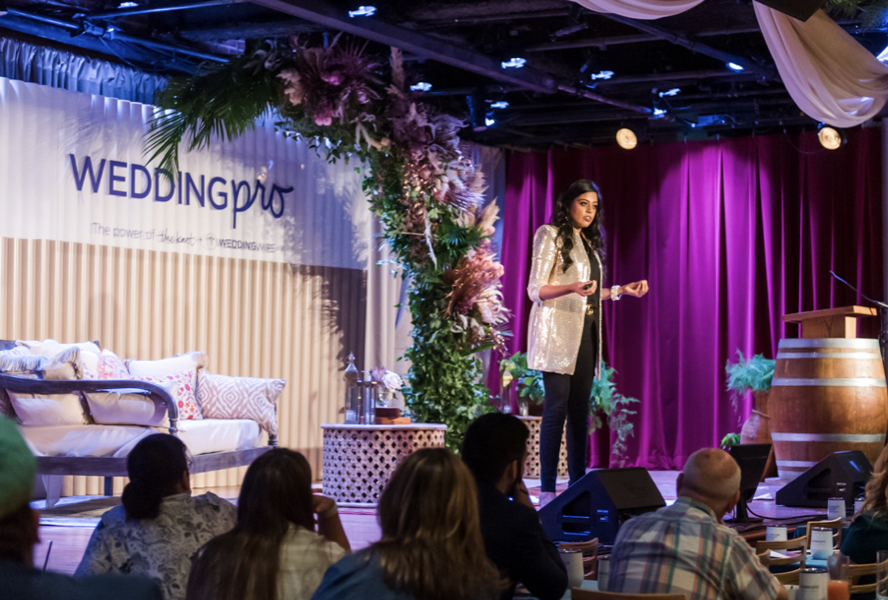 We missed hosting our local WeddingPro Experience so much that we decided to bring you all the inspiration and education you love to you at home. Since we've turned to technology now more than ever, what better way to celebrate and learn from our pro community than with our own WeddingPro Experience Online? 
We learned so much from our amazing industry experts. We know that #loveisnotcanceled and that couples are excited to celebrate in the future, so it's key to make sure your business is prepared. 
Our first keynote session of the week was with Yasmeen Tadia of Make Your Life Sweeter on how to refresh, rejuvenate and realign your business for 2020. Here are the key takeaways:
Takeaway: Look to Your Clients for Ideas
We've seen so many pros look outside the box to add creative ideas to their offerings, from intimate luxury events to porch photography sessions. If you're looking for new ideas, your clients may be a source of inspiration. Think back to a time when clients mentioned they wished you did/offered something— this could be the perfect time to pursue trying something new. 
What That Looks Like: Yasmeen's clients loved the idea of a gifting line to purchase her products in brick and mortar stores. Though she initially didn't feel it fit in with her brand, she adjusted her offering to meet her clients halfway. Her team created purchasable boxes that brighten up days in quarantine, like the "Cabin Fever" box full of sweet treats, cotton-candy themed coloring pages and crossword puzzles.
Takeaway: Boost Your Skills (and Learn New Ones!)
If you find yourself having more downtime than usual, now is the perfect time to brush up on your business toolkit. There are tons of ways to develop your expertise, from reading books about entrepreneurship to taking free or inexpensive classes online. Yasmeen also suggests reaching out to mentors. "These can be people you officially consider your mentor or those who you've always admired, but don't know as well," she says. 
What That Looks Like: Yasmeen loves the valuable insight in The E-Myth by Michael E. Gerber. "The second chapter defines the guts of who an entrepreneur needs to be to be successful," she notes. When it comes to classes, don't be afraid to ask for discounts: Yasmeen's client received one for a health certification course because of the pandemic. "Do your best to grow yourself at this time," she says.
Takeaway: Up Your Marketing Game
Continuing to market your business is key to make sure you stay top of mind for couples in the planning process. Couples are on their phones now more than ever, so it's crucial to make sure you pop up when they search for wedding pros like you. Adding relevant content online is a great place to start. "Now is the time to be flooding the internet with blog posts and photos," Yasmeen says. 
What That Looks Like: Find and post all the content in your backlog to your website and Storefront(s). "You've got a ton of photos and testimonials," Yasmeen reminds. After you post your new content, Google yourself and ask a friend to do the same to see if you're showing up more. Rinse and repeat while asking your past couples for reviews and referrals.
Takeaway: Start With the Bare Bones
This is the perfect time to revisit and refresh your mission and vision statements. "Your vision statement should be a future outlook of your company and where you want to see yourself," Yasmeen explains. When you pursue new offerings, ask yourself if they're in alignment with your brand's vision and passion. 
Your mission statement explains where you are in your business now and how you're getting to your vision. "You want it to stay pretty stagnant and for it to resonate with your team," Yasmeen advises. She recommends that your vision and mission statements be recession-proof. Afterward, rejuvenate your elevator pitch to fall in line with your mission and vision statement.
What That Looks Like: Yasmeen's vision is to make life sweeter for people all over the world. When quarantine began, she realized there would be a shortage of fresh flowers. So, she created a line of hand-crafted paper flower arrangements. "This alignment has grown our business. For Mother's Day, people were purchasing them all over the country," Yasmeen says. 
However, when she was approached about creating yard signs for people's homes, she declined the offer. Although it made life sweeter, it didn't fuel Yasmeen's passion or boost her energy. Figure out what pivoting looks like to you and your business and make sure it aligns with your mission and vision statements. 
Use code ProLove2020 to watch the full presentation. Follow along for more takeaways from our WeddingPro Experience Online!
Photo Credit: Erin Kelleher Photography