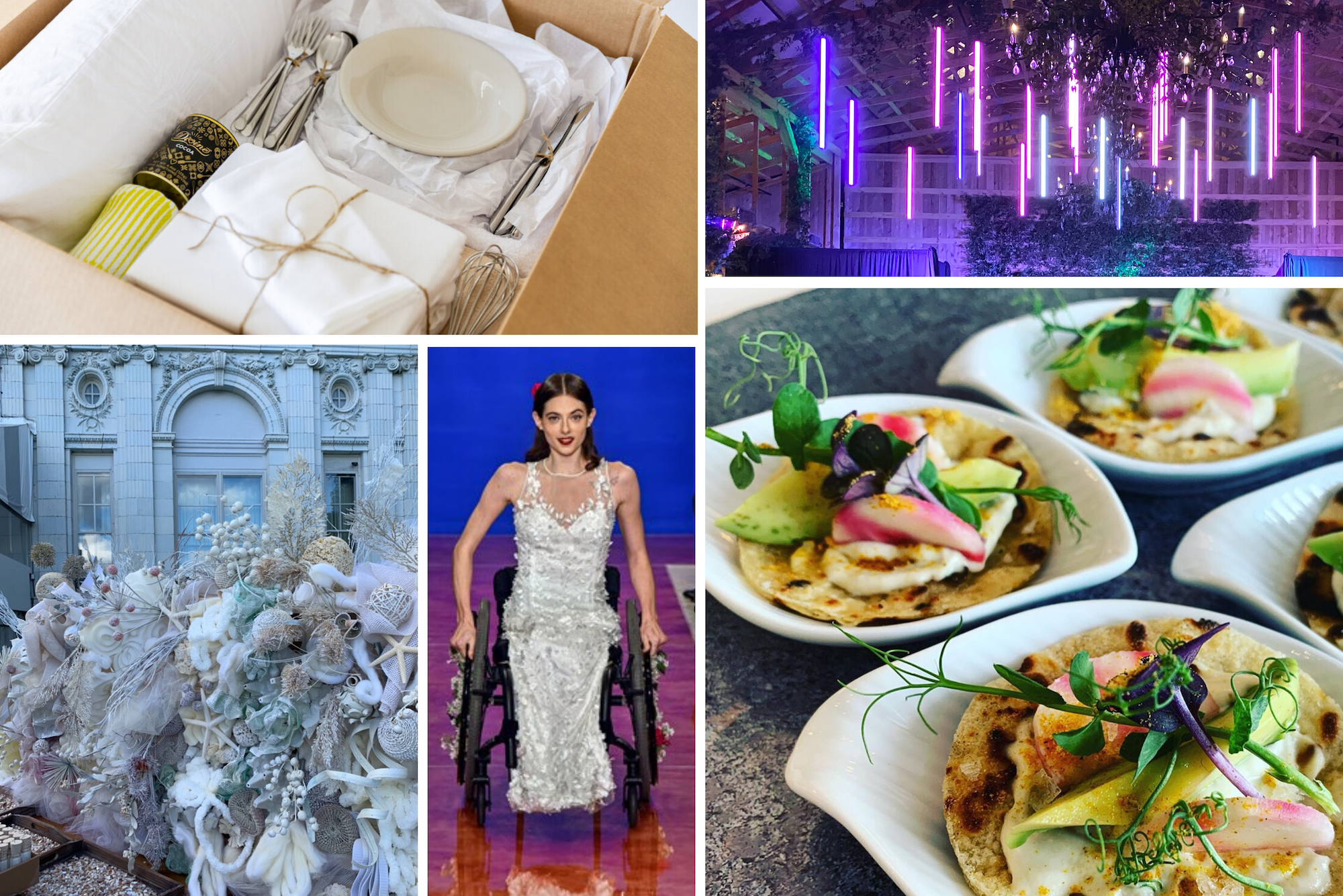 Listen, we love rainbow color palettes, upgraded amenity baskets, and after-party ball pits just as much as the next person but there's one 2020 wedding trend (actually call it more a movement) that we hope is here to stay: Wedding businesses using their creative talents, platforms and connections to make the world a better, cleaner, kinder, and more inclusive place. Here are five who have made recent shifts in their businesses to do just that.
1. Don O'Neill of Theia: Designing Dresses & Bridal Fashion Runway Shows With Inclusivity Top Of Mind
Photos: Rodin Banica via Today.com
For the past 10 years with Theia, Creative Director Don O'Neill has worked with diverse models, dressed full-figured actresses (including Gabourey Sidibe at the Oscars 6 years ago), and stocked dresses in sizes from 8 to 18. Needless to say, inclusivity isn't a new concept for Don or the team at Theia.
"We began showing curvy models on our runway many many seasons ago to allow the brides who watched our show identify with a full-figured gorgeous size 14 model and see themselves represented," says Don.
This past season, however, at the Theia bridal fashion runway show in New York, a wheelchair-bound model, Bri Scalesse, graced the runway (the first for a bridal fashion runway show). "When Bri made her first exit, utterly radiant in her THEIA gown, her huge megawatt smile lit up the runway," says Don.
The following day Don received a message from a woman in Ireland who's 8-year-old granddaughter is also wheelchair-bound and had seen the show. "She had seen the show and couldn't wait to get to school that morning to tell all her friends that she was going to be a model when she grew up!"
"Inclusivity is so important," says Don. "In little ways, we can lift each other up so that we can all shine."
2. DJ Jacob Co: Switching From Electric to Solar-Charged Lighting (and Planting Trees to Offset Their Carbon Footprint)
Photo: Jacob Towe
Husband and wife team Jacob and Courtney Towe–owners of DJ Jacob Co. a luxury DJ and lighting company based in Orlando, Florida–recently decided to give their event lighting equipment a major upgrade by swapping out electric-powered lighting for solar-powered pixel tubes. What's more: after each event, they are committing to planting trees in an effort to offset their carbon footprint and minimize its environmental impact. For them, the decision to go solar and plant trees were equal parts of environmental impact and common sense.
"Selling a lighting designer to your client that carbon offsets their impact at your event is far more compelling than one who needs generators and roll-off dumpsters," says Jacob. Going solar also removes the need for added equipment and gives the designer more flexibility, plus the ability to move the lights around last-minute if need be, he adds.
And yes planting trees for every event is an added expense but as Jacob and Courtney explain: "We don't plant trees for trees themselves, we do it for our children and their children."
Find them @DJJacobCo
3. Naked Fig Catering: Offering 100% Plant-Based Catering Options 
Photo: via @NakedFigCatering
Everything on the menu at this new NYC-based catering business (created by Matthew Kenney Cuisine in partnership with Marcia Selden Catering) is plant-based. Think avocado tikka tacos, quinoa crusted eggplant hors d'oeuvres, and loaded avocado toast! And their mission is simple: to deliver luxury plant-based options to the catering and events industry on a national level.
"Living a plant-based life isn't a trend–it's a lifestyle," says Robin Selden, managing partner and executive chef of Marcia Selden Catering. "Our clients were yearning for a more sustainable and thoughtful way to entertain so the opportunity to create a luxury vegan catering company was a total no-brainer for us."
4. CocoBundle Co: Encouraging Couples to Register For Someone Else's New Home
Photo: CocoBundle.co
COCObundle is a social enterprise based out of Austin, Texas founded by Kelly LaPlante that works with homelessness nonprofits across the country. Their mission? To celebrate people making the leap out of homelessness by providing them with home essentials (like towels, bedding, dishes and utensils). Their new initiative is a wedding registry concept called COCOBundle Registry, which allows couples to add home essentials to their wedding registries on behalf of people who have experienced homelessness and are just getting back on their feet. (How cool, right?!)
"Through our platform, couples create a wedding registry in honor of their big day," says Andrea Bernstein, Director of Public Strategy. "Then their wedding guests shop the registry just like they would in the old days—and all those plates and bedding and towels are sent to individuals and families who've had a rough go and are making a fresh start."
Find them @CocoBundleCo
PS If you love the idea and think your couples will too, check out The Knot Gifts Back. It allows a portion of the proceeds from your couples' registries to go to a charitable foundation of their choice.
5. Emily Clarke Events: Bringing Up-cycled Designs To the Events Industry
Powerhouse event designer Emily Clarke, of Emily Clarke Events based in Dallas, Texas is bringing up-cycled design to the events industry and proving that eco-conscious design doesn't have to mean sacrificing beauty or creativity.
"The events industry creates a ton of waste so I wanted to look for a way to reduce that," Emily says. "These days, it's about using materials that would otherwise go to waste into our decor."
Beyond finding new ways to reuse found objects and incorporating them into her floral designs, Emily and the team have also begun to build a roster of sustainably-minded wedding pros–from balloon companies that use biodegradable materials rather than latex to solar-powered lighting solutions.
Find them @EmilyClarkeEvents
Just In Case You Missed It…
Check out this blog on you can help couples mix traditions in 2020 and beyond!
Have something similar to share?
Share it with us by tagging @weddingpro and using #WeddingsRedefined for a chance to be featured!
About the author: Anja Winikka is the former editor of TheKnot.com and The Knot Magazines turned educator and contributing editor @WeddingPro. She's on a mission to help creatives, community leaders, and wedding businesses own their stories and tell the world about it (follow along via Instagram @anjawinikka).