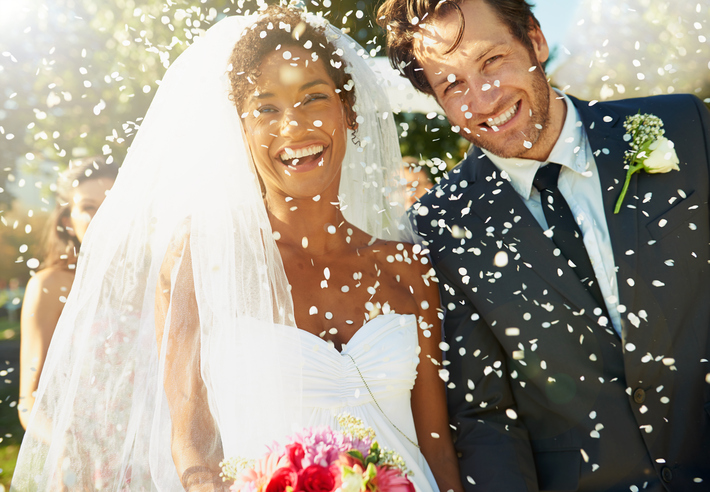 It's a near-universal fact of life as a creative professional that sometimes your taste and unique skills just don't line up with the trend of the moment. So, first off, you're not alone. Trends can be set pretty arbitrarily sometimes—a celebrity is seen in some wildly off-kilter style and suddenly everyone in their sphere of influence wants that look. Other times, pure necessity or genuine concern or simply aesthetics dictate a trend. Whatever the reason, there might be times when the wedding trend of the moment isn't something you feel comfortable doing. Maybe you're a baker who doesn't believe that naked cakes are a good representation of your skills. Or, perhaps, you're a florist who just hasn't mastered floral crowns, and therefore doesn't feel comfortable offering them as a product just yet.
All of this brings us to the potential client request. How should you politely tell a potential client, "Thanks, but that trend really isn't up my alley"? Here are some suggestions.
Be Very Gracious
We're sure you are always thankful for inquiries, but it never hurts to have a reminder that every inquiry from a potential client means you're one of a few in the running for that couple's business. For that reason, start any response with appreciation for their time and a sincere thank you. Regardless of whether you end up becoming a part of their wedding team, you're learning something about new people and expanding your network, so yay!
Don't Insult Their Taste
Aesthetics and personal taste are in the eyes of the beholder, so just because you personally don't stock lucite chairs, that doesn't mean that the correct way to address a potential client is a diatribe about how tacky you think they are. Same goes for skimpy wedding gowns, multi-colored wedding hair or any other client request that might run afoul of your personal taste.
Be Transparent
Of course, you want to salvage the sale, even if the client is gung-ho about 12 flower crowns for the wedding party, or if the couple insists on a naked cake that you don't like doing. But, it's a great business practice to be honest and transparent with your potential clients. For that reason, in the most polite way possible, just tell the truth. However, don't stop at, "I apologize, but naked cakes aren't a part of my offerings." Don't be afraid to have a quick explanation for the why. This way, potential clients see this is a thoughtful decision on your part, and not just an excuse for not doing something you don't like to do.
Offer an Alternative
Now comes the time when you want to rescue the sale. It's important to stay abreast of wedding trends so if this moment comes, you have enough knowledge of other, similar trends to offer up as an alternative. For example, while naked cakes enjoyed a moment in the sun, "nearly naked" cakes are a happy medium for some that are created in the spirit of the trend while not being such an exact interpretation. As huge trends take off in your service category, if you feel that they're not something you're comfortable creating, try to think of your version or an alternative that might satisfy some clients.