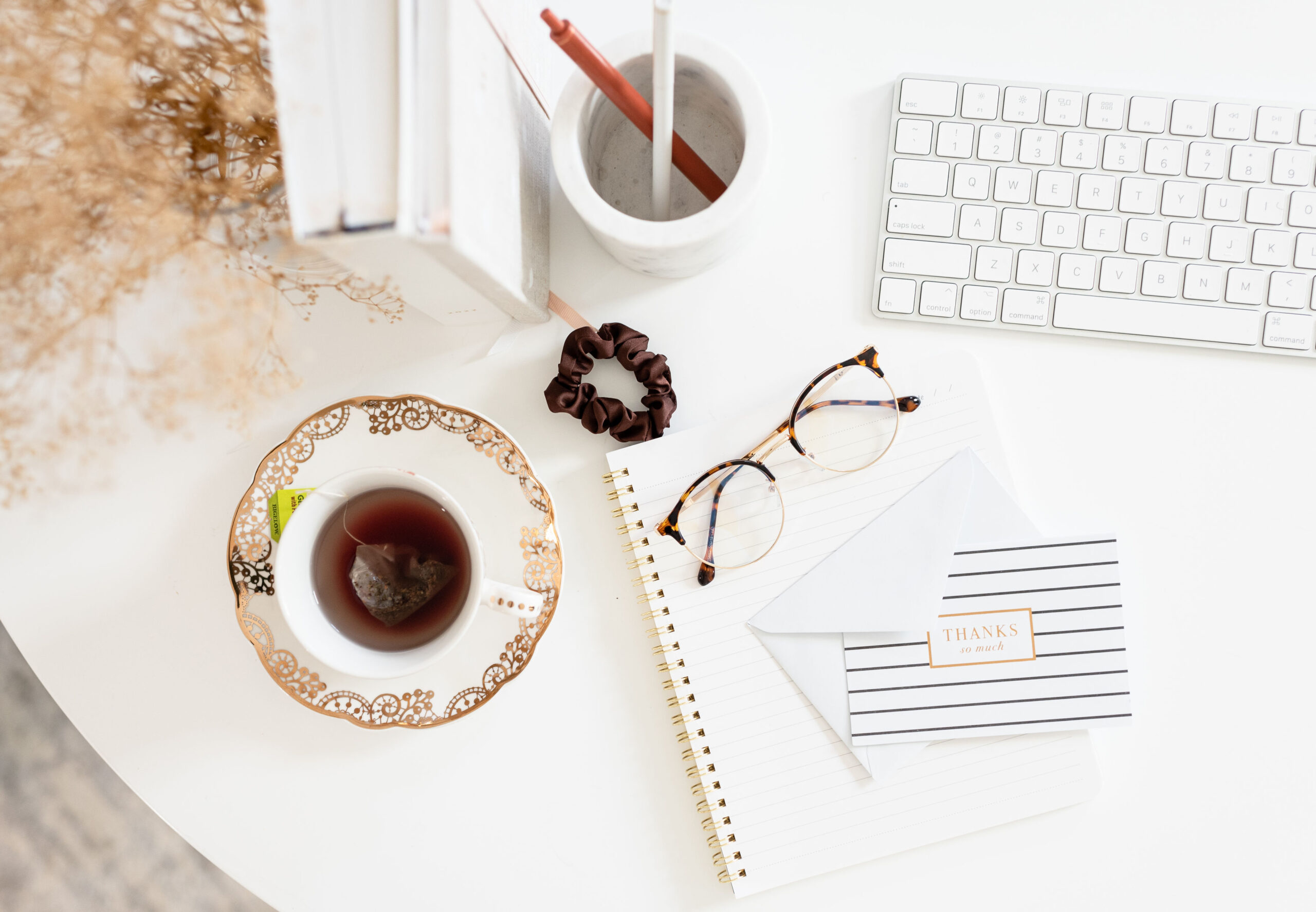 How to define what a quality wedding lead is
Running a wedding venue is no simple feat, and honestly, it's not for the faint of heart. Because owning and operating one involves all of the usual business responsibilities plus some. And between managing a staff, taking care of the major administrative tasks, and coordinating with your couples, venue owners still have to make some space for marketing to ensure the sales pipeline is always full. But with a full plate of responsibilities (and a calendar that just won't quit), you can still set yourself up to crush your sales goals when that pipeline is filled with quality leads—but what is a quality lead anyways? (Poll a bunch of wedding pros and you'll end up with a range of answers.) So today, we wanted to break it down with the help of WeddingPro Educator and Associate Director of WeddingPro support, Tom Chelednik. Read on for all the must-know details about what a quality lead is for a wedding venue, how you can attract them, and what you need to do to convert them into bookings.
What makes a lead an ideal client for a venue?
It is important to think about qualified leads and ideal clients as being different things—because they are. A qualified wedding lead is simply someone who needs a wedding venue. An ideal client is a couple who has more attributes that make them more ideal for you.
And here is how we chatted about the distinction with Tom. There are layers of qualifications when it comes to your wedding leads and you can think of them in the shape of a funnel. At the top, you have your qualified leads (someone who needs a wedding venue) and at the bottom, you have your ideal clients.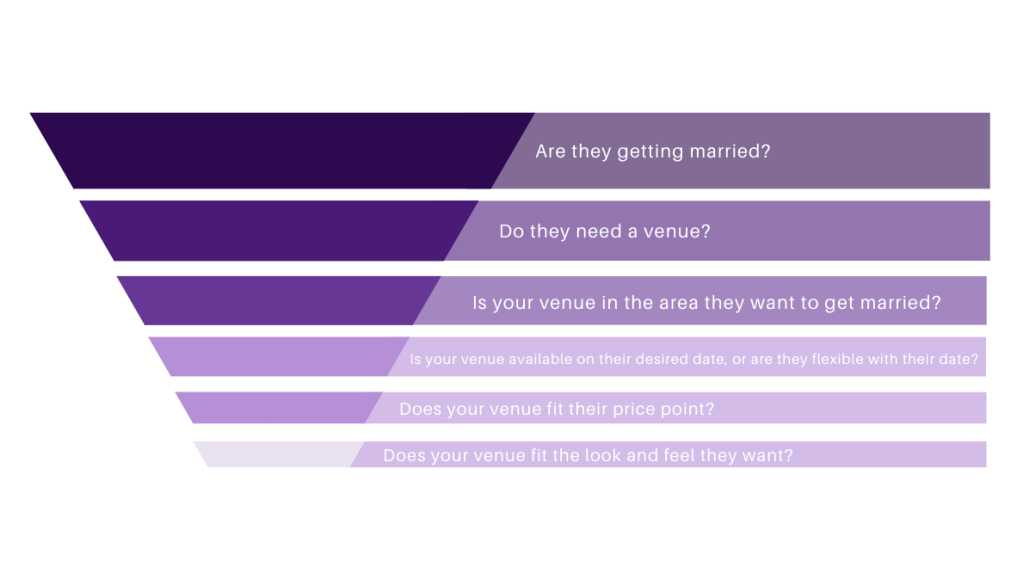 So, your leads become more quality and closer to ideal as they move down the funnel and through these layers of qualifications. When you advertise with The Knot and WeddingWire, your Storefronts help you communicate the important information you need to get to couples as well as collect the information you need to get from them. Since the couples viewing your Storefronts are doing so because they already check the "I'm getting married" box, they are already on their way to being a qualified lead. To determine if they are a quality lead, and better yet, an ideal client, ask yourself these questions:
Is the couple a qualified lead? – The Knot and WeddingWire have the largest audience of engaged couples who are, in fact, looking for a wedding venue.
Is your venue in the area they want to get married? – Your Storefront is easily discoverable when a couple searches in the area you are listed.
Is your venue available on their date? – Your WeddingWire Storefront helps you show inquiring couples your availability around their desired wedding date.
Does your venue fit their price point? – 82% of couples told us that viewing pricing was important to them before reaching out. Give your potential couples starting prices on your Storefront to keep them moving down the funnel.
Does your venue fit the look and feel they want? – You can show off the type of venue you have (think: barn, ballroom, etc.) with photos, video, and 3D tours* to give couples a great first impression. Plus, you can include details about the additional services you can provide like on-site catering, rentals, parking, etc. in your FAQs.
How to make sure you're attracting ideal clients on your Storefronts
Setting up your Storefront is easy when you start advertising with The Knot and WeddingWire, and there are plenty of features designed to help you attract couples and book more weddings. But, when it comes to making sure you're taking advantage of everything your Storefront has to offer, there are a few things to keep in mind:
Select the best images from your portfolio to upload to your Storefronts. Images help you make a powerful first impression and it is important for wedding venues to include photos that are horizontally oriented since it is more effective at capturing your space

Use video clips to show inquiring couples how your venue can feel as well as how people can move through the space while having a great time

Take advantage of our 3D tours feature* to give couples an immersive look at your venue right out of the gate

Make sure you are regularly asking your couples for reviews to keep them recent and relevant
"You should speak to, email or text every lead as if they are your ideal client from the very start.  Your marketing spoke to that lead in some way and they reached out to you. You might not think they are qualified as an ideal client when they first reach out, but with effective communication and messaging you will move more of those leads down the funnel and ultimately to a booking." – Tom
Sales tips to help you nurture your wedding leads
Making sure your Storefronts are attracting leads is one part of the puzzle—the other is how you nurture them. Because, the reality is, it is your responsibility as the venue owner or Sales Manager to close sales and book the couple after advertising has sent them your way. This means your sales process is crucial to maximizing your opportunities and, in turn, your return on investment.  
"Every lead should be treated equally because it is up to you to sell your venue." – Tom
Every lead is a booking opportunity, though not every lead will ultimately book you. And, while we do everything we can to put your Storefronts in front of qualified leads (did you know we have smart vendor recommendations that are based on similarities to the vendors they've already contacted?), not every lead will become a wedding. In fact, the industry average is a conversion of 5-10% of leads into bookings. 
"If I only book 5% of my leads, the return on my investment is worth all the time and energy I spent on responding to each of my leads. Of course we want to book 100% of them, but we are realistic and track our ROI so we know exactly what our marketing and advertising is returning to the venue." – Tom
What can you do to refine your sales process and hopefully increase your conversion rate? 
Inspect how quickly and how many times you are following up with every lead. Keeping yourself at the top of the couple's inbox for 30 days after the initial inquiry will garner you more conversations, tours, and bookings.

Build rapport and trust with your leads. Tom suggests refining your emails and creating value-add resources you can send to couples as a part of your sales process; the resources can be things like planning tips, interesting facts, things to do within your city or top 10 lists (creating one to highlight unique features about your venue is never a bad idea)
Now that you know what a qualified lead is,  let's dive into the next important topic—calculating return on investment (ROI). Get Tom's advice to help you calculate ROI as a wedding venue and learn what you need to keep growing your business.
*(for venues with paid listings on both The Knot and WW)
Photo Credit: ColorJoy Stock