2023 Wedding Trends: What You Need to Know as a Pro
By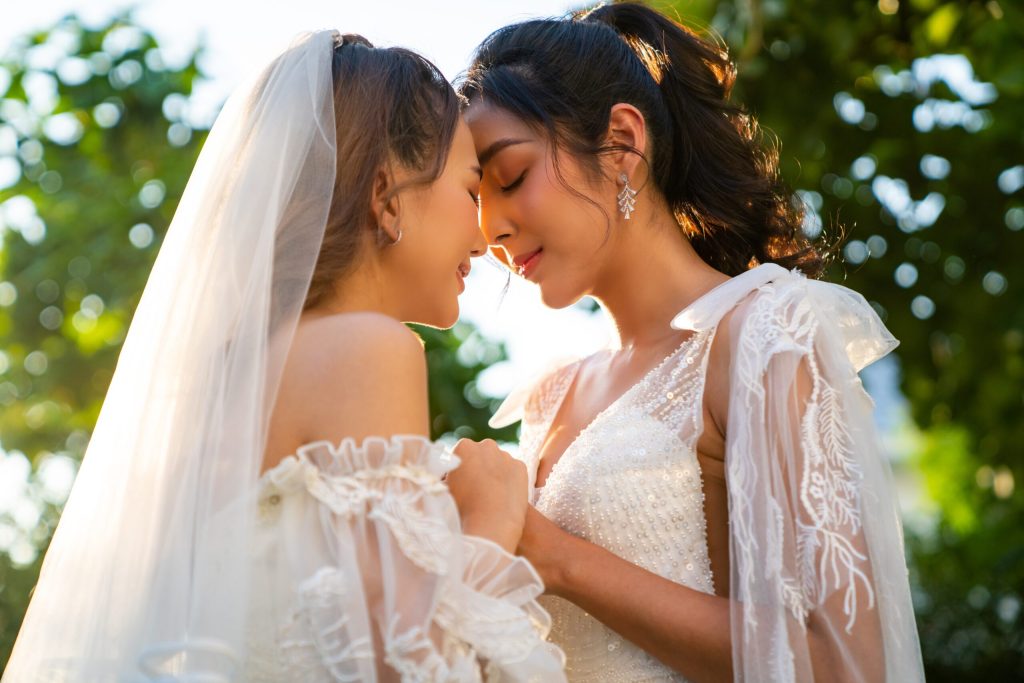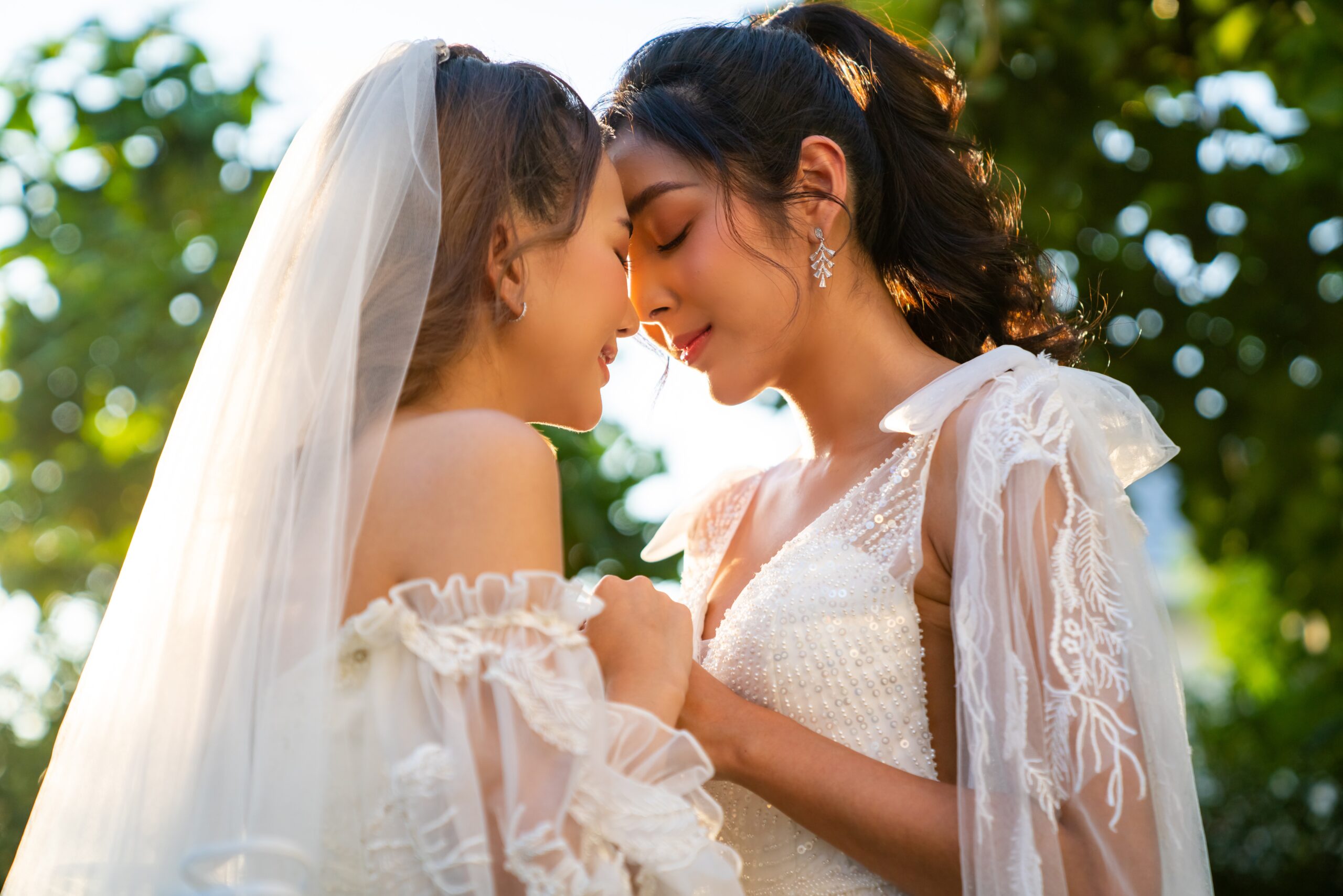 Some topics never go out of style in the world of a wedding pro, and upcoming wedding trends is one of them! We've rounded up the 2023 wedding trends couples are most excited about (read: will probably ask you to create for them) so you can get ahead of the curve. 
Read on to see what's trending!
Wedding Decor Trends
When it comes to creating a great guest experience, you need an excellent design. Because these are the elements the couple and their loved ones can see and touch (we'll get to the taste part later). So, whether you are a venue, wedding planner, designer, florist or rental company, here are the 2023 wedding trends you should have in your creative toolbox.
Unique wedding tents – Tented weddings are unique in and of themselves, but this year, you can expect to see tents like you've never seen them before! From colored tents to unique silhouettes, couples are likely to look for something other than white sailcloth to cover their events.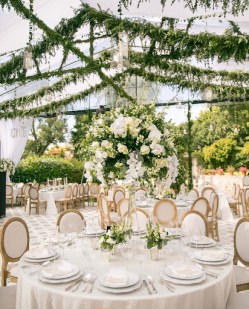 Credit: Photography | @johncainphotography
Vendor (planner + design, etc) | @penziweddings
Statement signage – Even though you've seen statement signage for a few years, it's becoming the norm and not the outlier. And with guest experience being a growing priority, statement escort card walls and signage are a great way to wow.
Residential décor – Couches, rugs, and chandeliers? Yes, please! Making guests comfortable is being taken to a whole new level with touches of residential décor.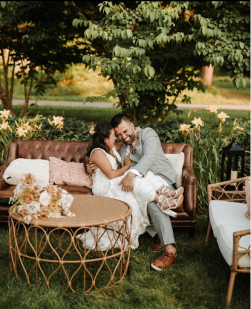 Credit: Venue | @osamequinfarm⁠
Photography| @firmanchor⁠
Floral| @leslieleefloraldesign⁠
Videography | @reaganlynnfilms⁠
Decor & Lounge| @eedecor
Barbiecore – As interesting as it sounds, the Barbiecore aesthetic is a wedding trend for 2023. The bright colors and maximalist vibes associated with this trend are also very much in line with the 2023 Pantone Color of the Year (which is Viva Magenta).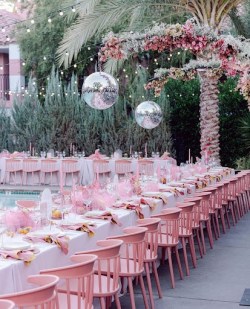 Credit: Design | @wild_heart_events⁠
Photographer | @braedonflynn⁠
Florals | @oftheflowers⁠
Rentals | @adorefolklore @foundrentalco @wity_rentals @catalogatelier⁠
Signage | @velvetfoxdesigns⁠
Venue | @sandshotelspa
Butterflies – A symbol of change and transformation, butterflies are popping up everywhere in wedding décor. From stationery designs and table numbers to butterfly releases and brooches, you can put butterflies anywhere at a wedding. 
Floral Design | @sweetrootvillage
Rentals | @dcreventrentals @maisondecarine @latavolalinen
Paper | @saima_says_design
Planning + Design | @gritandgraceinc
Western décor – While boho wedding décor was the thing for quite a long time, western motifs are growing in popularity. You can expect to have couples ask about modern but neutral palettes and tons of texture—luckily we haven't seen burlap make a comeback (insert a collective sigh of relief).
Disco-inspired – Rich colors, shiny surfaces, sparkle and maybe even skates on the dance floor? Who wouldn't have a great time at that party? Disco-inspired wedding décor is one of our favorite 2023 wedding trends and we hope it sticks around for a while.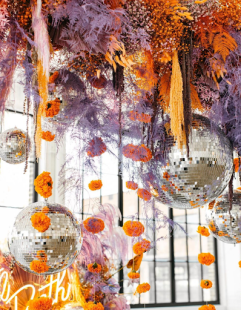 Credit: Venue | @thewhimevents
Photography | @coral.mia
Floral Design | @rosebotanical
Concept, Wardrobe/Styling, Rentals | @rosebotanical
Wedding Dress Trends
Attire is always center stage at a wedding, and this year, we're excited to see the fashion going a bit over the top! Here are the wedding dress trends you're going to see in 2023.
Colorful dresses – While white will always be a classic, it's so fun to see people playing with color for their wedding day looks! From blues and bright pinks to floral patterns and metallics, pretty much no color is off-limits.
Credit: Wedding and lifestyle | Shutterstock.com
Feathers – A great way to add some fun to a dress (and one we'd like to see spill into décor) are feather details. Whether it's a full-on skirt of feathers or simple embellishments, this wedding trend will add flair no matter what.
Gloves and capes – When a couple is looking to add some drama to their attire, gloves and capes are accessories that often are an easy way to change a look completely. But the right ones can be hard to find, so do your couples a favor and have a reference or two for where they can look.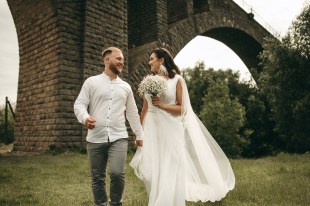 Credit: LL_studio | Shutterstock
Ruffles and bows – Oversized ruffles and bows are another way to add some drama to their wedding day attire, especially when they're going for a more romantic look. And this is another fashion trend that is easily incorporated into the bigger picture of the wedding design.
Scoop and strapless necklines – A trend that has officially made a comeback is the scoop neck and strapless neckline. First trendy in the early 2000s, we might go as far to call this one classic after two peaks of popularity. 
High-low hemlines – Perfect for the shoe-lover, the high-low hemline is a surefire way to make a statement.
Ballgowns – This one is for the couples who strongly subscribe to a more is more mentality. And as some couples are opting for grand weddings after a time of scaling back because of the pandemic, a ballgown is the way to make a grand entrance.
Slip dresses – Another wedding trend that feels like a throwback is the slip dress. Originally popular in the 1990s, this sleek and elegant style is great for both wedding day and wedding weekend celebrations.
Food Trends
As promised—the 2023 wedding trends that guests can taste! And these are important to keep in mind since food is central to the guest experience and often influences a lot of how the rest of a reception is designed. So this section is for the caterers, venue owners, florists, planners, rental companies, photographers (so, pretty much everyone, really.)
Plant-based menus – Plant-based food is everywhere, and it has officially made its way onto wedding menus. This is a trend we all saw coming, especially since couples have been requesting vegetarian and vegan options more and more every year. 
Grazing tables – It's about time these gorgeous grazing tables officially made the list of trends! Perfect for cocktail hours and late-night bites, they are a great way to feed guests while adding an edible design element.
Credit: The Image Party | Shutterstock.com
Local produce – Couples have been thinking of ways to make their weddings more eco-friendly for years and incorporating local produce is an easy way to do that. And because we know it isn't always easy to come by, it's a good idea to see who your local purveyors are so you're able to confidently plan a menu around what they're able to produce. 
Plated dinners – Another service style that isn't new by any means, plated meals are trending in 2023 because of their absence during the pandemic. This trend is also very much in line with residential décor and wanting to make guests feel at home.
Individual servings – A trend that started out of necessity during the pandemic, we're not mad about the individual serving trend sticking around. They make it easy to create movement and conversation in a space while also getting food in people's hands, this is a great way to level up tray-passed hors d'oeuvres.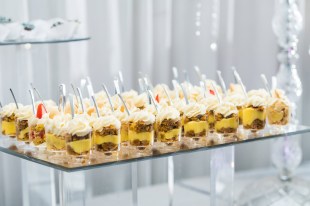 Credit: White Cat Photo | Shutterstock.com
Want to dive deeper into understanding couples and what they want now that you've got the trends dialed? Be sure to check out all the helpful articles we have in the Your Couples category on the WeddingPro blog!
Photo Credit: CandyRetriever / Shutterstock.com
Let's grow your business together!
Start advertising on The Knot and WeddingWire, the top two wedding planning platforms.